On Tuesday I shared the deets on my four-day food rotation diet, why it came to be, and why I sort of hate it.  And since I am sure that many of you are curious what that actually translates into in a 24-hour period, I thought I'd share a day of my rotation eats.  I also snuck in a recipe for my Broccoli Slaw Stir-Fry, so scroll down to the bottom if that is what you are here for!
A Day of Rotation Eats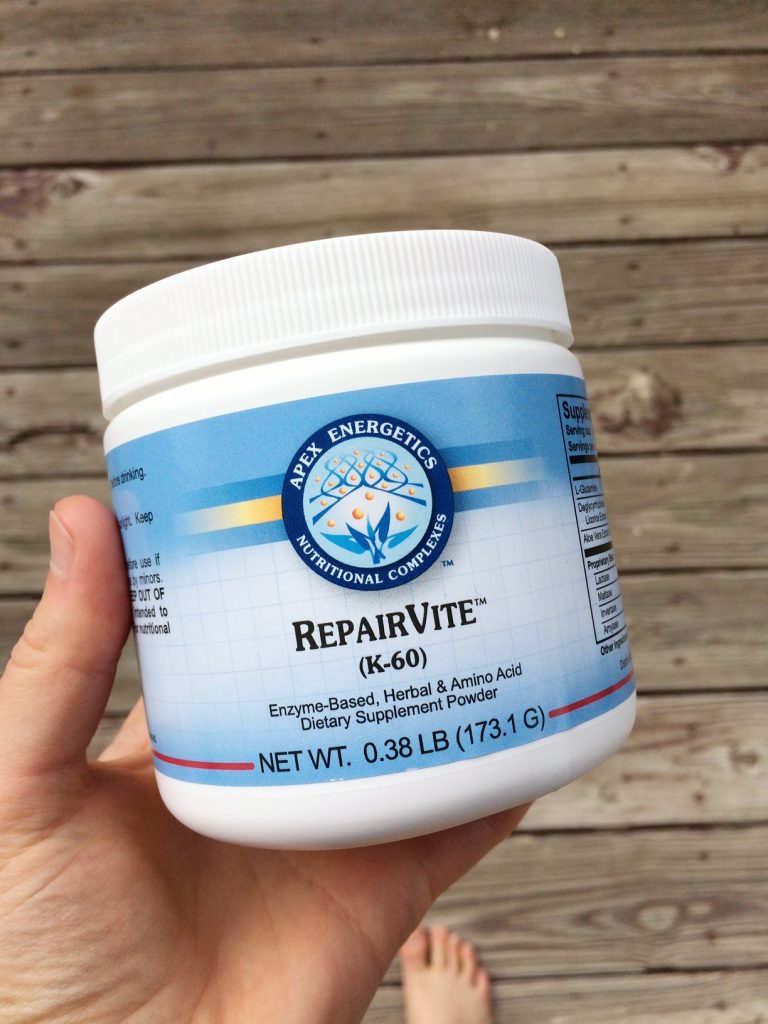 Every morning looks the same for me: this mixed with water.  I have been taking this for about a month now to work towards healing my leaky gut.  It tastes absolutely terrible.  Seriously.  It's so bad that I have to plug my nose and chug it.  Therefore, it had better work in order to make it worth it!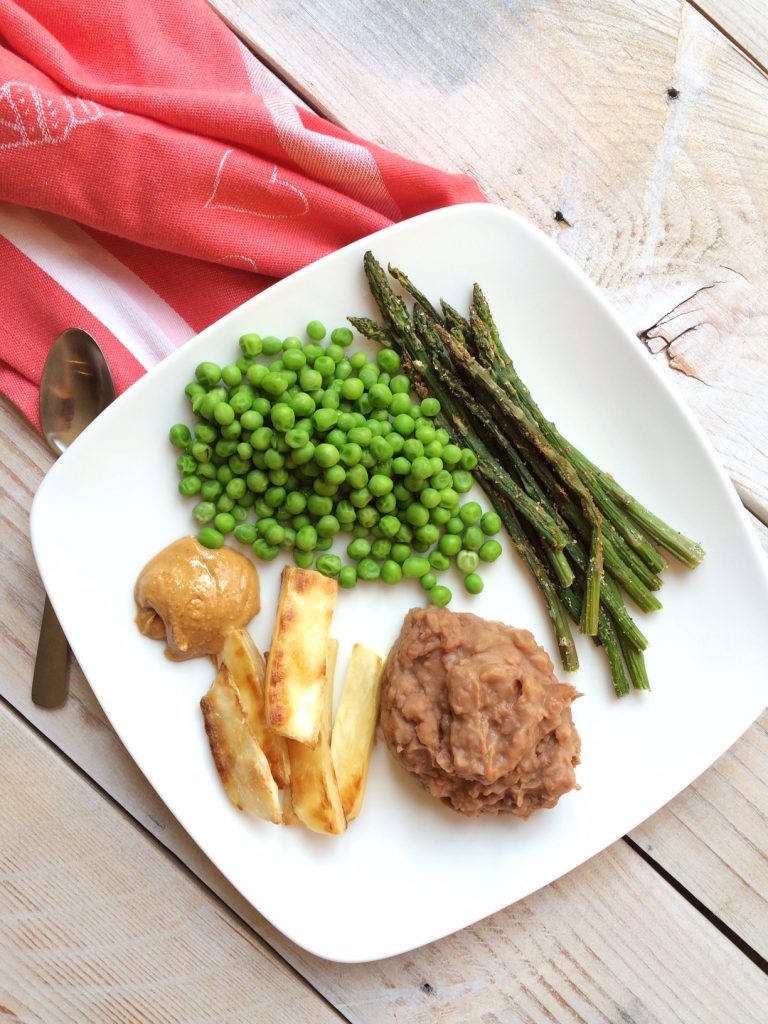 I begin each new rotation "day" at dinner time.  Therefore, all of the foods that I eat on "day 1" are generally eaten between about 5:30 p.m. on one day and 5:30 p.m. on the next day.  This strategy tends to work the best for me so that I can prep all of my meals for the "day" at dinner time (when I am home and not at work) instead of waking up an extra 30 minutes or more to prep food each morning.
On this particular day, my breakfast and lunch were essentially leftovers from dinner the night before: organic refried beans, roasted asparagus, cooked green peas, baked yuca fries, and a little dab of peanut butter.
As you can see, this was most certainly a legume day, and I also threw in foods from the lily (asparagus) and spurge (yuca, cassava) food families.
This particular rotation day continued into my snack time with apple slices (rose pomes family) dipped into my favorite raw cashew butter (cashew family).  I have only been eating nuts once every four days, and I am always excited when that particular day comes around!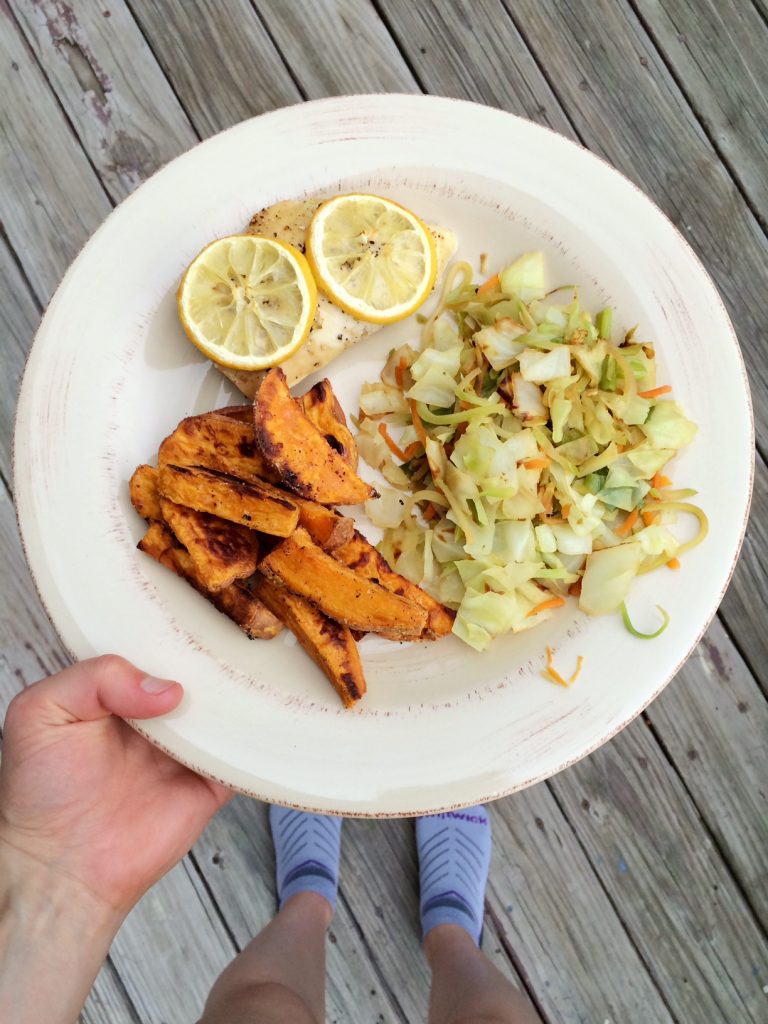 Since dinner was the start of the next day in my rotation, I had a new source of protein and veggies to eat.  I made this baked lemon pepper chicken (bird, citrus, and pepper) and paired it alongside sweet potato fries (morning glory) and my broccoli slaw stir-fry (mustard and parsley).  And since I had used EVOO to cook my yuca fries the day before, I cooked my sweet potato fries and slaw in coconut oil.
Now for that stiry-fry recipe.  Originally I was going to write up a whole post about this new favorite side dish.  But then it was 7:30 on a Sunday night, the battery for my DSLR was dead, and we were about two minutes from a thunderstorm, so… bad lighting/laziness = this: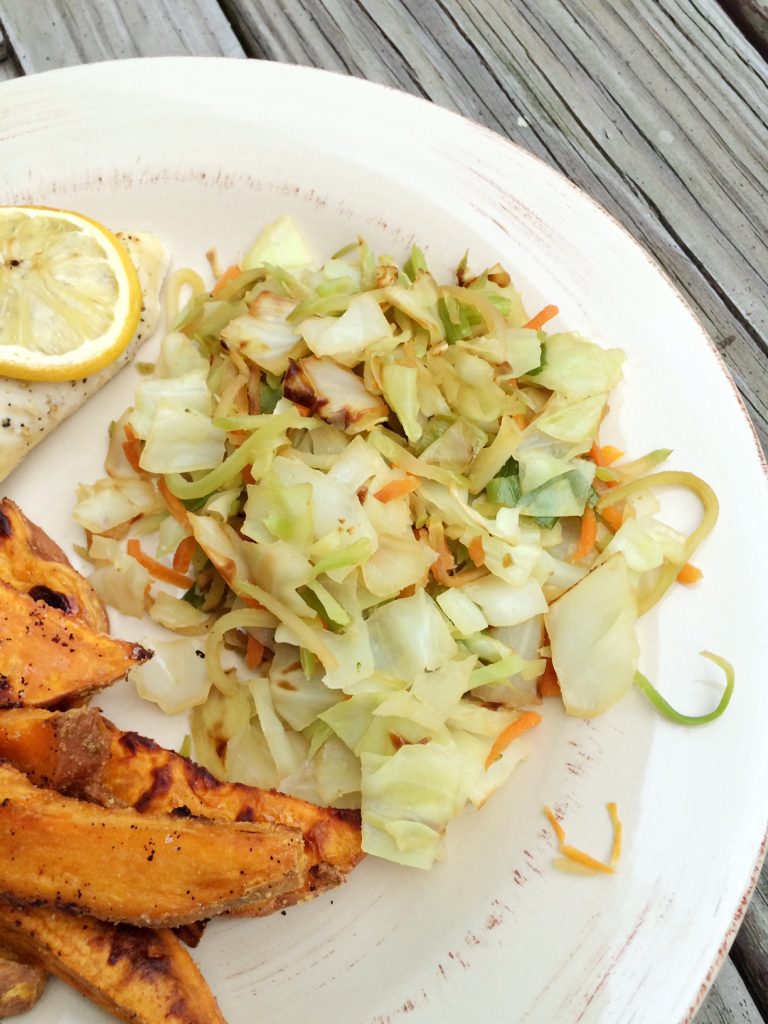 Broccoli Slaw Stir-Fry
AIP Paleo, Gluten-Free, Grain-Free, Dairy-Free, Egg-Free, Soy-Free, Nut-Free, Nightshade-Free, Whole 30
Serves 4 to 6
Ingredients
2 TB of organic virgin coconut oil or red palm oil
1 medium head of green cabbage, chopped
12 oz bag of organic broccoli slaw
1/4 cup of coconut aminos
1 tsp of fish sauce
2 tsp of garlic powder
2 tsp of onion powder
1 tsp of ground ginger
1/2 tsp of fine sea salt
Directions
1. Heat oil over medium-high heat in a large skillet.  Once hot, lower the heat to medium and add cabbage and broccoli slaw to the skillet.  Cover.
2. Continue sauteing for approximately 10 to 12 minutes, stirring every couple of minutes.
3. Add coconut aminos, fish sauce, and seasonings.  Stir until well-combined.
4. Turn the heat to medium-low and continue cooking for approximately two to three minutes.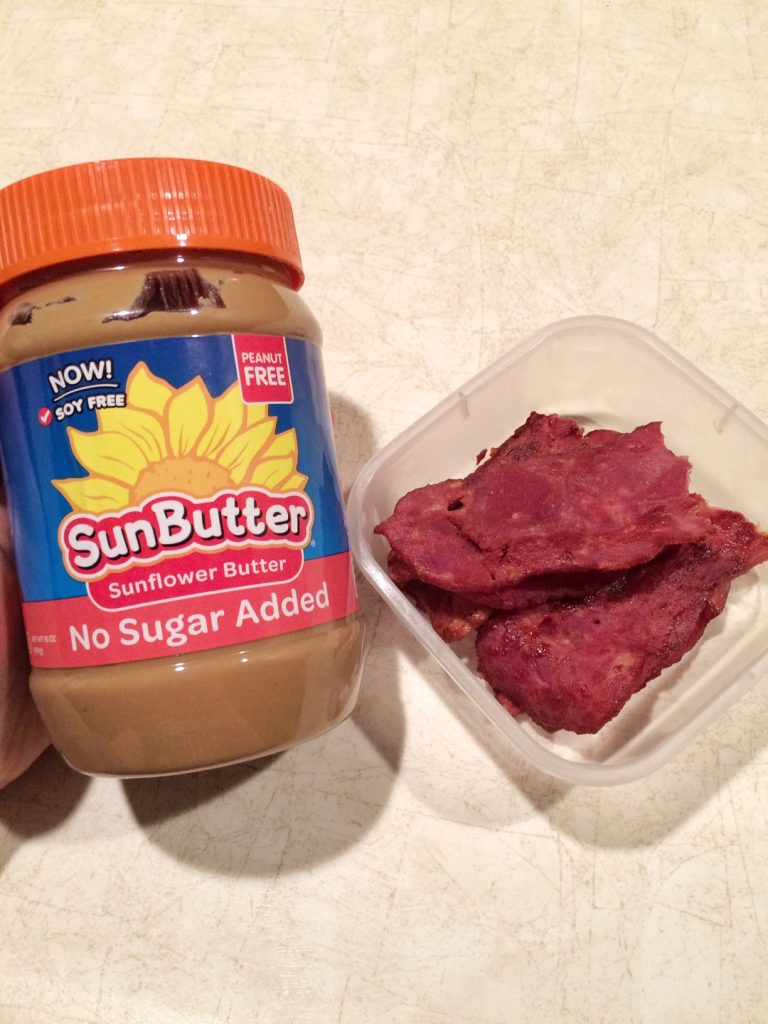 I ended my day with my current favorite snack: leftover turkey bacon (bird, again) dipped in sunflower seed butter (aster and my "seed day").  If you love savory foods as much as I do, this is a must-try.  It's sort of like a chip in dip, but crispy bacon in butter instead.
Jeremy and I are off on an adventure beginning tomorrow.  You can expect a little from me over on Facebook and Instagram, but nothing here until we return!
A day of rotation eats and my broccoli slaw stir-fry recipe! #Paleo #glutenfree
Click To Tweet
This post contains affiliate links.  Thank you for supporting CEVG and enabling me to continue working towards better health!