Pesto Chicken Zucchini Noodles put all of your delicious Summer produce to good use in a gluten-free, Paleo-friendly way!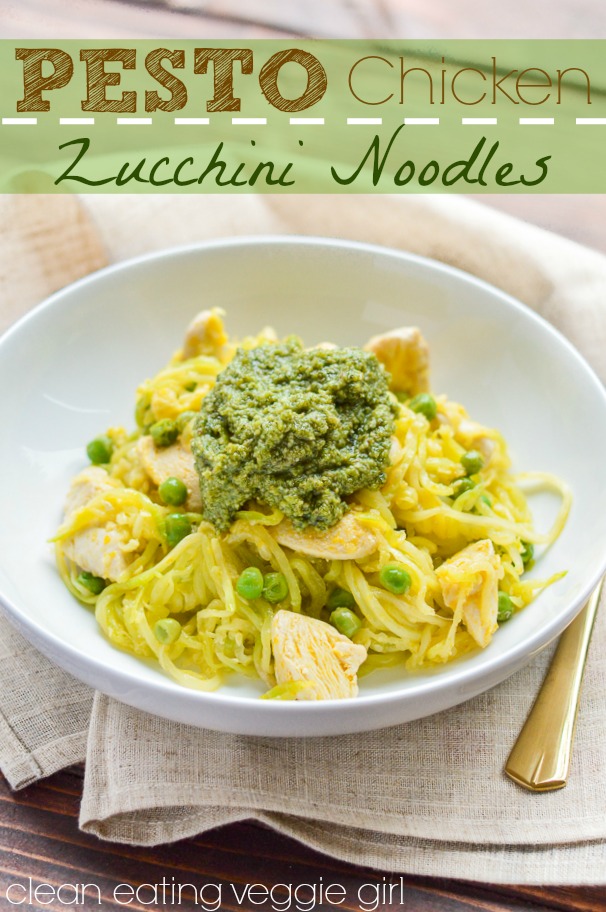 You probably shouldn't classify me as the stereotypical "healthy living blogger."  Why?
While there are about a million reasons, today it is because I do not eat zucchini noodles (or "zoodles") likes its my job.  In fact, I cannot really remember the last time I made zoodles other than in this dish.  Like we are probably talking at least a year ago.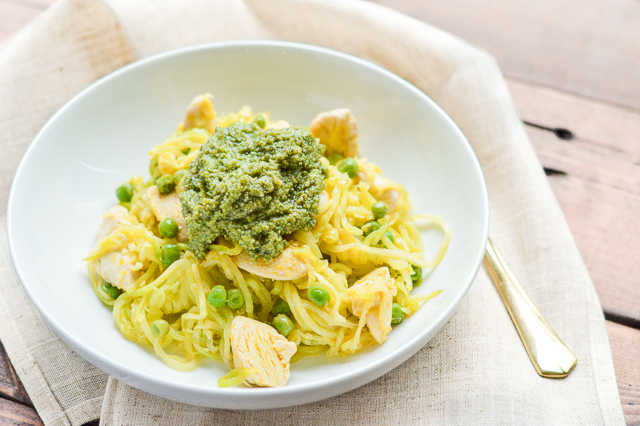 Even though I absolutely LOVE my spiralizer and all of the crazy awesome foods it can make into noodles (parsnips, sweet potatoes, and zucchini are my favorites), I probably only use it about once every couple of months.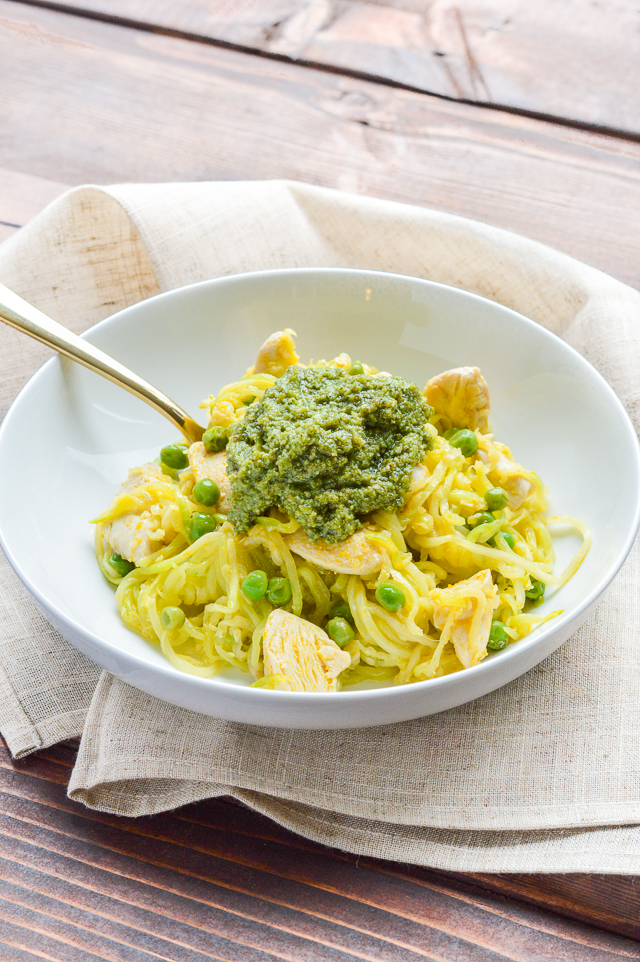 Maybe it is because it is kind of a pain to clean.  And I am laaaazy when it comes to that.  Or, I just simply have too many kitchen gadgets and sort of forget about it <– #foodbloggerproblems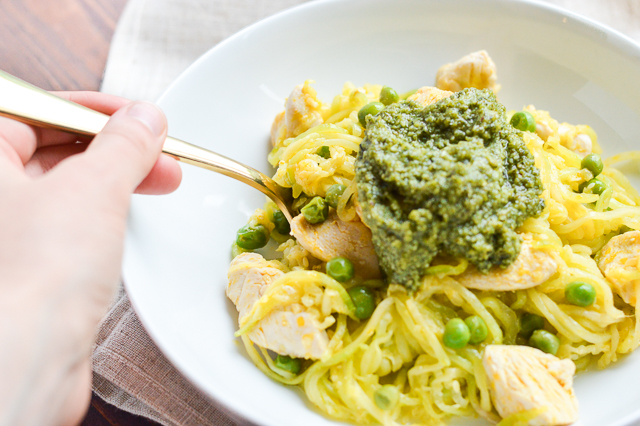 But when The Recipe Redux challenged me to create a recipe that featured Summer vegetables cut in a fun way, I obviously had to whip out the noodle making machine.
Throw in some frozen peas (one of my favorite legumes that I am excited to be eating again right now), pan-fried chicken, and homemade Paleo walnut pesto, and we're set!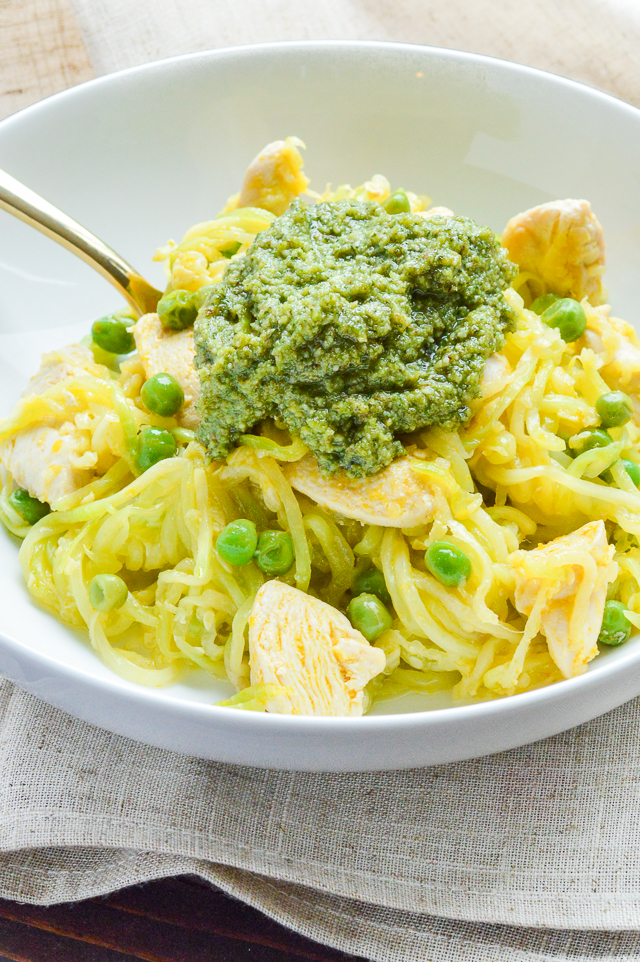 Pesto Chicken Zucchini Noodles
Paleo-Friendly, Gluten-Free, Grain-Free, Dairy-Free, Egg-Free, Soy-Free, Nightshade-Free
Serves 4
Ingredients
For the noodles:
6 medium or 4 very large zucchini, peeled
2 tsp of fine sea salt
1 heaping TB of organic red palm oil
1 pound of organic, free-range boneless, skinless chicken thighs, cut into 1-inch pieces (chicken breasts are fine, too)
1 1/2 cups of frozen green peas (or chopped asparagus if Paleo)
1 tsp of pink Himalayan sea salt
For the pesto sauce:
1 cup of chopped walnuts
3 whole cloves of garlic, peeled (less if you don't like it "spicy")
2 cups of loosely packed fresh basil
~1/2 cup of extra virgin olive oil
Directions
1. Line two large baking sheets with paper towels.  Spiralize the zucchini and place the "noodles" onto the paper towels.  Sprinkle with 2 tsp of salt and let sit for approximately 30 minutes.  This is called "sweating" the zucchini and will help remove excess liquid.
2. While the noodles are sweating, get to work on your chicken and pesto sauce.  Heat a large skillet over medium-high and melt the palm oil.  Once melted, lower the heat to medium and add in the cut chicken.  Saute for approximately eight to 10 minutes, flipping once, or until mostly cooked through.  Stir in frozen peas, cover, and cook for an additional five minutes, or until warm.  Season with salt, if desired.
3. Make the pesto sauce by adding walnuts and garlic cloves to a food processor.  Pulse for about 30 seconds.  Add in fresh basil and pulse for an additional 30 seconds, or until combined.  Turn on food processor and slowly drizzle in olive oil (starting with 1/4 cup).  Add more olive oil, depending on desire consistency.  I tend to use about 1/2 cup.
4. At this point, wrap the zucchini noodles in a tea towel and squeeze out any remaining liquid.  I did this in two batches.  Add the zoodles to the chicken and peas and toss to combine.
5. Serve the noodles, chicken, and peas in a shallow bowl and top everything with a big dollop of pesto.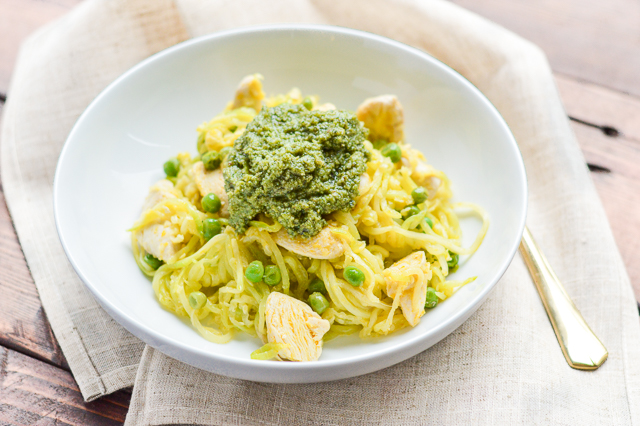 As I mentioned above, this is fantastic with peas.  But if you are eating strictly Paleo or legumes aren't your thing, definitely swap in a different veggie.  I personally think asparagus would be on point.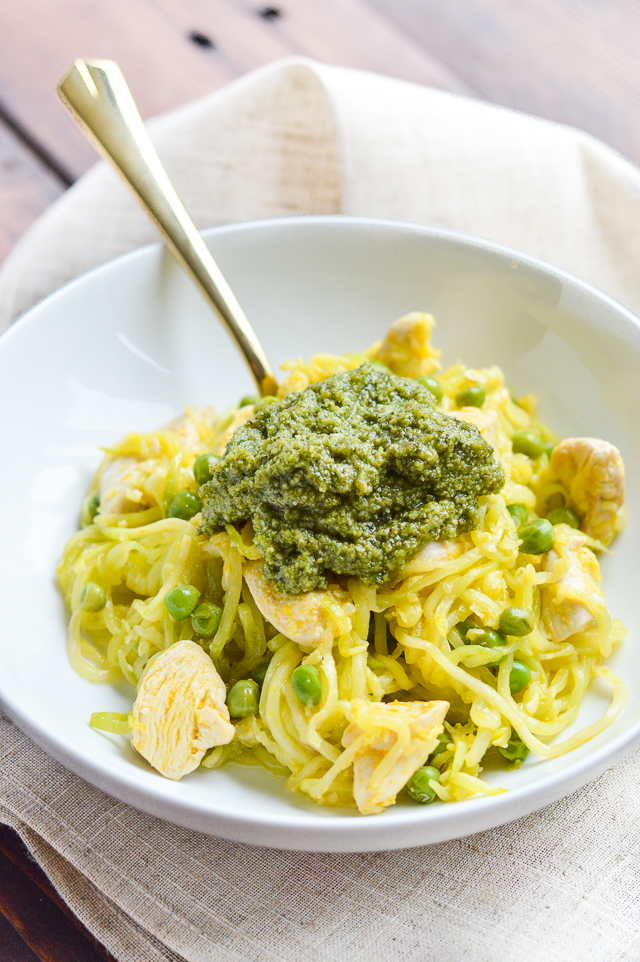 Pesto Chicken Zucchini Noodles put your #Summer produce to use! #thereciperedux #glutenfree Click To Tweet
This post contains affiliate links.  Thank you for supporting CEVG and enabling me to continue working towards better health!