Tropical Coconut Mango Chia Pudding is vegan and Paleo-friendly while satisfying all of your Summer breakfast and snack cravings.

Oh, life.  You have been crazy lately.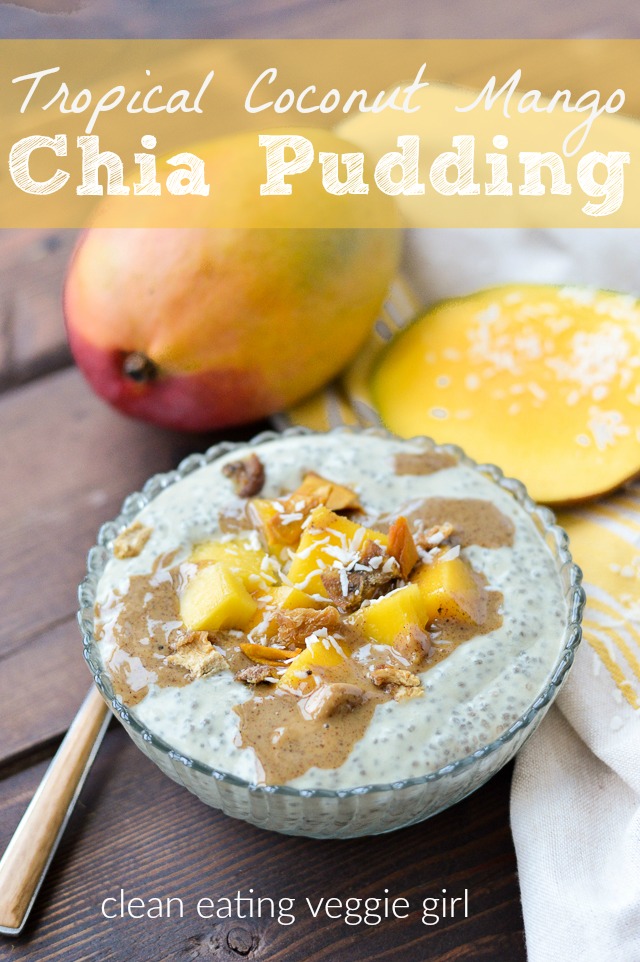 It has officially been 32 days since my first mono symptoms showed up.  And while it has been a rough few weeks, it is honestly hard to believe that it has been showing its evil self for that long.  Luckily, I would say that I am feeling about 75 percent better than I was during the first two weeks of the illness.  And quite possibly most importantly, some of my healthier cravings are finally starting to kick back in after a couple of weeks of nausea and major food aversions.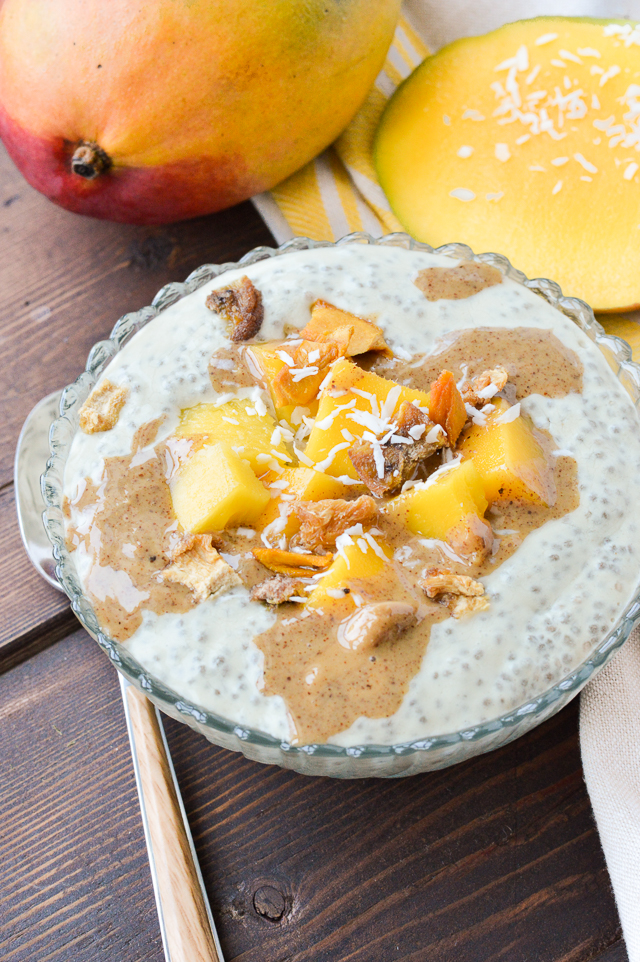 Two of those healthy food cravings have been chia pudding and mangos.  And since it turns out the two pair quite nicely together, this past Sunday morning's pre-walk breakfast was an absolute no-brainer.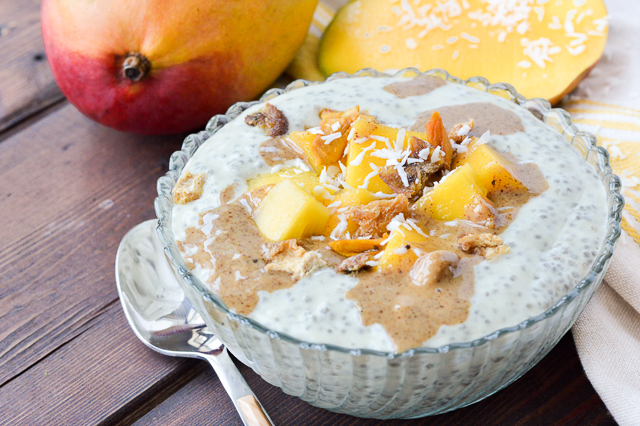 Tropical.  Refreshing.  Summery.  And healthy.  What more could you want?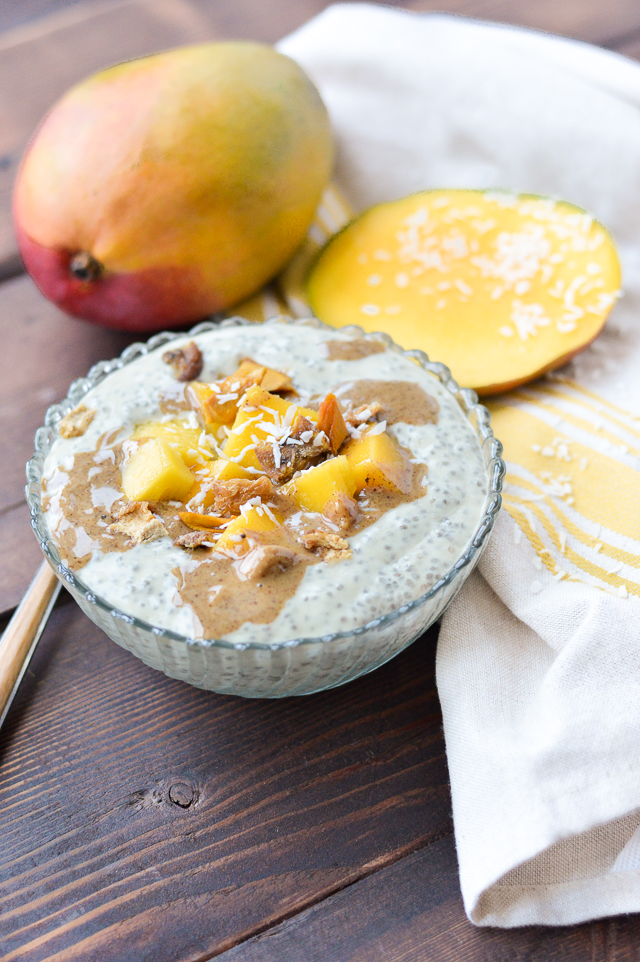 Speaking of the health factor, did you know mangos are just as healthy as they are pretty and delicious?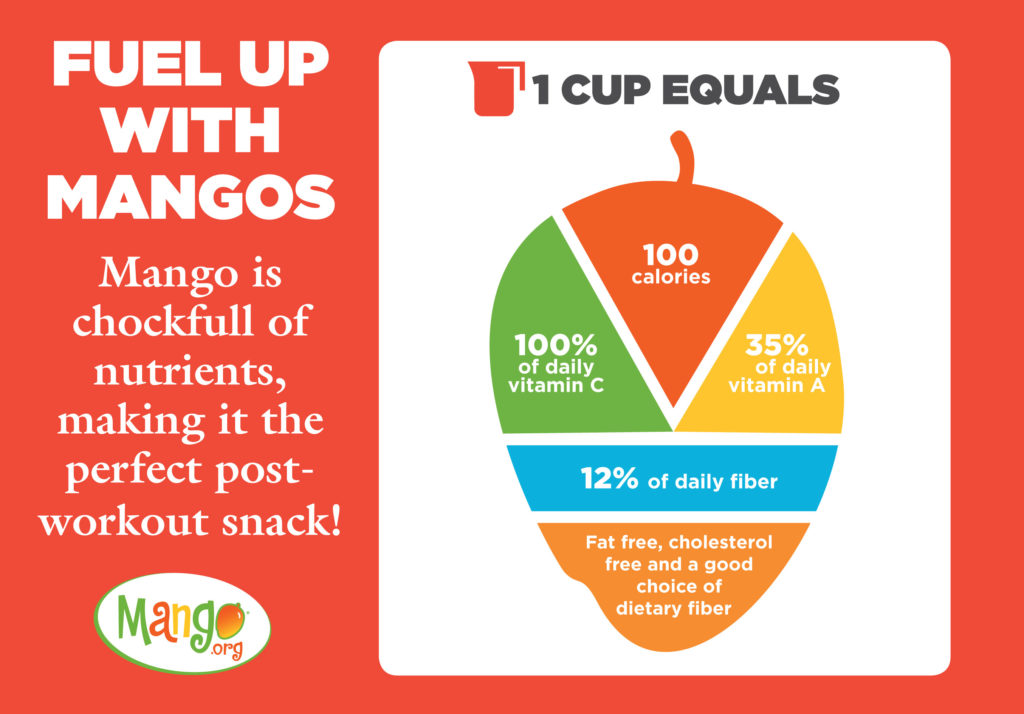 Mangos contain over 20 different vitamins and minerals and are rich in antioxidants.  Since they are a good source of vitamins A, C, and B6, eating them can help boost immunity.  My mono-attacked body is all about boosting immunity right now, but they're also a great food to eat for workout recovery and just general overall health.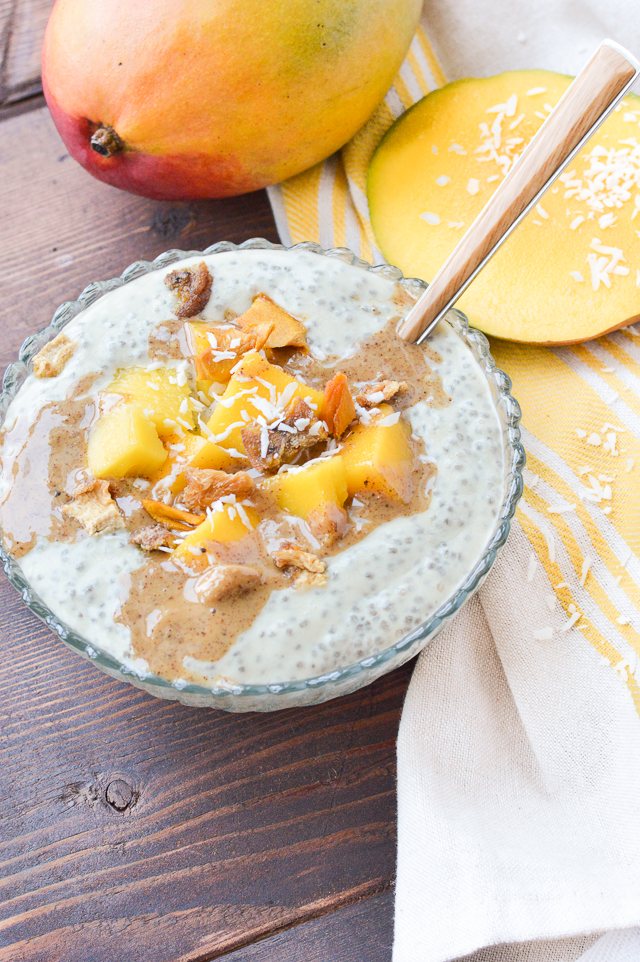 While we know that mangos are healthy and taste good, if you are anything like me, you may be intimidated when it comes to actually selecting and cutting into them.  I know I was for the first 25 years or so of my life.  But lucky for you, I've got your back!
Even though I always thought it was all about the color when it comes to ripeness (I blame bananas for this), the color actually has very little to do with selecting the perfect mango.  You're better off actually getting in there and touching the mango.  If it has a slight "give" and is soft to the touch, you are good to go!  And once it is ripe, you can refrigerate it for up to five days until you're ready to chow down.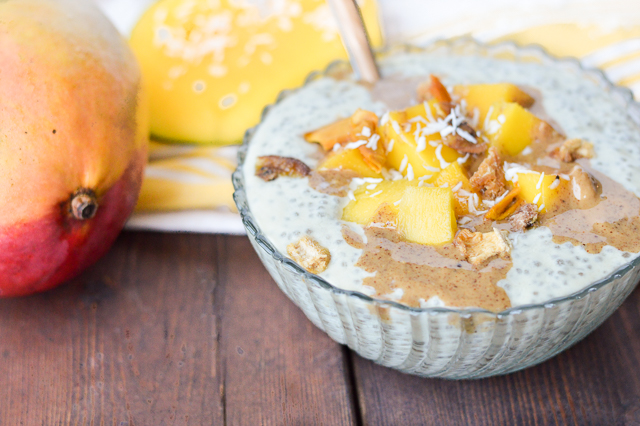 And the cutting part?  Yeah, it turns out that is surprisingly simple.  I prefer the mango dice method.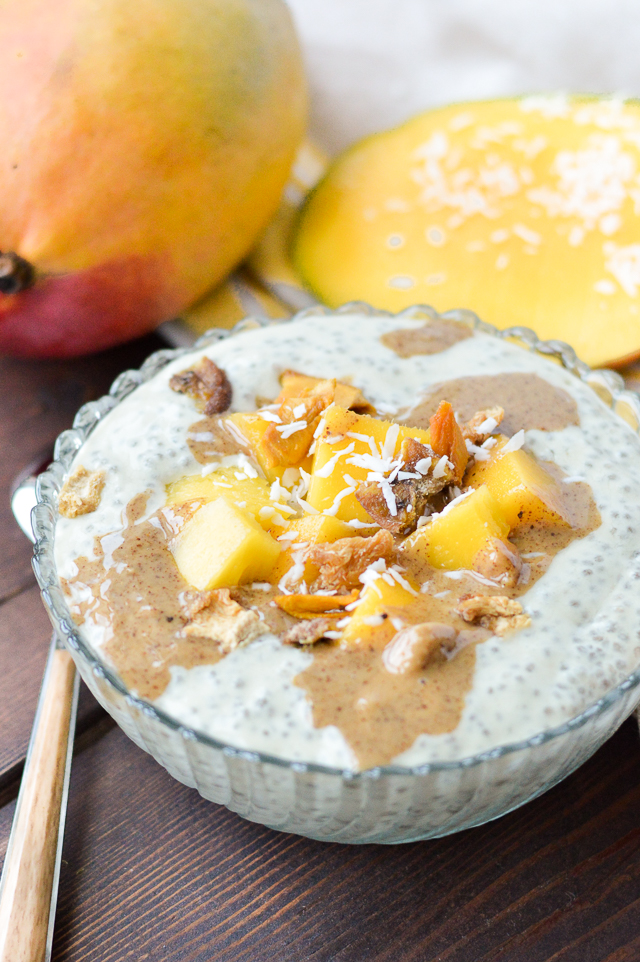 Tropical Coconut Mango Chia Pudding
Paleo, Gluten-Free, Grain-Free, Dairy-Free, Nightshade-Free, Soy-Free, Egg-Free, Nut-Free, Whole 30
Serves 1
Ingredients
1/3 cup of full-fat coconut milk (I prefer varieties without any additives)
1 cup of water
half of a ripe banana
1/4 of a large, ripe mango
1/4 tsp of vanilla extract
1 tsp of coconut sugar, optional
3 TB chia seeds
Topping ideas:
1/4 of a large, ripe mango, diced
shredded coconut
dried mango, banana, and/or pineapple
your favorite nut or seed butter
white chocolate chips
Directions
1. Combine coconut milk, water, banana, 1/4 of a mango, vanilla extract, and coconut sugar in a blender.  Pulse on high until smooth.
2. Place chia seeds in a pint-sized mason jar (leftover nut or seed butter jars work great, too).  Pour the coconut mango mixture into the mason jar.  Seal and shake until well-combined.
3. Refrigerate overnight, or for at least four hours.
4. Add any desired toppings.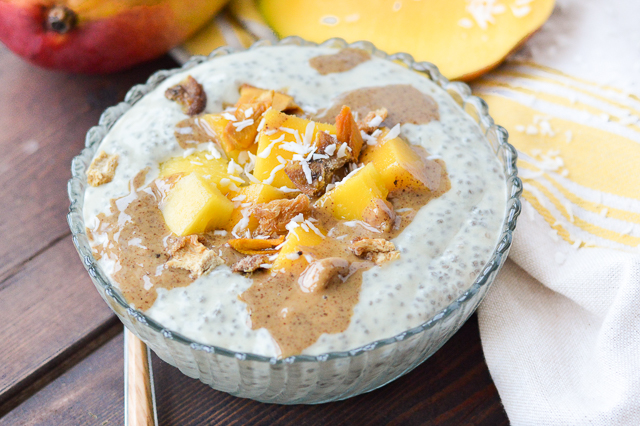 While this Tropical Coconut Mango Chia Pudding is totally spot on with the warm weather right now, I cannot wait to incorporate it into my breakfast rotation year round.  I have a feeling that diving into a bowl of this when it is 20 degrees outside will bring me some joy come next Winter.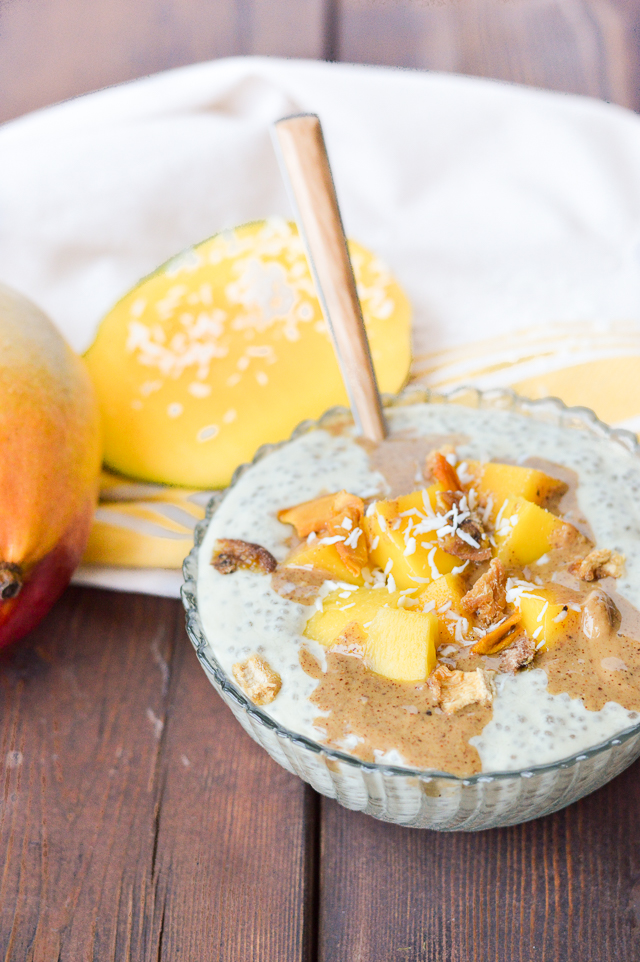 Breakfast is getting tropical with Coconut Mango Chia Pudding! @mangoboard #ad #mangos #vegan Click To Tweet
This is a sponsored conversation written by me on behalf of National Mango Board. The opinions and text are all mine.