These Apple Cinnamon Roll Haystacks with Toasted Walnuts are healthy comfort food at its finest.  They are perfect for breakfast, dessert, or as a snack!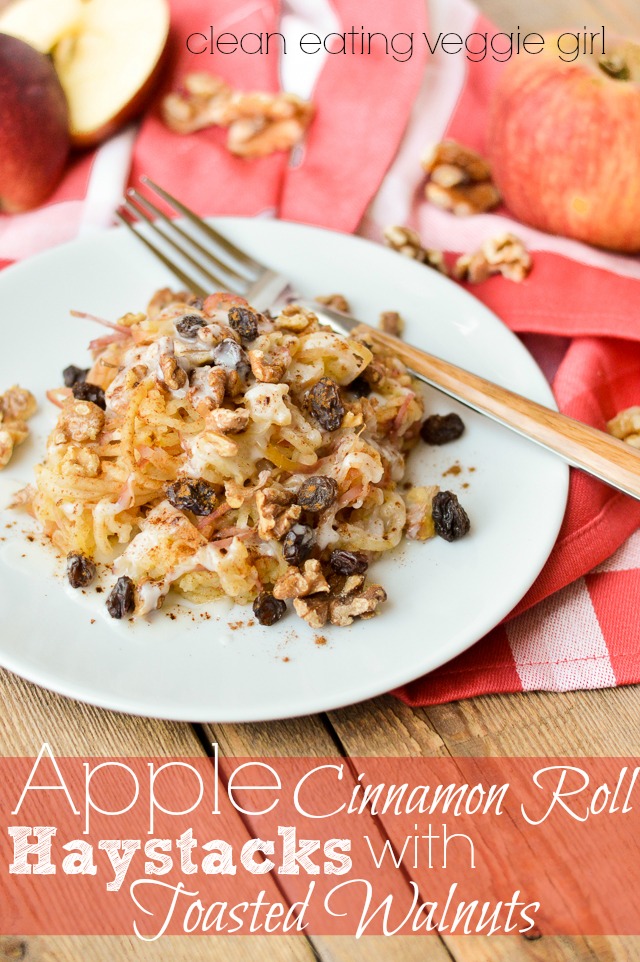 I received free samples of California walnuts mentioned in this post.  By posting this recipe I am entering a recipe contest sponsored by the California Walnut Commission and am eligible to win prizes associated with the contest.  I was not compensated for my time.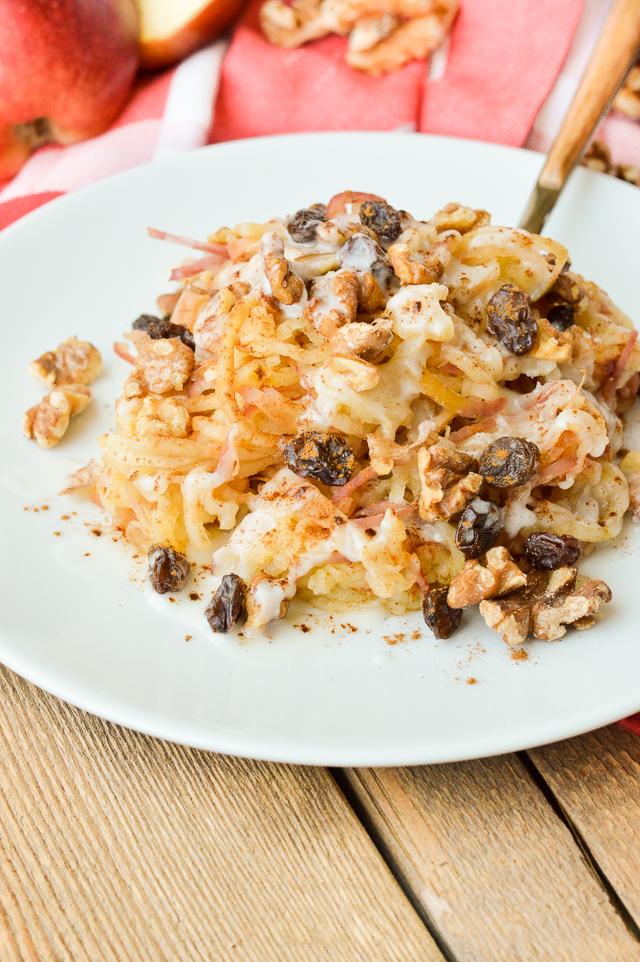 I know, I know.  This looks very little like a cinnamon roll.  But I hope you don't feel too deceived once you see what this recipe is all about.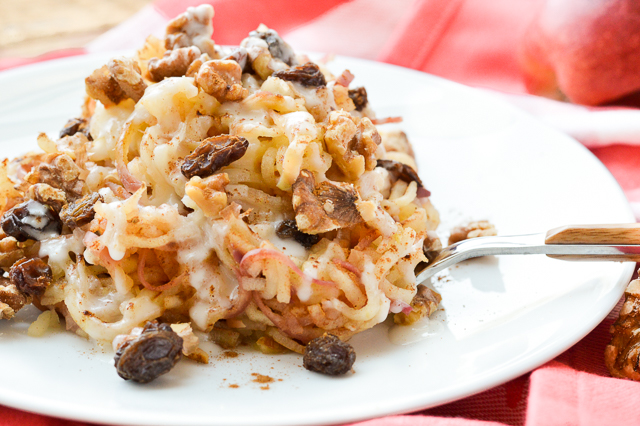 I solely blame the cinnamon roll statement on the fact that every last piece of apple, raisin, and walnut is dripping in delicious coconut butter.  To me, coconut butter tastes like cinnamon roll icing.  Either that, or it has just been way too long since I have eaten the real deal.  Regardless, it is delicious, and it pairs oh-so-perfectly with these two sweet fruits and healthy, protein-packed walnuts.  Four grams of protein per ounce, to be exact!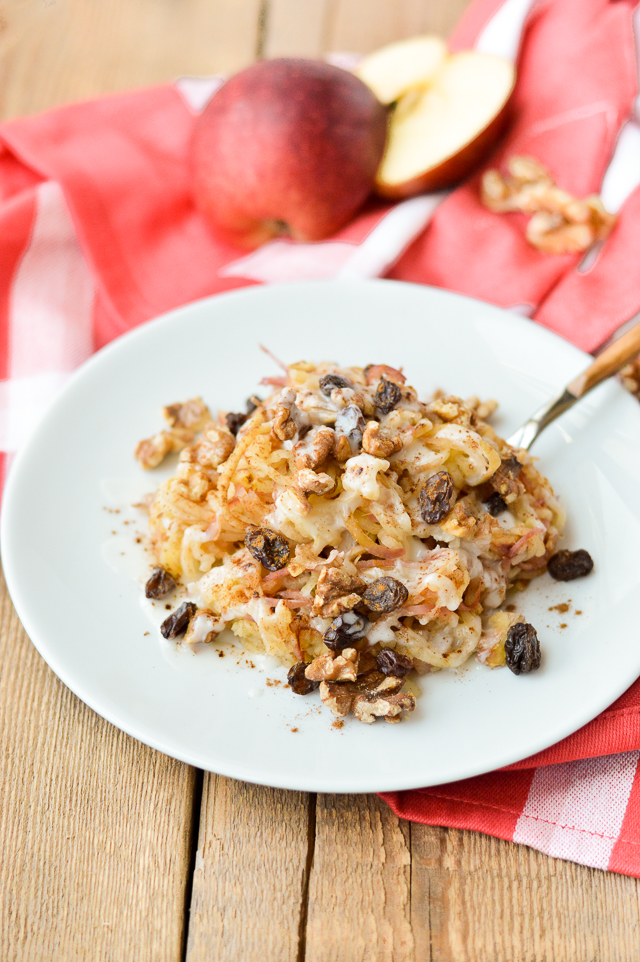 I have been putting coconut butter on baked white sweet potatoes for about two months now and loving it.  But in an effort to make things even more cinnamon roll-esque, a bit more sweetness with a pinch of nuttiness had to happen.  Not to mention the fact that I wanted to amp up the nutrition-factor.  We are talking fiber, magnesium, phosphorus, and plenty of healthy fats!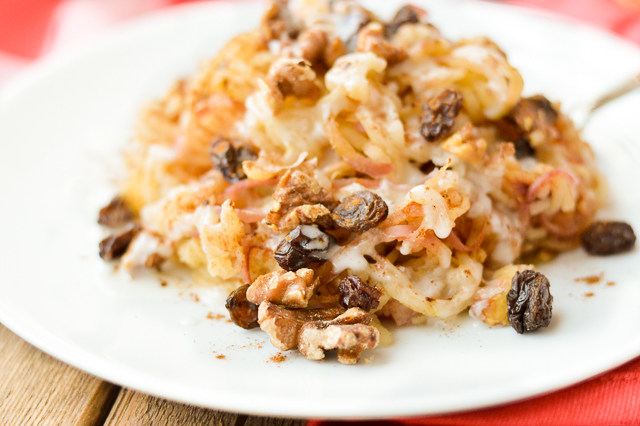 So I whipped out my spiralizer and this gigantuan haystack happened.  In less than 20 minutes, I might add.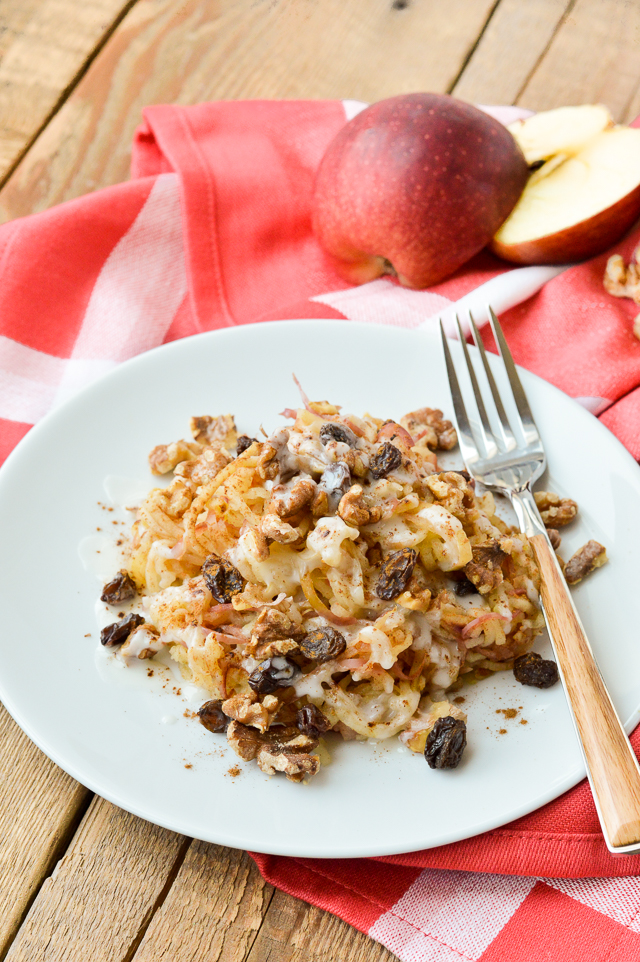 Sure, cinnamon rolls are completely delicious.  But something tells me that these Apple Cinnamon Roll Haystacks with Toasted Walnuts are a bit healthier and a lot more filling and satiating thanks to those fiber-filled walnuts.  Who knew upping the healthiness, flavor, and deliciousness of a recipe could be so easy?  Just toast and sprinkle them walnuts… on basically everything!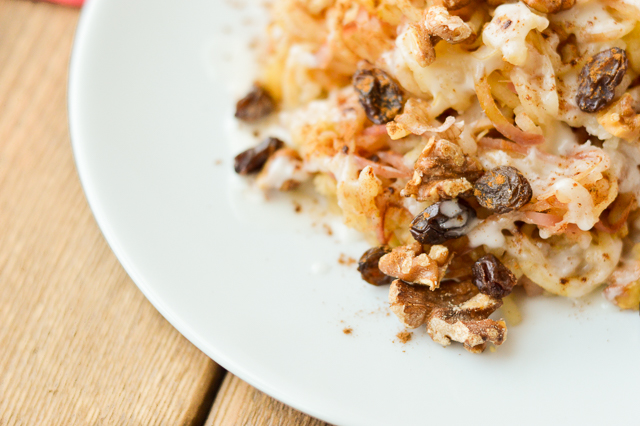 One reason I have been loving on walnuts lately is because I have been working hard to increase my omega-3 intake, and every ounce of walnuts provides 2.5 grams of goodness.  And while I love all nuts, walnuts are special since they easily beat out all other nuts in their omega-3 ALA content.  Like it's not even a competition.
Did you know that the ratio between omega-3 and omega-6 healthy fats should be close to 1:1, and in actuality, most people have a much higher intake of omega-6 fats than omega-3 fats?  This imbalance between the two can lead to inflammation, which you know is something I have been trying to fight like crazy lately.  Enter: as many healthy omega-3 sources as possible, including walnuts!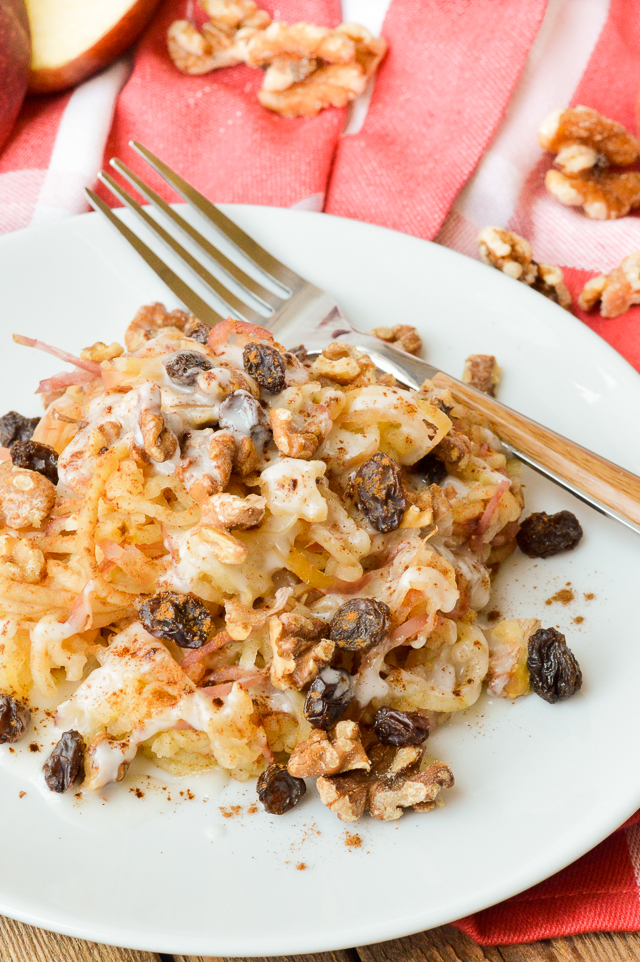 Apple Cinnamon Roll Haystacks with Toasted Walnuts
Paleo, Gluten-Free, Grain-Free, Dairy-Free, Vegan, Vegetarian, Soy-Free, Egg-Free, Nightshade-Free, Whole 30
Serves 1 to 2
Ingredients
1/4 cup whole California walnuts
2 large organic apples (your favorite variety- I used Braeburn)
1/2 tsp ground cinnamon
1 tsp coconut sugar, optional
2 TB raisins (regular or golden)
2 TB organic raw coconut butter, melted
Directions
1. Begin by toasting the walnuts.  Preheat oven to 350 degrees F.  Place whole walnuts on a baking sheet in a single layer.  Bake for approximately 8 to 10 minutes, or until toasted.  Be sure to check them frequently, as they can burn easily.
2. While the walnuts are toasting, wash and dry the apples.  Remove the stems and spiralize using your favorite spiralizer.  Use a towel to squeeze out any excess liquid.
3. Place the spiralized apples in a large skillet over medium heat.  Cook for approximately five minutes, or until softened.  Remove from the heat and sprinkle with the cinnamon and coconut sugar, if desired.
4. Once the walnuts are toasted, remove them from the oven and use a knife to chop them.
5. Compile your haystacks in the following order: seasoned apples, walnuts, raisins, and coconut butter.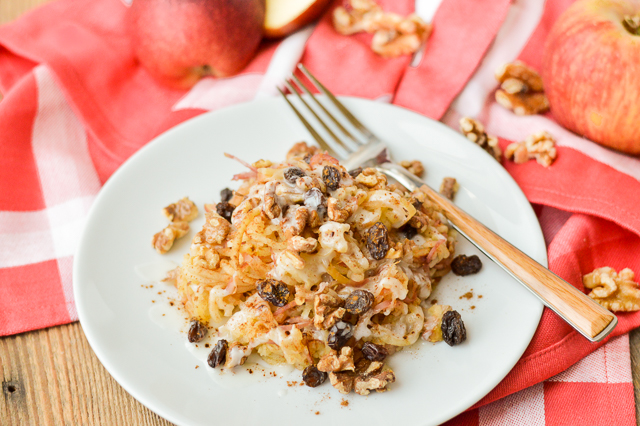 All four of the main ingredients in this dish are favorites of mine.  But who knew they could taste so darn good together?  They just complement one another, dontcha' think?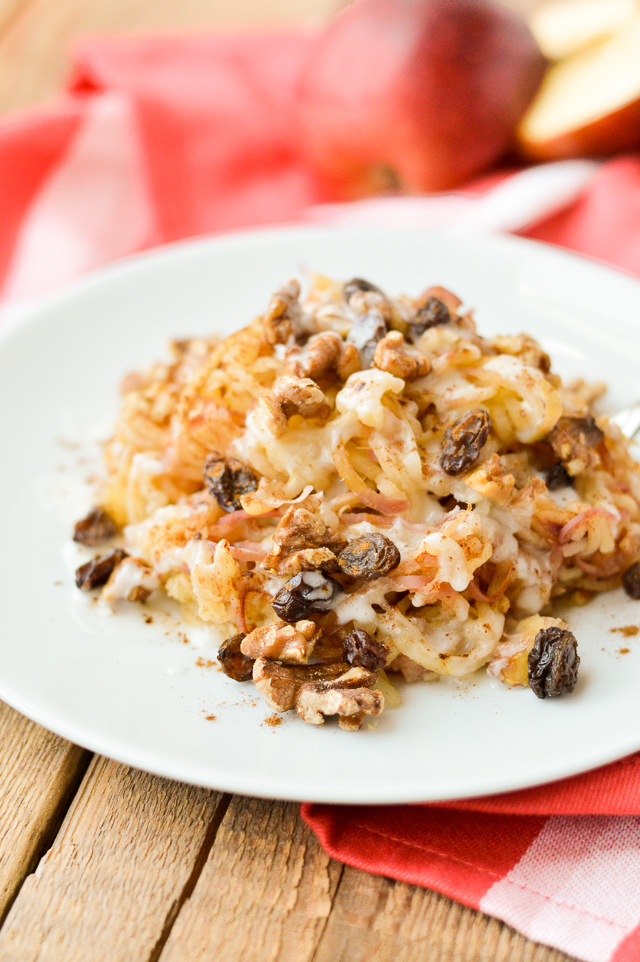 These Apple Cinnamon Roll Haystacks with Toasted @CAWalnuts are heaven! #ad #thereciperedux
Click To Tweet
This post contains affiliate links.  Thank you for supporting CEVG and enabling me to continue working towards better health!