I feel like a real adult now.  Why, you ask?  Because ever since I started my new job, I have been using public transportation.  I'm not sure what it is about that, but it makes me feel old, responsible, and like I have "made it" in the professional world.  Plus, let's be honest, sometimes the challenge of figuring out the bus system and actually getting to and from your destination on time is an accomplishment all on its own.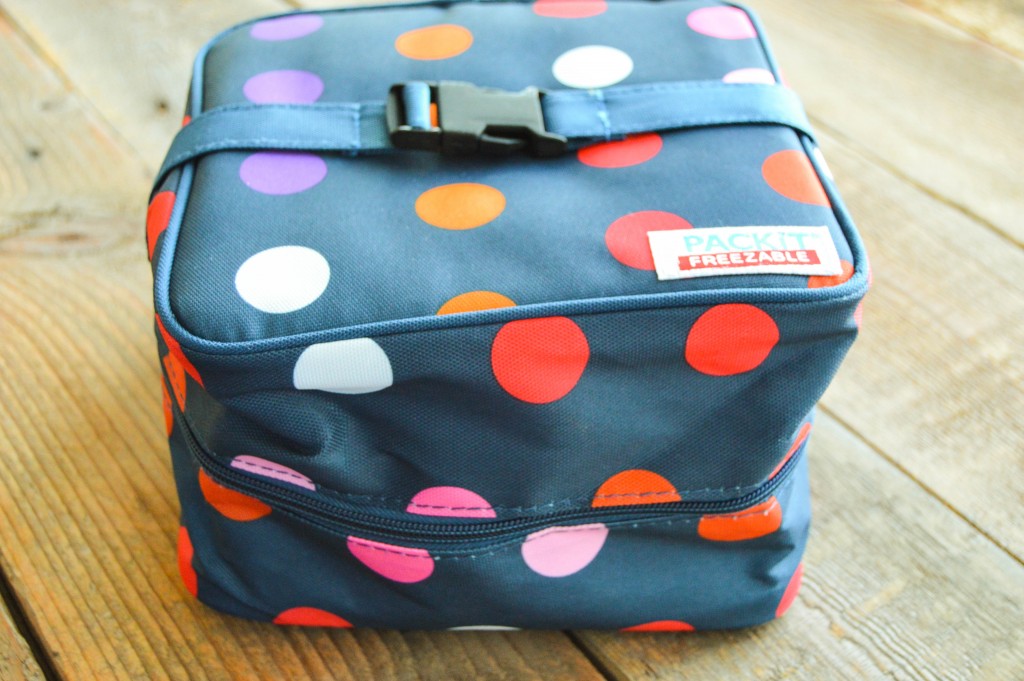 Once I knew I would be taking the bus to work, I realized I needed to step up my game in the lunch box and bag department.  I am kind of embarrassed to admit that at my former job I always brought my lunch in a plastic grocery sack.  Classy, right?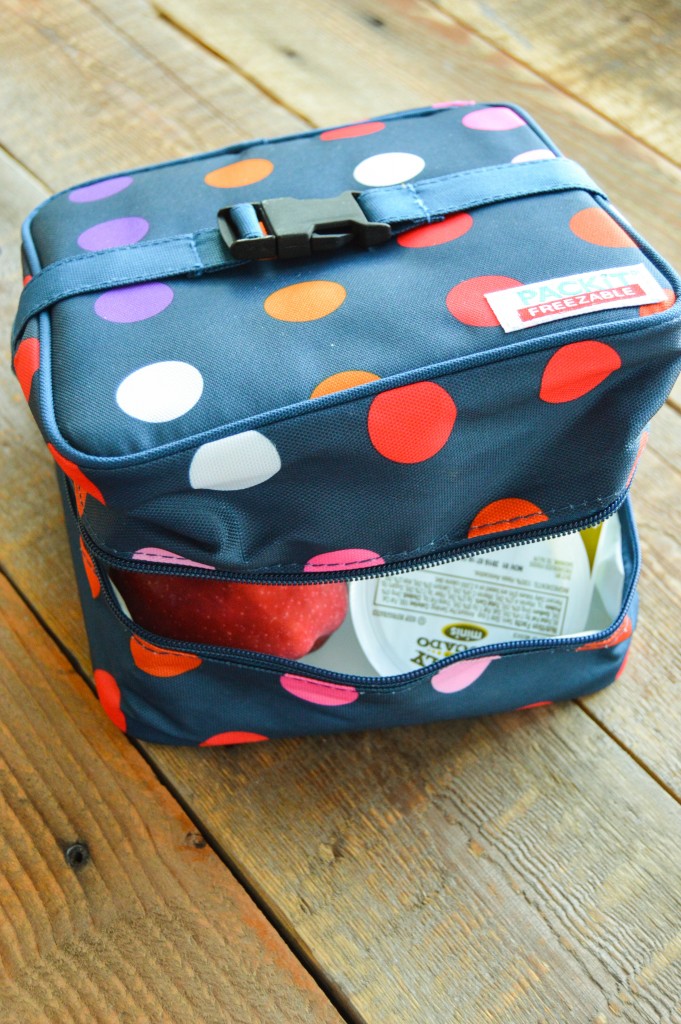 But now that I am walking to and from the bus stop, riding the bus, and walking several blocks to and from my building, a plastic sack just isn't going to cut it.  Plus, is it totally wrong to admit that I want to look more like a professional and less like a bum as I embark upon each new day?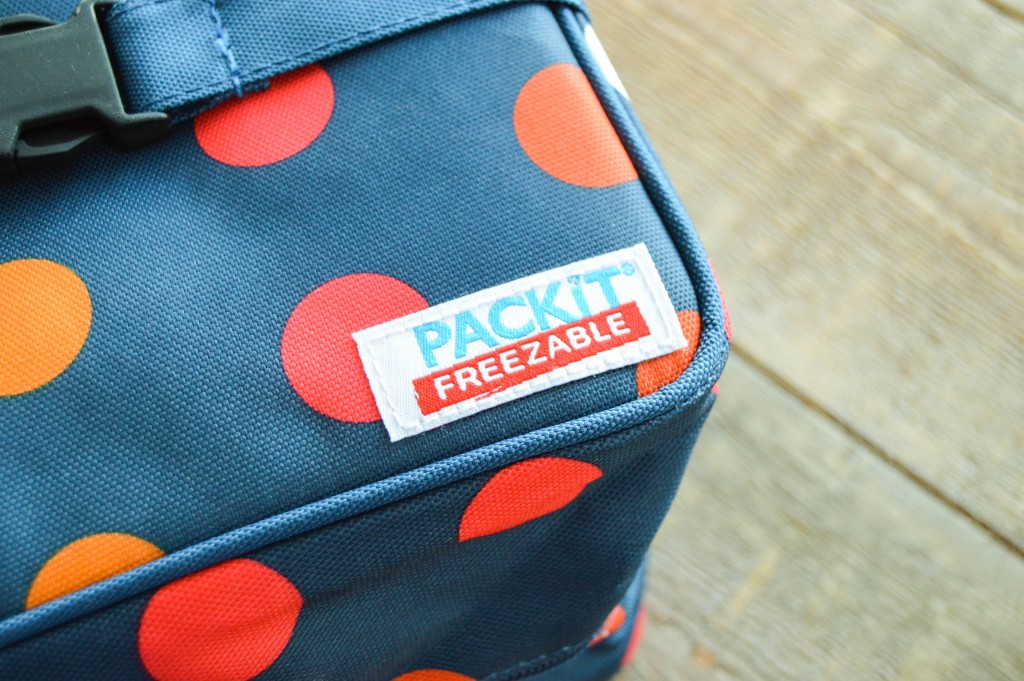 What perfect timing it was when reuseit reached out to me about a month ago to review their PackIt Freezable Insulated Salad Bag.  I loved the concept, thought the Dots pattern was super cute, and knew it would be perfect for carrying my lunch (and sometimes breakfast) each day to work.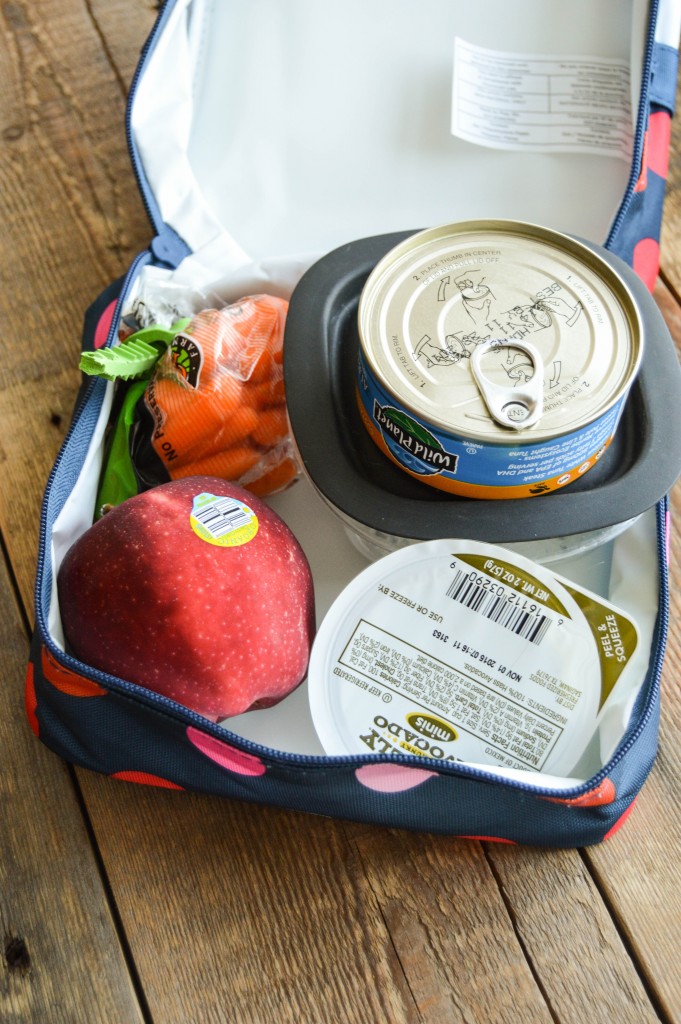 The bag is unique because the ice pack is built right into the container.  Therefore, all you need to do is stick the entire lunch bag into the freezer the night before, load your food the next morning, zip it, and carry it with you wherever you go.  I'm obsessed with the fact that I don't have to mess with an ice pack because they normally take up half of the container and leave zero room for the important part: the food!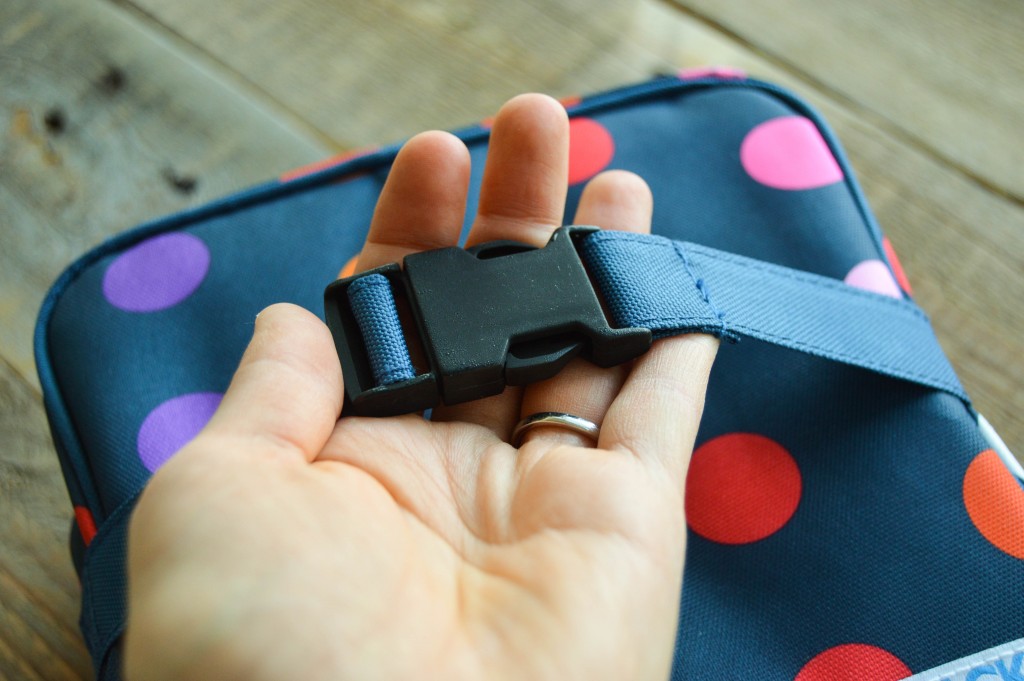 I also love the fact that the bag contains a clip.  I generally just use this feature to carry it more easily, but it is also the perfect way to clip it to a bag so that you can truly be hands-free.  I should probably start using the clip feature since it seems like I am almost always juggling a million things on my way to and from work.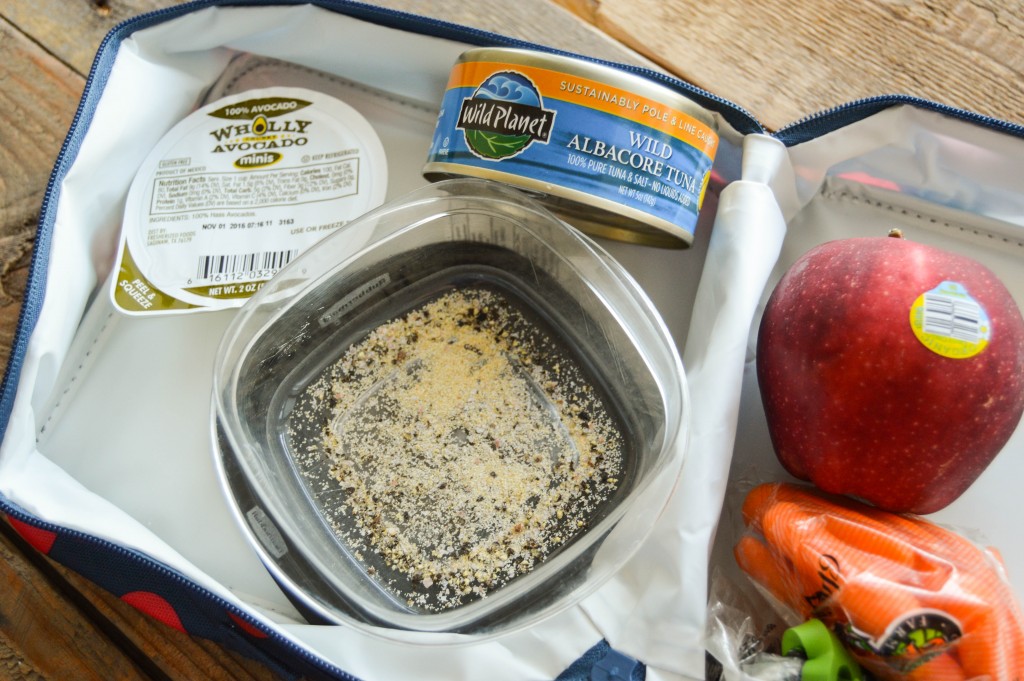 Lately, my go-to lunch that I have been packing in my freezable bag is a super simple tuna salad.  I kid you not, this is one of the easiest lunches ever!  I load the bag up with a can of tuna (or salmon or chicken), an individual package of mashed avocado (guacamole works too), and some sea salt, pepper, and garlic powder (you can omit this if using already seasoned guacamole).  Once lunchtime rolls around, I mix everything together into a healthy and delicious tuna salad full of tons of healthy fats.  Even after six hours in the bag, all of the ingredients are always still cold.  I'm a late luncher, so I appreciate that.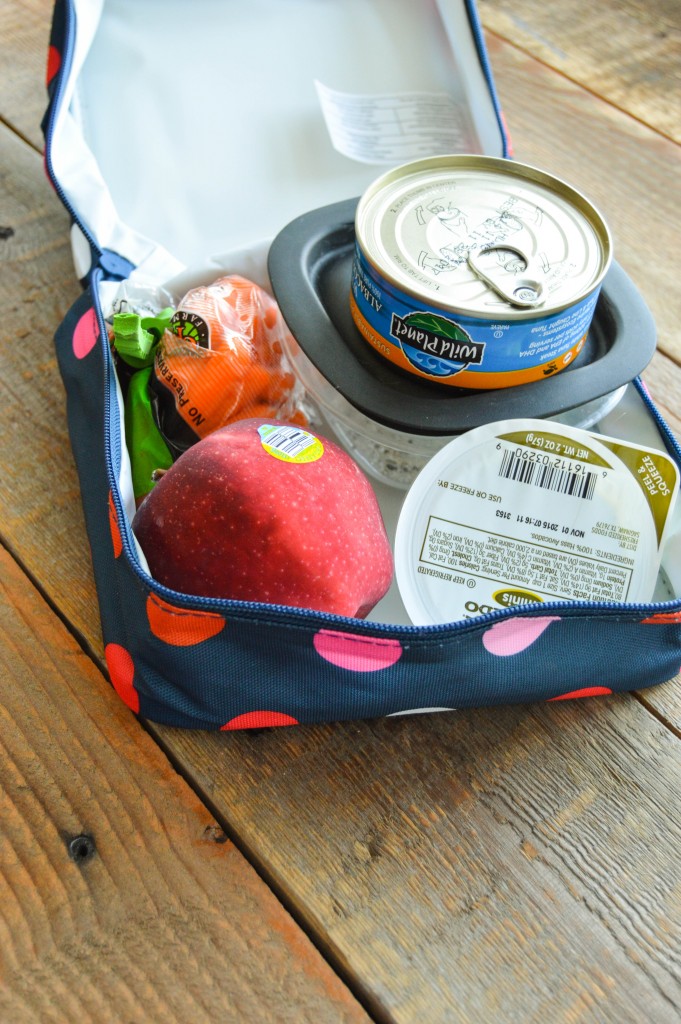 The PackIt bag is also big enough that I can add in a side and some snacks. I generally choose a veggie and a fruit.  Does it surprise you that this time I chose carrots and an apple?  I'm sure it doesn't!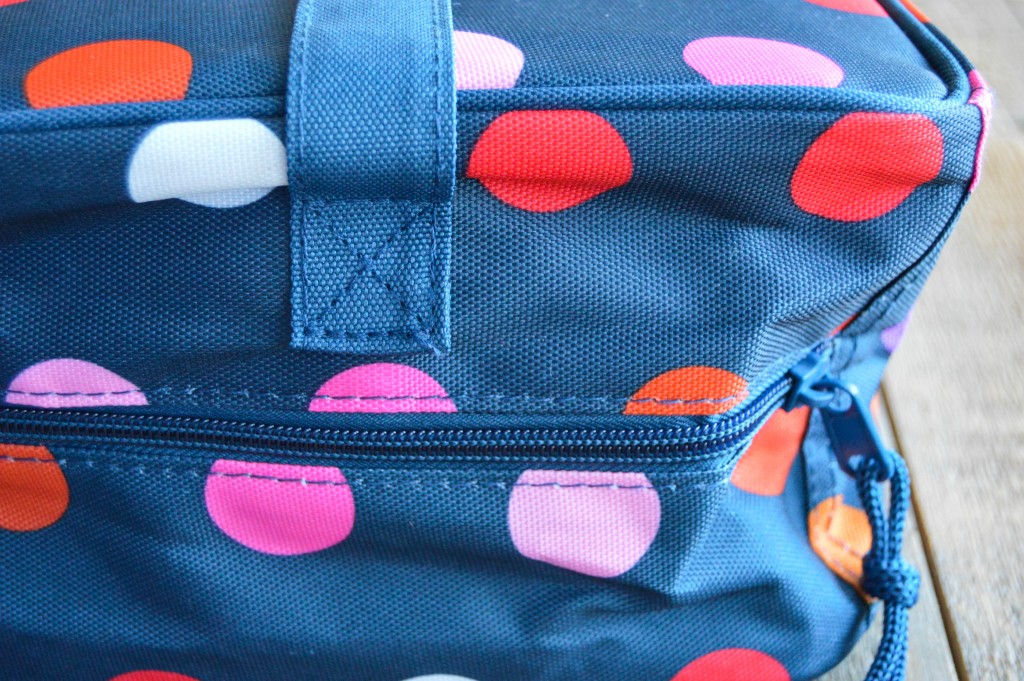 At the end of the day, I load all of my empty containers back into the lunch bag, board the bus, and I'm on my way.  Of course the least fun part is waiting for me at home: the dishes and meal prep for the next day.  Luckily, prepping my go-to salad is super quick and simple.  That is probably why it has become my "go-to!"  I'm also fortunate to be able to quickly wipe the waterproof interior clean and pop it back into the freezer.  Then it's all good to go for the next work day!
Say hello to my new favorite kitchen/work/life tool!
The easiest tuna salad ever for on the go! #ad #Paleo #Whole30 #glutenfree
Click To Tweet
This post is sponsored by reuseit®.  I was compensated for my time, but all thoughts and opinions are my own.
What is your go-to easy lunch?
What do you use to bring your lunch to work each day?
What is your current favorite kitchen tool?