Parsnip "Rice" with Fresh Thyme & Sage is a nutty, flavorful substitute to rice.  Serve with your favorite protein and additional sides for a cozy fall dinner or a holiday meal.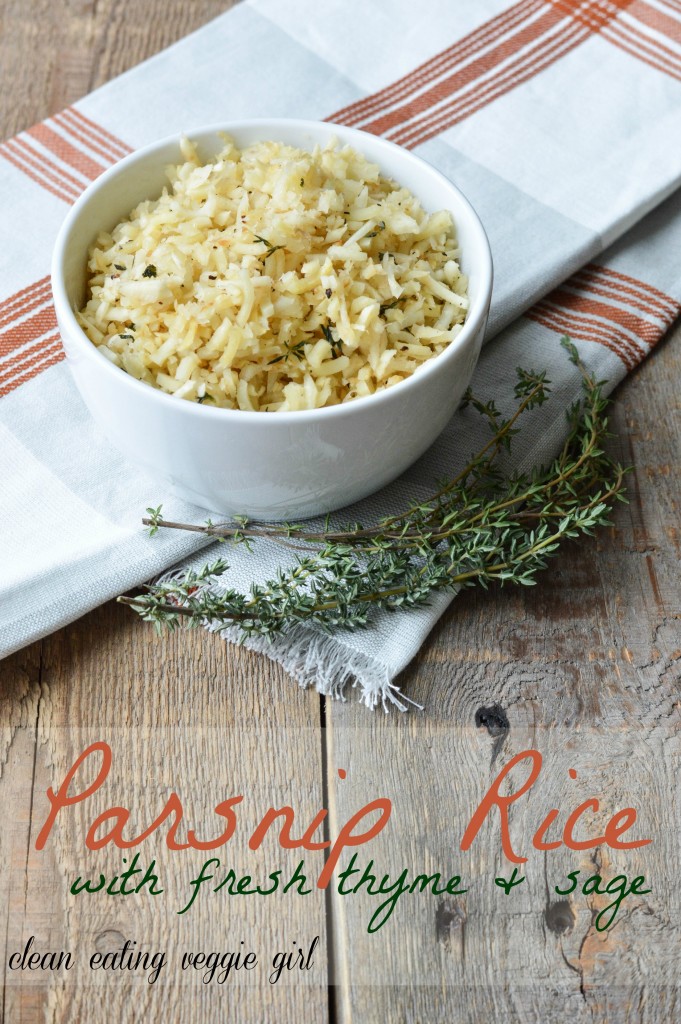 Move over cauliflower rice.  Parsnip "rice" is coming for ya!  It is about to give you a run for your money, too.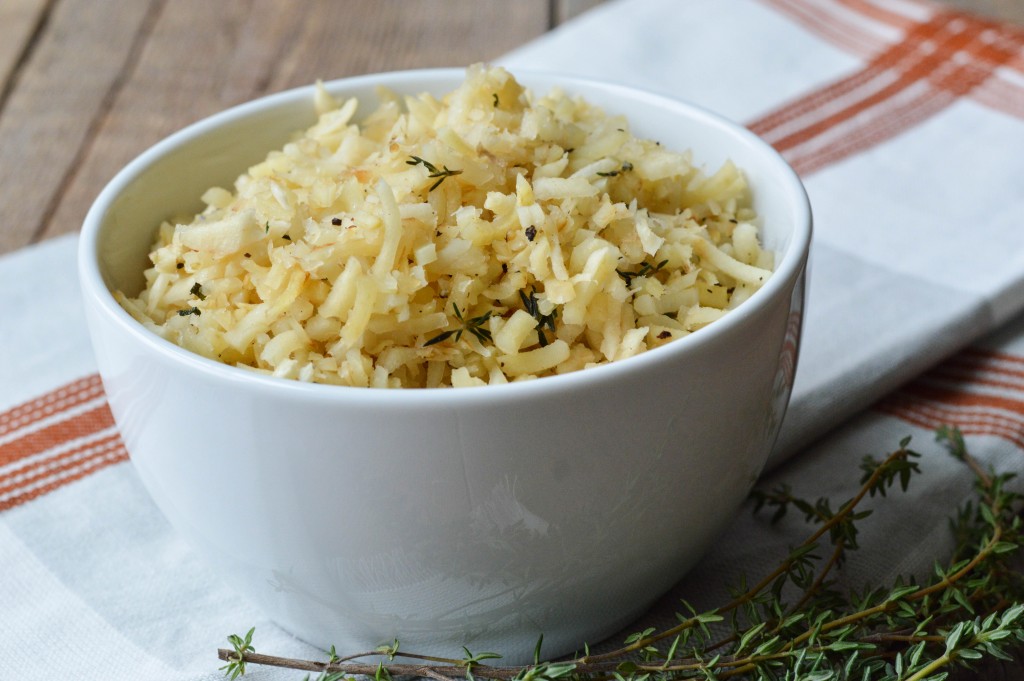 Ever since cauliflower "rice" became a thing, I have been on board the train.  And while I think cauli rice is delicious in cauliflower pizza crust or served in place of a bed of rice, I've gotta be honest.  I really don't care for cauliflower rice on its own.
Plain cauliflower rice does nothing for me.  I think it has very little flavor, and whenever I try to properly season it, I end up with a soggy and mushy mess.  I don't know about you, but I am not a fan of mushy rice.  Mashed cauliflower instead of mashed potatoes?  Sure!  But I am going to have to pass on mushy cauliflower rice.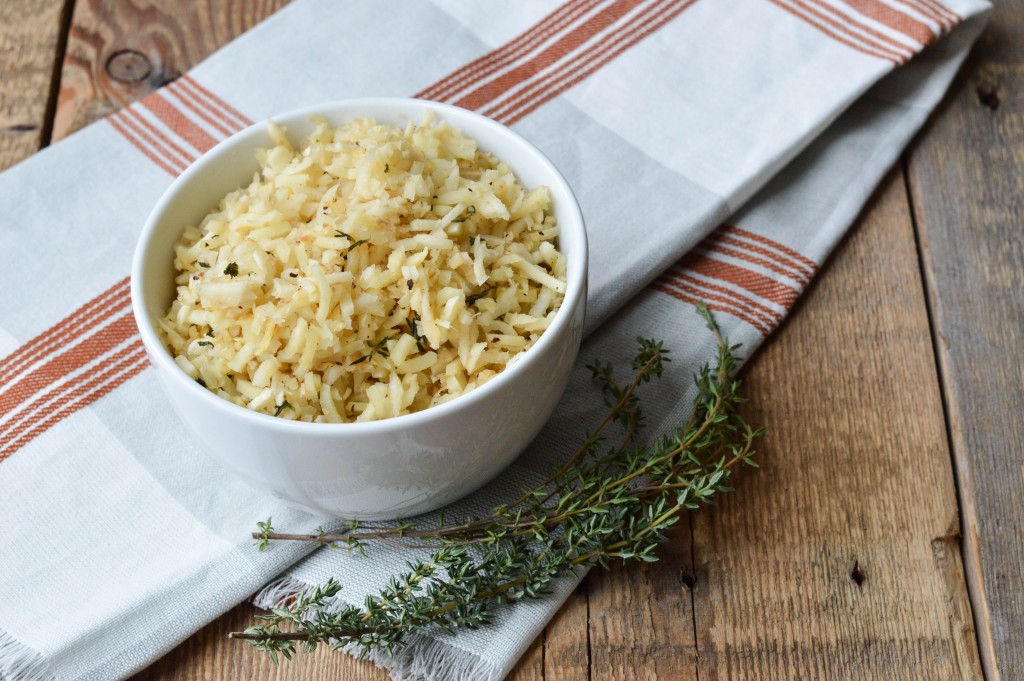 Luckily, there is a new rice in town.
And while I may be biased, I think parsnip rice makes cauliflower rice seem like the unpopular, dismal younger sibling of rice.  In fact, if I could get everyone to think the way I think and taste the way I taste, I would make plain cauliflower rice go extinct.  Should it stick around for pizza crust?  You bet!  But served alone as a side?  No thank you.  That is what parsnip rice is for!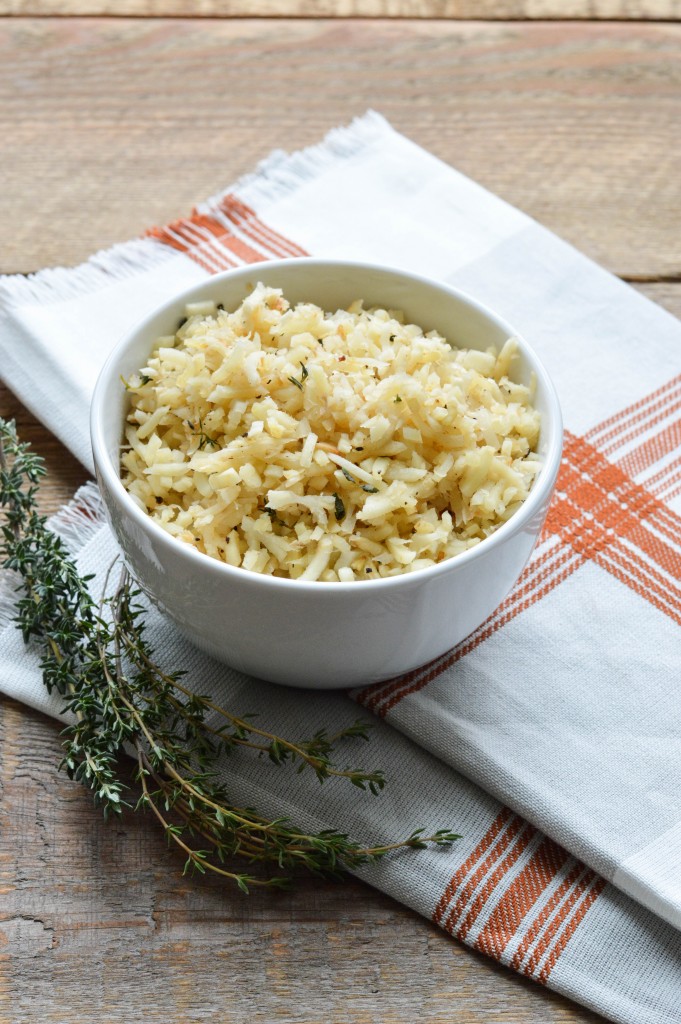 You are going to fall in love with this parsnip rice for so many reasons.  It is:
flavorful
healthy
nutty
veggie-packed
allergy-friendly
sturdy (not mushy!)
has the texture of rice
is absolutely perfect for the fall and winter seasons and the holidays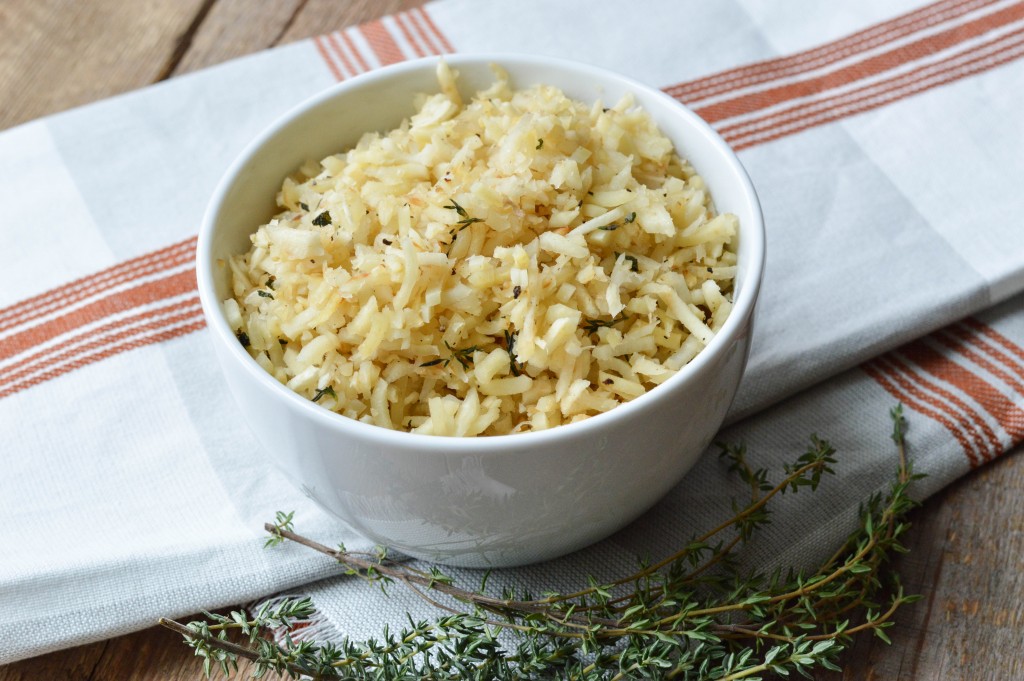 Are you ready to try parsnip rice yet?  Let's get to ricing!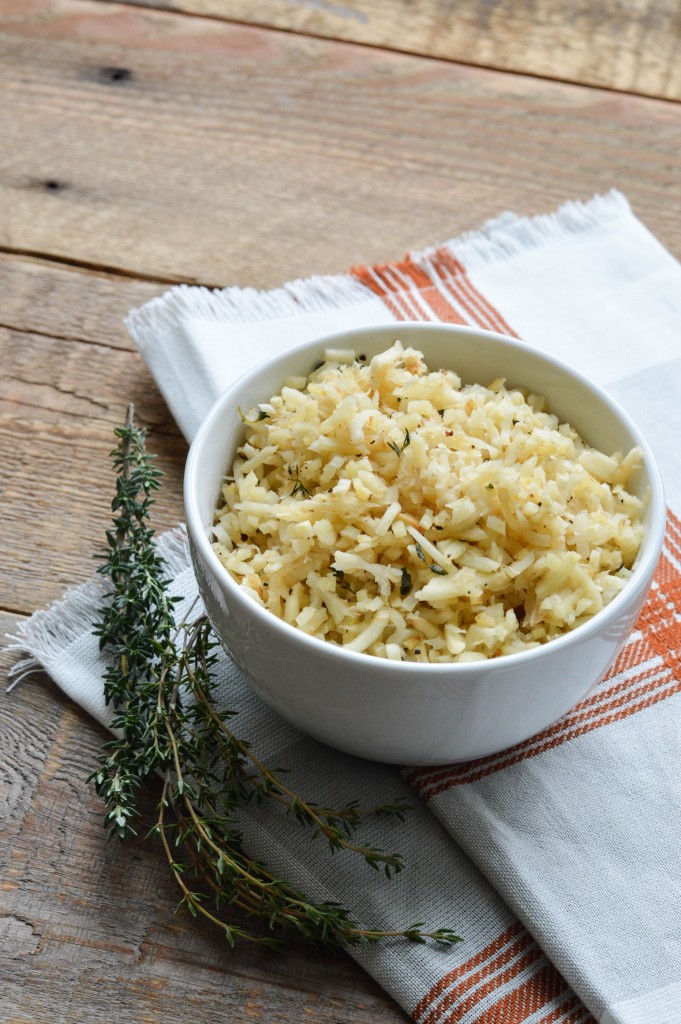 Parsnip "Rice" with Fresh Thyme & Sage
AIP, Whole 30, Paleo, Vegan, Dairy-Free, Gluten-Free, Grain-Free, Nightshade-Free, Nut-Free
Ingredients
4 large parsnips*
1-2 heaping TB of unrefined coconut oil
10 leaves of fresh sage, minced
5 sprigs of fresh thyme
1-inch piece of fresh ginger, grated
fine sea salt, to taste
freshly ground black pepper, to taste
*I highly recommend that you only use large parsnips.  Small parsnips are very difficult to spiralize.
Directions
1. Start by washing, peeling, and spiralizing your parsnips.
2. Place the spiralized parsnips in a large food processor and pulse for 15 to 20 seconds, or until it resembles the look of rice.  You will likely need to do this in several batches.
3. In a large skillet, heat coconut oil over medium-high heat.  Once hot, lower to medium heat and add parsnip "rice."  Cover and saute for approximately 5 minutes.  Stir frequently.
4. Turn the heat down to low.  Add sage, thyme, sea salt, and black pepper.  Stir until well-combined.  Cook for an additional 10 minutes, stirring frequently.  Adjust seasonings, as desired.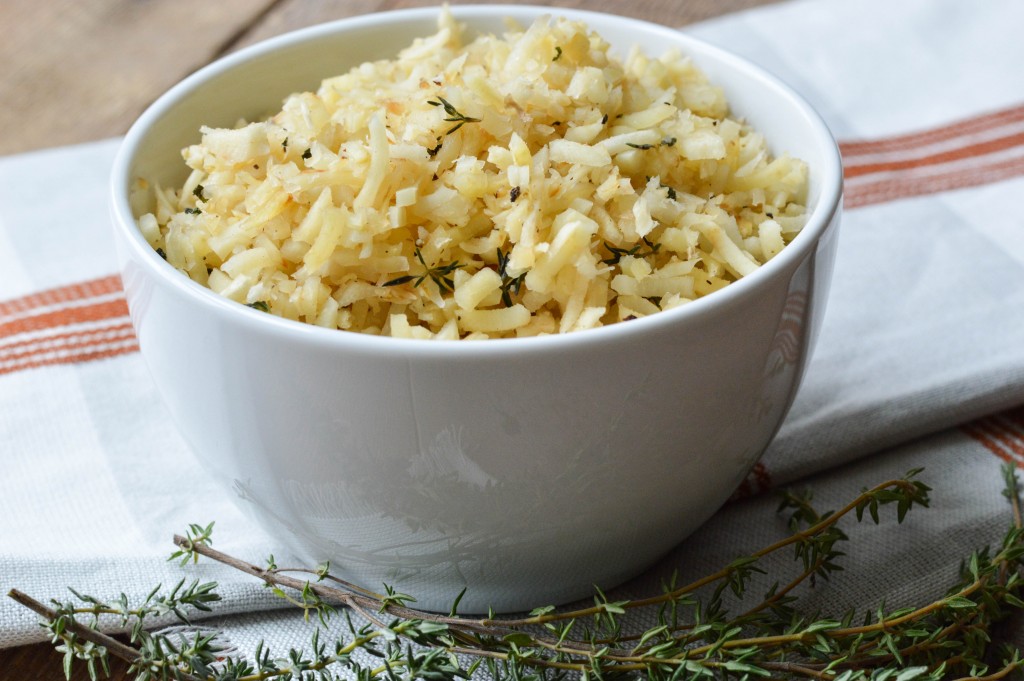 Parsnip rice has me all giddy for the Thanksgiving holiday already!  I mean seriously, how perfect would this be served alongside turkey and your favorite sides?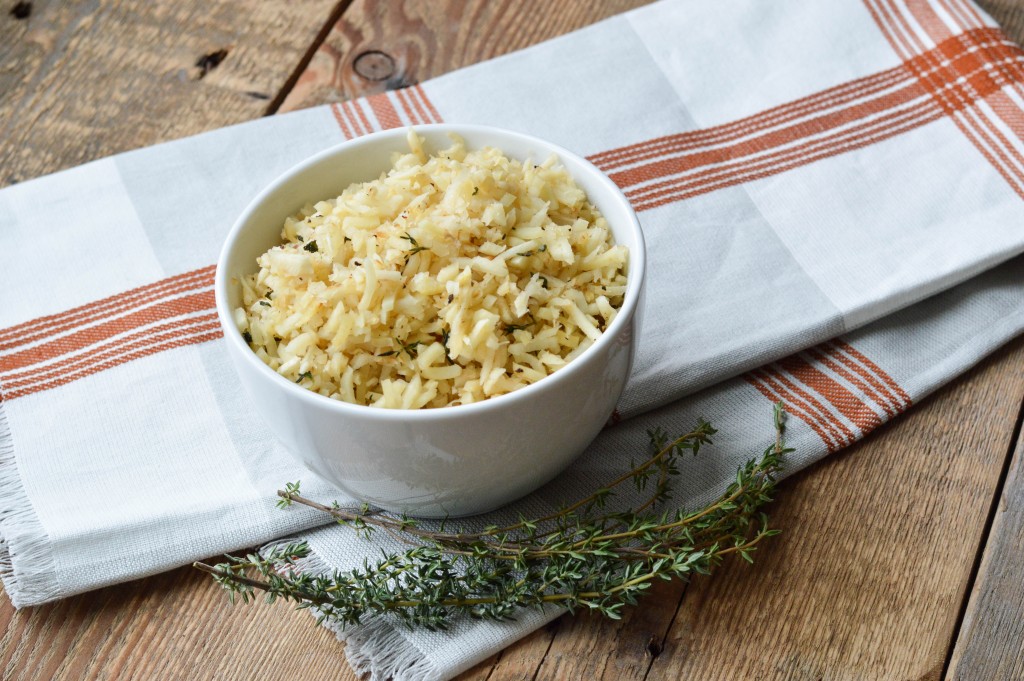 Rice made from parsnips and fresh herbs is perfect for fall and the holidays! #paleo #glutenfree Click To Tweet
Have you ever made parsnip "rice?"
What is your favorite rice substitute?