Meatballs kicked up a notch with pumpkin make for the perfect fall-inspired meal.  Pair these Paleo Pumpkin Meatballs with your favorite comforting sides!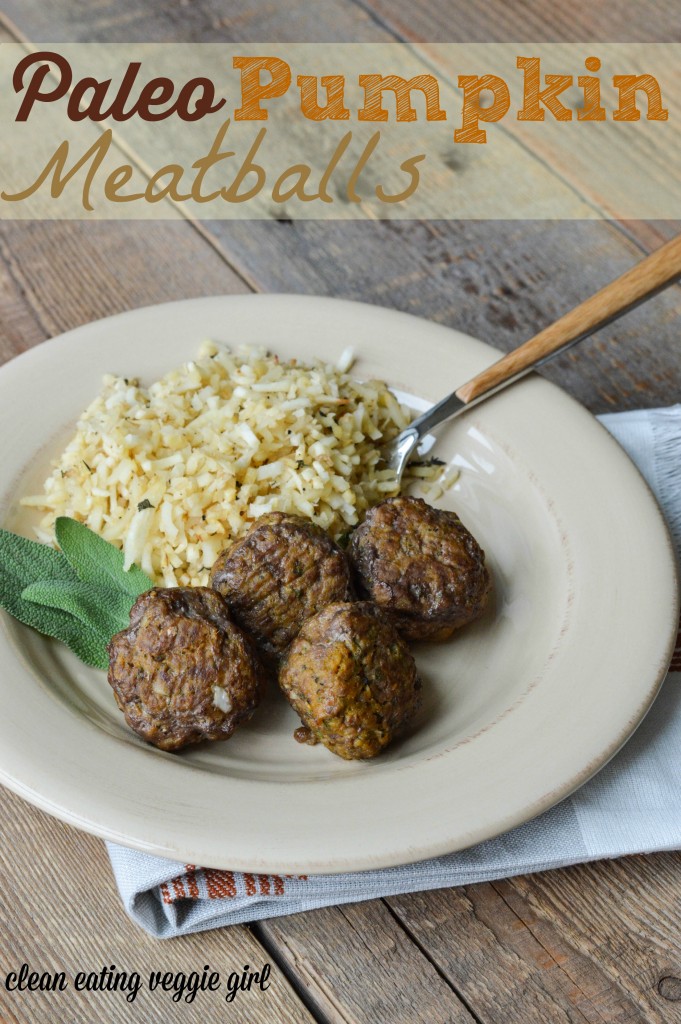 A couple of months back, I tried these meatballs for the first time.  I was on the hunt for AIP Paleo recipes, the flavors sounded delicious, and the balls sounded simple enough to throw together.  Ever since then, I have been hooked on and continuously craving meatballs.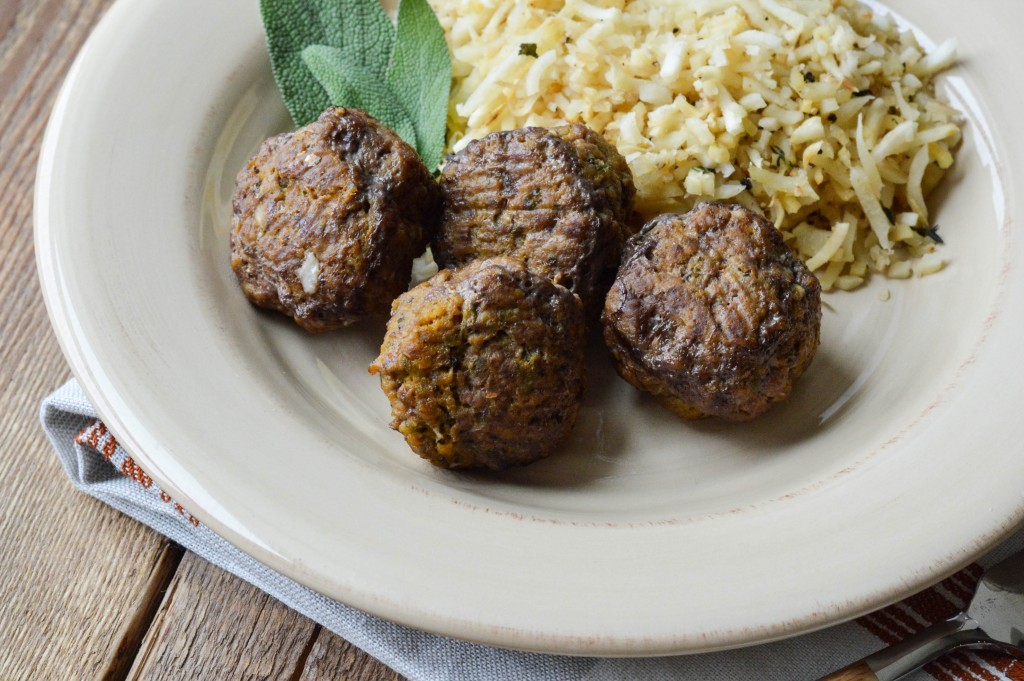 While everything about Alaena's recipe is pretty perfect, a few weeks ago I was craving something a bit more cozy, fall-inspired, and even more veggie-packed.  And when October rolls around each year, it is hard not to instantly think of pumpkin.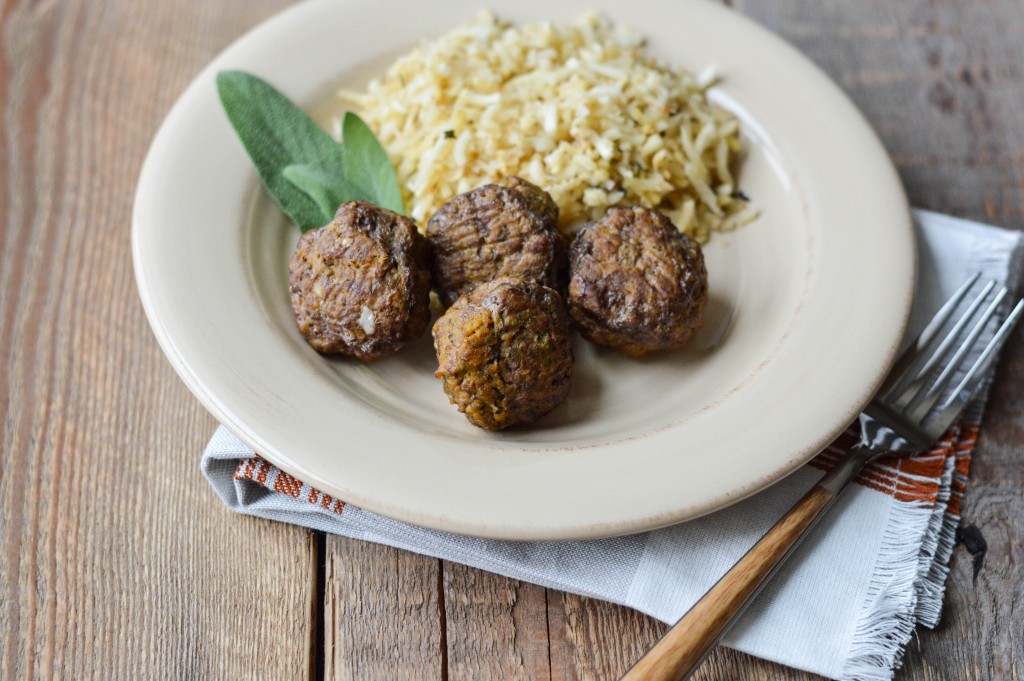 Pumpkin goes great in oatmeal and it was made for pie.  But did you know that it also tastes crazy good paired with grass-fed ground beef?  Well, it does.  So good.
I also threw in some fresh garlic and ginger, along with two of my favorite fresh fall-inspired herbs: thyme and sage.  While you could totally used dried herbs, I highly recommend sticking with fresh.  I truly believe it makes a difference in the taste.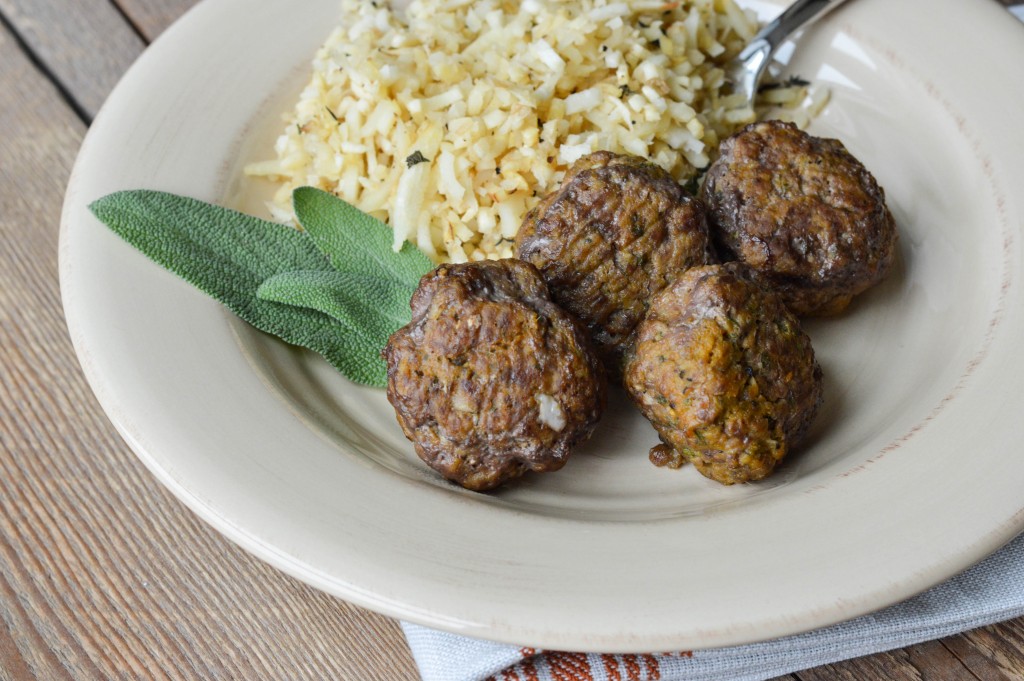 Your favorite traditional meatballs just got oh-so fancy.  These essentially prove that almost everything tastes better with pumpkin, dontcha' think?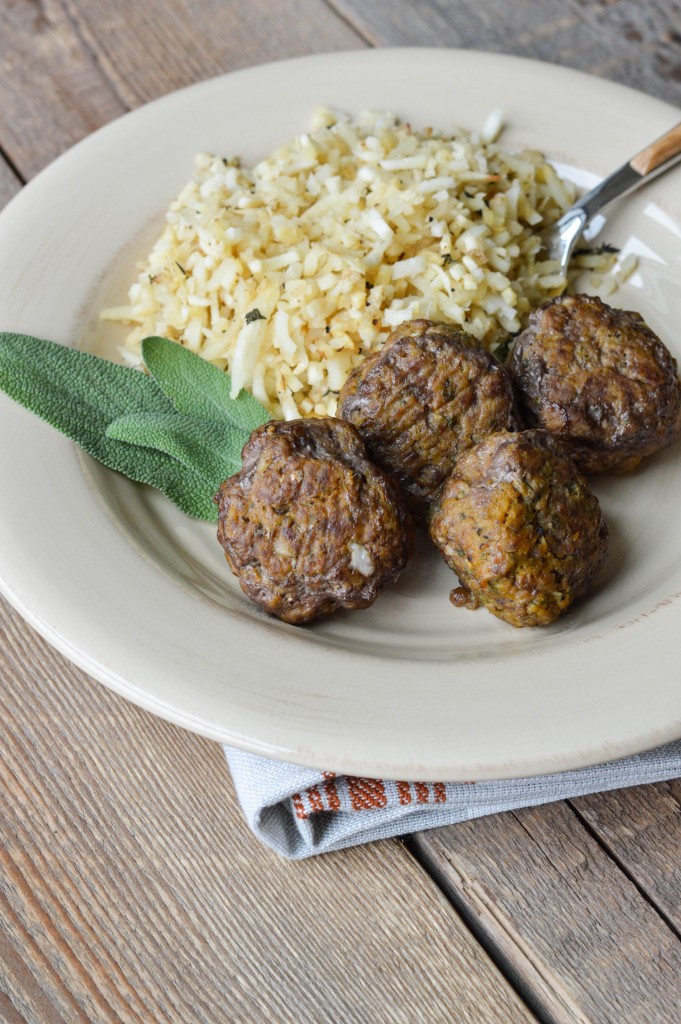 Paleo Pumpkin Meatballs
AIP, Whole 30, Gluten-Free, Grain-Free, Dairy-Free, Nut-Free, Nightshade-Free
Makes 12-14 meatballs (3 to 4 servings)
Ingredients
1 pound grass-fed, organic ground beef (or ground turkey or chicken)
1/2 cup pumpkin puree (not pumpkin pie mix)
12 leaves of fresh sage
4 sprigs of fresh thyme
4 cloves of garlic, peeled
2-inch piece of fresh ginger, grated
1/2 tsp fine sea salt
1/2 tsp freshly ground black pepper
Directions
1. Combine sage, thyme, garlic, and ginger in a food processor.  Process for approximately 20 seconds, or until finely diced.
2. Using your hands, mix together the beef, pumpkin puree, processed herb mixture, and seasonings in a large bowl.  Refrigerate for at least 30 minutes.
3. Preheat oven to 350 degrees F.  Line a baking sheet with parchment paper or a silicone baking sheet.
4. Form beef mixture into evenly sized meatballs.  You should end up with approximately 12 meatballs.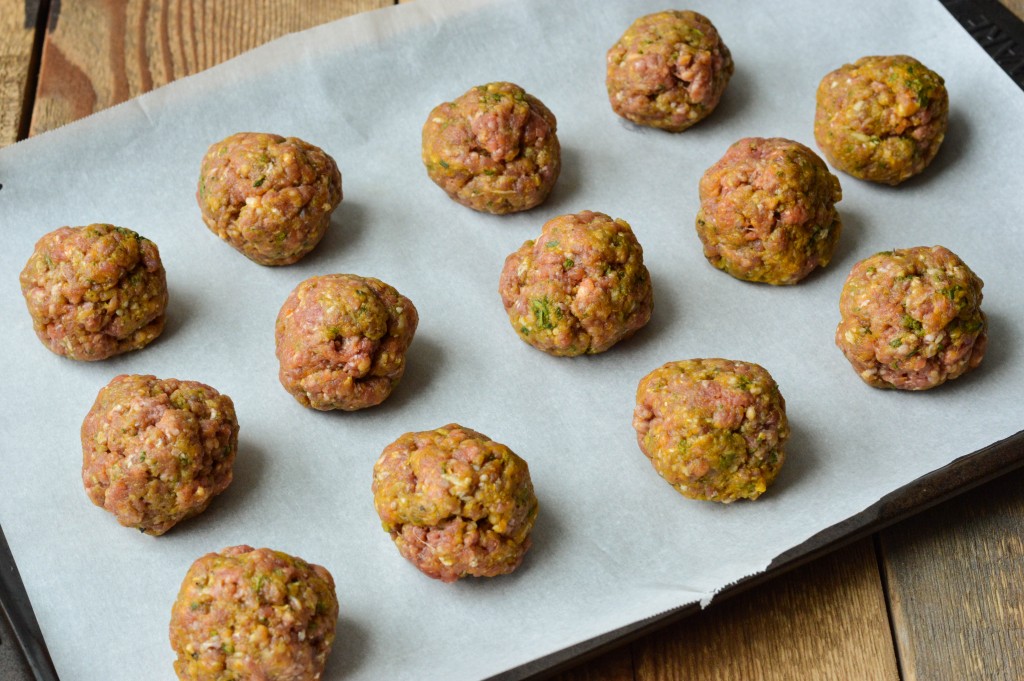 5. Bake meatballs for 15 minutes.  Flip carefully.  Bake for an additional 15 to 20 minutes, or until golden brown.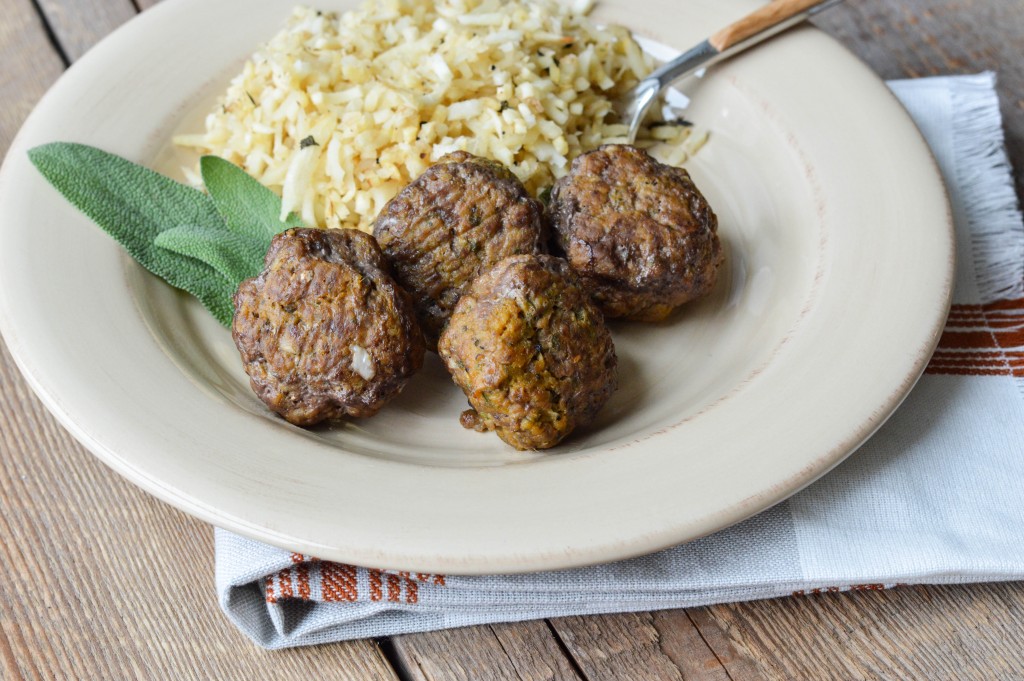 While these bad boys are delicious all on their own, I highly recommend serving them with my parsnip "rice" (seen above).  The two make for the perfect pair.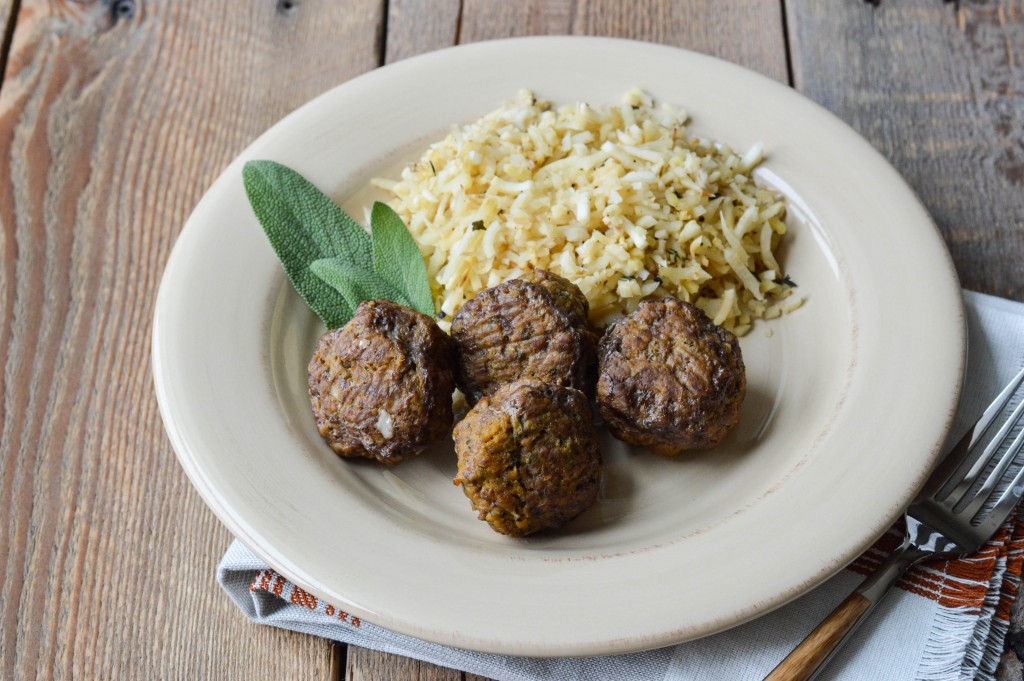 Fall-inspired #Paleo Pumpkin Meatballs #glutenfree #aip #Whole30 Click To Tweet
Are you a meatball person?  Have you ever added pumpkin to yours?
What is your idea of comforting fall food?