A vegan, gluten-free, and grain-free pizza crust that is perfect for one. The recipe can easily be doubled or tripled to serve more… or one really hungry person!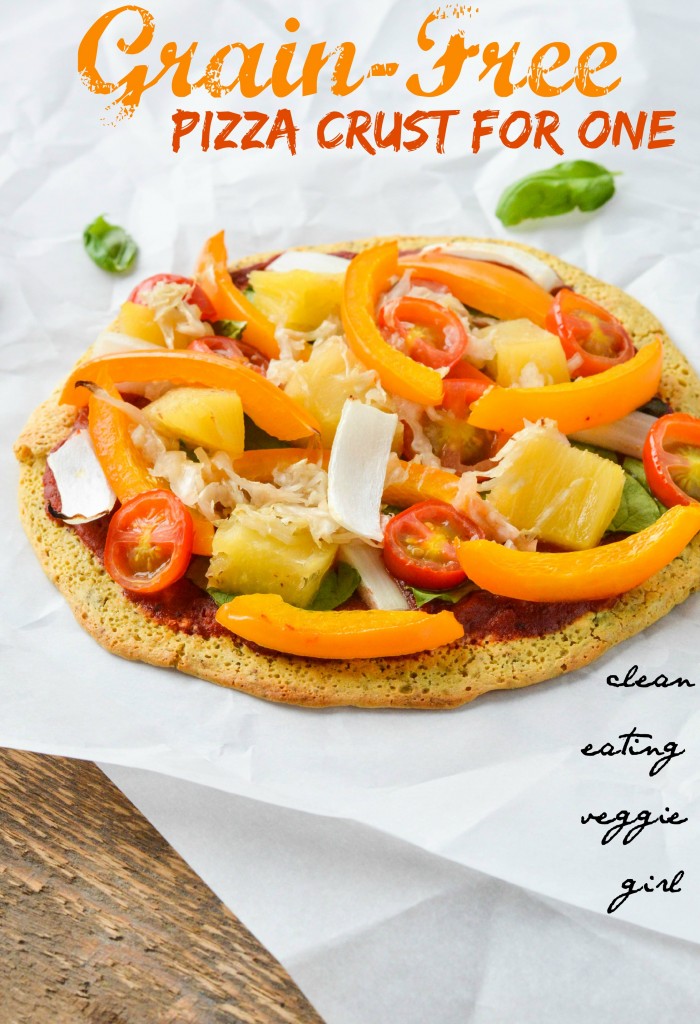 Oh pizza.  How I love thee!
But I hate to break it to you, pizza.  I'm not entirely sure that my body loves you as much as my taste buds do.  I know, I know.  Tragic.  No need to worry, though!  I can and will continue to eat pizza, just not in the traditional way…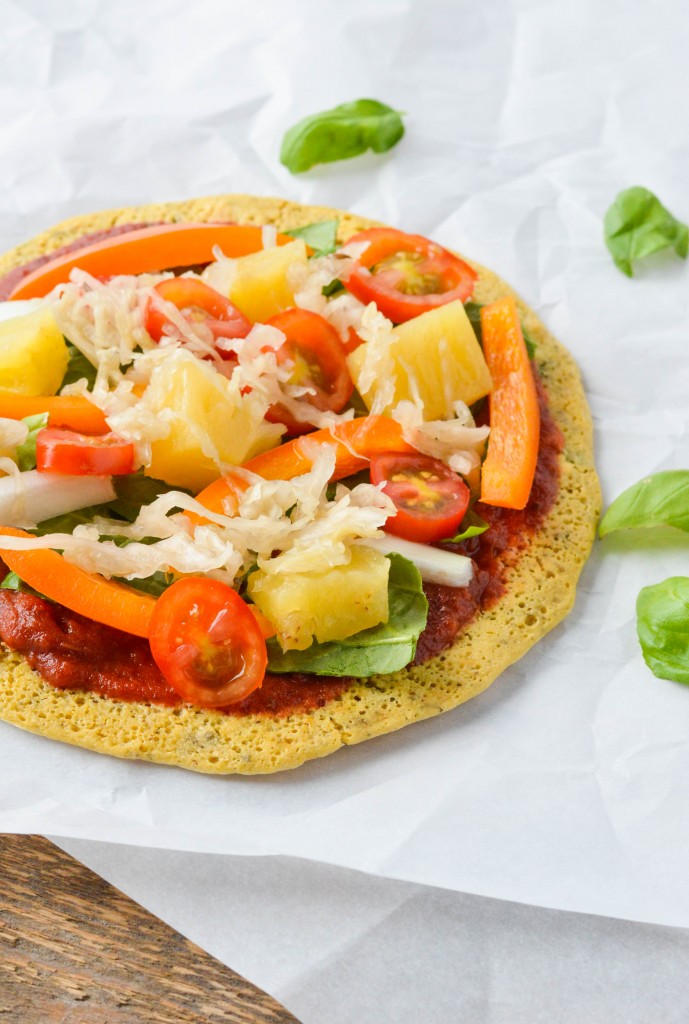 I mentioned on Sunday that I have taken on yet another change in my diet.  Back in December I started eating fish for the first time in about three years.  In March, I cut out gluten.  After not seeing the positive results that I was hoping for with my health issues, I made the tough decision to start adding some meat back into my diet.  Part of the reason why I made this decision was to set myself up for trying a paleo/Whole 30-esque diet hopefully in the near future.  But first, I am going to start with just grain-free and see where that takes me.  Then I may have to say bye-bye to the legumes for a while.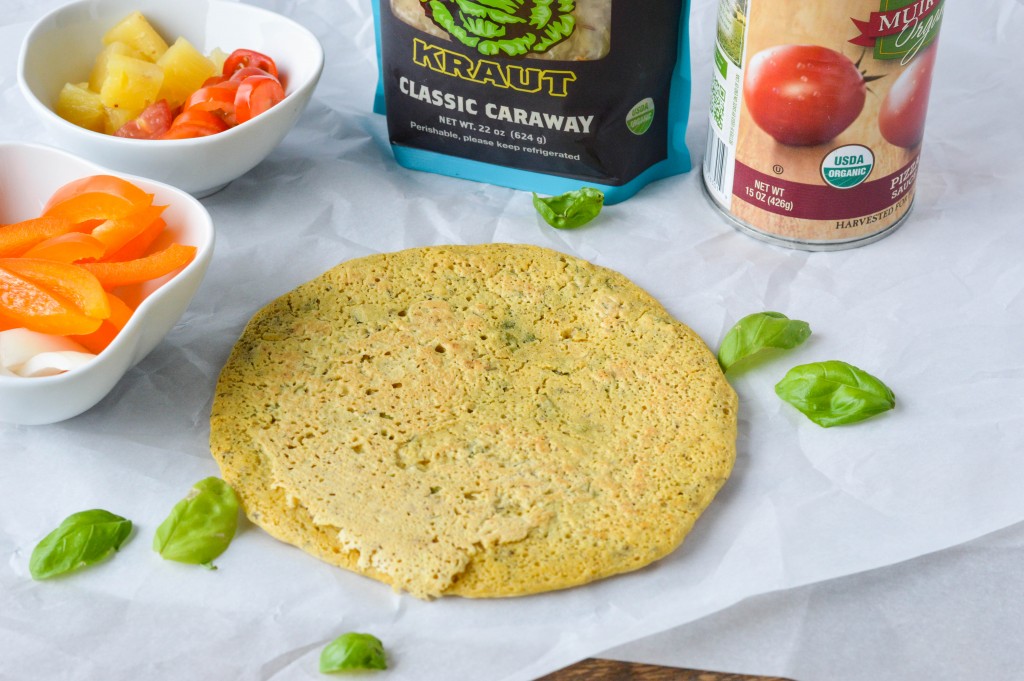 But let's not think about saying goodbye to legumes just yet (because then this recipe would be irrelevant).  Instead, let's take baby-steps and start with grain-free.  Lately I have been trying to prep my mind and body for this transition by eating meat a few times per week and cutting out grains whenever possible.  I have been working my way through all of my corn, rice, and quinoa products in my pantry and do not plan to replace them once they are gone.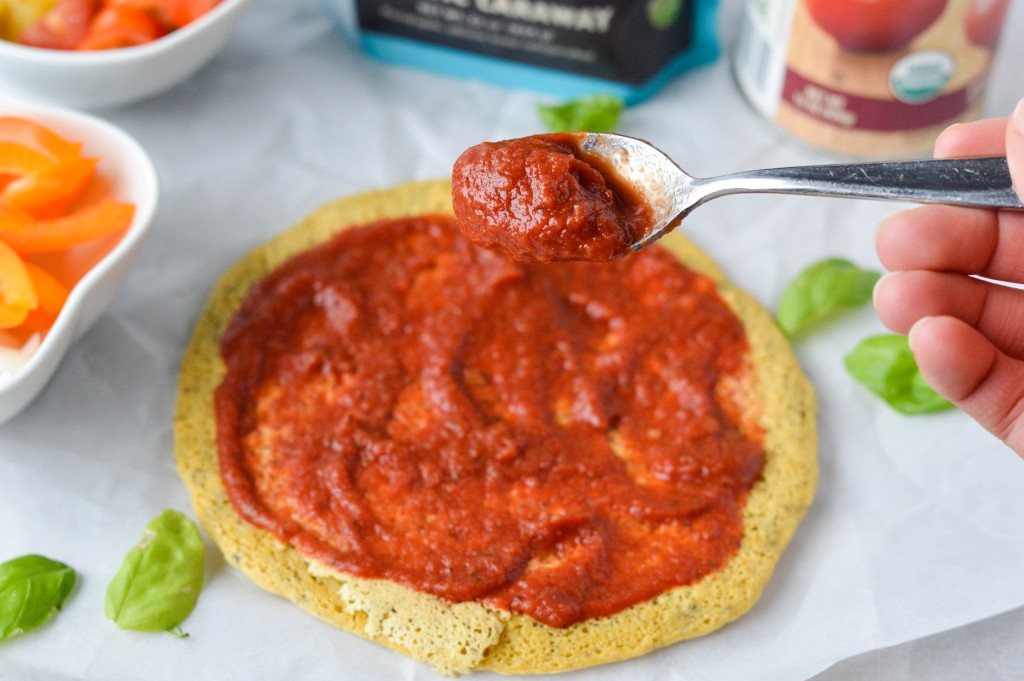 If I'm being honest, when I initially began considering a grain-free diet, I was pretty sad thinking about all of the foods that I would no longer be able to eat: pizza, bread, rice, oatmeal, popcorn, cake, etc.  Luckily, the more research I did, the more I found that I could still eat some of these foods with some simple adaptations (though I am still pretty sad about the possibility of giving up oatmeal and popcorn).
I am already a big fan of cauliflower rice and I have pinned a grain-free bread recipe to try.  But a few weeks back, I decided it was time to experiment with a grain-free pizza crust.  I had my eye on Alexis's Chickpea Flour Breakfast Pizza for quite some time, and I am so darn excited that I finally tried it.  It was delicious, and it is something that I have made again numerous times since.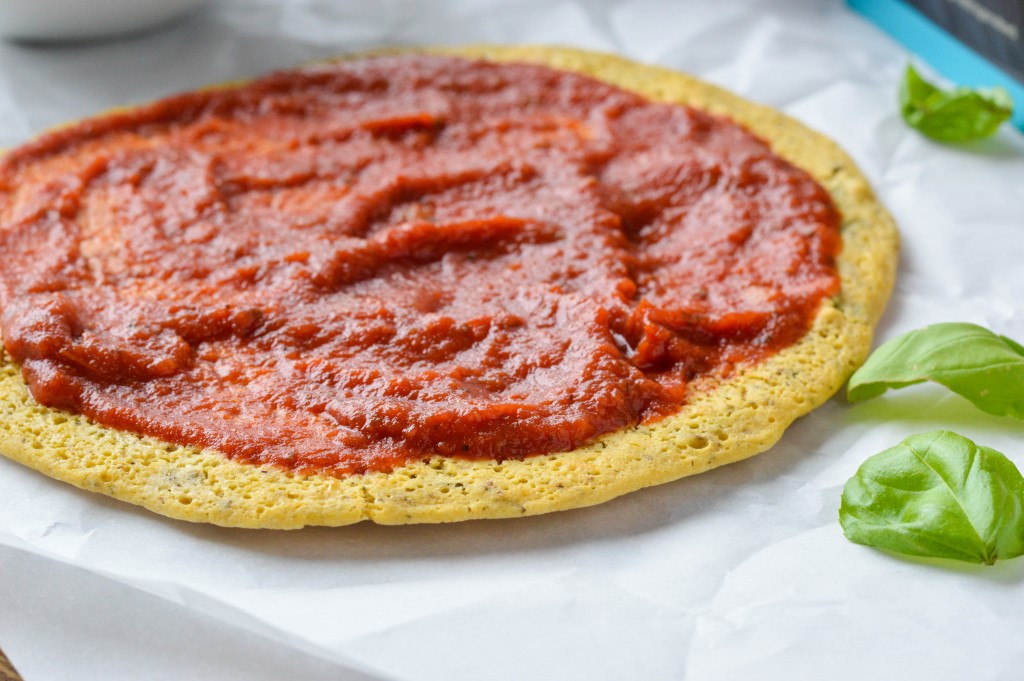 Due to my love of the chickpea flour pizza crust, I have Alexis to thank for inspiring this Grain-Free Pizza Crust for One.  While there is certainly nothing wrong with the original version (I still make it for breakfasts often), I wanted to try out something a bit more on the traditional side.  With just a couple of additions, I created a grain-free pizza crust perfect for one person with tons of traditional pizza flavor!  I also worked on crisping up the crust a bit since thin and crispy crusts are my absolute favorite.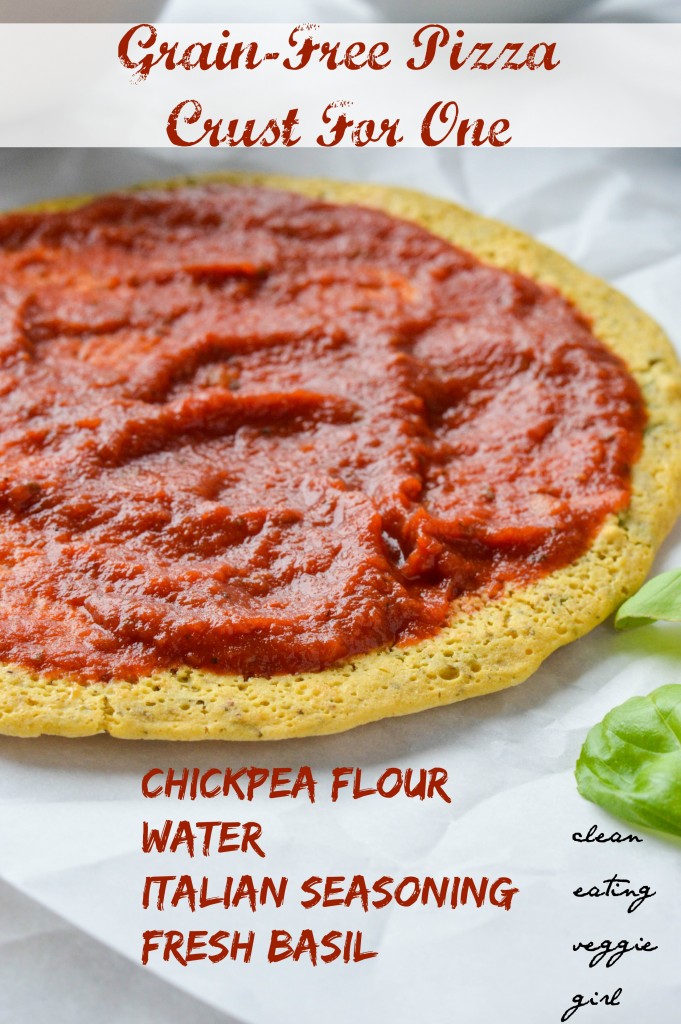 Grain-Free Pizza Crust for One
Vegan, Gluten-Free, Grain-Free
Adapted from this recipe.
Ingredients
1/2 cup chickpea (garbanzo) flour
1 1/2 tsp dried Italian seasoning
1/8 tsp fine sea salt (optional)
1/2 cup lukewarm water
2 TB freshly chopped basil
Directions
1. Turn your oven onto a "low" broil and allow to preheat for approximately 5 minutes.  Heat a large nonstick skillet on the stove top over medium heat until warm.  If you are not using a nonstick skillet, feel free to add a very small amount of coconut oil to the pan at this time.
2. While the oven and skillet are heating up, combine chickpea flour, Italian seasoning, and salt (if using) in a medium bowl.  Stir until well-combined.
3. Add water to flour and seasoning mixture and stir until smooth.  Fold in fresh basil.
4. Pour the crust batter into the skillet.  Gently smooth it out into a circle.  The more you spread it out, the thinner the crust will be.
5. Cook for approximately 12 to 15 minutes, flipping once halfway through.  At this point, the crust should be just starting to turn a golden brown.
6. Remove the crust from the pan and place on a baking sheet or pizza stone.  Broil on low for approximately 3 minutes, or until the crust has begun to crisp up a bit.  Watch the crust carefully, as it can burn easily.
7. Remove the crust from the oven and top with desired sauce and pizza toppings.
8. Place the pizza back into the oven (still on low broil) and broil for an additional 3 minutes, or until the crust is crispy enough to your liking and the toppings are warm.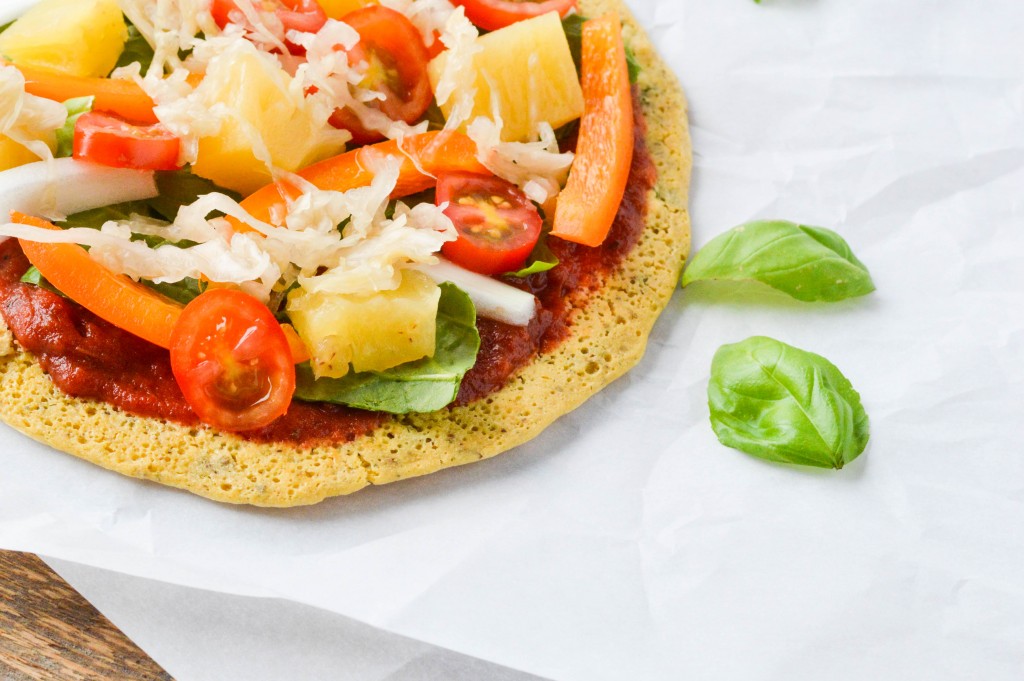 Once I go full on grain-free, I won't be able to eat my favorite pizza anymore.  But that does not mean I will not be eating delicious pizza.  In fact, thanks to this pizza crust, I think I may be eating it quite frequently.  And maybe I will even get extra creative and try to whip up a homemade, grain-free version of that Cajun pizza goodness.  Eggs on a pizza are always a good idea.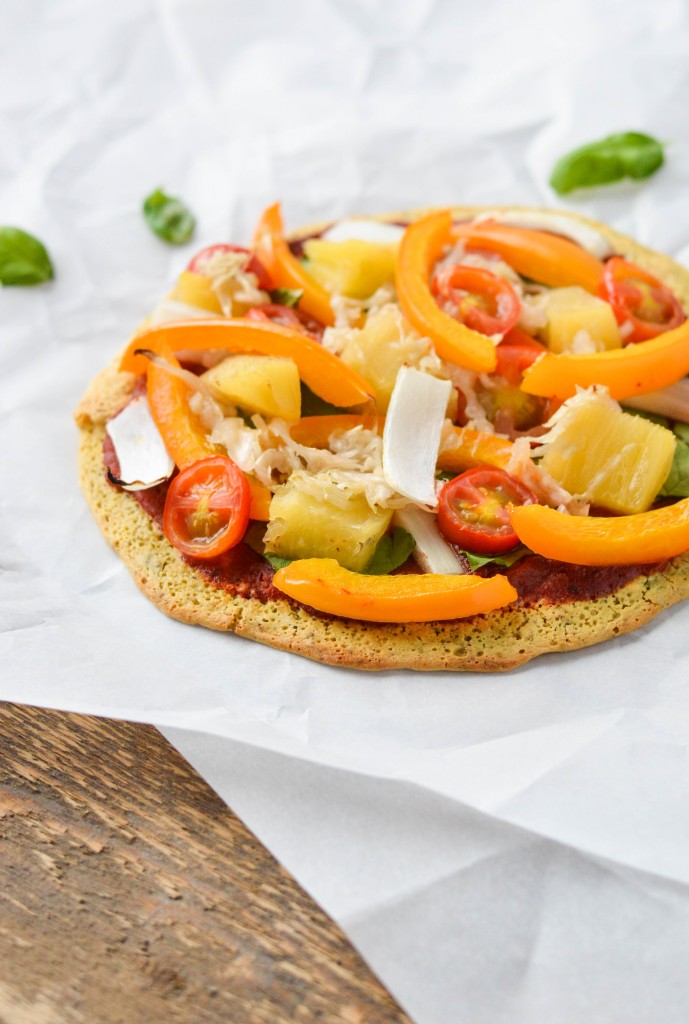 The edges of this crust get perfectly crispy, while the middle is just "doughy" enough to create that delicious soft pizza center that I love.  This is definitely a pizza crust that you can cut, pick up with your hands, and shovel into your mouth… piece after piece after piece.
Have you ever tried a grain-free pizza crust?  I'd love to hear about your favorite recipes!
Please pin me and share me on Facebook and Twitter using the buttons below.