Happy Sunday, all!  I hope your first weekend in May is treating you well.  Mine has been great so far.  My mom is in town visiting, and we have been enjoying filling our days with a little relaxing, plenty of shopping, and some delicious eats.
Last night we dined at a new-to-me restaurant here in Omaha: Salt 88.  After my friend Molly told me that they have a large designated gluten-free menu, it instantly shot up to the top of my "must eat at" list.  My mom and I were definitely not disappointed.
Omaha Eats: Salt 88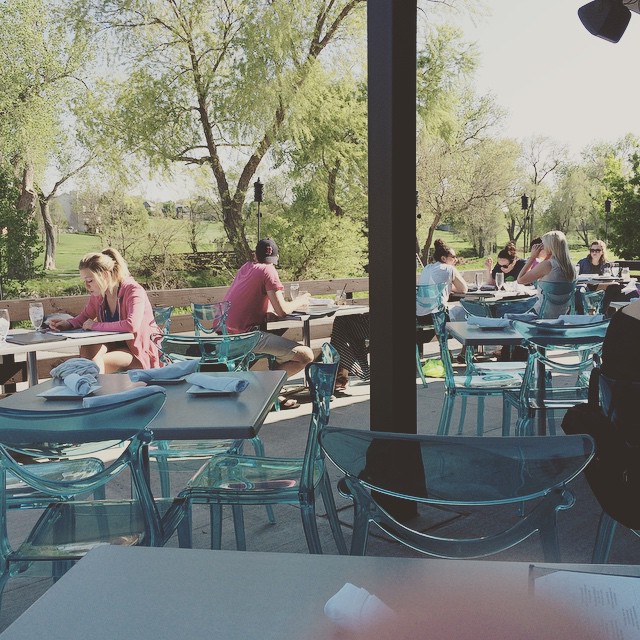 I shared this photo on Instagram last night.  What a gorgeous patio, right?  While the inside of the restaurant is beautiful, we could not turn down the opportunity to sit outside next to the golf course.  The weather was slightly breezy but it was the perfect Saturday night filled with delicious drinks and eats.
Our visit did get off to a bit of a rocky start.  There seemed to be some miscommunication between the waitstaff, as our waiter did not arrive to our table until at least ten minutes into the visit.  Being very thirsty and hungry, we were not overly thrilled about this, but we were at least happy to have a gorgeous view to look at.  Luckily, things only got better once the waiter arrived.
I requested the gluten-free menu and was pleased to see that there was an entire front and back full of options.  After a couple of minutes spent pondering the choices, I knew exactly what my body was craving!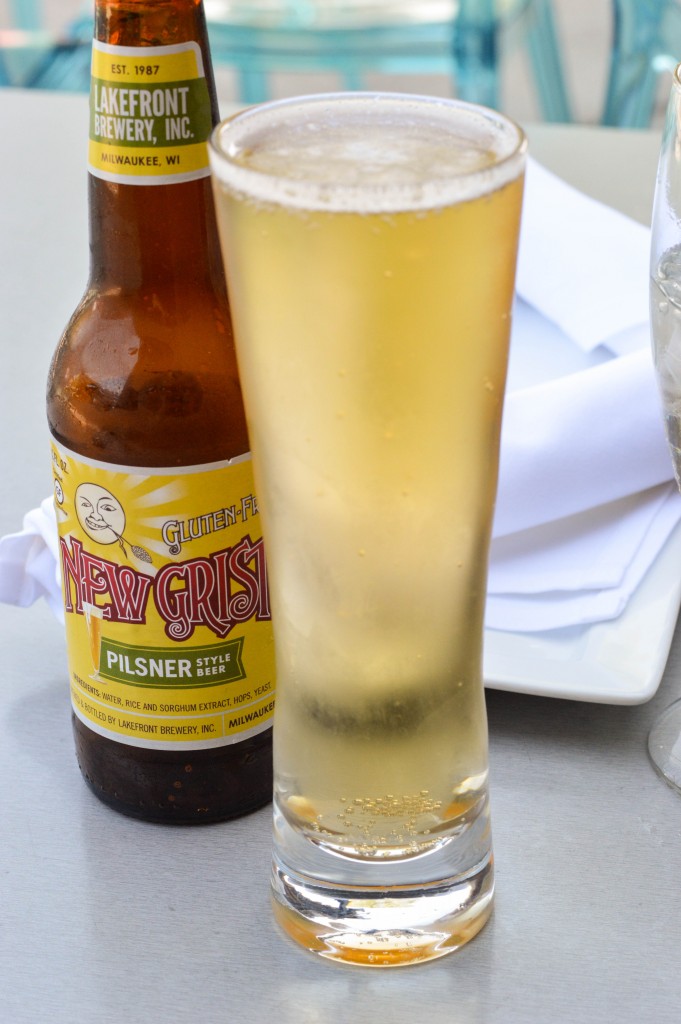 I started by ordering a new-to-me beer, New Grist, after hearing good things about it.  It was by no means a tasty IPA or sour, but it did the trick after not having had a single beer in over a month.  And to think I never used to like beer!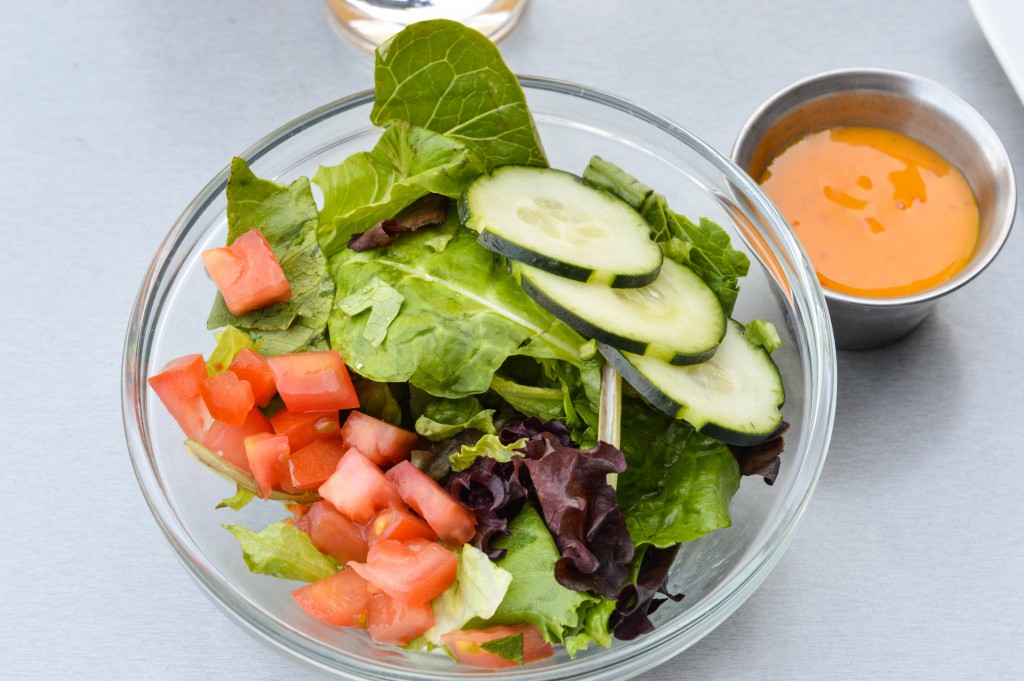 A side salad accompanied both of our entrees.  We chose the Spring Salad with the Carrot Ginger Dressing.  I loved that the salads were a whole lot more than the stereotypical side salad tends to be at restaurants.  We are talking fresh romaine and lettuces, cucumbers, and tomatoes.  And that dressing?  It was crazy good!  Now I just need to figure out how to recreate it myself at home.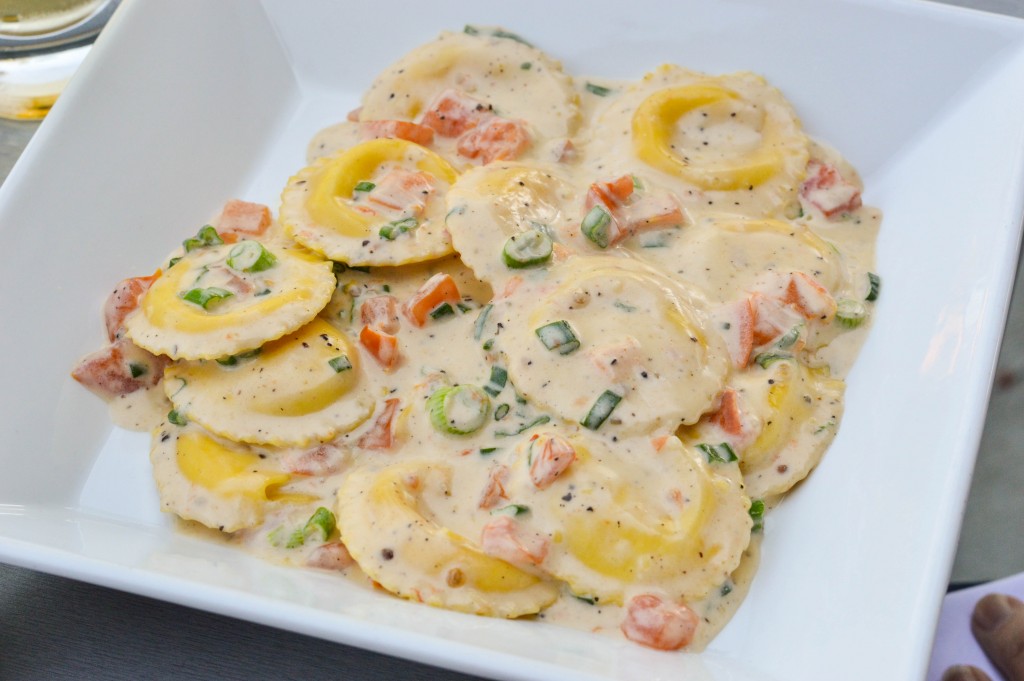 Shortly after our delicious salads were cleared away, our entrees arrived.  My mom selected the Ravioli Artesa, which consisted of buffalo mozzarella ravioli, roma tomatoes, and a sauvignon blanc cream sauce.  The two of us used to be cheese ravioli connoisseurs together back in the day before I adopted a plant-based diet for a while and then became gluten-free.  I have to admit that I was a bit jealous of her dish.  How could I not be?  It looked amazing!  My mom was kind enough to let me know that it was, in fact, delicious.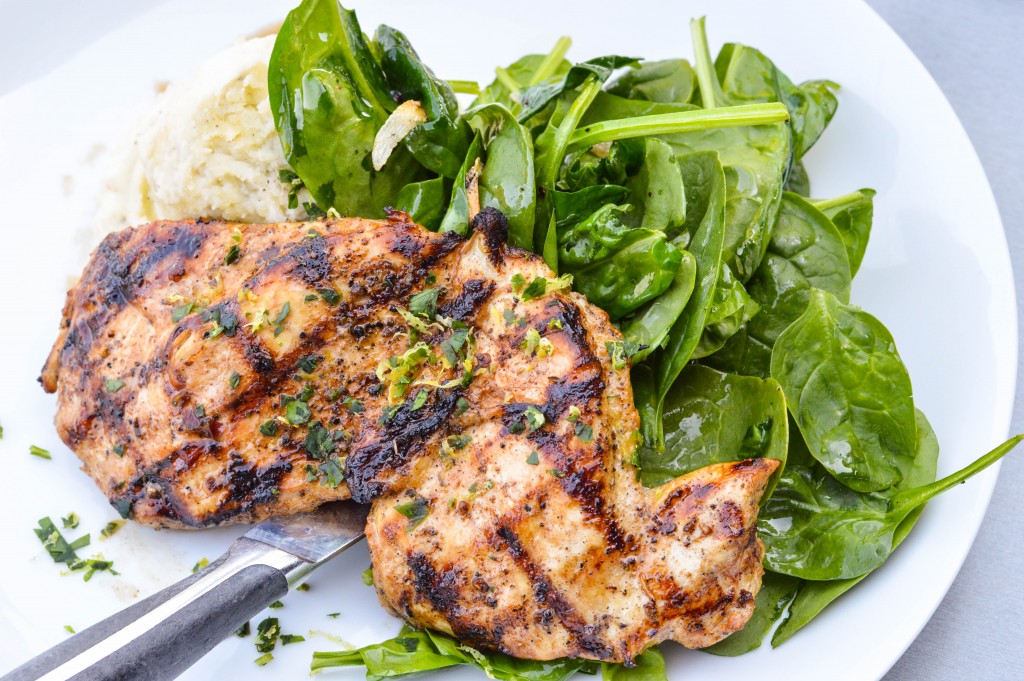 I was not too terribly sad about not being able to try my mom's ravioli because I had a delicious dish all to myself.  I selected the Chicken Terra, a plate of grilled chicken, wasabi gouda mash, and quick-seared spinach.  I was not the biggest fan of the spinach because I wished it was fully cooked, but the rest of the meal more than made up for it.  I compiled a little bit of each of the three parts onto my fork so that I was able to get a taste of everything with each bite.  The grilled chicken was perfectly seasoned and grilled and the portion was quite large.  My absolute favorite part of the dish was the wasabi gouda mash.  You guys, those taters were unreal!  They were just slightly spicy, perfectly creamy, and crazy delicious.  If I could have eaten a whole plate of those, I probably would have.  I guess they are yet another thing that I need to add to my "must recreate at home" list!
Neither my mom or I are cotton candy people, but if you are then Salt 88 is the place for you.  It is their tradition to end every dining guest's meal with cotton candy.  Trust me, I more than wished I liked cotton candy when they brought it to our table.  Cotton candy or not, my mom and I had a great experience.  I will definitely be dragging some of my friends and Jeremy back there sometime soon.  We need to get more use out of that gorgeous patio, right?
How My Diet is Changing… Again
So, um… about that elephant in the room.
Yes.  Your eyes are not fooling you.  That was chicken on my plate.  That chicken is the perfect representation of "How My Diet is Changing."
If you have been following my health issues for the past 6 months as I started eating fish again and stopped eating gluten, my decision to add some meat back into my diet may not really come as a huge surprise.  I have had this possibility on the brain for half a year now and finally decided to take the plunge.  Unfortunately, I have not noticed any significant improvements in my health by adding seafood back in and cutting out gluten.  For me personally, the next logical step is to add some meat back in.  I do not foresee huge health improvements solely on eating meat, but I have made the choice to eat it in order to set myself up for some additional diet experimentation.  Since grains and legumes have been shown to be inflammatory for some people, they've 'gotta go.  At least for a little while.
Here is my tentative plan as of right now:
1. Add meat back in
2. Try a grain-free diet (either in May or June) …if no improvement, then:
3. Try a grain-free/legume-free diet (likely very focused on paleo/Whole 30) …if no improvement, then:
4. Try the AIP diet <– this is highly restrictive, so it is essentially a "last straw" kind of thing
As you can probably guess, both grain-free/legume-free and the AIP diet can be somewhat restrictive.  Both would also pull out a large portion of the foods that I currently rely on for protein and variety in my diet (corn, quinoa, rice, beans, lentils, etc.).  In an effort to try to maintain my sanity, I have made the tough choice of adding something back in to take the place of foods that I will soon be going without.
Is eating meat easy for me?  No.  It took me awhile to fully come to terms with the fact that eating meat again was going to be my reality and that it was something that I needed to try.  I've been at it for a couple of weeks now, and the entire experience is still completely odd to me.  It is weird to purchase meat at the grocery store.  It is weird to cook meat (a new challenge for me in the kitchen).  It is definitely strange to order meat at a restaurant.  And actually eating meat is the strangest part of it all.  The first thing I ate was ground beef since it was the only thing that sounded good to me, and the whole time all I could think about was how I wished it was tempeh.  Spoken by a true former vegetarian, right?  So while my taste buds may not fully be on board with the meat-eating concept just yet, I am pushing through.
What does all of this mean for Clean Eating Veggie Girl?  Well… it looks like I am going to be switching things up a bit yet again.  You saw me start eating and creating recipes with fish.  You saw my recipes switch to being all gluten-free.  Now you are obviously going to be seeing meat here on the blog.  If I am cooking and eating meat, it is inevitable that it will make an appearance.  But don't worry!  I hope to keep sharing vegan and vegetarian options whenever possible.  I also plan to continue to chronicle my experiences with my diet changes and experimentation.  I'm ready to nip these pains in the bud.
Finally, to address a question that many of you may have: no, I will not be changing my blog name.  The way I look at it, I still eat incredibly "clean" (and likely will be eating even more clean), I still eat a ton of veggies (and my veggie consumption will probably increase even more), and (most importantly) I am still a girl 😉
CEVG is here to stay.  Woot woot!
Thoughts?  Questions?  I'd love to hear them!