A fresh, filling, and flavorful Tomato, Onion, and Artichoke Chickpea Salad that is both vegan and gluten-free. It makes for the perfect main or side dish contribution to a spring or summer gathering!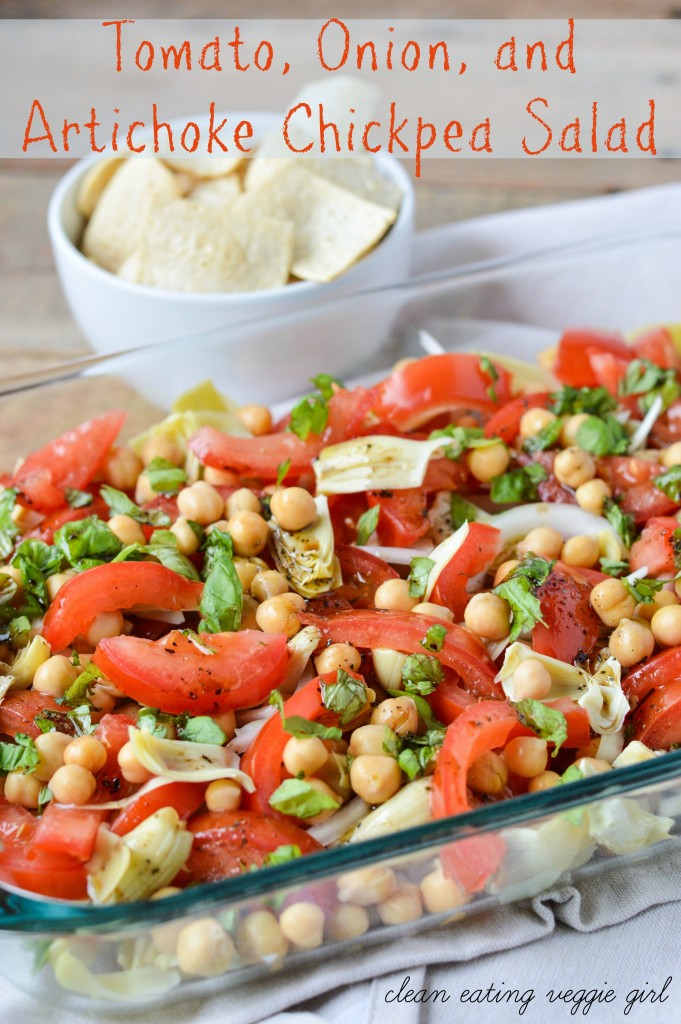 I have not mentioned it here on the blog before, but I am a bit of a reality TV junkie.  Whether it be The Bachelor, Teen Mom, 19 Kids and Counting, etc. (I could go on and on), a large number of my favorite television shows are based on reality.  Or, should I say, "reality?"  Trust me, I am well aware that there is a fine line between what is real and what is portrayed on TV.
One of my favorite television shows that started me off on my reality TV obsession was Jon and Kate Plus 8.  I remember watching it throughout college while it was regularly on the air, and my college roommate and I would even watch the DVDs of the seasons before we went to bed some nights.  As a result, there is just something about that show that brings me comfort.
Even though the show is no longer (I do still enjoy Kate Plus 8), I still find myself rewatching the seasons some nights before I go to bed.  They take me back to the good 'ole college days and nights when I would watch the show at home with my mom.  I tend to have a million things on the brain each night, which makes it hard for me to wind down enough to feel tired.  For some reason, that show just does it for me.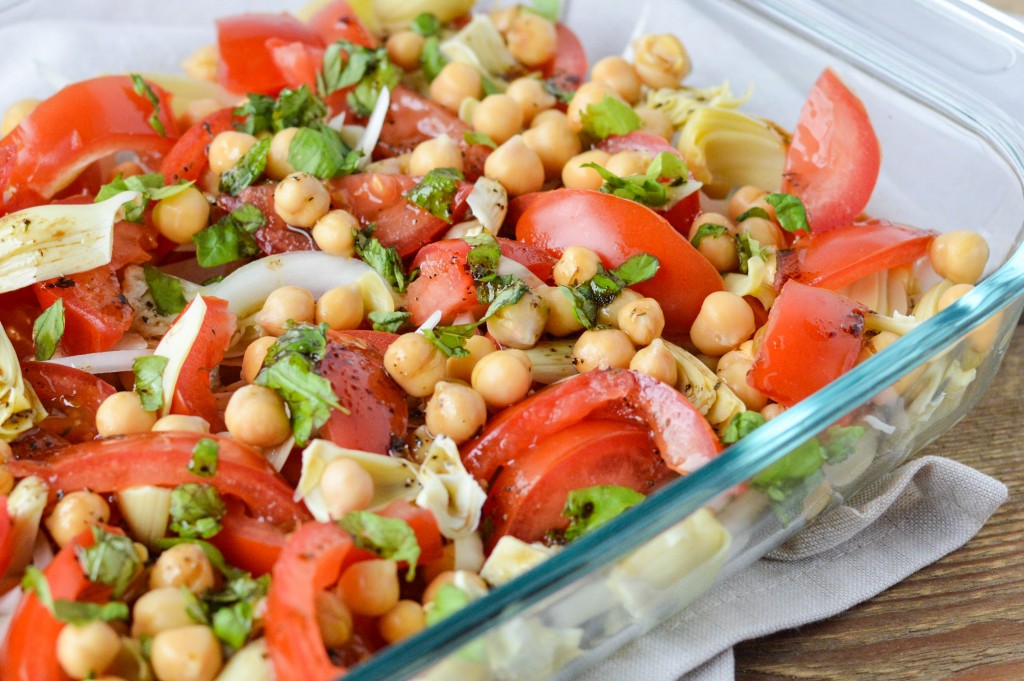 A couple of weeks back, I was watching an episode from one of the earlier seasons.  In that specific episode, Kate was seen making a tomato and onion salad that she deemed a "family favorite."  I thought it sounded delicious, but wanted to turn the salad into a protein-packed, filling meal.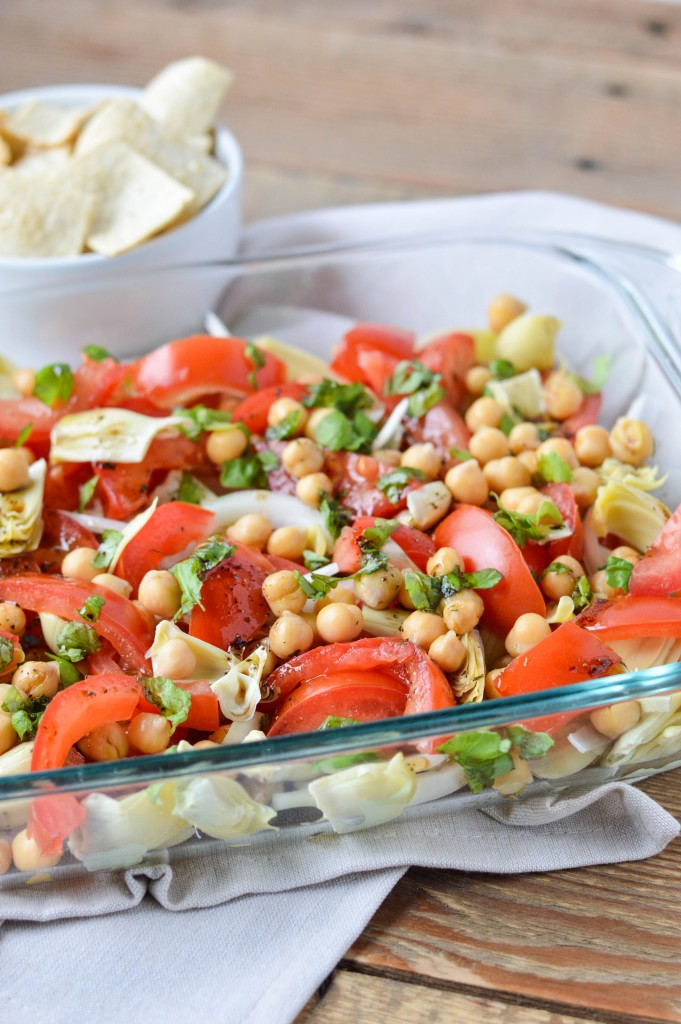 I believe that her Tomato Onion Salad recipe appears in her cookbook, Love Is in the Mix, but I also found it on several websites thanks to my good friend, Google.  My Tomato, Onion, and Artichoke Chickpea Salad is based on her original recipe, but has been "Hannah-fied" with the addition of two of my favorite foods: chickpeas and artichokes!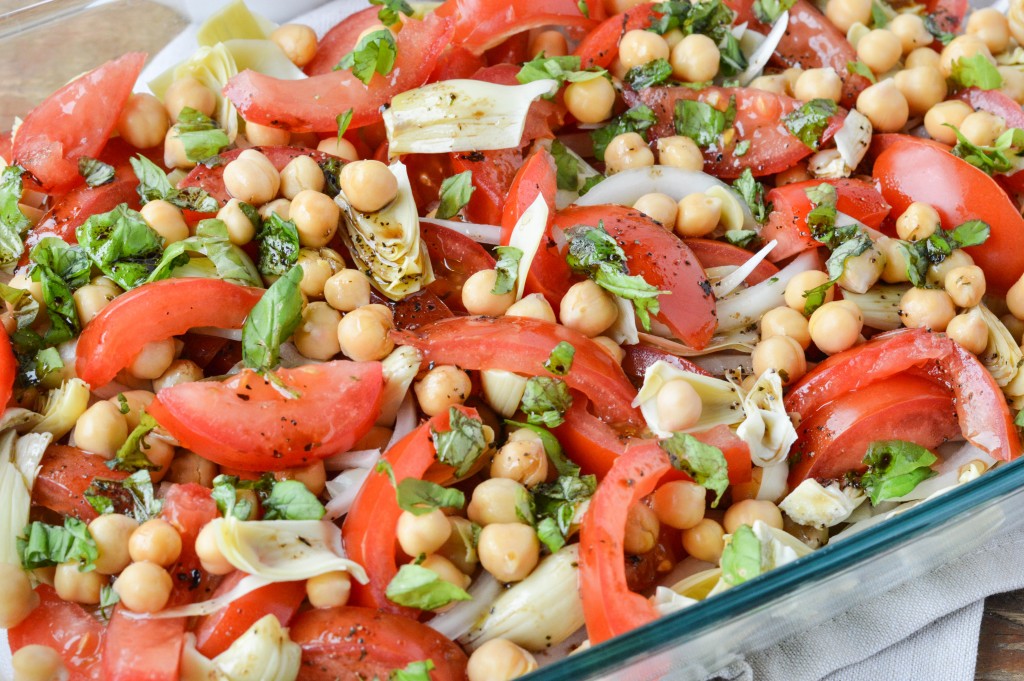 Whether you serve this salad as a side dish or for a main meal, you are going to love how fresh, filling, and flavorful it is.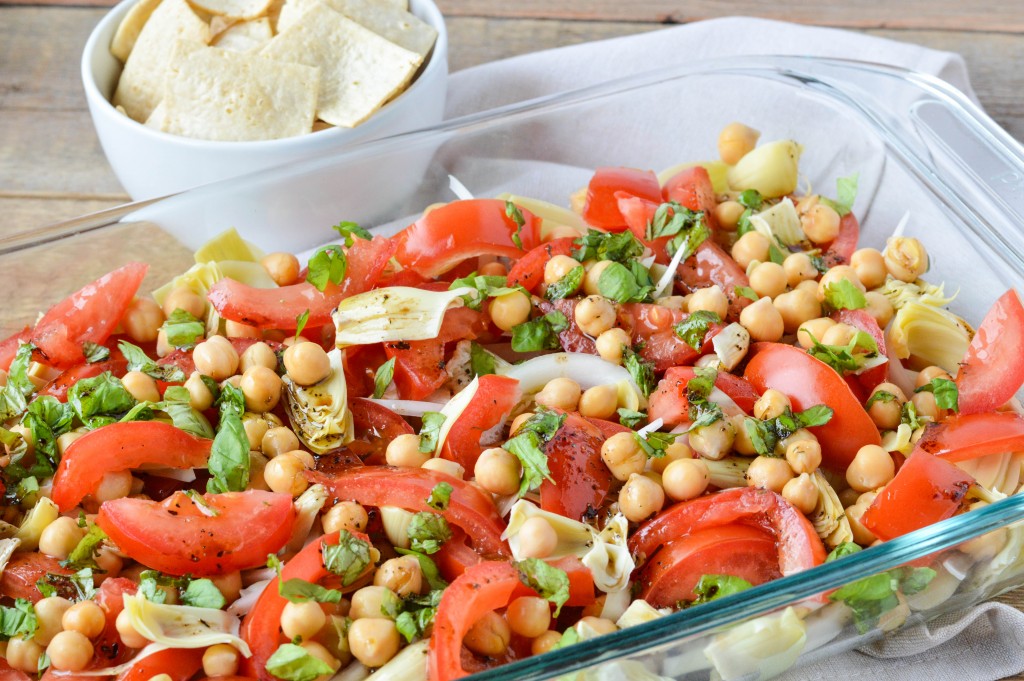 Tomato, Onion, and Artichoke Chickpea Salad
Vegan, Gluten-Free, Grain-Free
Adapted from Kate Gosselin's Tomato Onion Salad
Serves 4 to 6
Ingredients
6 medium tomatoes, sliced
1 small sweet yellow onion, thinly sliced
14.1 oz can quartered artichoke hearts in water, drained
15 oz can chickpeas, drained and rinsed
1/4 cup extra virgin olive oil
1 TB balsamic vinegar
1/2 tsp fine sea salt
1/4 tsp black pepper
1/4 tsp coconut or white sugar
1/4 cup fresh basil, chopped
Directions
1. Combine tomatoes, onions, artichoke hearts, and chickpeas in a 9 x 13-inch glass dish.
2. Whisk together olive oil, balsamic vinegar, salt, pepper, and sugar.
3. Pour marinade over the tomato/onion/artichoke/chickpea mixture.  Top with fresh basil.
4. Cover and let sit at room temperature for 1 to 2 hours.  Serve.
5. Store leftovers in the fridge.  This salad is best when eaten within 2 to 3 days.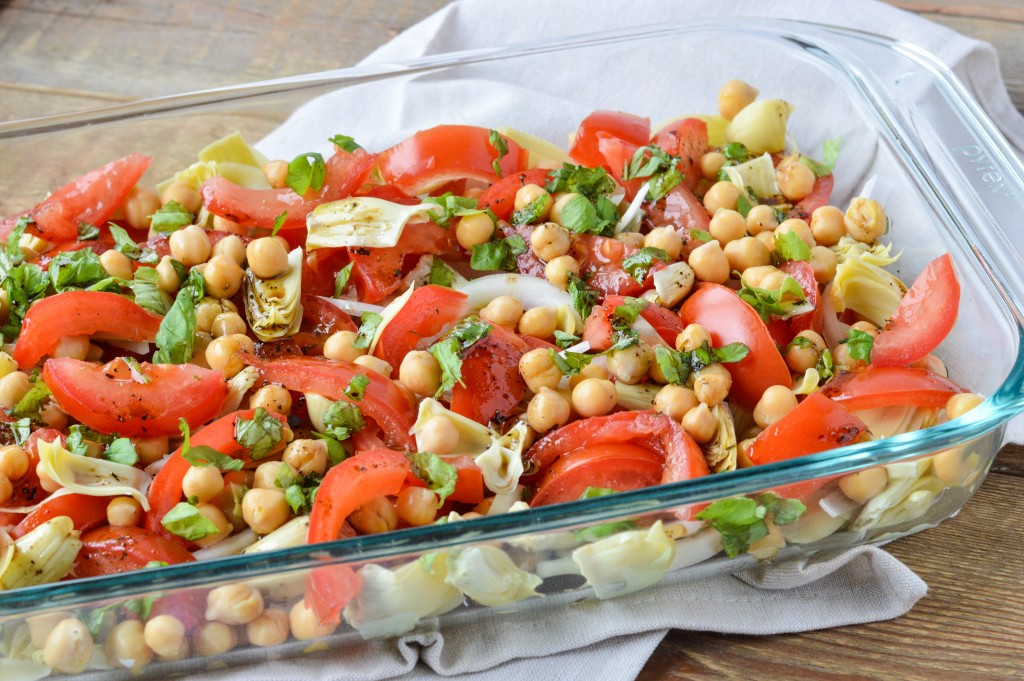 If you are not gluten-free, I would definitely serve this with pita bread or chips.  I, unfortunately, could not find any gluten-free pita chips.  I'm sure they exist somewhere in the universe.  Or heck, I could be a little less lazy and make my own.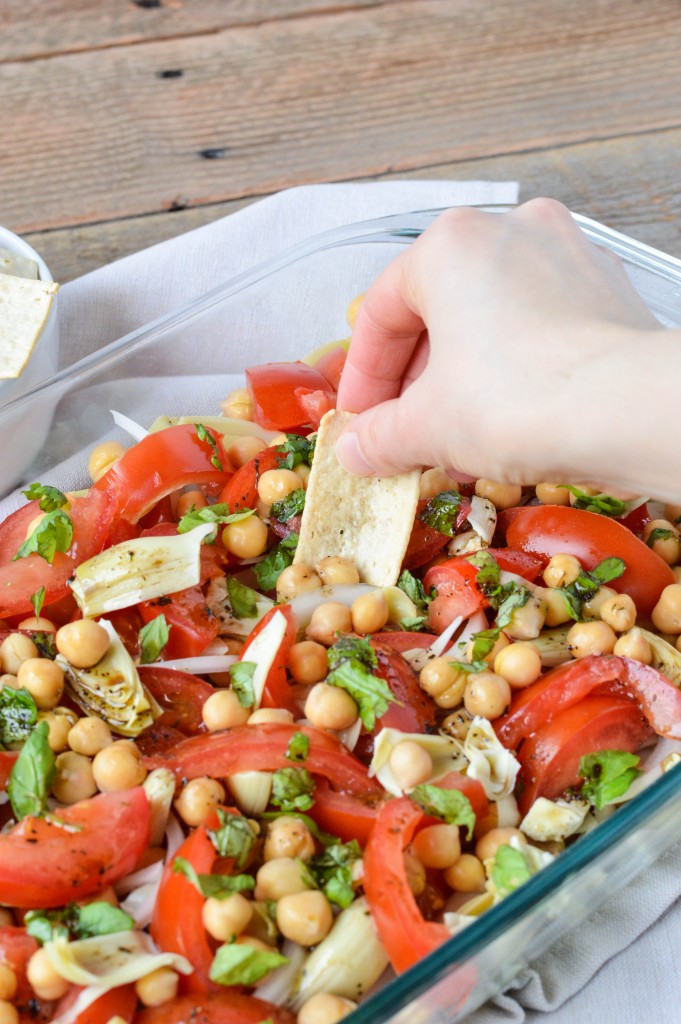 But this time I decided on these lentil chips.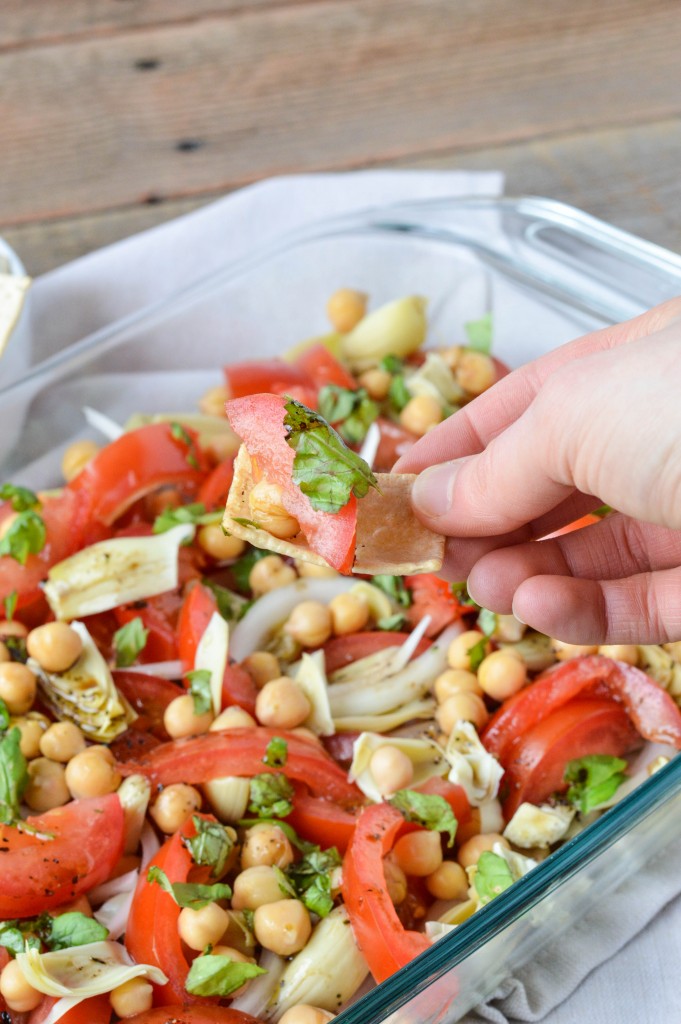 They were a pretty perfect dipper for this salad.  Next time I am definitely adding hummus into the mix, too!
What is your favorite spring/summer salad?  Please share the links in the comments.
Pin me and share me on Facebook and Twitter using the share buttons below!