May just kind of crept up on us now didn't it?  Happy first day of May!  I hope you week is going well.  I have had a fast-paced work week, and am more than ready for a girls weekend here in Omaha with my mom.  It has been awhile since she has made it out to visit, so I am looking forward to spending time with her and doing one of our favorite hobbies: going shopping!
Cinco de Mayo is right around the corner.  In fact, it is this coming Tuesday!  Since many of you will be meal planning over the weekend, I want to pop in today and share some delicious vegan, vegetarian, and pescetarian recipes for you to enjoy next week.  We should all enjoy a little (or a lot of) Mexican food!  You don't have to twist my arm too much since I love tacos, tostadas, burritos, and enchiladas.  I bet I won't have to convince you either after you check out this round-up of recipes from myself and other bloggers.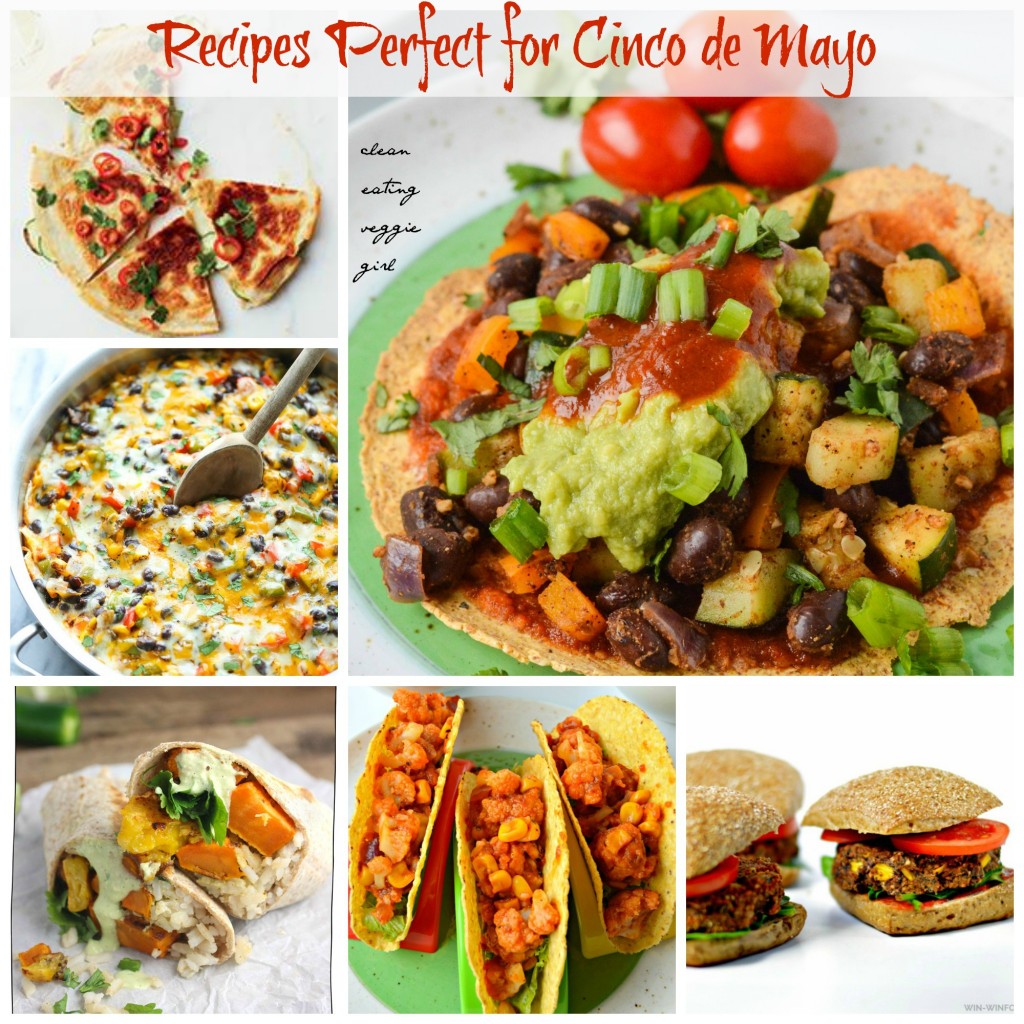 55 Recipes Perfect for Cinco de Mayo
Vegan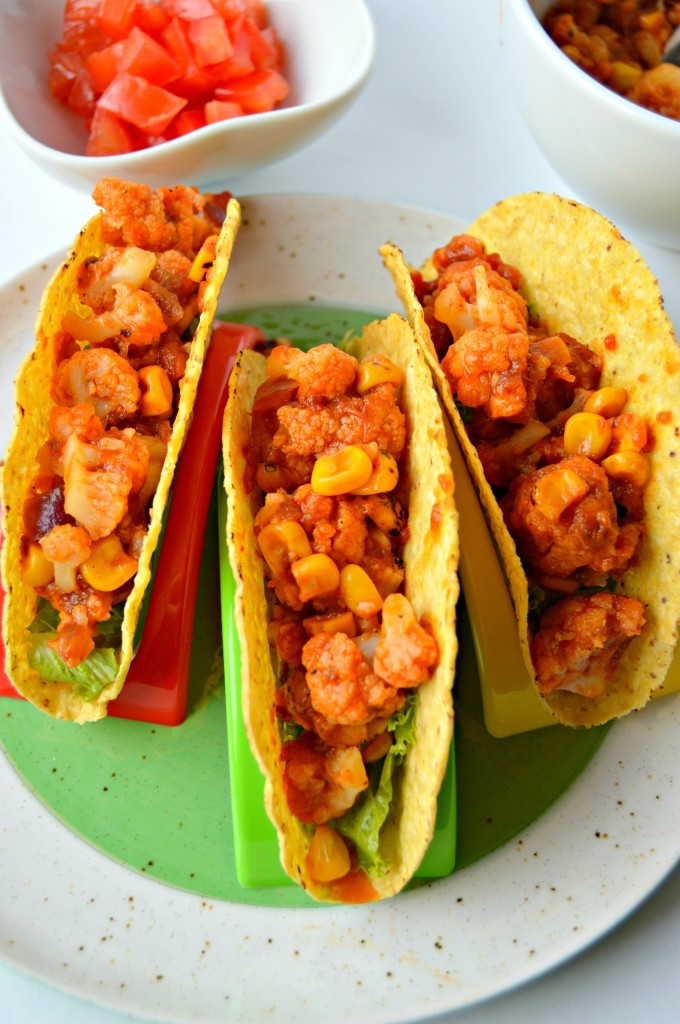 15-Minute Cauliflower and Corn Tacos
Vegetable Black Bean Mexican Skillet
Easy Pico de Gallo
Mushroom Arugula Tostada with Avocado Cream
Spicy Black Bean Quinoa Patties
Nopales, Black Bean, and Potato Rolled Tacos with Smoky Taco Cream
Spicy "Refried" Lentil Dip
Single-Serve Mexican Tortilla Pizza
Tempeh Tacos with White Cabbage and Fresh Salsa
Lentil and Refried Bean Taquitos
Grilled Plantains
Cheese and Potato Enchiladas
Skillet Style Cheese Dip
Black Bean Burgers
Fried Puffy Tacos- Seitan Chorizo and Black Bean
Chipotle Bro Tacos
Roasted Garlic and Chia Guacamole
Stacked Veggie and Smoky Black Bean Enchilada
Panko-Crusted Squash Tacos with Creamy Jalapeno Lime Sauce
Mango Jicama Salad
Roasted Sweet Potato and Plantain Burritos
Deconstructed Bean and Veggie Enchiladas
Baked Taquitos with Black Beans and Sweet Potatoes
Mango Asparagus Tacos with Massaged Kale
Vegetarian
Skinny Mexican Casserole
Black Bean Guacamole
Mexican Sweet Potato Frittata
Black Bean, Zucchini, and Corn Tacos
Cheesy Stuffed Peppers with Zucchini and Corn
Grown-Up Guacamole Grilled Cheese Sandwich
Black Bean Quesadilla
Guacamole Deconstructed and Skewered
Eggs Jalisco
Meatless Mexican Chili and Cheddar Grits Super Bowls
Zucchini Quesadilla with Spicy Salsa Roja
Black Bean, Spinach, and Corn Enchiladas
Tortilla Chopped Salad with Black Bean Salsa and Ranch
Toasted Walnut Enchilada Hummus with Cilantro and Lime
Vegetarian Mexican Pizza
Pescetarian
BBQ Tilapia and Sweet Potato Tacos
Mexican Spiced Salmon with Chimichurri
Spice-Rubbed Tilapia Tostadas
Spicy Shrimp Tacos
Texas Tacos with Sablefish
Spicy Spanish Rice with Shrimp
Scallops and Dover Sole Lime Ceviche
Blackened Mahi Mahi with Pineapple Salsa
Hatch Chile Fish Tacos
Salmon and Egg Scramble Tacos
Mexican Salmon Salad
Paleo Fish Tacos
Swordfish Skewers with Salsa Verde
Salmon Enchilada Pasta
Fish Taco Salad
Now get to meal planning!  And don't forget to include at least one Mexican-inspired recipe in there.  You could always go big and eat one new recipe for every night of the week!
I'd love to hear what Mexican-inspired recipes you plan to eat next week!  Please share the links in the comments.