Today for What I Ate Wednesday I am going to share a day of Veestro eats.  I'll be giving you my thoughts on each item with a few fun facts about Veestro throw in here and there.  This will definitely be my laziest WIAW post ever since it required zero food prep and the most minimal amount of cooking possible.  That's my idea of a perfect busy day!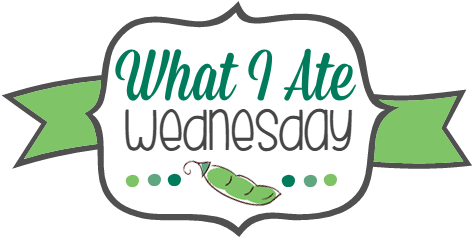 What I Ate Wednesday Featuring Veestro
Veestro is an online company that offers meals that are high on health, quality, and convenience.  They offer meal packs, weight loss meal plans, and a la carte entrees, soups, desserts, and juices.  What's even better is that every single product is 100% plant-based.
When I was selecting the products that I wanted to order, I focused on the a la carte options.  Now that I am eating gluten-free, I loved that I was able to narrow down the options based on this dietary need.  Veestro also specifies which options are dairy-free, high-protein, kid-friendly, low-calorie, and available in family sizes.  By narrowing the selections based on what was gluten-free, I was pleased to see that I had 26 options!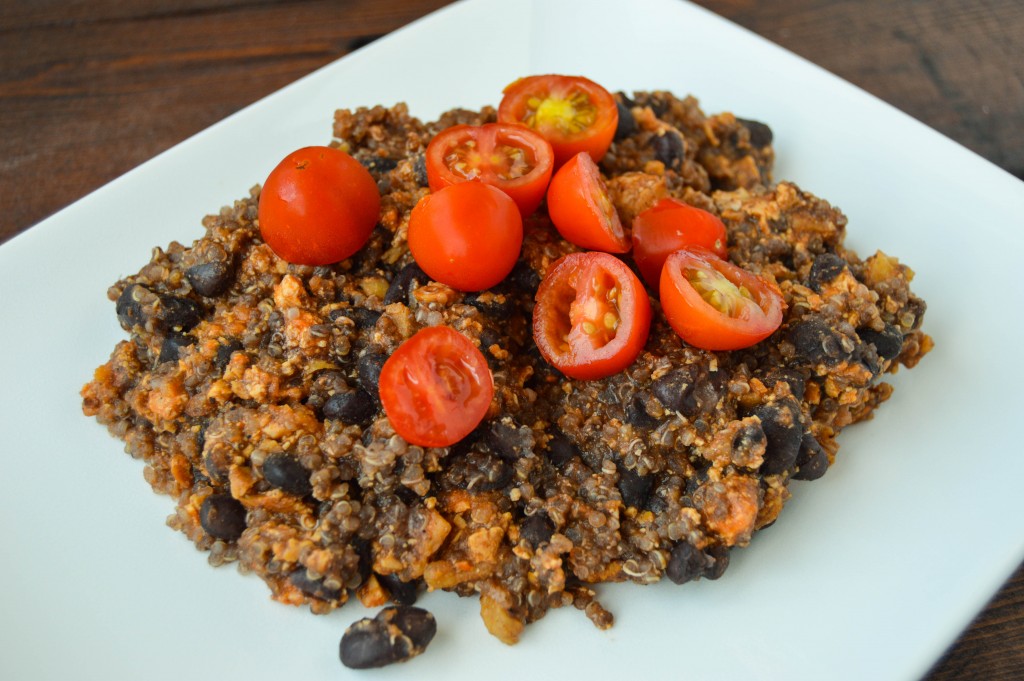 I started out my day with the Three Layer Scramble for breakfast.  I was kind of in love with how simple the ingredients list was: just organic firm tofu, organic quinoa, black beans, organic onions, jalapeno peppers, and ranchero sauce (tomatoes, onions, peppers, garlic, cilantro, spices).  That's it!
Preparing the meal was incredibly simple.  Each meal comes with detailed instructions, and they could not be simpler.  All that I had to do for the scramble was remove it from the freezer, take off the plastic film, and heat it in a skillet for 10 minutes.  Easy peasy!  I also really appreciate the fact that all of the packaging is 100% recyclable and BPA-free.  Considering how much Veestro cares about making healthy food, it comes as no surprise that they also care about the environment.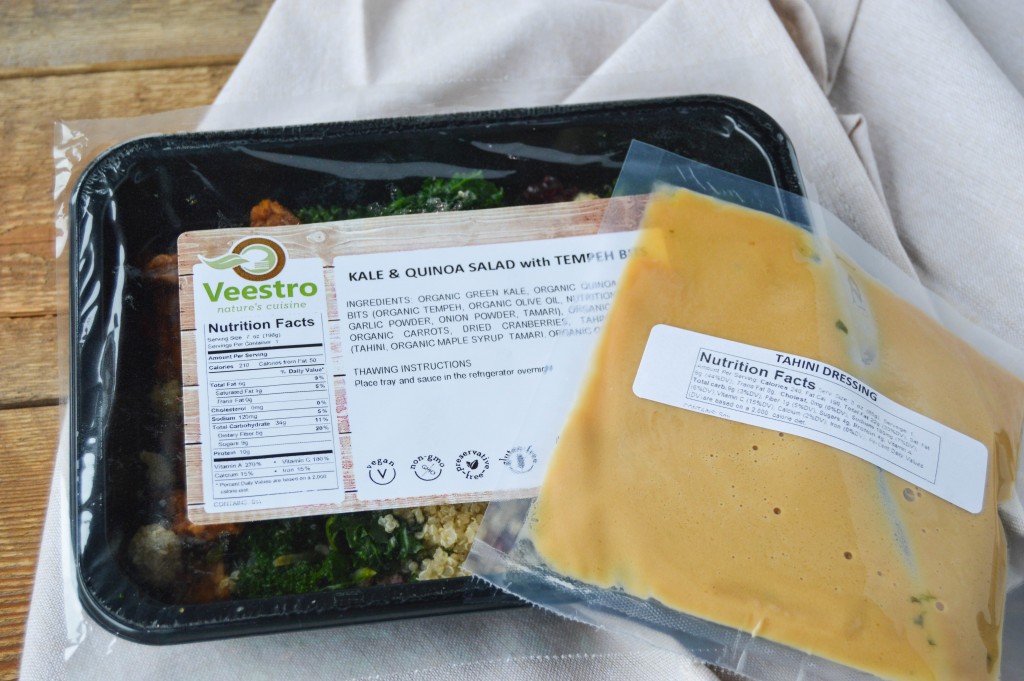 For my lunch I chose the Kale and Quinoa Salad with Tempeh Bits and a Tahini Dressing.  This dish requires you to pull it from the freezer and place it into the fridge overnight, so it does require a bit of forethought.  Luckily, all Veestro meals can be kept in the fridge for up to two weeks, so you could pop them out of the freezer and into the fridge a week at a time during your Sunday meal prep.  And since none of the meals contain preservatives (yay!), they are best when eaten within eight weeks of being frozen.
This dish is definitely one of my favorites.  I was shocked at how perfectly chewy and crispy the tempeh was after being frozen and then thawed.  I would have thought it was right out of the oven.  The dressing was absolutely delicious, too.  It made the kale and quinoa taste so creamy and dreamy.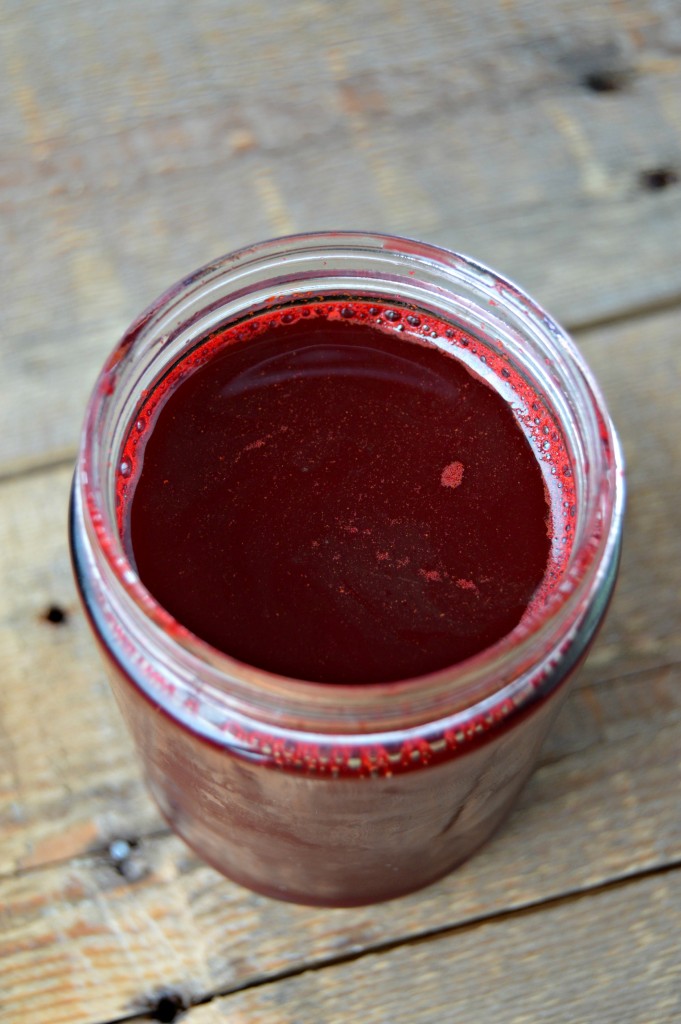 I swapped my usual weekend green smoothie out for the Cleansing Tonic juice.  It contains organic carrots, parsley, and kale- all of which I love- and gets its gorgeous color from organic beets and maqui berry powder.  I have been wanting to incorporate beets into my diet more often, so I figured this juice would be a great way to do it!  I'm going to be honest, I did not love it.  I think I have to admit that I am just not a beet lover.  This juice has a very strong beet flavor, so you need to love 'em in order to love this.
One other thing to keep in mind with the frozen juices is that you need to read the package instructions carefully.  They instruct you to place the frozen package in a bowl in your refrigerator overnight.  After opening my fridge on this particular morning to check on it, I could see why.  Some of the juice had leaked out of the package.  Luckily, my bowl caught it all!  No biggie, but again… read the directions!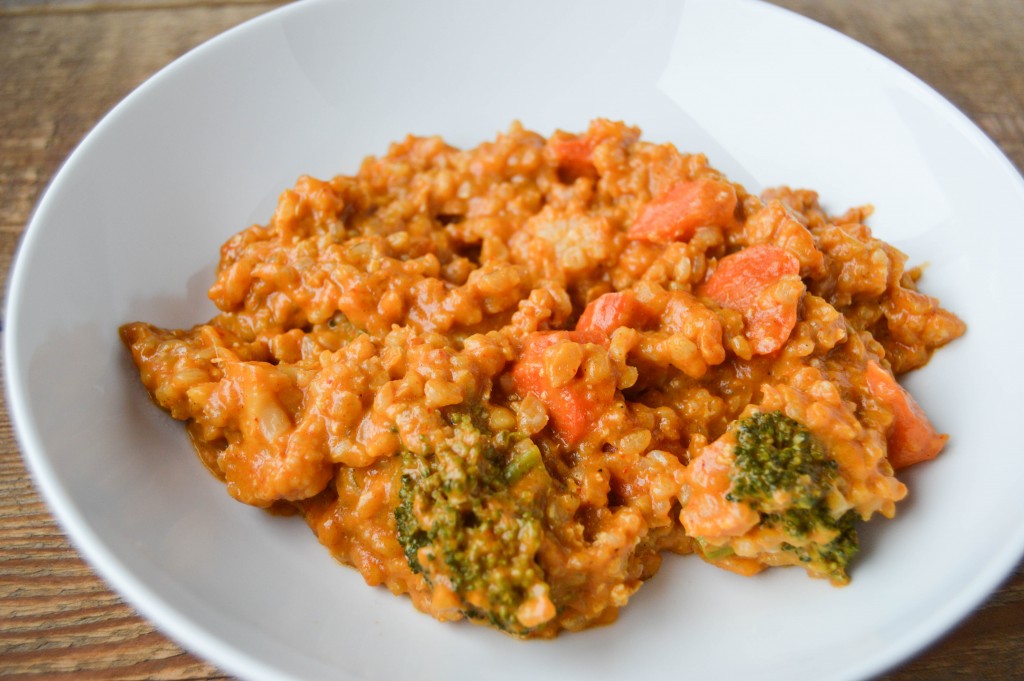 For dinner I selected the Red Curry with Tofu and Vegetables.  After I saw Alexis rave about this one, I was so excited to try it!  Alexis was right.  This dish was unreal.  I pulled it out of the freezer, popped it into the skillet for 10 minutes, and voila!  Nothing about this tasted like a frozen meal.  It was flavorful, the textures were perfect, and I was so sad when it was gone.  I'm going to be honest, I totally licked my plate clean.  I highly recommend buying this dish in bulk.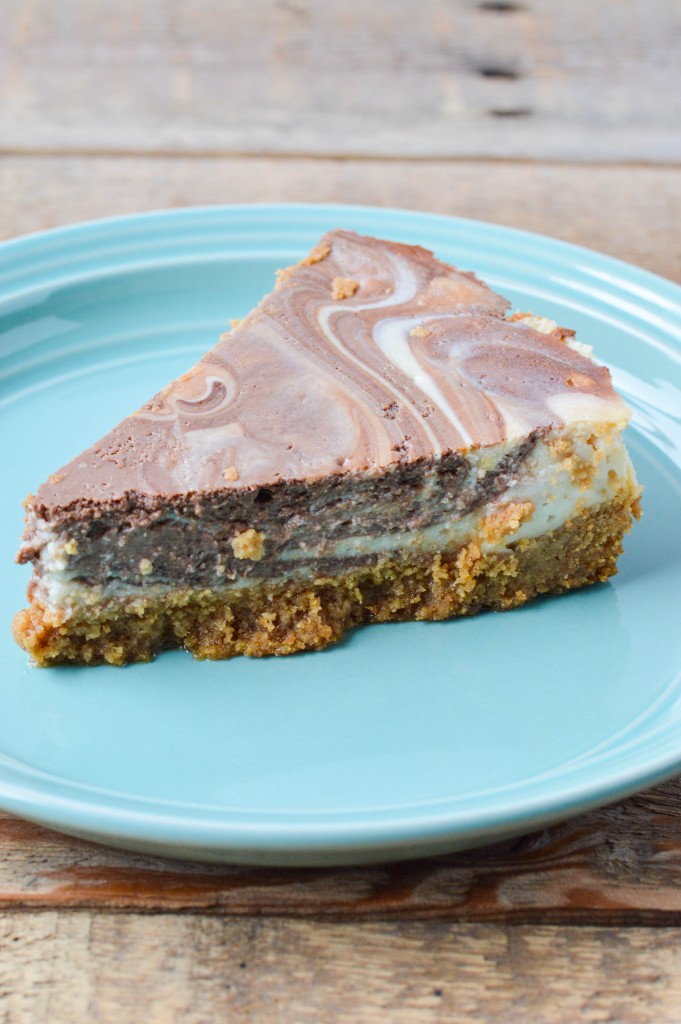 I don't know about you, but I cannot seem to go a day without ending the night with some time of snack or dessert.  I have made a chocolate pie with tofu before (and loved it), so I was excited to see that Veestro offers a Marble Tofu Cheezcake.  I don't really even have words for this cheezcake.  It was rich, perfectly sweet, and the perfect serving size for one or to share (if you are feeling generous).  I wish I could eat this every night.  Now I am excited to try the Raspberry Tofu Cheezcake, too!
Overall, I loved my experience with Veestro, and I cannot wait to dig into a few more dishes that are still in my freezer.  I can only think of a couple of negatives about the experience.  There is a minimum order requirement of $35, and the products and shipping can be quite pricey.  However, I truly believe that you get what you pay for.  I am definitely a person who will pay a bit more knowing that I am receiving healthy, high-quality products.  I also understand that shipping frozen food across the country and having it arrive within a few days is not an inexpensive endeavor.  And they sure know what they are doing.  I was truly amazed at how everything was still frozen when I received it four days after it was shipped.  Thank you dry ice!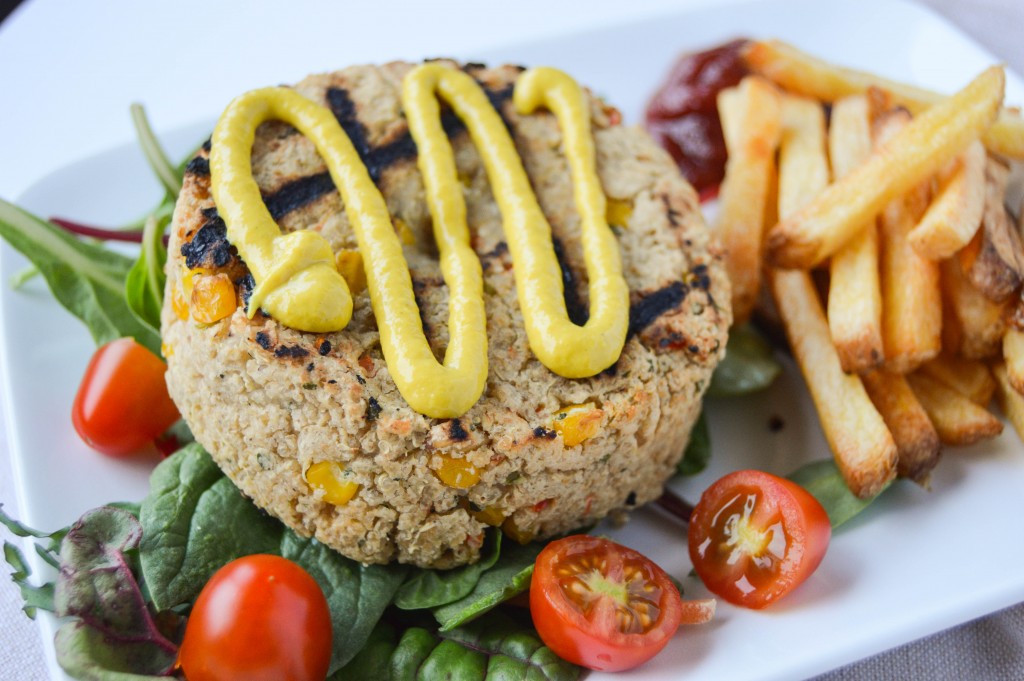 In case you missed it, I am going to leave you with one more picture of my meal that I shared last Wednesday.  It's the Veestro Quinoa Burger Patty and it is massive.  No bun needed for this burger.
Head on over to Veestro (<–referral link) and check it out for yourself.  They are currently offering 25% off any order in celebration of their birthday by using the code "BIRTHDAY25" from April 29-30, 2015!
This post is sponsored by Veestro.  I was provided with a $100 gift certificate to use on the Veestro website.  Thank you for supporting CEVG!