These Deconstructed Bean and Veggie Enchiladas are the result of enchiladas and tostadas meeting and having a baby.  They're vegan, gluten-free, perfectly spicy, and they enable you to skip the annoying rolling part of enchilada-making!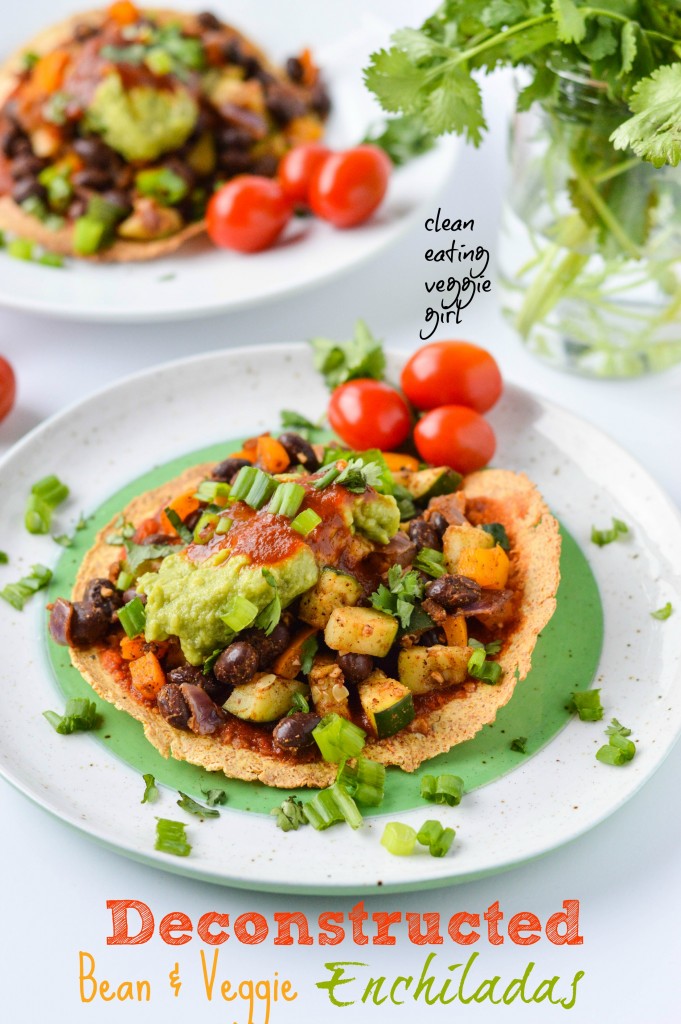 Sometimes I come up with what I consider to be "strange" recipe ideas.  These ideas pop into my head and I have zero control over them or how they come about.  It never fails that they almost always enter my mind at the most inopportune times.  Whether it be while I am in the shower or right as my head hits the pillow at night and I am trying to fall asleep.
Now don't get me wrong.  I am certainly not complaining about my seemingly never-ending creative brain.  Even if it does not have the best timing, some of my favorite random and "out there" recipe ideas have come about at 11:00 at night or when I am in the middle of shaving my legs.  The timing may not be ideal, but I know that  my taste buds are pretty darn happy when the recipe ideas come to life in my kitchen.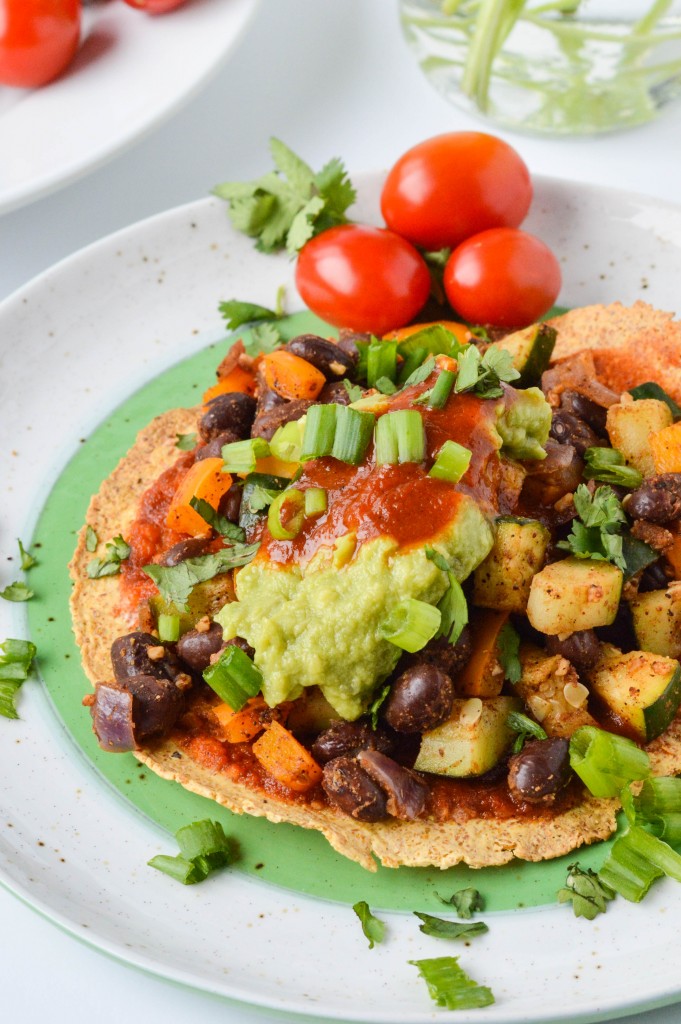 It's a beautiful cycle, really.
1. The mind (recipe creation center) bothers Hannah while she is trying to sleep because it just came up with the greatest recipe idea ever known to man!
2. Hannah gets super excited and practically squeals with the crazy good, crazy unique, crazy out there, but (hopefully) crazy delicious idea.
3. Hannah either a) runs to her notebook and writes the idea down; or b) texts herself the idea <– the things I text myself are pretty laughable
4. Hannah brings the idea to life in her kitchen, photographs it, and shares it with you!
I love a good "traditional" recipe, but I have to say that the unique and a bit "out there" recipes are the ones that I am always most excited about sharing with you… especially when they taste pretty darn fab.  Today's recipe is one of those recipes.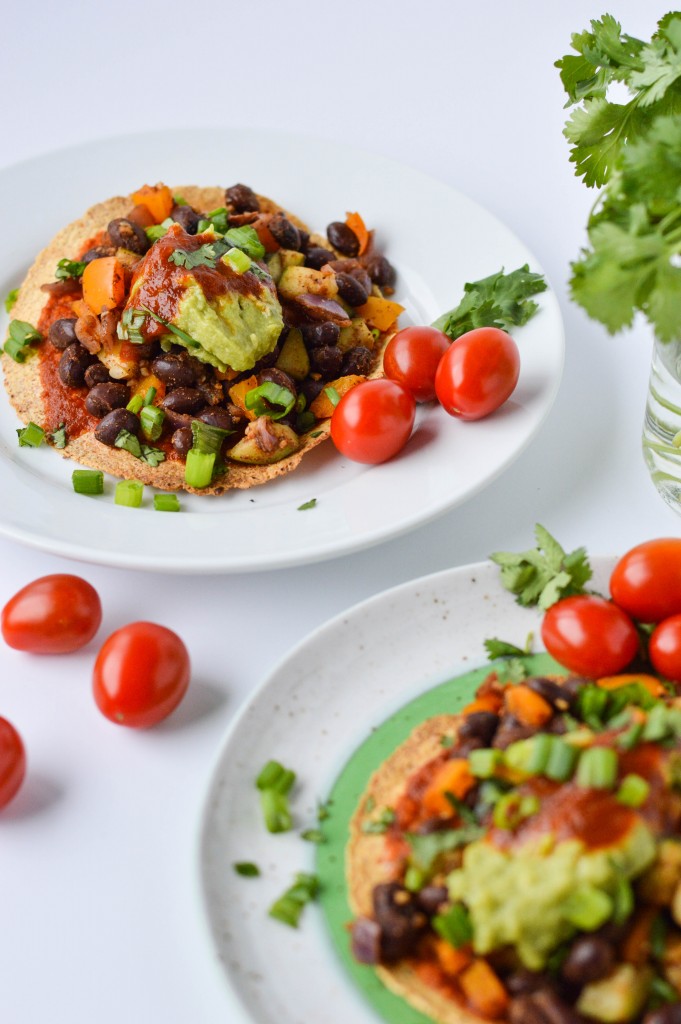 I don't even quite remember where or when this specific idea came about, but I know that I had enchiladas on the brain.  And then I thought about how much I really dislike stuffing and rolling enchiladas.  Let's be honest, that is the most annoying part of it all.  So why not skip that altogether and just eat all of the ingredients as they are?  These open-faced enchiladas are pretty life-changing (at least for me), and they are going to make you want to eat enchiladas even more frequently than you already do.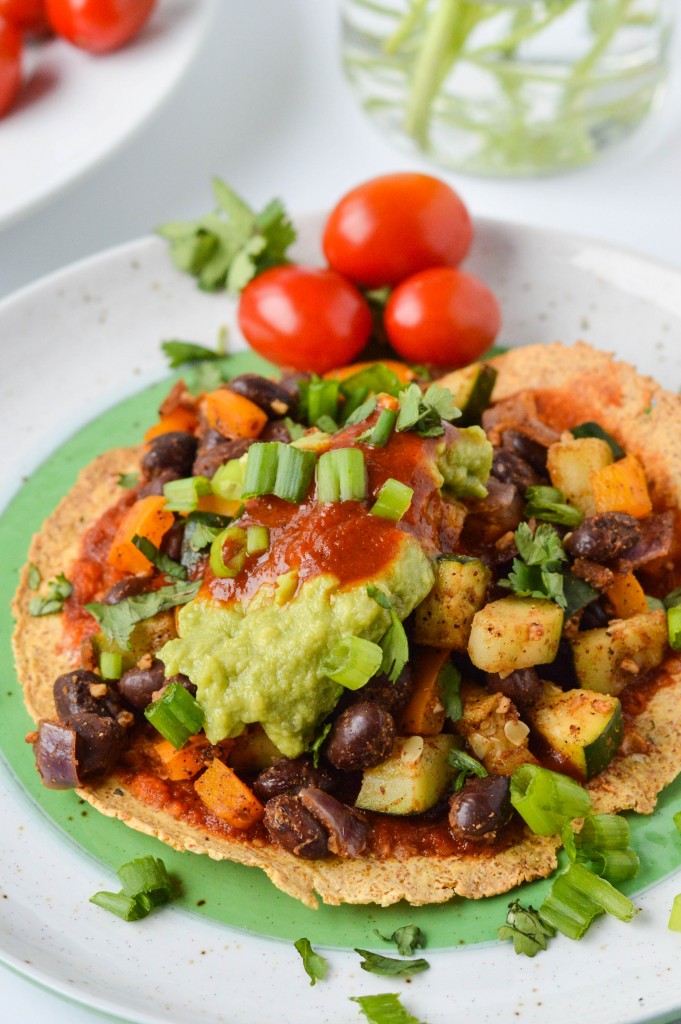 Deconstructed Bean and Veggie Enchiladas
Vegan + Gluten-Free
Makes 6
Ingredients
1-2 TB coconut oil
2 cloves garlic, minced
1/2 small red onion, diced
1 bell pepper of your choice, chopped (I chose orange)
1 medium zucchini, chopped
1 15 oz can of black beans, drained and rinsed
1 tsp onion powder
2 tsp chili powder
2 tsp ground cumin
salt and pepper, to taste
6 corn tortillas
1 cup of enchilada sauce (store-bought or homemade both work)
toppings of your choice (green onions, cilantro, guacamole, etc)
Directions
1. Preheat oven to 400 degrees F.
2. Heat coconut oil in a large skillet over medium heat.  Once hot, add garlic, onions, bell peppers, and zucchini to the pan.  Cook for approximately 8 to 10 minutes, or until the veggies are softened.  Stir frequently to prevent sticking.
3. Add black beans and spices to the skillet.  Stir until well-combined.  Turn the heat down to medium-low and continue cooking for 3 to 5 minutes, or until warm.
4. While the beans and veggies are heating up, place your tortillas on nonstick baking sheets.  Pop them into the oven for approximately 7 to 8 minutes (flipping once halfway through), or until crispy.  You want the tortillas to be sturdy enough to hold the ingredients, but not so crispy that they are burnt.
5. While the tortillas are crisping up, heat the enchilada sauce in a small saucepan over medium-low heat, or until warm.
6. Compile your deconstructed enchiladas in the following order: tostada shell, 2 tablespoons of enchilada sauce, one sixth of the bean and veggie mixture, and any desired toppings.  I chose fresh cilantro, diced green onions, and guacamole for mine.  A little sriracha or some tomatoes would be great, too!  Finally, top the whole thing off with an additional tablespoon or two of enchilada sauce.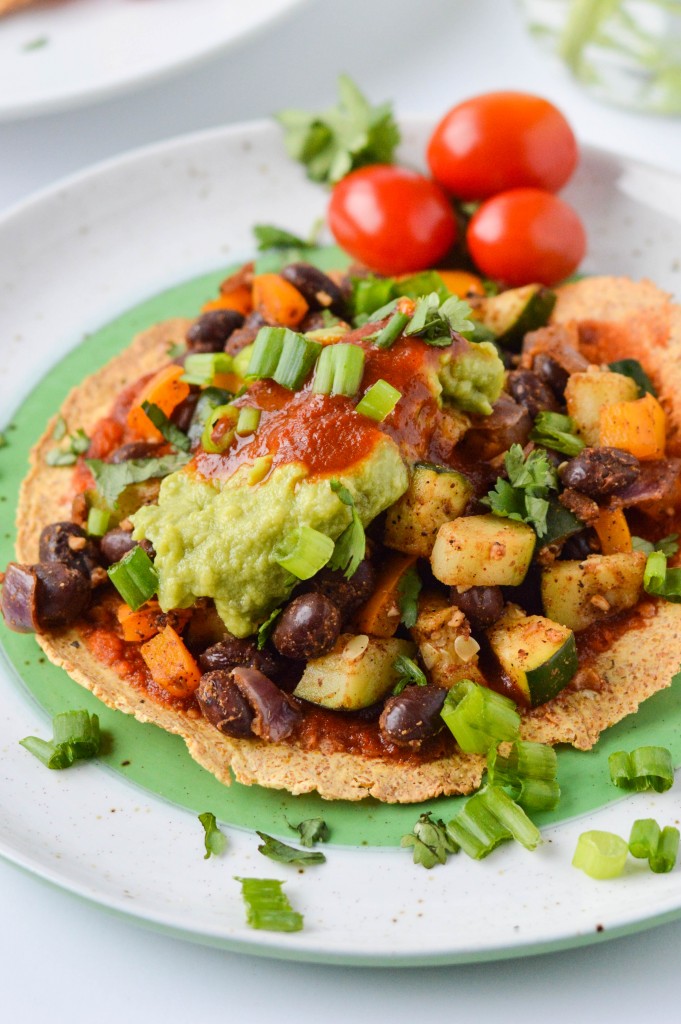 This is what happens when enchiladas and tostadas meet, fall in love, and have a baby.
They're more portable (I literally pick mine up and eat them with my hands).
They're more stuffable (there is only so much room available when you have to roll them).
And they're way prettier.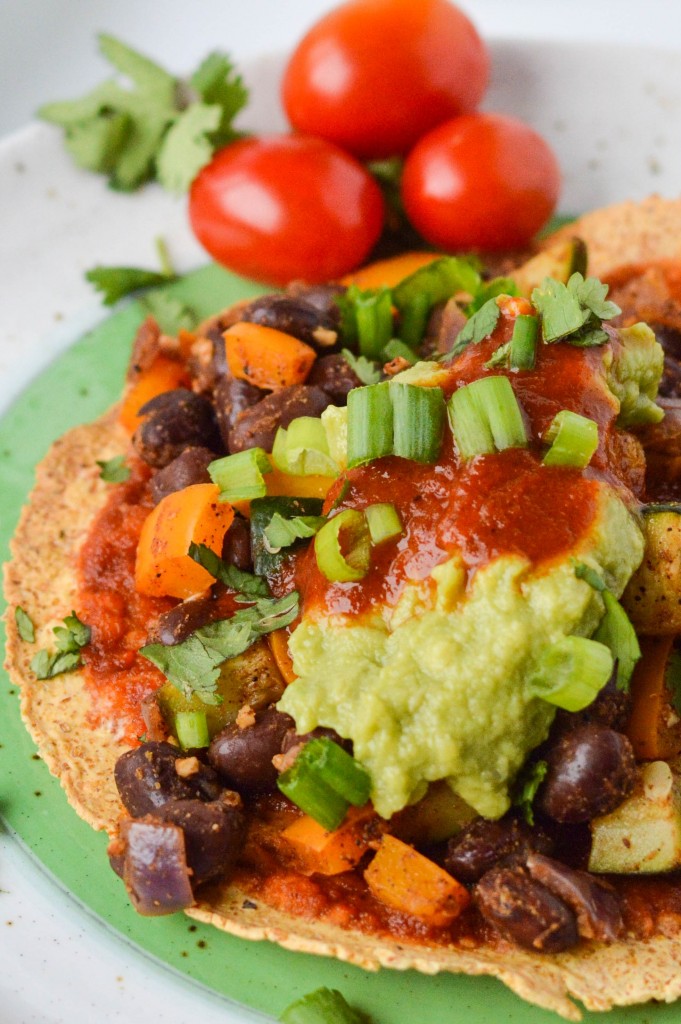 I am kind of obsessed with the idea of "deconstructed" foods right now.  What else do you want to see me deconstruct?
Please pin me and share me on Facebook and Twitter using the buttons below!