A summer-inspired acai bowl that is naturally sweetened with hints of coconut and tropical fruit.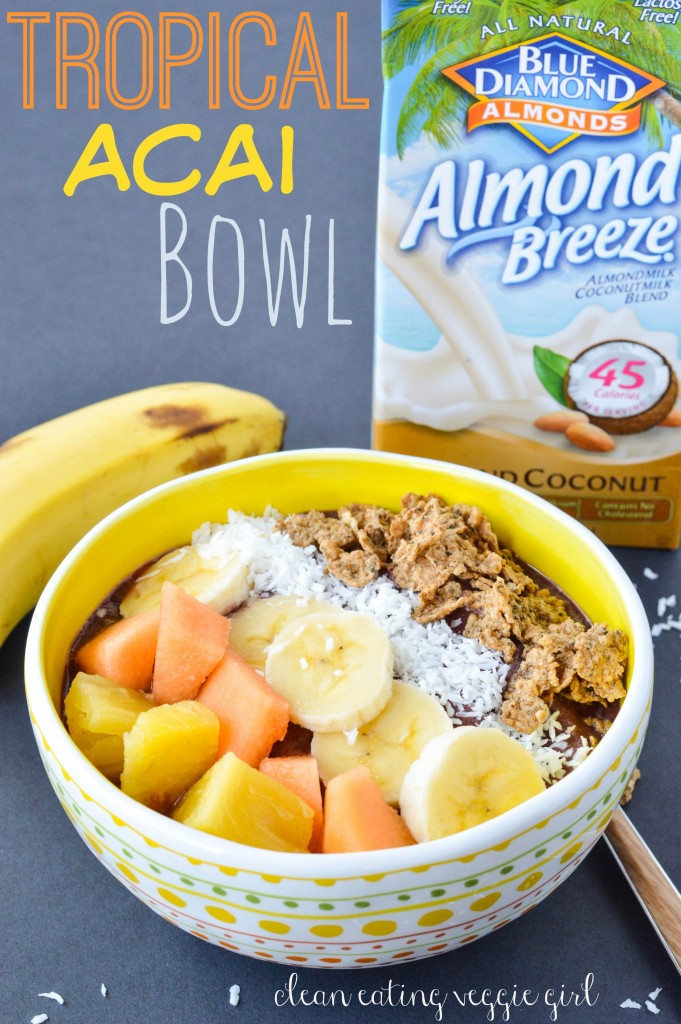 If you follow me on Instagram, you may have noticed that I have a bit of an obsession with homemade acai bowls.  You see, Omaha apparently is not cool enough yet to have cafes and restaurants that serve acai bowls.  As a result, Erin (the girl who got me hooked on these in the first place) and I will have to continue satisfying our acai bowl cravings all on our own.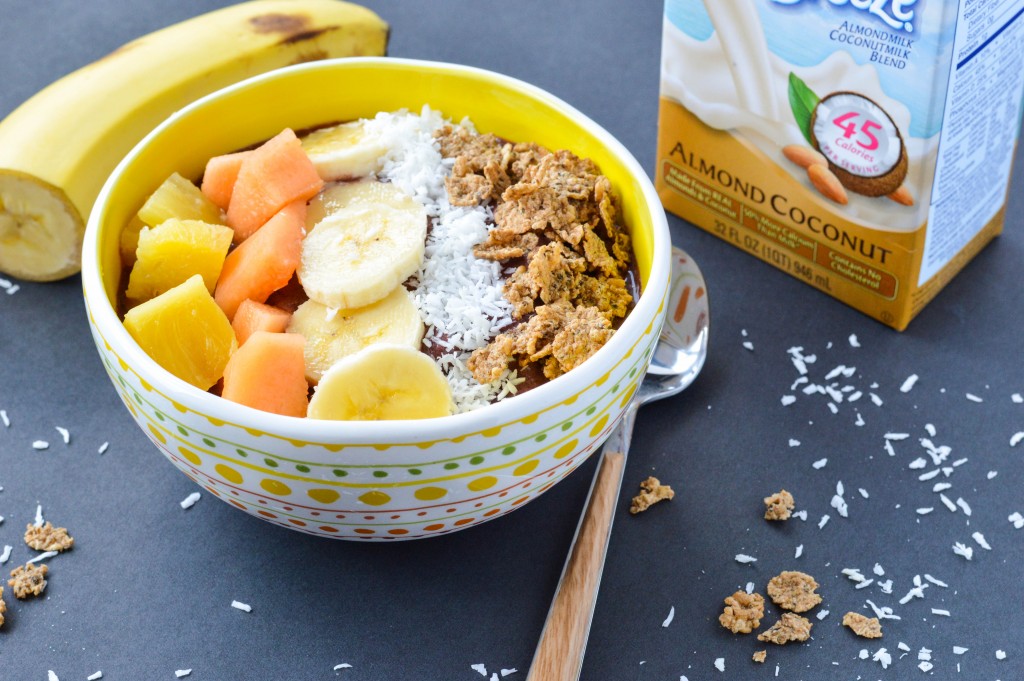 It almost never fails that I make an acai bowl at least one day out of the weekend.  It has become such a regular occurrence that I often joke about how I need to create an Instagram account solely dedicated to them.  What can I say?  When I get hooked on something, it sticks around for a long while.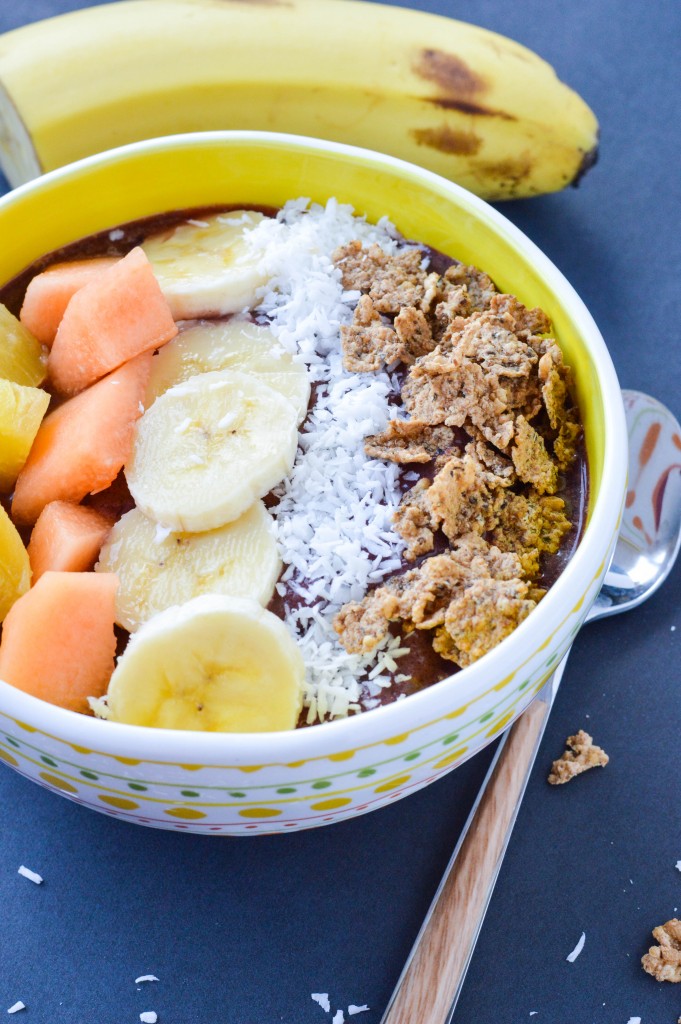 I am still crushing on my traditional bowl, but this past weekend I decided to mix things up a bit with the help of Blue Diamond.  It is practically May, which means it is practically summer… or maybe that is just wishful thinking?  Regardless, I have all things summer on the brain.  With one of those things being tropical fruit, I decided it would be fun to "tropicify" my acai bowl with hints of coconut and all of my favorite summery fruits.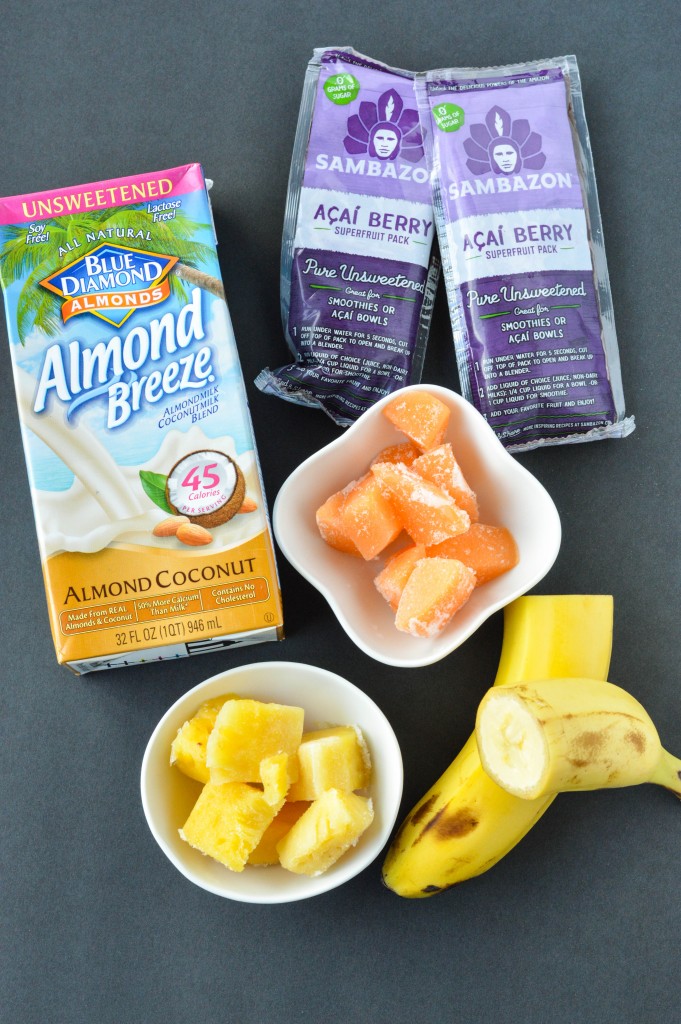 Yesterday I grabbed the almondmilk coconutmilk blend (so good), a couple of frozen acai berry packs, frozen cantaloupe, frozen pineapple, and frozen banana.  You could also throw in some mango if you feel extra fancy!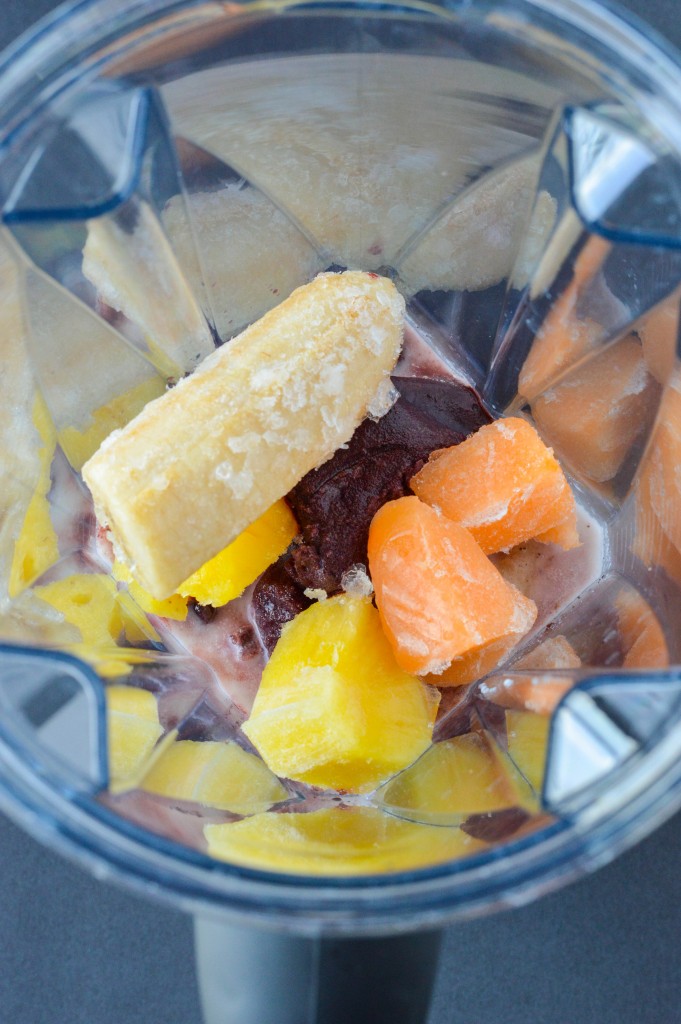 I packed everything into my Vitamix and gave it a whirl.  The result was the most perfectly sweetened acai bowl with a hint of coconut and a punch of tropical fruit.  This just may have to become my new favorite weekend breakfast.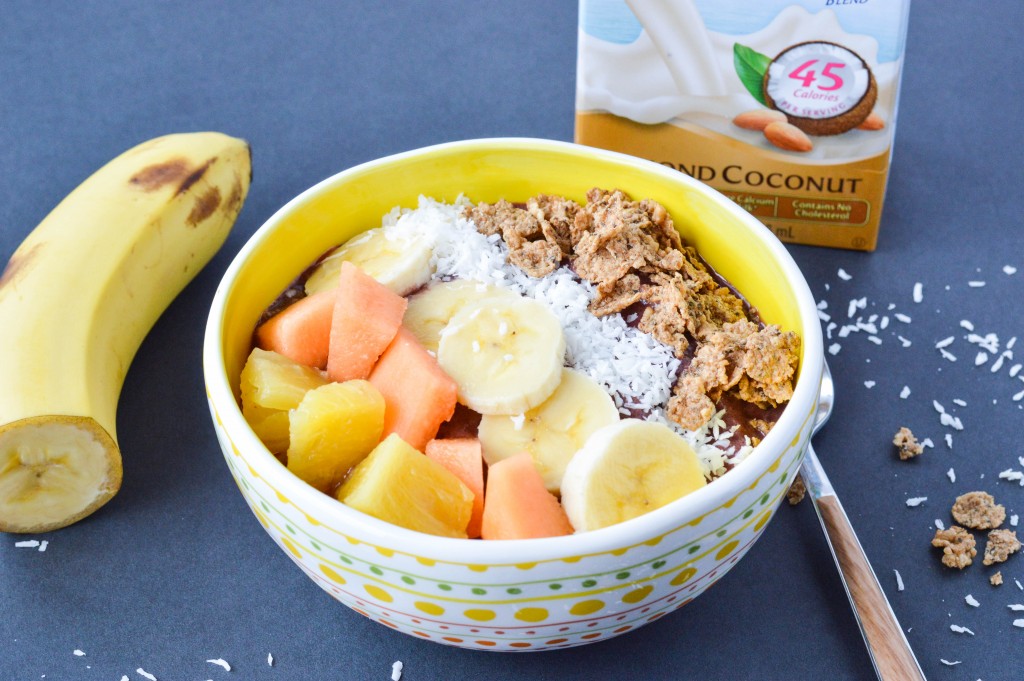 Tropical Acai Bowl
Vegan + Gluten-Free
Serves 1
Ingredients
For the Acai Bowl:
2 100g unsweetened acai berry superfruit packs
1/2 cup Blue Diamond Unsweetened Almond Coconut Milk
1/2 medium very ripe frozen banana
1/4 cup frozen pineapple chunks
1/4 cup frozen cantaloupe chunks
honey or maple syrup, optional if you like a sweeter bowl
Toppings:
fresh pineapple, cantaloupe, and banana slices
fresh shredded coconut
granola or your favorite cereal
Directions
1. Remove acai berry superfruit packs from the freezer approximately 30 minutes before making the bowl.  Alternatively, you can run the packs under warm water until slightly thawed enough to break into chunks.
2. Place milk, contents of superfruit packs, frozen banana, frozen pineapple chunks, and frozen cantaloupe into a high powdered blender.  If using sweetener, add this now.
3. Blend for approximately 30 to 60 seconds, or until smooth.  It should be thicker than a smoothie, but not quite as thick as sorbet.
4. Pour the acai blend into a bowl.  Top with your favorite tropical toppings, like fresh pineapple, cantaloupe, banana slices, shredded coconut, and granola or cereal.  Mango and almond butter would also be great additions!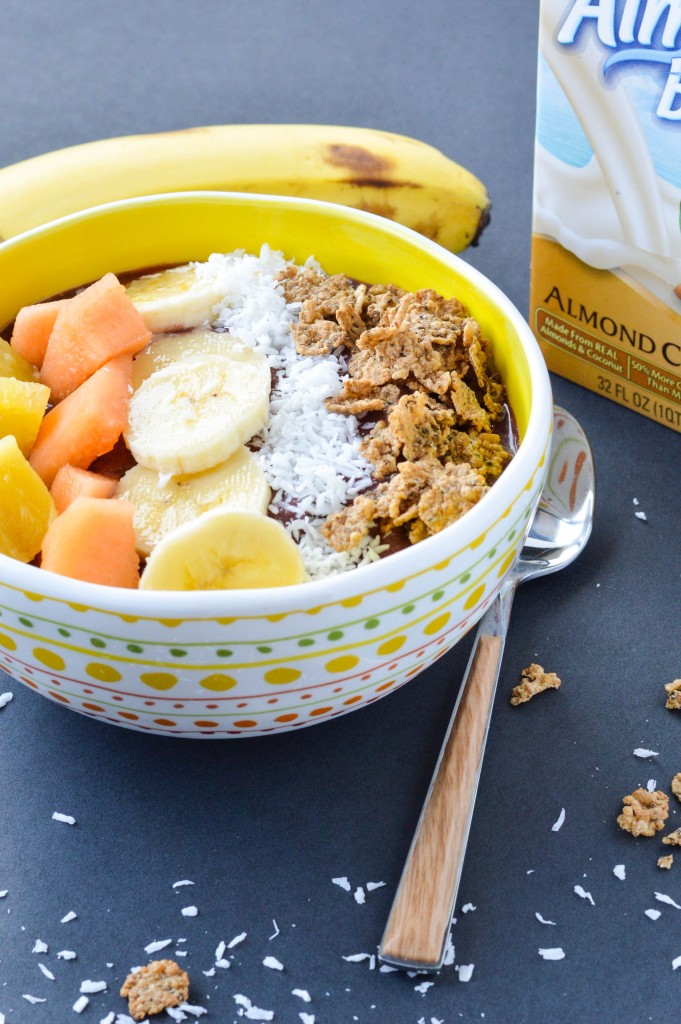 One of my favorite things about acai bowls is that you can top them with nearly anything.  They are delicious with fresh fruit, granola/cereal, shredded coconut, cacao nibs, and even your favorite nut butter.  I always like to balance my toppings out with a bit of fruity sweetness and some carby crunchiness.  It's all about the balance!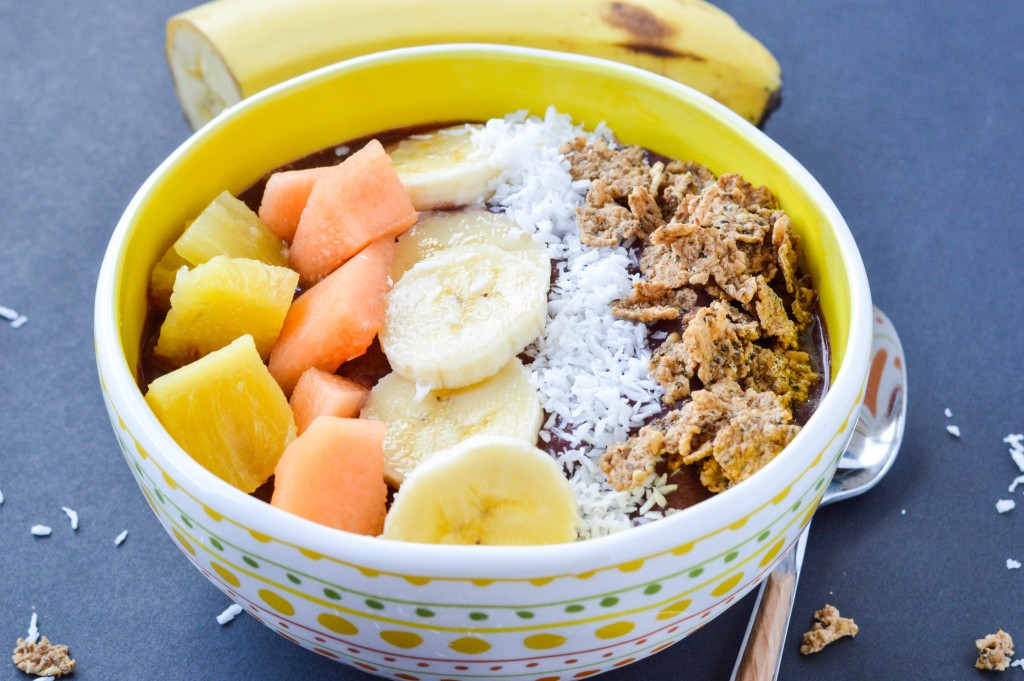 This post is sponsored by Almond Breeze Almondmilk.  Thank you for supporting CEVG!
What are your favorite acai bowl toppings?
Pin me and share me on Facebook and Twitter using the buttons below.