Spice-Rubbed Tilapia Tostadas that are colorful, healthy, and perfectly spicy.  Cooking these up for Tostada Tuesday makes for a fool-proof Mexican lunch or dinner.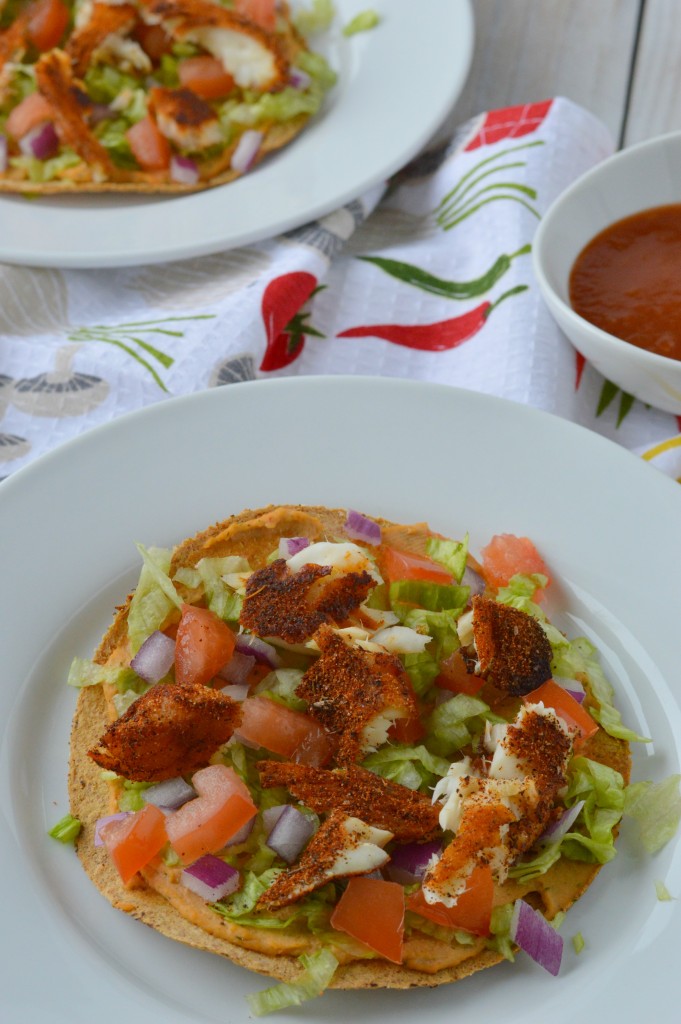 Remember that time when I said I probably wouldn't be posting many seafood recipes anytime soon?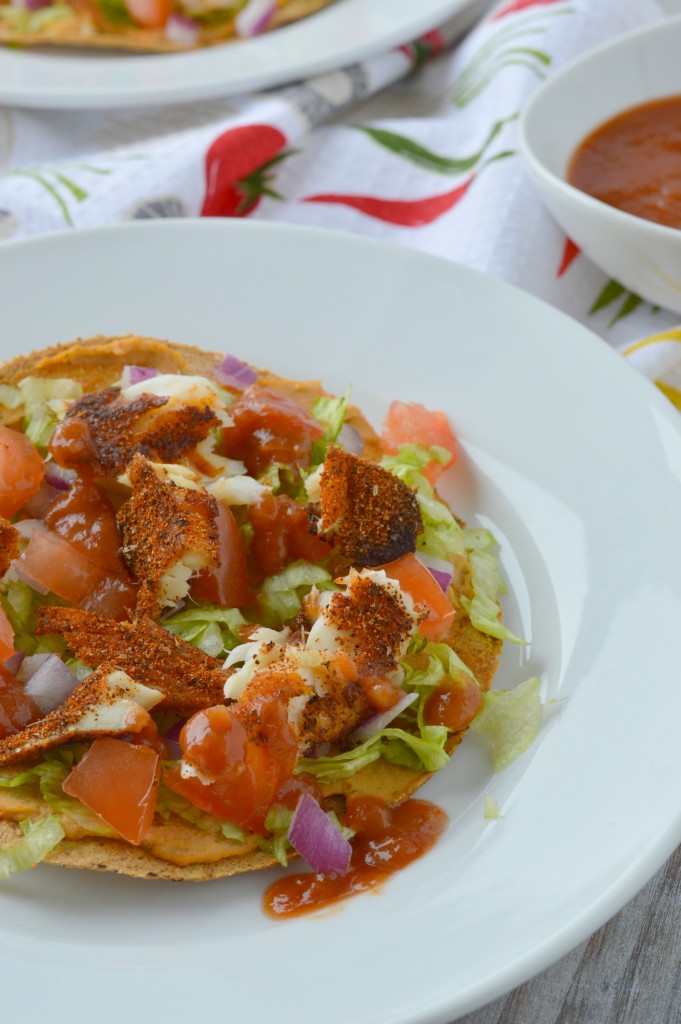 Hah!  I should have known better.  As if I, Hannah, could keep myself from experimenting in the kitchen and sharing the delicious goodness with you.  I said it with good intentions.  But, lucky for you, that didn't exactly pan out.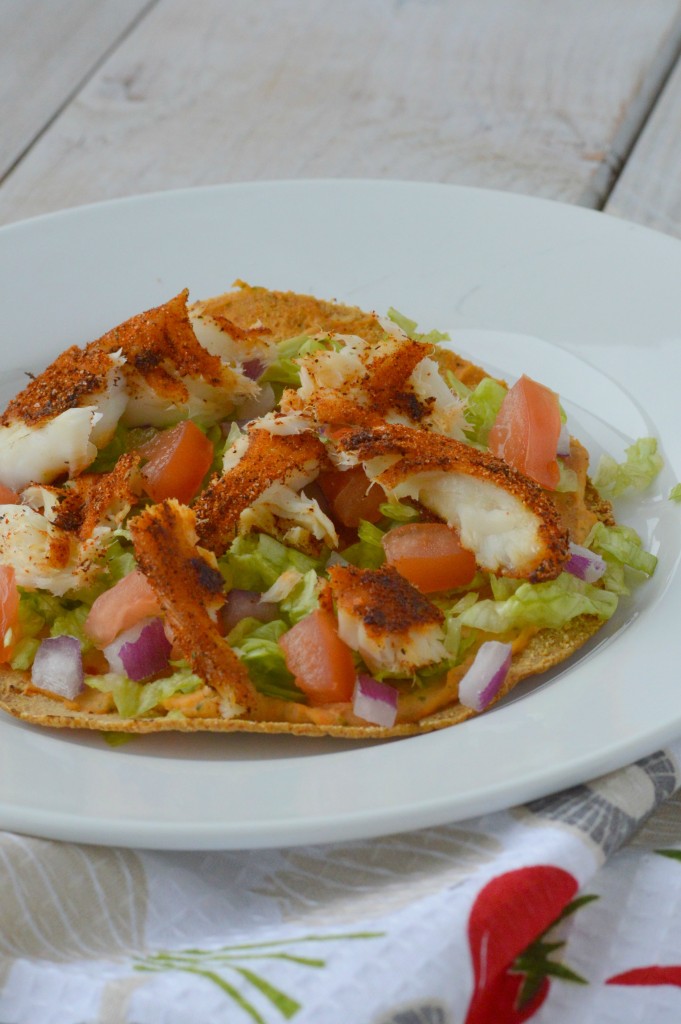 You see, when I find inspiration or when ideas randomly pop into my head, I have to roll with them.  That is exactly what happened following my most recent trip to Des Moines with Jeremy.  After I tried and loved the blackened-tilapia fish tacos from Granite City, I wanted to recreate something similar at home.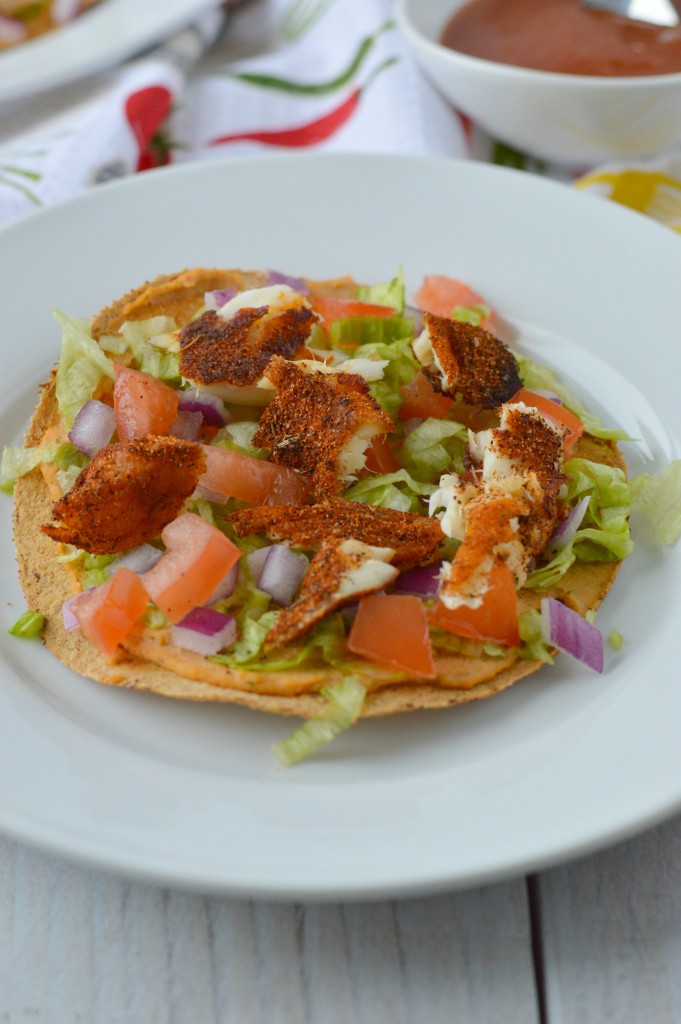 I did, however, decide to mix things up a bit.  Instead of tacos, I went with my other favorite crunchy Mexican dish: tostadas!  What's not to love about tostadas?  They essentially taste like hard-shell tacos, but are way easier to eat and way less messy.  It's a win-win.
P.S. In case you aren't up on the proper tostada eating techniques, don't bother with a fork.  Just pick them up and munch away!  It is the only way to eat them and actually get the toppings to stay on.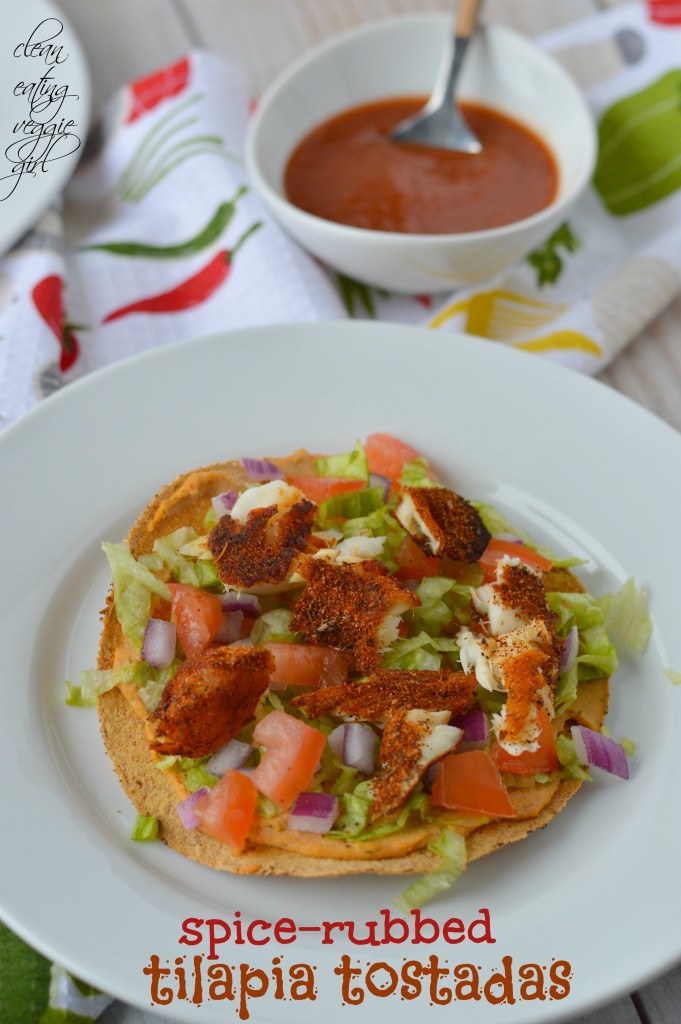 Spice-Rubbed Tilapia Tostadas
Serves 2 to 3
Ingredients
6 corn tortillas
1/2 tsp fine sea salt
1/2 tsp black pepper
1 1/2 TB paprika
1/2 TB onion powder
1/2 tsp dried thyme
1/2 tsp ground oregano
1 tsp chili powder
1/2 tsp garlic powder
2 five ounce boneless and skinless tilapia fillets, wild-caught or sustainably farmed
1/2 cup spicy red pepper hummus
shredded lettuce
chopped red onion, diced tomatoes, and/or salsa for topping
Directions
1. Preheat oven to 375 degrees F.  Line one large or two medium baking sheets with a silicone baking mat or foil.  Spray lightly with cooking spray if using foil.  Place corn tortillas onto the baking sheet(s) and bake for 8 to 10 minutes, flipping once halfway through.  Remove from oven once crispy.  Set aside.
2. While the tortillas are baking, rinse tilapia under cool water and pat dry with paper towels.
3. Combine all seasonings to make spice rub.  Mix well.
4. Gently pat spice rub onto both sides of tilapia filets, covering them liberally.
5. Place tilapia filets onto medium baking sheet with silicone baking mat or foil that has been generously sprayed with olive oil cooking spray.
6. Increase oven temperature to 400 degrees F.  Bake for approximately 15 minutes.  Place oven on low broil and broil for approximately 3 to 5 minutes, or until fish becomes flaky and pulls apart easily with a fork.  Cut cooked tilapia into one-inch pieces.
7. Compile tostadas in the following order: corn tortilla, spicy hummus, lettuce, onions, tomatoes, spice-rubbed tilapia pieces, and salsa.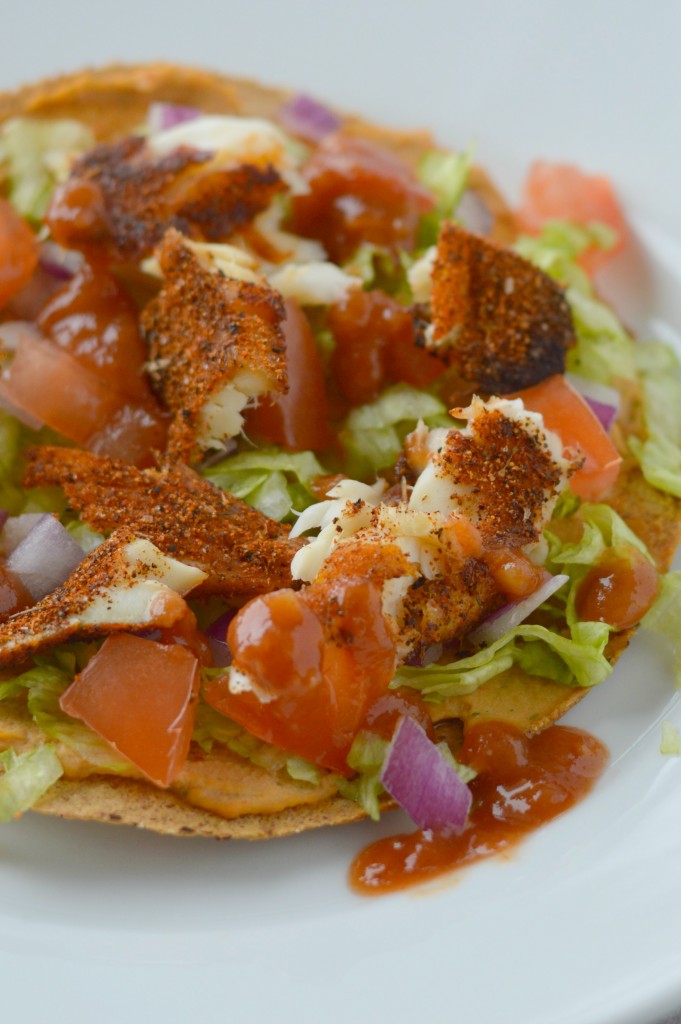 For my first time ever cooking tilapia, I was pretty darn ecstatic with the results.  I totally winged it on the oven temperature and cooking time.  But the fish-cooking gods must have been looking out for me because the tilapia was perfectly flaky and crispy… oh, and deliciously spicy!
I am quite certain that the spice-rubbed tilapia tastes delicious enough to be served on its own or with a Mexican-themed side dish.  However, the crunchy tortilla, creamy hummus, and fresh veggies make it taste even better.  Don't skimp on the tostada-ness of this dish.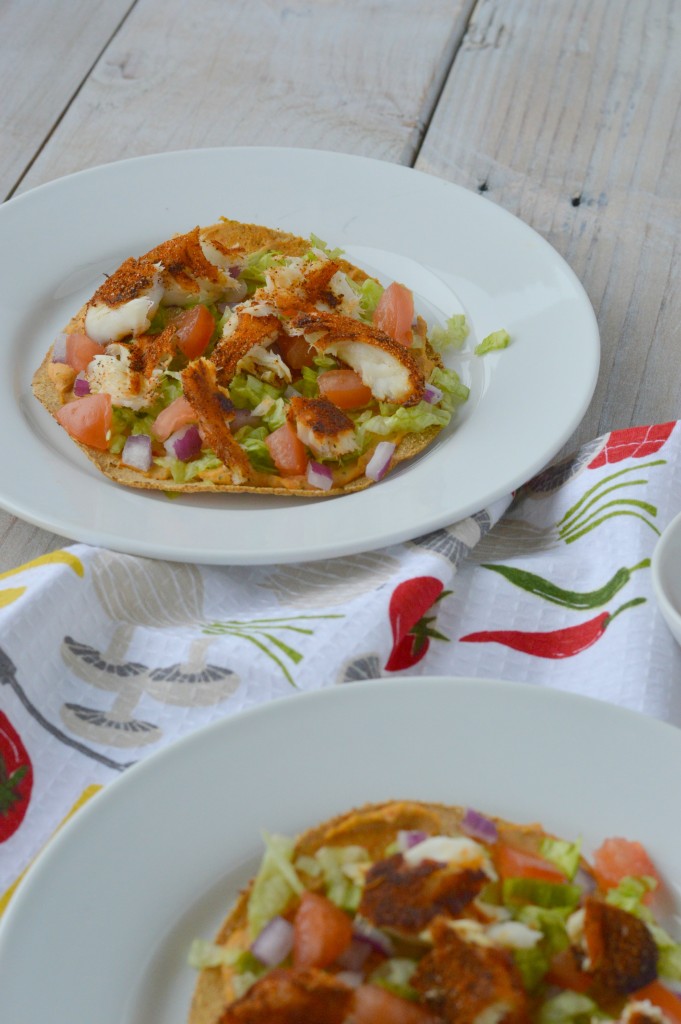 I have taken seafood to a whole new level.  A spicy, colorful, healthy, and flavorful level.  And now that I have only ever eaten tilapia in taco and tostada form, I imagine that I will always associate it with Mexican food.  There is no shame in that!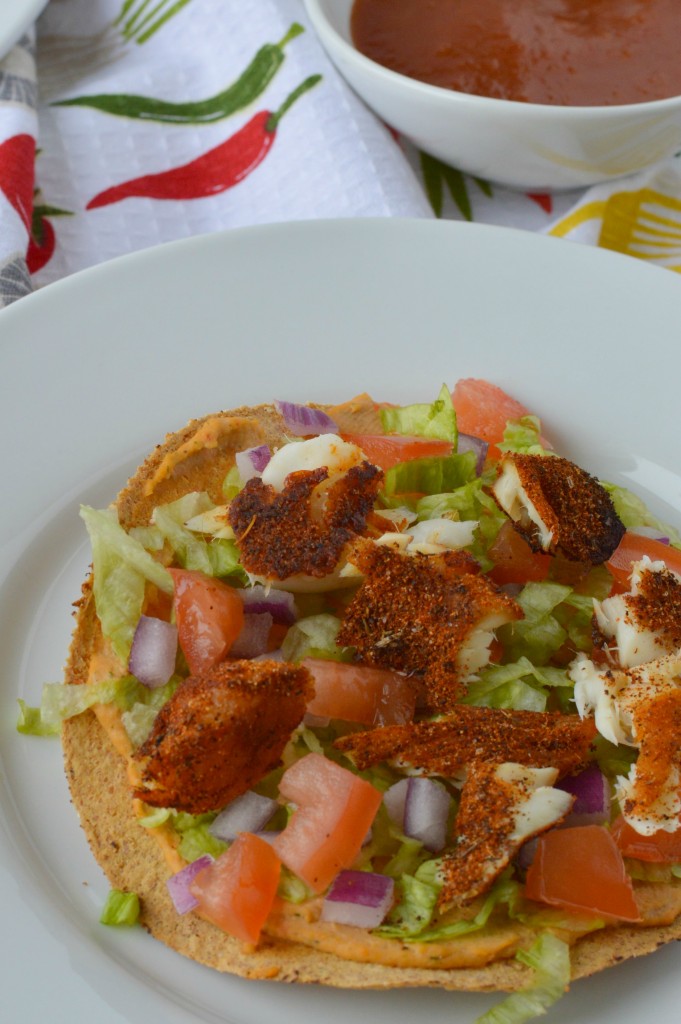 These babies are proof that it pays off to experiment in the kitchen.  Now go challenge yourself and cook something that intimidates you!  Oh, and make these tostadas while you're at it.  There is no need to be intimidated with this one!
What meals have you prepared after finding inspiration at a restaurant?  How did they turn out?
What food or recipe intimidates you?  I say give it a try!
Pin these fishy tostadas and share them on Facebook and Twitter using the share buttons below!