Colorful and flavorful plant-based loaded potato skins that combine the savoriness of black beans and potatoes with the sweetness of barbecue sauce and pineapple.  This is one snack that is too good to say no to, and is 100% acceptable to eat as a meal.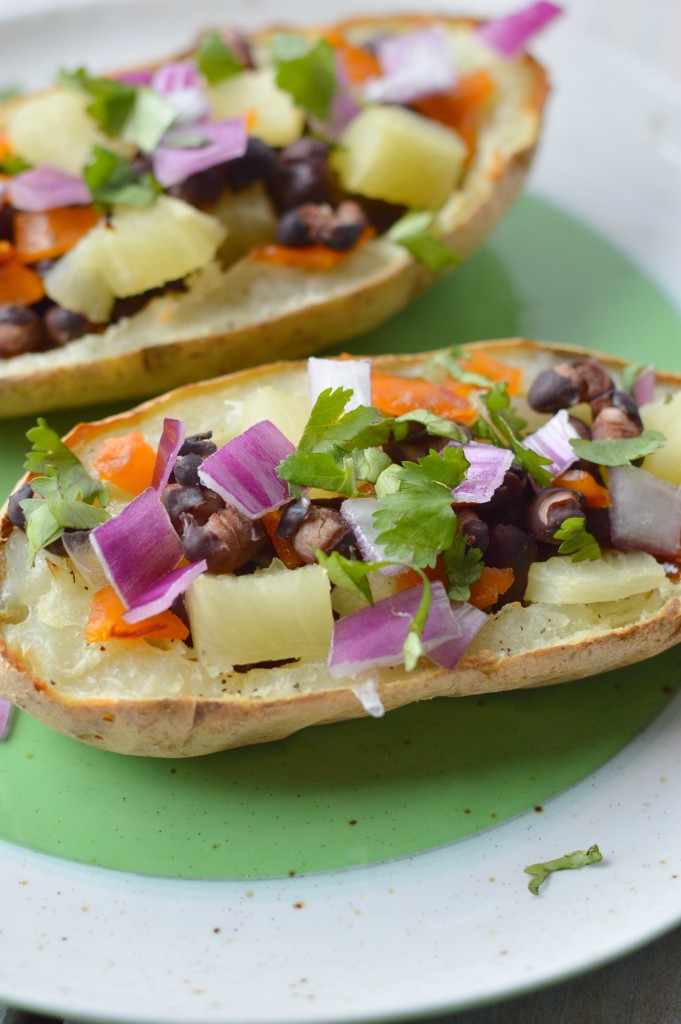 I have been blogging for about two and a half years now.  The time has flown by, and I am still amazed at how things have changed over these last 30 months.  It really seems like a long time when I put it that way.  Thirty months!
When I think back to some of the reasons why I began writing Clean Eating Veggie Girl in the first place, I have to admit that it had a lot to do with this lady.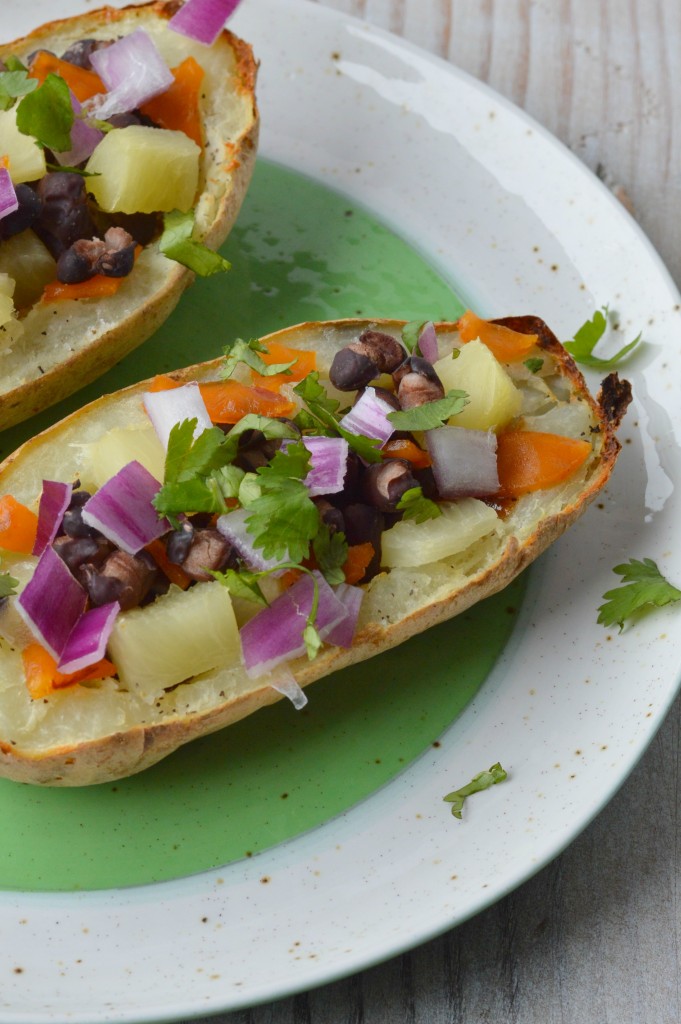 Kristin, from Iowa girl Eats, has a gorgeous blog and shares the most wonderful recipes.  (Plus, she's from IOWA!)  Seeing how her food photography has evolved over the years has been a true inspiration to me, as well.  After falling in love and becoming an avid reader of IGE, I finally got up the nerve to take my own plunge into the blogging world.
I continue to follow IGE, and get excited whenever I see a new post.  And while the majority of Kristin's recipes tend to include meat, that does not stop me from making them in my own kitchen.  In fact, I love the challenge of "veggifying" recipes that originally call for meat.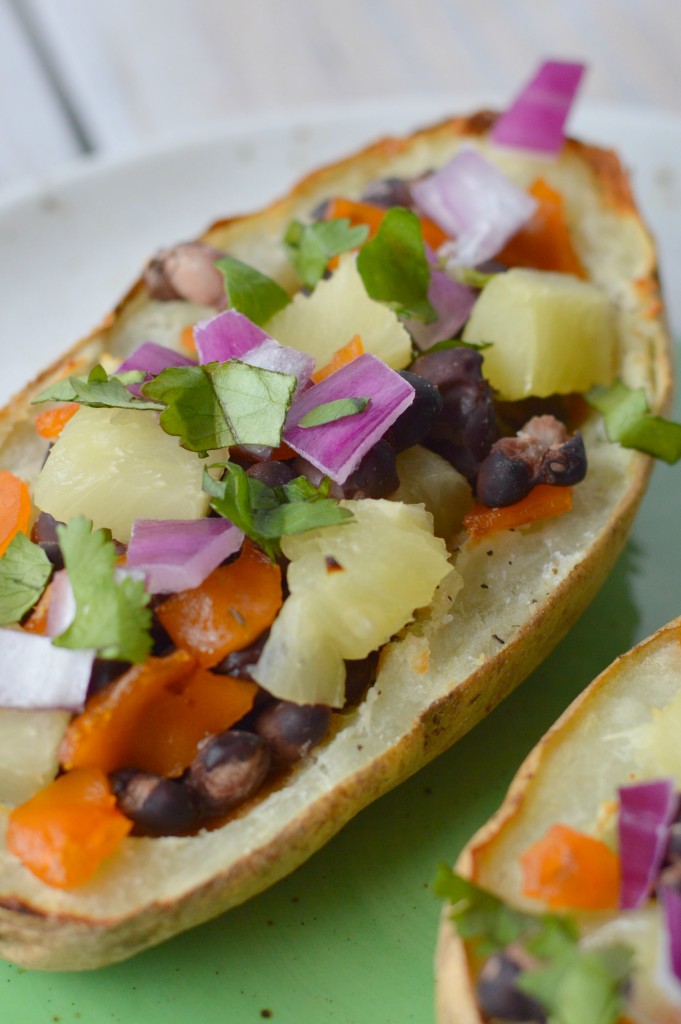 Kristin instantly got my creative juices flowing back in December when she posted her recipe for Loaded Hawaiian Pizza Potato Skins.  I love potatoes, I love barbecue sauce, and I am an avid proponent of always putting pineapple on my pizza <–even if my boyfriend thinks I am weird for doing so.
Obviously when I saw Kristin's post, I knew that I had to recreate a vegan version.  I also knew that doing so would be pretty simple with just a few ingredient substitutions.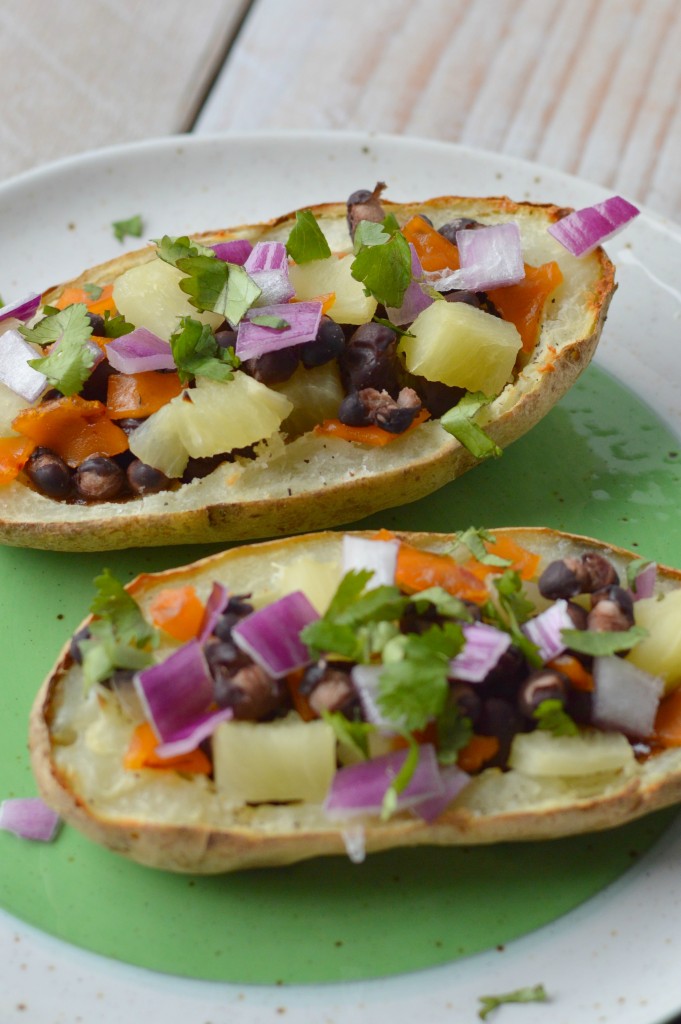 If you love turning snack foods into whole meals like I do, you must try these.  Sure, they would be a great appetizer.  But why stop at just snacking?  A couple of these during lunch or dinner would make for the perfect meal.
These are:
Sweet
Savory
Crispy
Snacky
Filling
Flavorful
Healthy
Portable
…and should be eaten with your hands!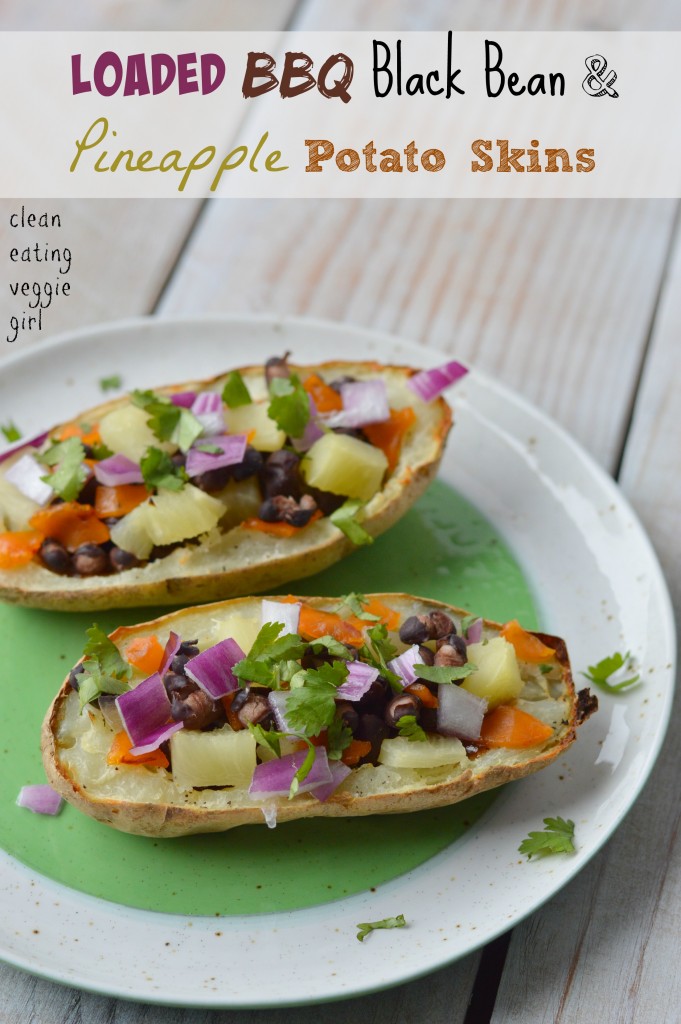 Loaded BBQ Black Bean & Pineapple Potato Skins
Vegan + Gluten-Free
Slightly adapted from this recipe.
Makes 8 potato skins
Ingredients
4 medium russet potatoes
olive oil cooking spray
fine sea salt
black pepper
1/2 cup BBQ sauce*
1 cup cooked black beans (drained and rinsed, if from a can)
8 oz can pineapple tidbits, drained well
2 slices vegan cheese (I prefer this brand), torn into small pieces
1/4 cup minced red onion
1/4 cup fresh cilantro, chopped
*Whenever possible, choose a barbecue sauce that is made with minimal ingredients and that does not contain high fructose corn syrup.
Directions
1. Preheat oven to 400 degrees F.  Line a large baking sheet with foil and spray with cooking spray.
2. Thoroughly wash and dry potatoes.  Pierce potatoes all over with a fork and place on baking sheet.  Bake for approximately 45 to 60 minutes, or until a knife entered into the center comes out clean.  Let cool slightly so that you can handle them without burning yourself.
3. Increase oven temperature to 450 degrees F.  Slice potatoes in half lengthwise and scoop out half of the potato flesh.  This should leave about 1/4 to 1/2 inch of potato remaining.  Save the potato flesh for another use.
4. Spray the inside and outside of the potato skins with olive oil cooking spray and season with salt and pepper.  Bake skin side up for 5 minutes, flip, and bake another 5 minutes skin side down.
5. Turn oven on low broil.  Fill potato skins with 1 tablespoon of BBQ sauce each, followed by equal amounts of black beans, pineapple, and cheese.  Broil for approximately 2 to 3 minutes, or until the toppings are warm and the cheese has melted.  Watch the potatoes carefully during this stage to ensure they do not burn.
6. Remove potato skins from oven, top with red onion and cilantro, and serve.  You can pair them with additional BBQ sauce on the side, if desired.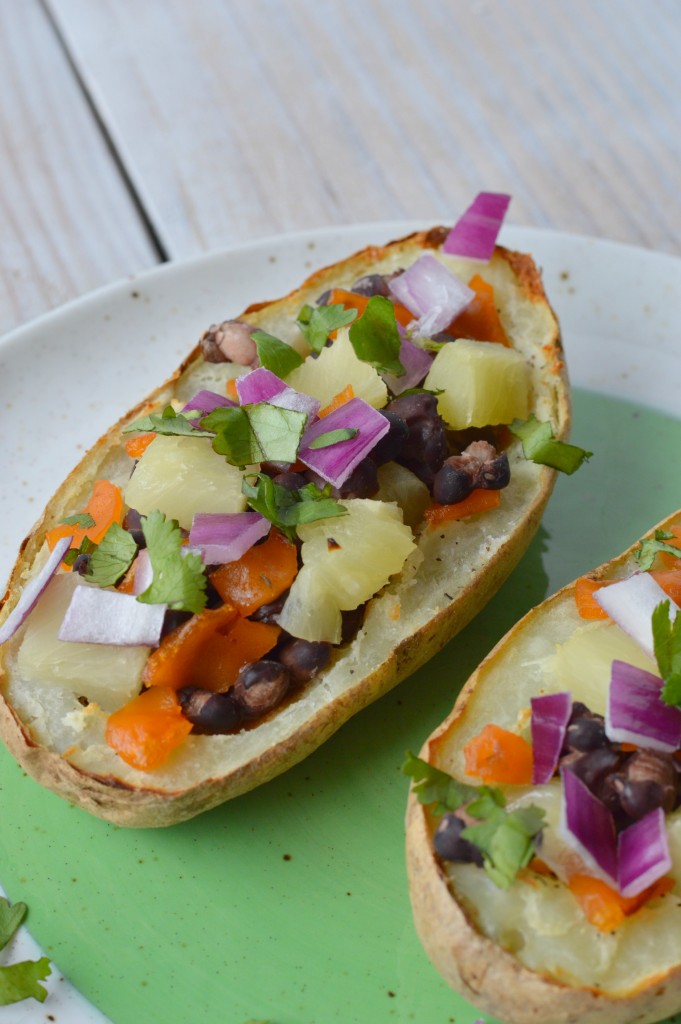 Though my pictures may not live up to the art of Kristin's photography, I am pretty sure that this plant-based version tastes equally delicious!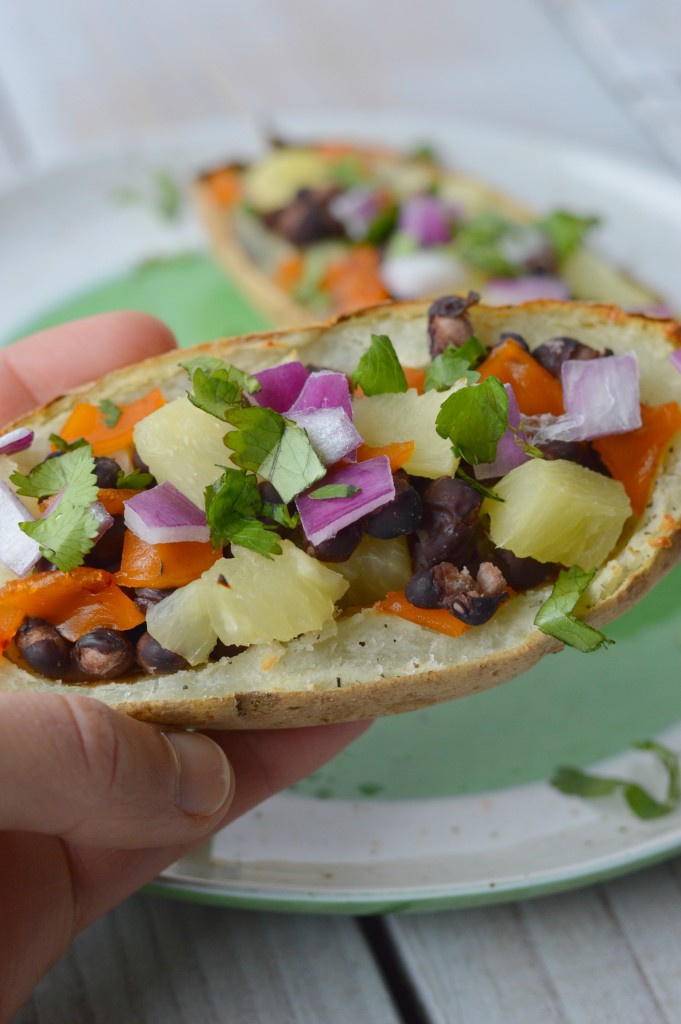 This isn't a palm to face moment.  It's a crispy potato skin to mouth kind of moment.  It's also a major no-brainer.  Go make these now.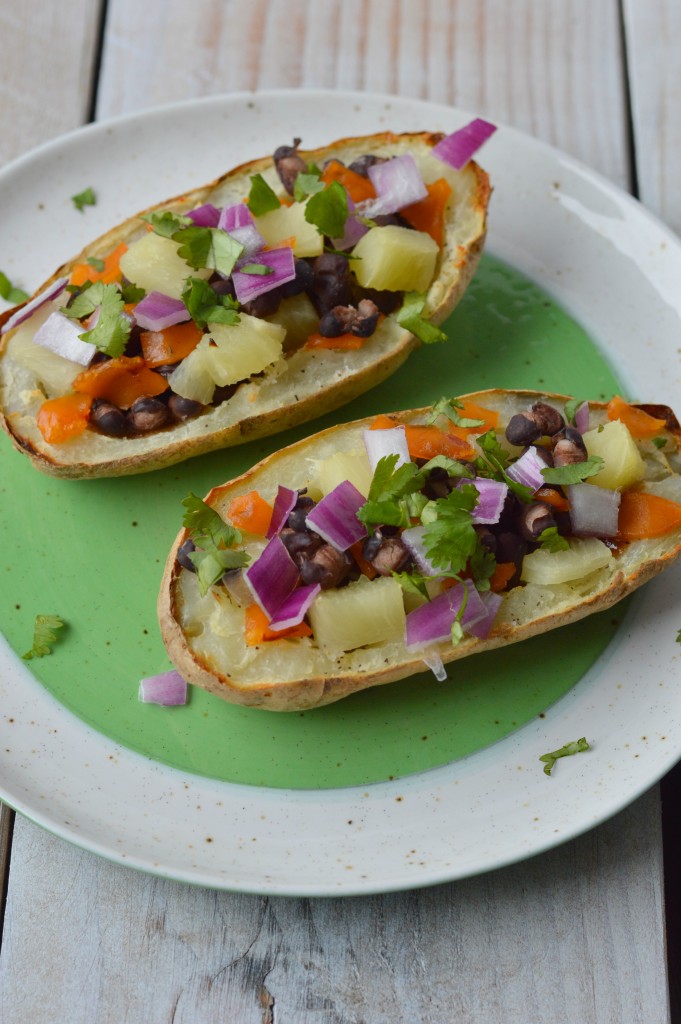 And if you should feel the need to enjoy even more of the BBQ sauce/black bean/pineapple combo, check out this pizza: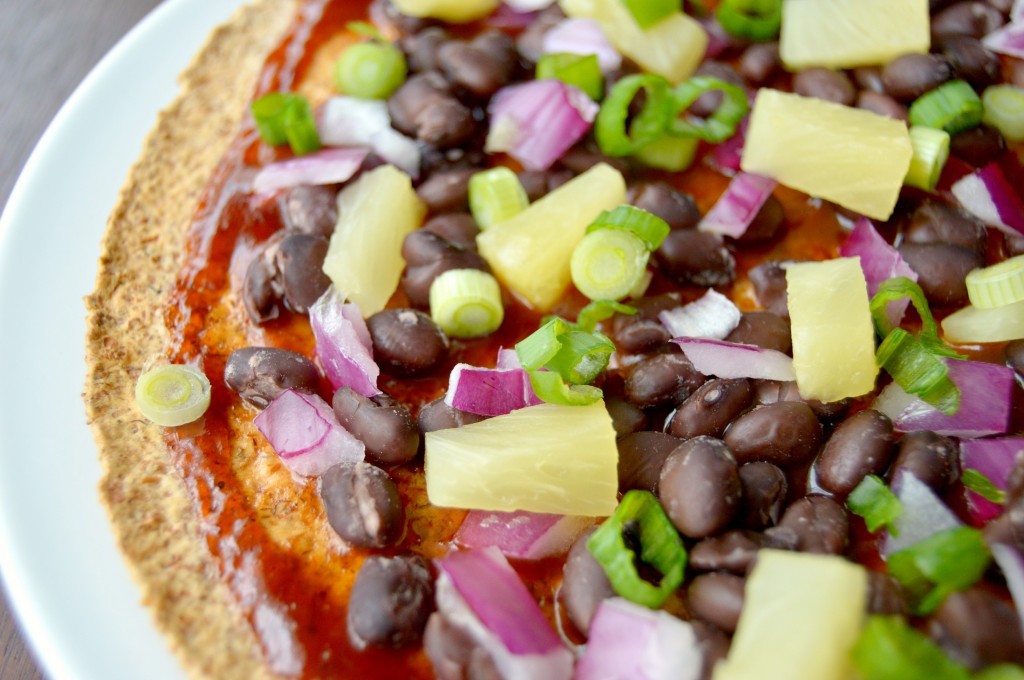 Barbecue, Black Bean, and Pineapple Pizza for One
What appetizer/snack food do you love eating as a meal?
Do you enjoy adding pineapple to savory foods?
Please pin this portable meal and share it on Facebook and Twitter using the share buttons below!