This past weekend was full of fun adventures that were easily some of the best highlights of the past month.  That may or may not have had something to do with the fact that Jeremy was here visiting.  Jeremy was not the only important person in my life who was here, though.  One of my best friends, Stacy, and her husband, Chris, made their way out to visit me in Omaha for the first time.  We filled up two days full of gallivanting around Omaha, eating delicious food, and drinking plenty of beer.  You are not doing Omaha right if you aren't eating and drinking at the best local places.
A few weeks back, Jeremy let me in on a fun Omaha tourism activity that was news to me.  The Visit Omaha website offers tourists an opportunity to experience the best craft beer that Omaha has to offer through their Craft Brewery Tour.  Since I am an Omaha resident, I sadly was not eligible for the goodies.  But Jeremy, Stacy, and Chris all signed up on the website about two weeks prior to their visit, and received an Explorer's Journal with free beer coupons to eight local breweries <– we like our beer here in Omaha!
 Lucky for me, Stacy is not a huge beer person so I was able to snag her coupons at the majority of the breweries we visited!
We started our brewery tour at Borgata Brewery and Distillery in the Old Market.  We loved the building and decor, and the staff was incredibly knowledgeable and friendly.  Even though I did not have a drink coupon (Stacy found a cider beer here), the bar tender hooked me up with a free beer!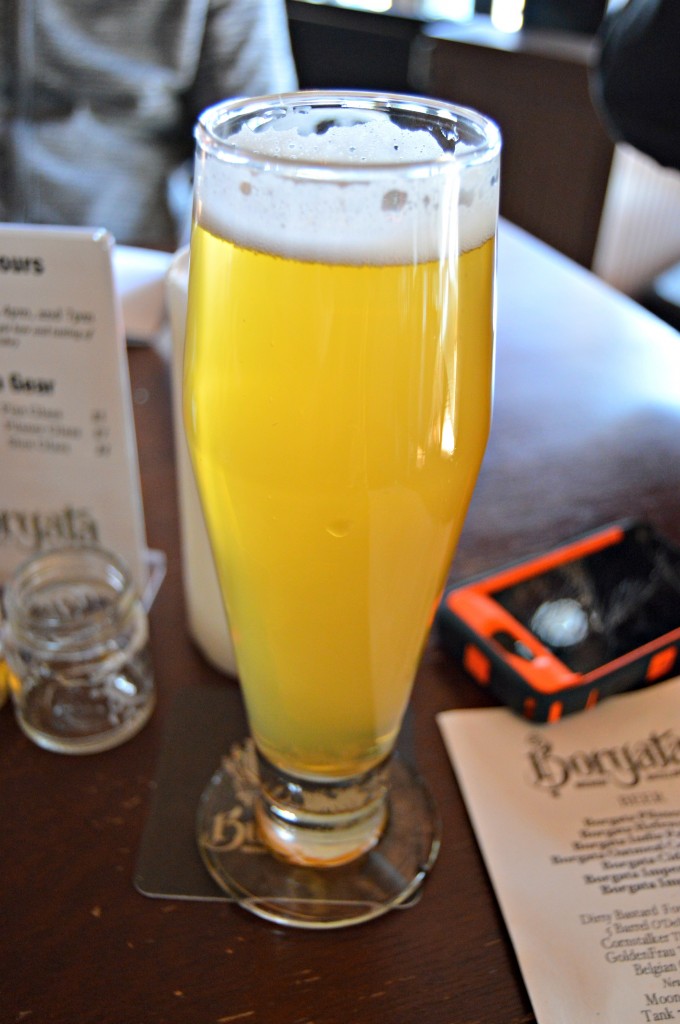 I chose the Hefeweizen and really enjoyed it.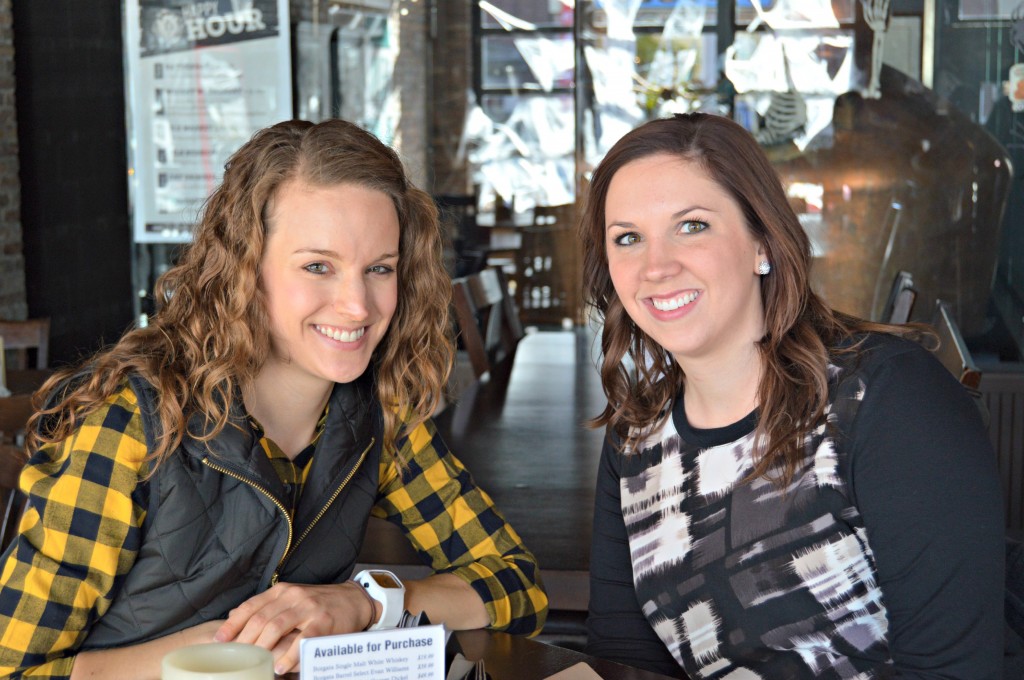 Stacy and I at the brewery.
I may or may not have been representing my black and gold Iowa colors.  I may live in Nebraska now, but I still have loyalty to my home state.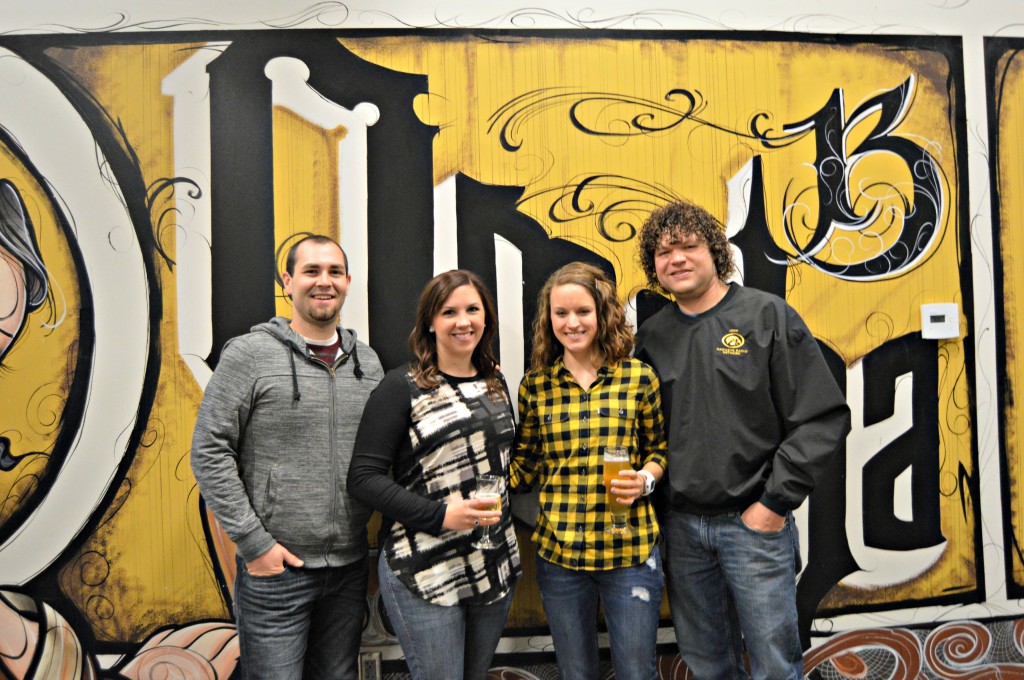 One of the bartenders was kind enough to take a group picture of the four of us back in the brewing room.  I love how we all just happened to match the mural in the background!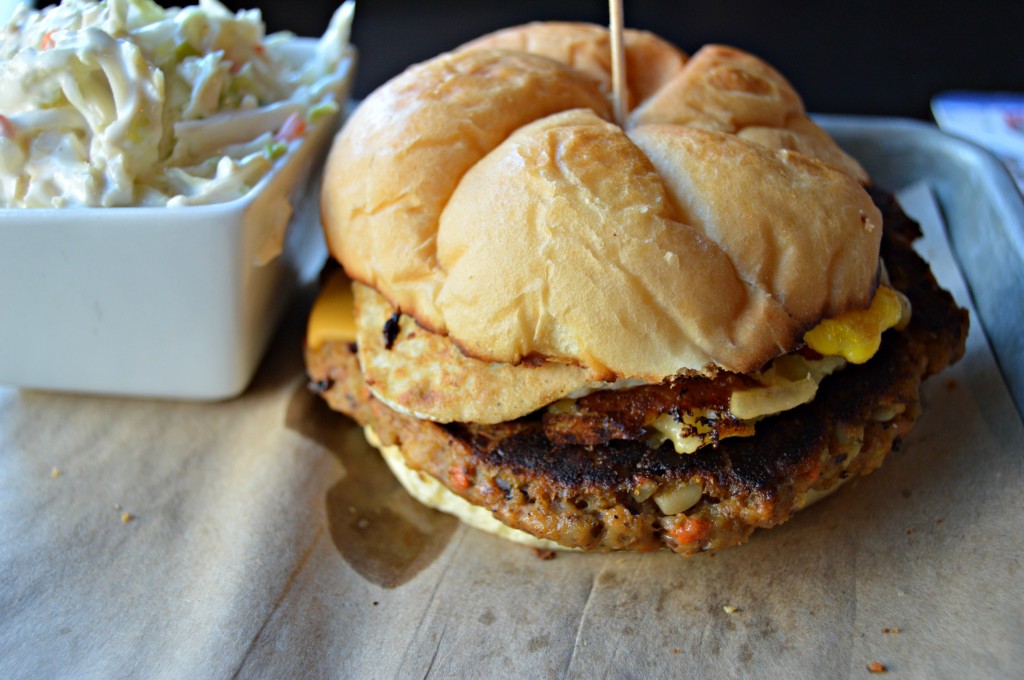 After spending a couple of hours at Borgata, we walked a few blocks to eat lunch at Omaha Tap House.  This was my visit here and I was not disappointed.  I ordered the "Hangover Burger" and subbed in a house-made veggie patty.  The veggie burger was topped with American cheese, hashbrowns, and a fried egg.  It was seriously delicious.  I also loved the coleslaw that I ate on the side.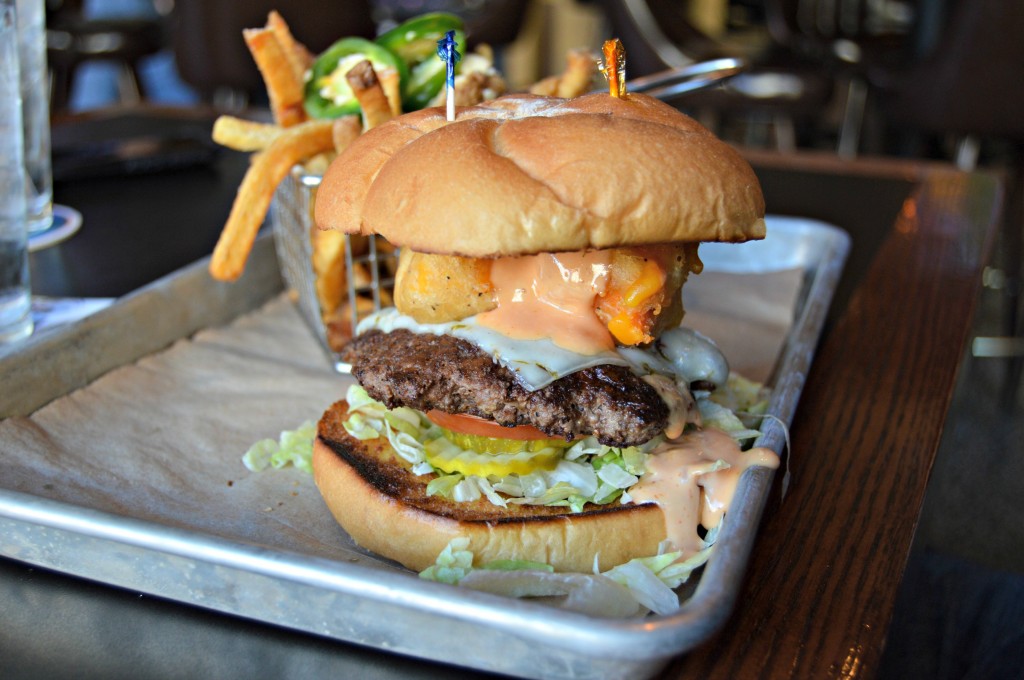 Jeremy ordered the Cheese Curd Cheeseburger.  It looks pretty legit, right?  He had an order of their jalapeno french fries on the side.  I tried them and loved them!
P.S. To my local readers- they have a Thanksgiving burger right now (which Chris ordered) and it looked and sounded unbelievable.  Who wouldn't want sweet potato fries ON their burger?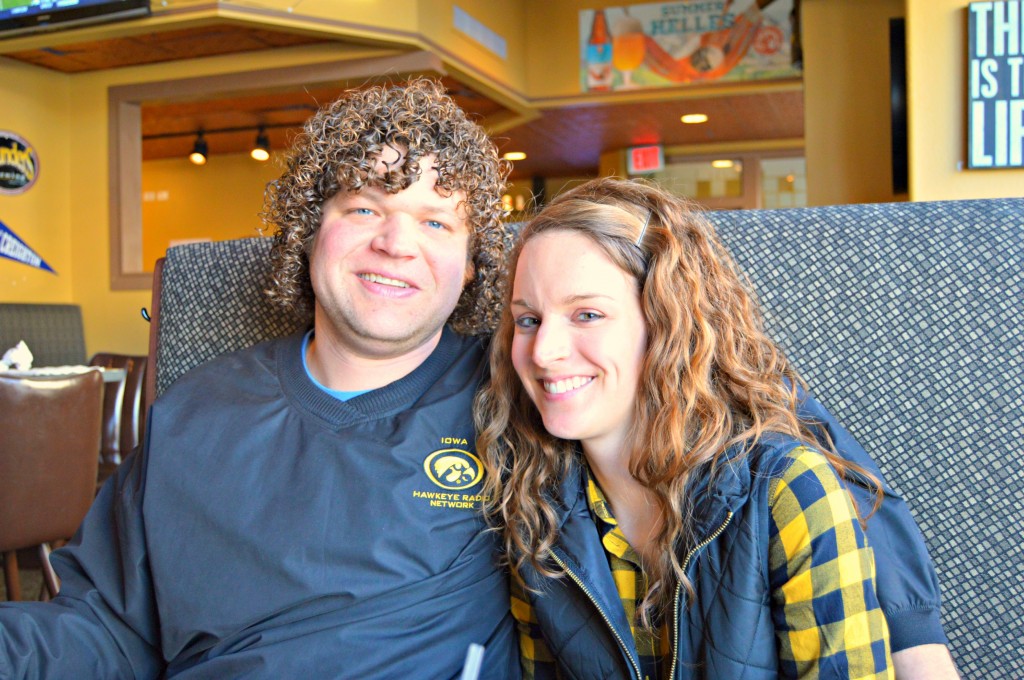 I love that Jeremy and I both love to eat delicious food and drink cold beer.  We are two peas in a pod.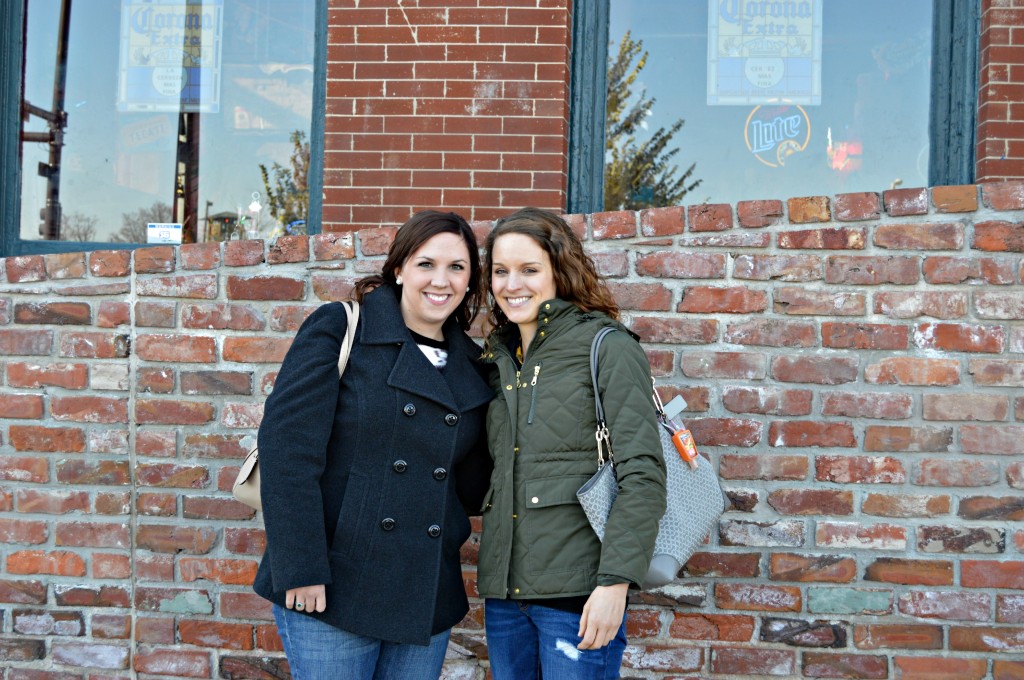 With full bellies, we were back out into the cold and windy day.  I am not at all ready for the Winter weather that will soon be upon us.  I always enjoy the first snowfall, but that is about all I can get excited about.
Our next stop was Upstream Brewing Company.  Since I am allll about the pumpkin right now, I ordered the All Hallows Pumpkin Weizen.  It was delicious and perfectly pumpkiny.  I honestly do not think I could ever get tired of pumpkin beers.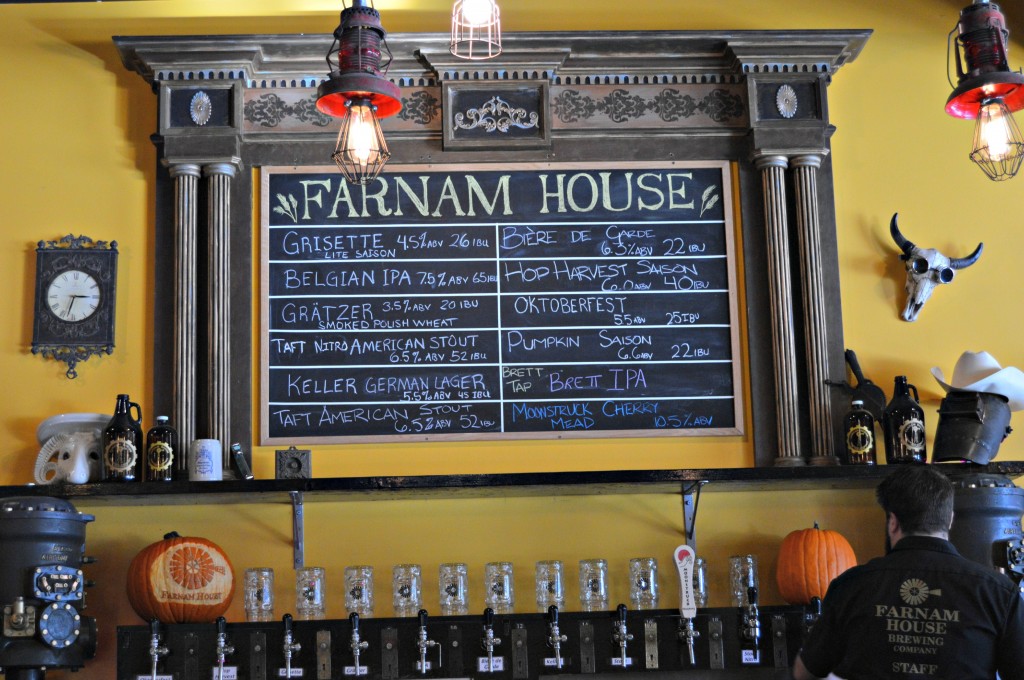 Our fourth stop was to a fairly new brewery in town, Farnam House Brewing Company.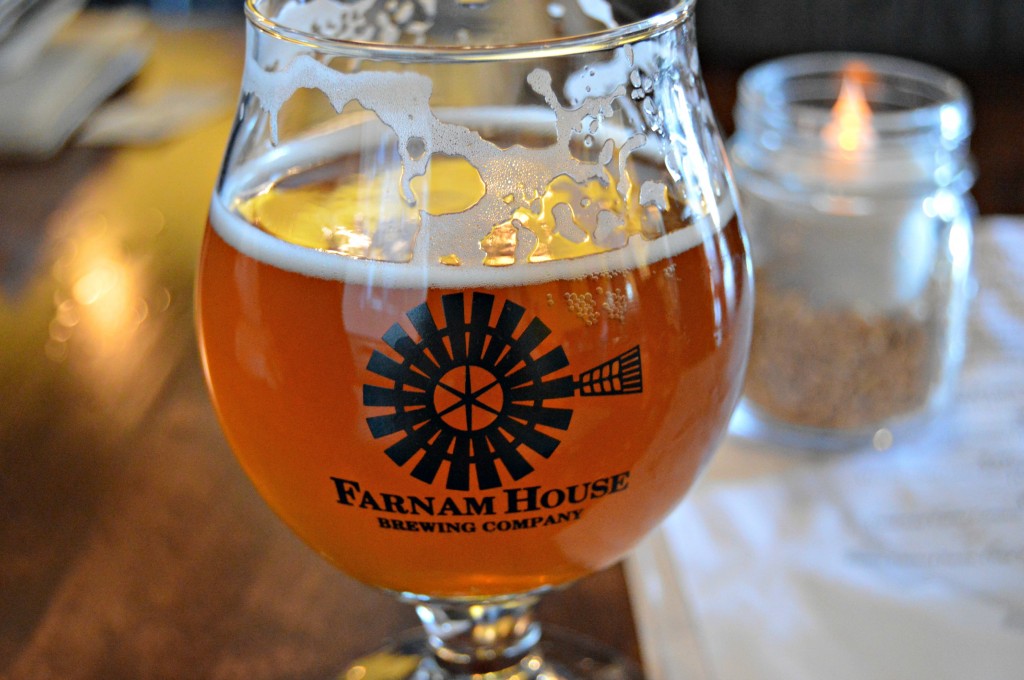 Jeremy and Chris drank IPAs, while Stacy and I took a break from the drinks.  I opted for this instead: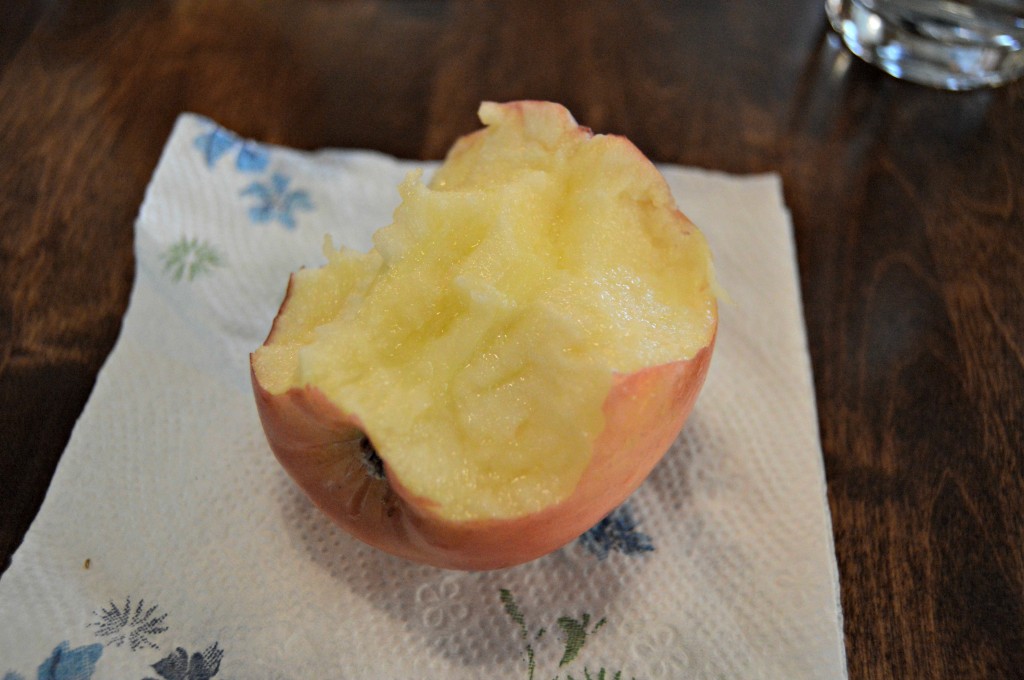 What?  You mean you don't eat apples at a bar? 😉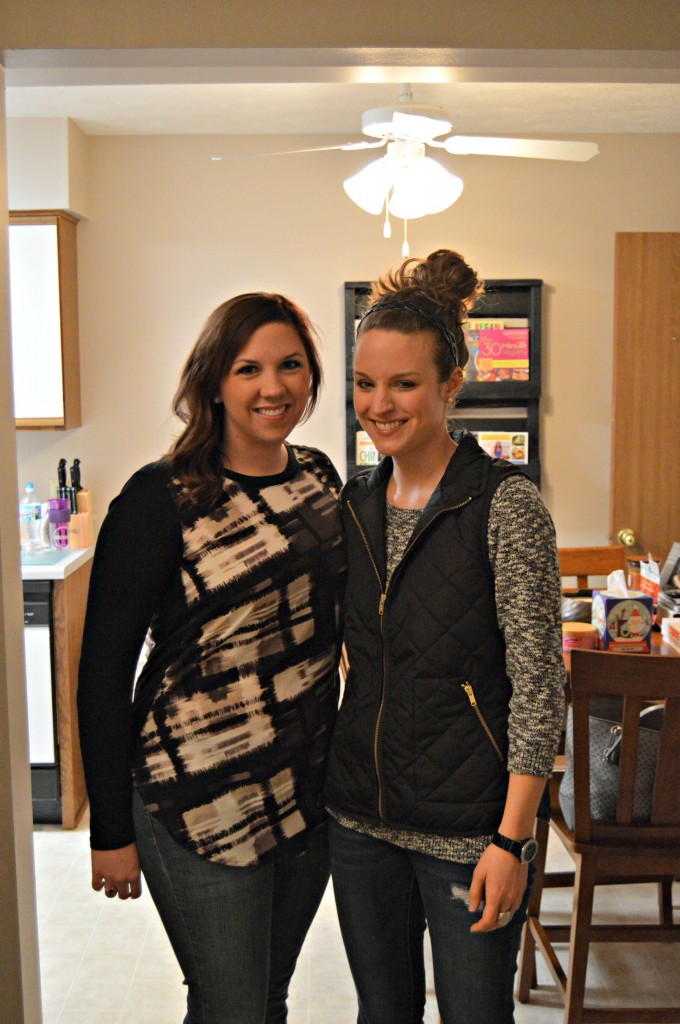 After our fourth bar, we were just a tad bit exhausted.  We headed back to my apartment for a quick nap.  But we were not down for the count.  After a 30 minute snooze, we were up and ready for dinner and a couple more beers!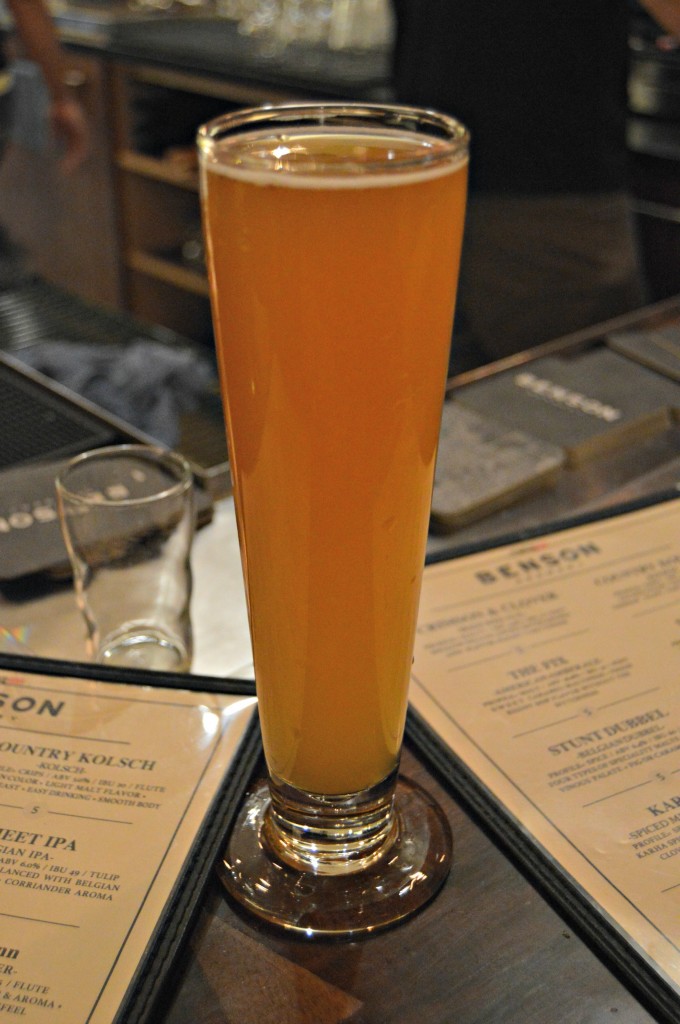 I took my three amigos to one of my favorite restaurants in Omaha: Benson Brewery.  While waiting for our table, I chose the Apple Cinn beer to drink.  I loved this beer because it had strong apple and cinnamon flavors without being too sweet like a cider would be.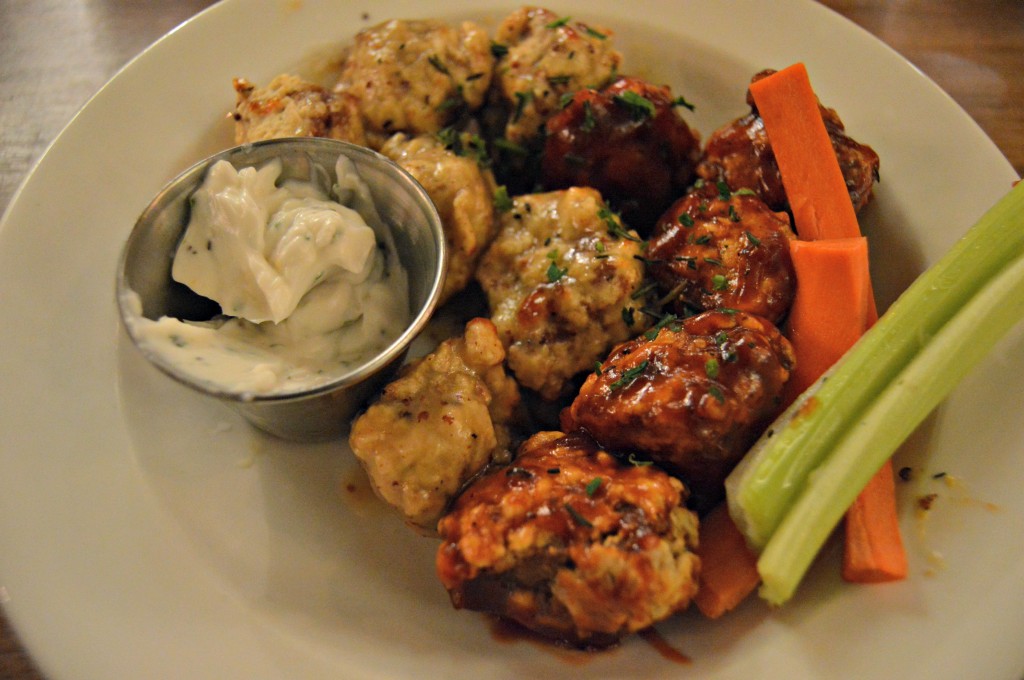 I also enjoyed some of the most delicious food, including these vegan seitan wings.  I ordered half spicy barbecue and half beer honey mustard.  They came with veggies and the most amazing vegan ranch dip.  Jeremy enjoyed the seitan wings we ate in Colorado so much that he actually ordered these wings too!  I'll share more of our delicious appetizer eats in tomorrow's What I Ate Wednesday post.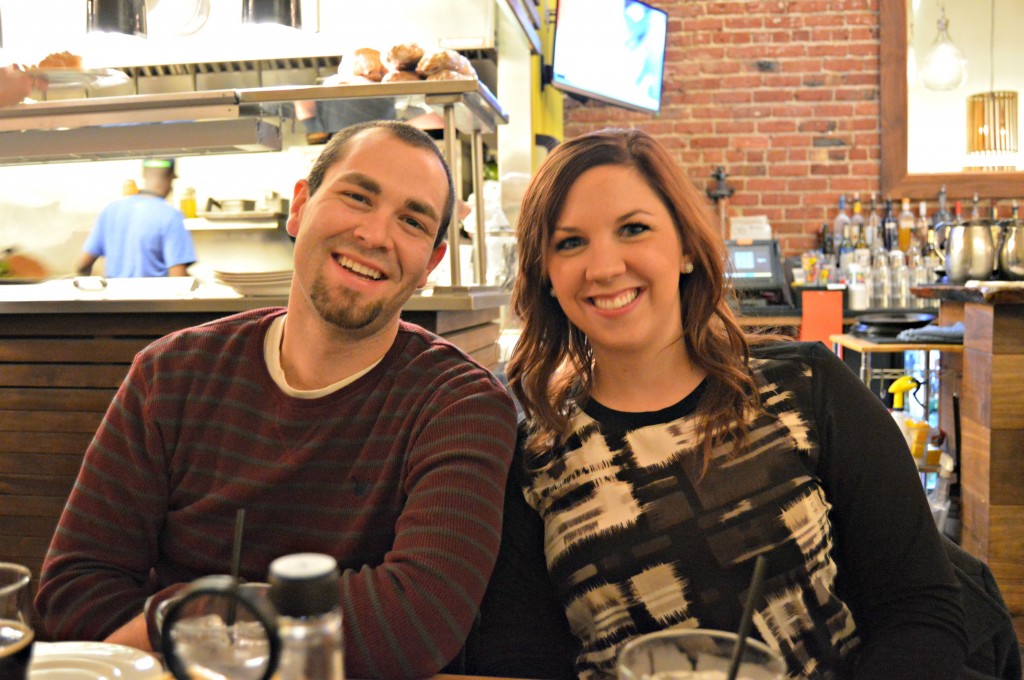 Chris and Stacy!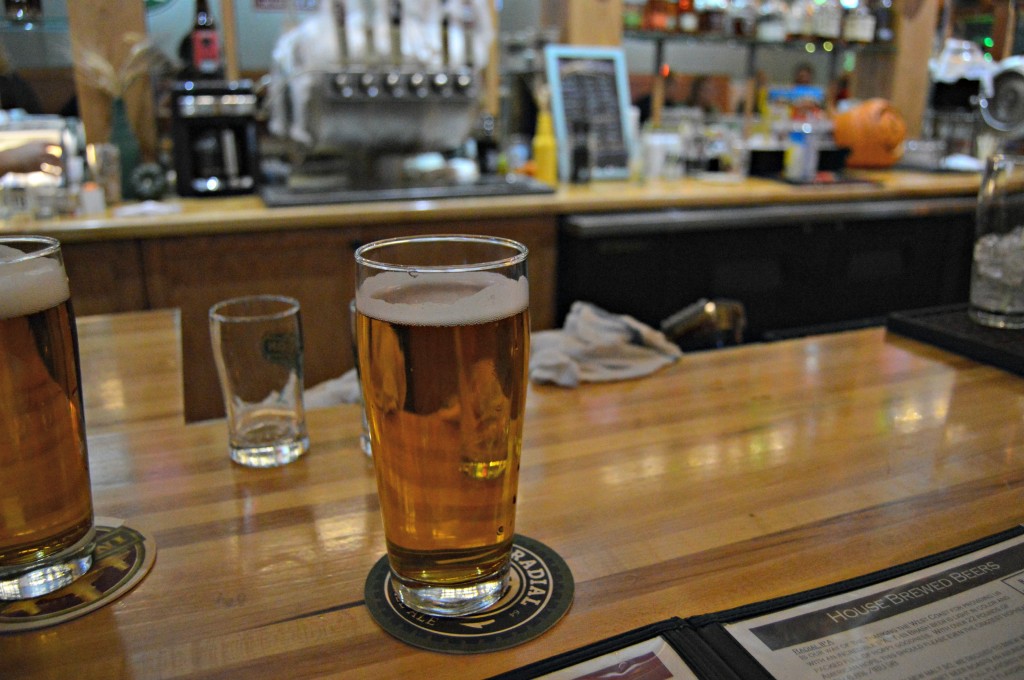 We ended our evening by walking a block down to Infusion Brewing Company where I ordered the Vanilla Bean Blonde beer.  It had a strong vanilla flavor that I really enjoyed, but only made it about halfway through the beer because I found it to be a little too sweet.  Next time I would definitely mix it with another beer to cut down on the sweetness of it.  Stacy and I played a never-ending game of war (the card game), and Jeremy and Chris took a very strange beer shot with whipped cream.  Basically, it was a wild time.
I had an absolute blast this past weekend with some of my favorite people.  I was so sad when the weekend had to come to an end.  We made it to five of the eight breweries on the tour, and I am looking forward to visiting the other three soon to get stamps in the Explorer's Journals that Stacy and Chris left behind.  You receive a free pint glass if you get stamps from all eight breweries.  If you ask me, there is never not a good reason to add to your beer glass collection!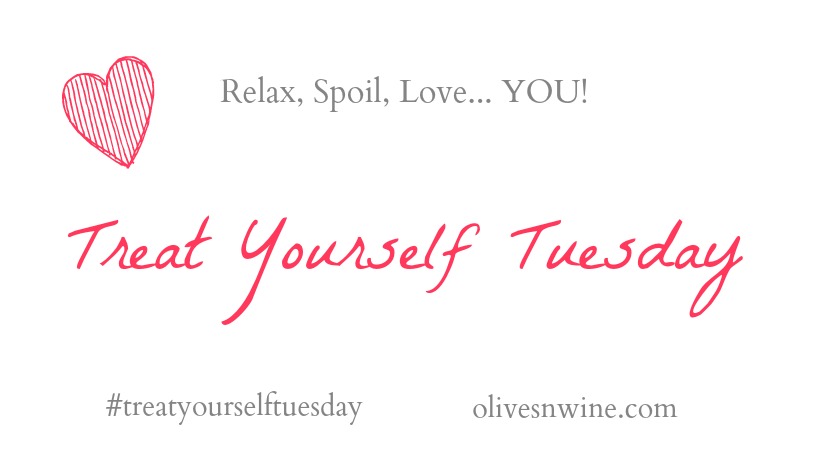 Since this entire weekend was essentially one big treat, I am linking up with Becky for Treat Yourself Tuesday!  Let's make it a good one!