Some foods notoriously sound fancy, stuffy, and complicated.  These same foods normally intimidate me and, as a result, in the past I have shied away from making them.  Baking my own bread has always been on that "intimidating list," as has making homemade pies and poaching pears.  For some reason, the idea of "poaching" something always used to scare me (no pun intended since I am a vegetarian and all).
I do not like to admit this very often, but I was wrong.  When it comes to poaching pears, the process could not be simpler.  If you can peel pears, combine five ingredients in a pot, and boil ingredients… guess what?  You can make poached pears!
Now that pear season is well underway, I encourage you to try something new in the kitchen and get to pear poaching!  Traditional recipes call for wine when poaching pears.  But if you want to get a little more creative, you can try using other liquids like tea, coconut milk, bourbon, or coffee.  You can really use any liquid that you enjoy on its own.  For my first pear poaching experience, I wanted to use a classic Fall staple: apple cider.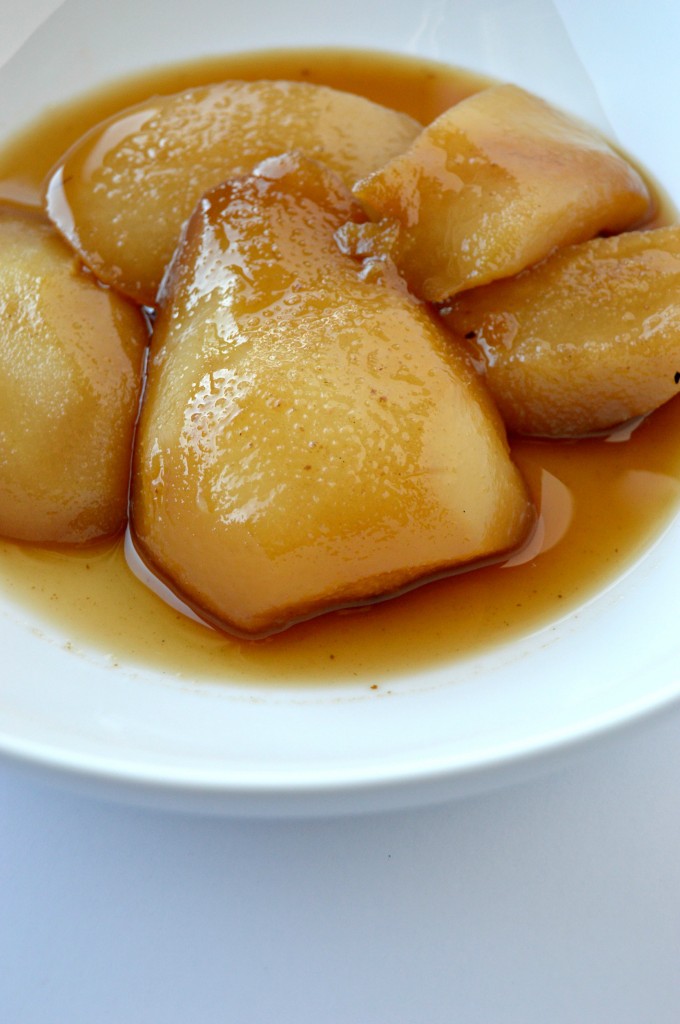 You are going to impress the heck out of your family and friends with these Apple Cider Poached Pears this Fall and Winter.  But lucky for you, they only seem fancy and complicated.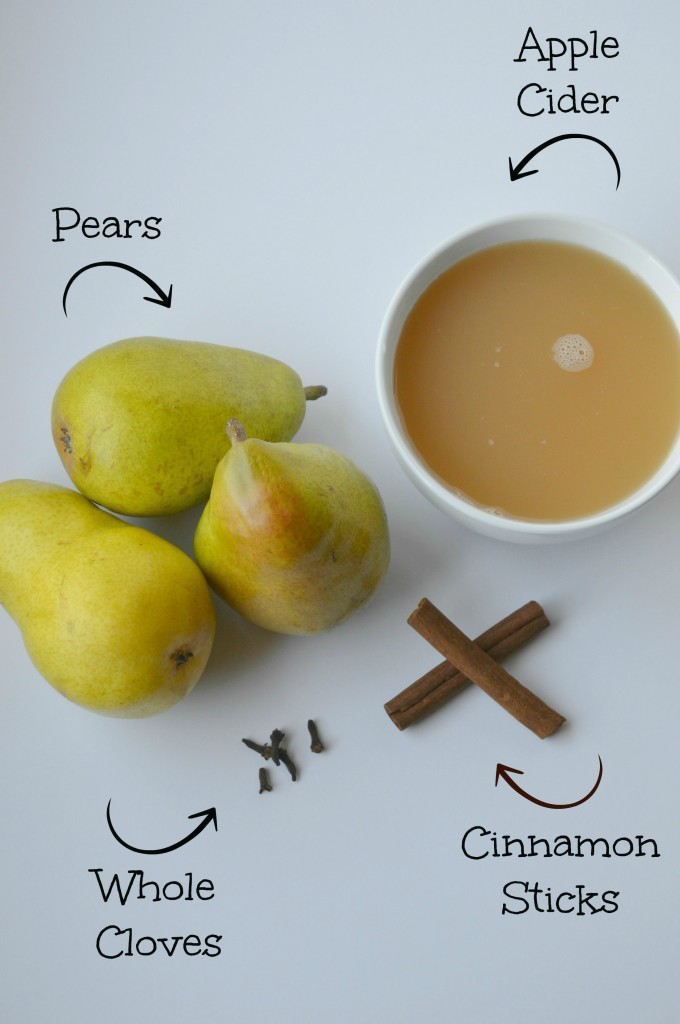 My Fall-inspired poached pears start out with four simple ingredients: pears, apple cider, whole cloves, and cinnamon sticks.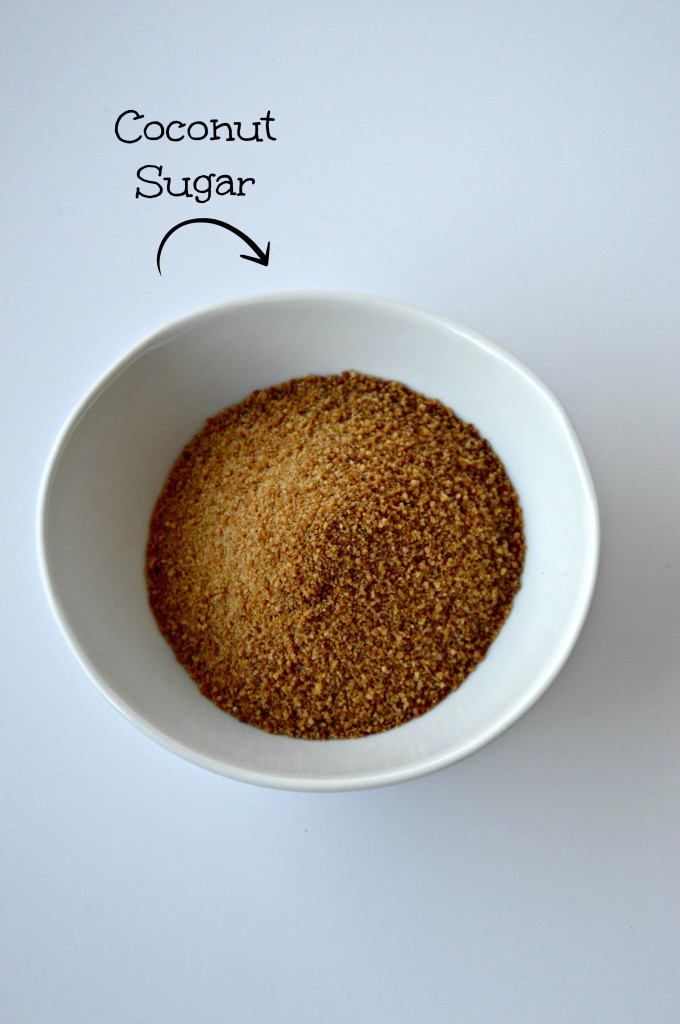 Add in your sweetener of choice (coconut sugar for me) and you are all set!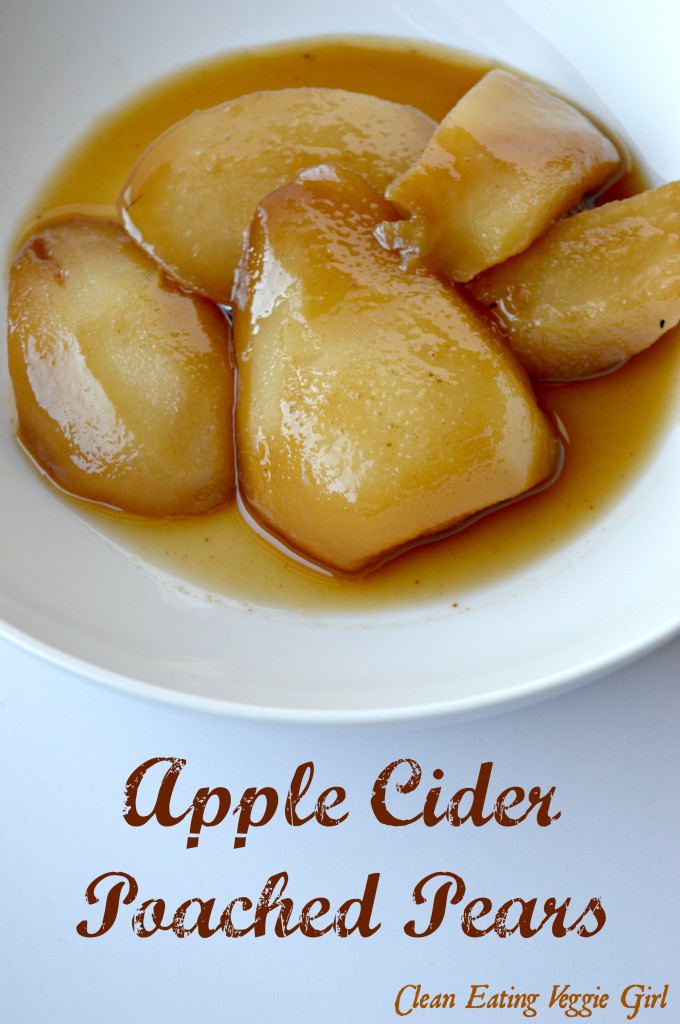 Apple Cider Poached Pears
Vegan
Serves 4
Ingredients
3 large or 6 small under-ripe USA Pears (I used Green Anjou)*
2 cups apple cider (I used 100% juice honey crisp apple cider)
1 cup water
2 whole cinnamon sticks
5 whole cloves
1/3 cup coconut sugar (brown sugar works well, too!)
*You can easily determine if a pear is under-ripe or ripe by gently applying pressure to the narrow "neck" of the pear with your thumb.  If the pear gives to pressure, it is ripe.  The poaching method enables you to use pears even when they are crisp and under-ripe, which is perfect for impatient people like me!
Directions
1. Begin by peeling the pears and cutting them into segments.  Discard the core of each pear.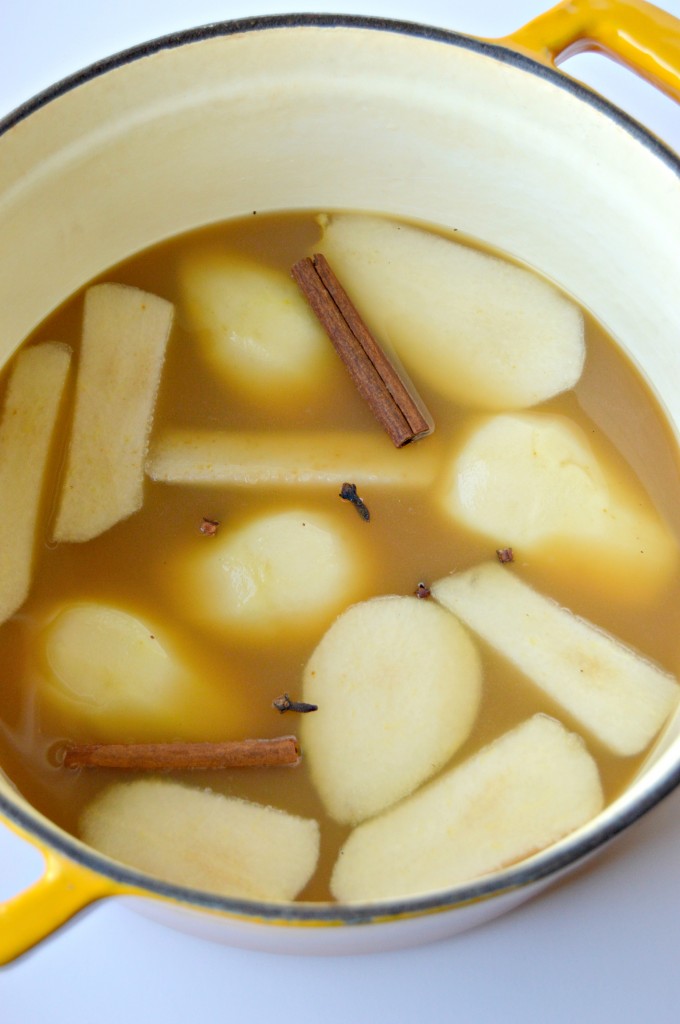 2. Combine the pears, apple cider, water, cinnamon sticks, cloves, and sugar in a large pot or dutch oven.  Stir until well-combined.
3. Turn the heat to medium-high and bring to a low boil.
4. Once boiling, turn the heat down to medium-low, cover, and simmer for approximately 25 minutes.
5. Pierce the pears with a fork to ensure that they are cooked through.  Be careful not to cook the pears for too long, as they will get mushy.  Once the pears are cooked to your liking, remove them from the pan and set aside to cool.
6. Turn the heat back to high and bring the remaining ingredients to a rolling boil.  Boil for approximately 5 to 10 minutes, or until the liquid turns into a sweet syrup.
7. Pour the syrup over the pears.
8. Serve immediately, or store in a sealed container in the fridge for up to 5 days.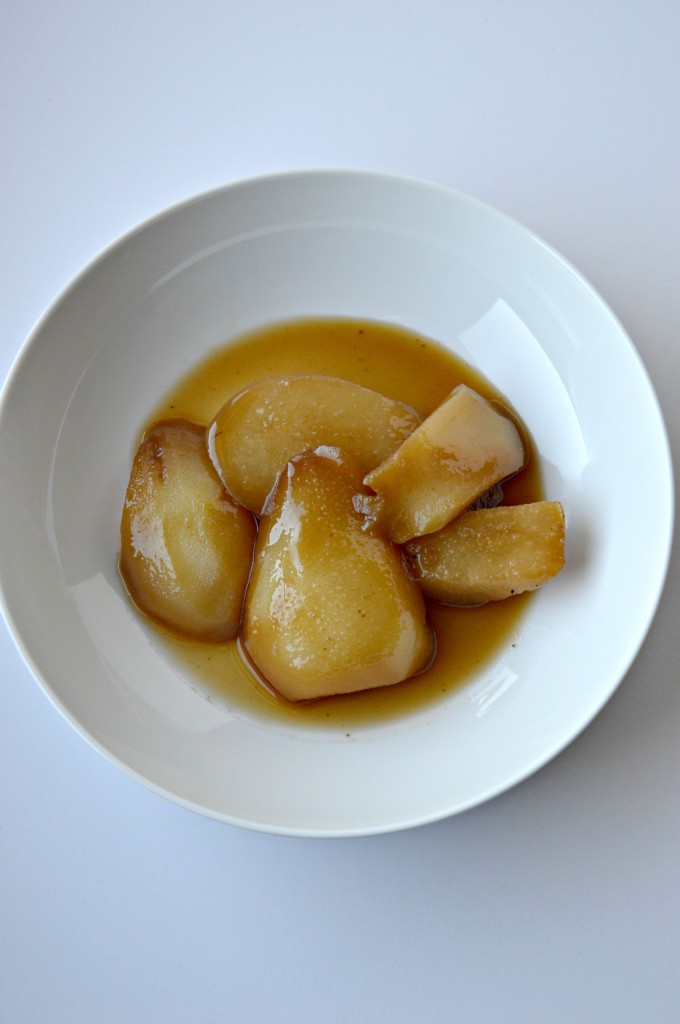 These Fall-spiced pears taste fantastic all on their own, but my favorite way to serve them is as a topping for hot oatmeal.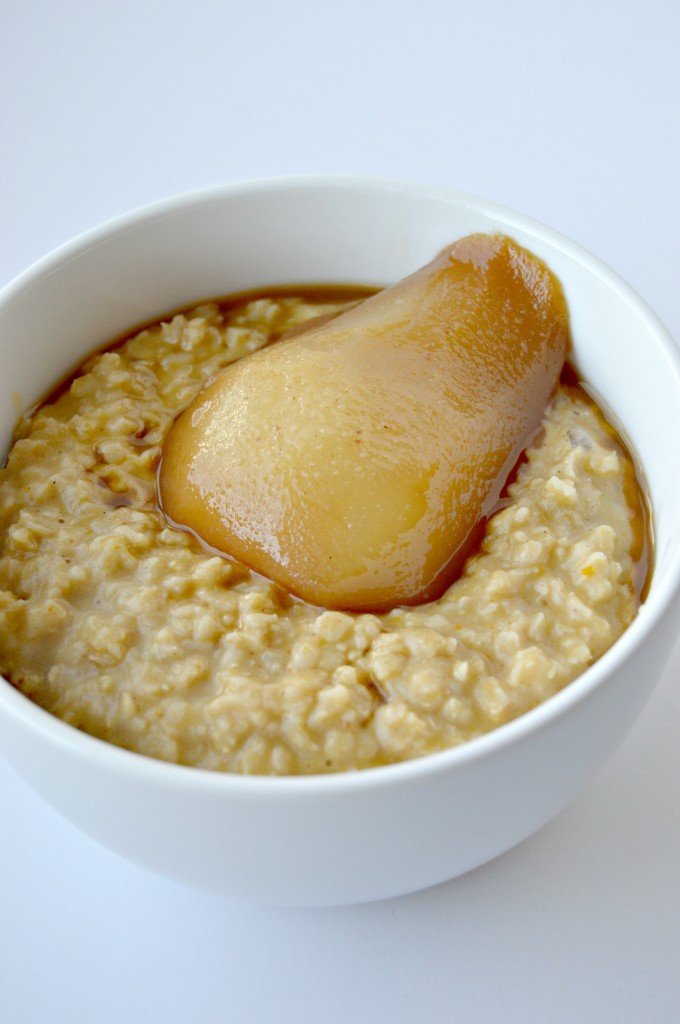 The slightly sweet pears with their accompanying syrup provide the perfect amount of sweetness to a bowl of hot oats.  I did not add any additional sweetener to my oats, and instead used these Apple Cider Poached Pears as a natural sweetener.  With a little nut or seed butter to top off your bowl, you will be eating a "fancy" breakfast that looks and sounds much more complex than it really is.  You sure cannot beat sweet and healthy.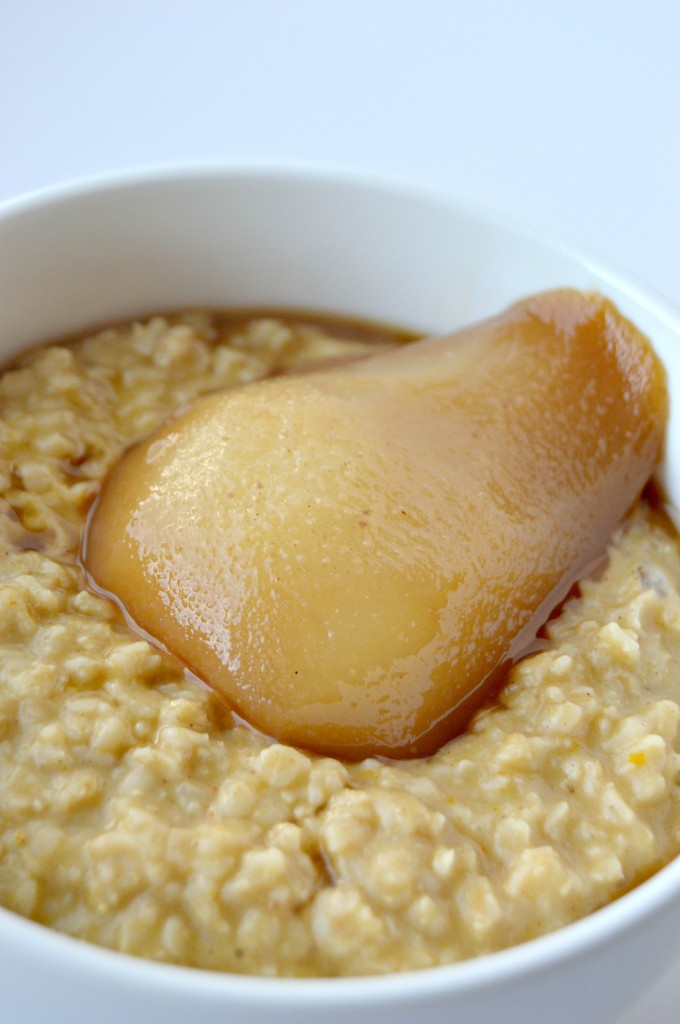 Have I convinced you yet?  Poached pears are delicious, flavorful, and beyond easy to make.  I bet even my mom- who has very few cooking skills- could make these!  Sorry mom!
Have you ever made poached pears?
What liquid would you choose to poach your pears with?
Pin this recipe and share it on Facebook and Twitter using the share buttons below!
I was selected for this opportunity as a member of Clever Girls and the content and opinions expressed here are all my own.