Lot's of 14s in today's title!  I am weird when it comes to numbers.  I love when dates and times follow a cool sequence.  I imagine that I will really enjoy it when it is April 14th.  Again, like I said, I am a bit weird cool ;).
But enough of my silliness.  Let's talk about food!
Friday Foodie Favorites: March 14, 2014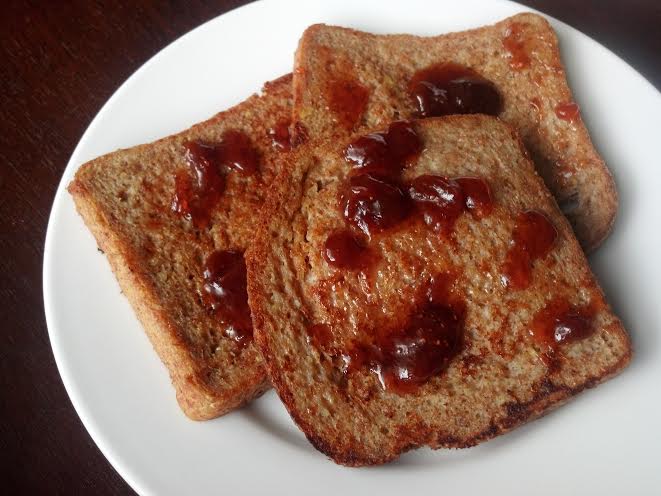 I have had French toast craving for years.  Yes, years.  And yet somehow I never made it even though it is so simple!  When I came across Julie's recipe for Banana French Toast, I knew that I had to make it- especially because it is vegan!  Using ripe banana in place of eggs was fantastic and gave the French toast some extra sweetness without having to use sugar, which I loved.  I have already made this multiple times since (including when my dad was visiting), and it is definitely going to become a regular on my weekend breakfast schedule.  Simple, vegan, and tasty for the win!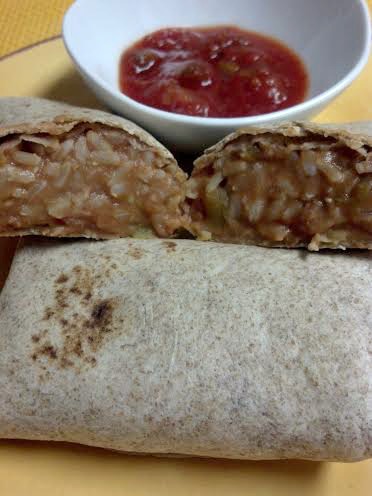 These burritos really hit the spot.  You know, that major Mexican craving spot.  Kitchen Treaty's Easy Refried Bean and Cheese Burritos are just that- easy!  Oh, and it does not hurt that they are delicious.  I mean really, REALLY delicious.  I absolutely loved these.  I adapted the original recipe slightly by leaving out the corn and adding in red peppers in its place.  I also left out the cheese so that my burritos would be vegan.  Both were very good decisions.  While I am sure that the corn and cheese are great additions, I thought all of the other flavors were so good that they did not even need anything else.  That is a sign of a great burrito made from a fantastic recipe.  Go make these.  Your taste buds and your watch will thank you!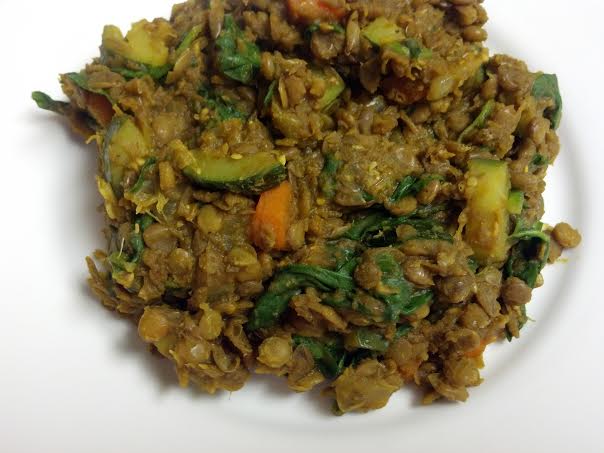 These next two recipes are both coming at you from Kim at Hungry Healthy Girl.  I do not know if it is right that I included a recipe that was already on my blog for a guest post, but I don't care! 😉  I tried Kim's Curried Vegetable Lentil Chili recipe that she shared last month and loved it!  Kim said that this recipe was totally my kind of recipe because it contains lentils, veggies, and curry…and boy was she right.  I do not think that mine turned out quite as pretty as her's did, but I am fairly certain it tasted just as good because I was loving this.  This WILL be made again…and again.
And finally, another fantastic recipe coming atcha from Kim.  Last week I made her Cannellini Bean and Spinach Soup for dinner (and leftovers for lunch the next couple of days, too!).  It was easy peasy and super tasty.  I followed her instructions exactly, but subbed in kale in place of the spinach since I have been on a major kale kick lately.  Oh, and I added in some garlic powder and onion powder because I add that stuff to pretty much everything.  And I just have to say that I am pretty excited about how pretty this soup looks.  It's looks definitely match it's taste, too!  All around goodness!
I hope you give these recipes a try and love them as much as I did!  Oh, and happy Friday, friends!
Related articles