Get ready.  This is about to happen.  I am going to share with you a Friday Foodie Favorites post two weeks in a row!  I held out on you all for so long with the FFF posts that I have tons of great recipes to share with all of you.  Let's get to it!
Friday Foodie Favorites: February 28th, 2014
(Is it seriously the last day of February already?  I am definitely not complaining!)
Let's start with breakfast, now shall we?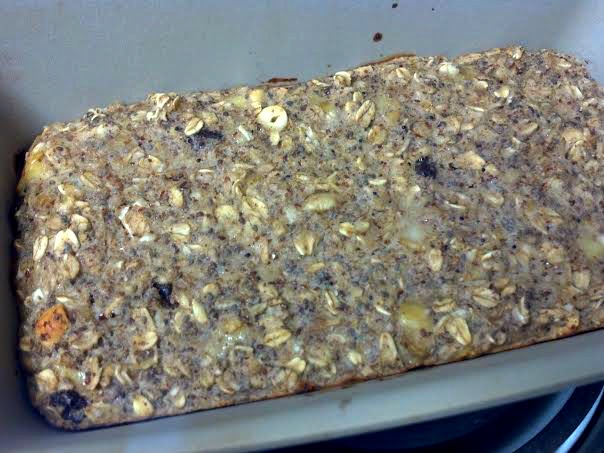 The minute that I saw Kylie's Instagram post for her Banana Bread Breakfast Bake, I knew that I had to make it.  All of my original breakfast plans for the coming days went out the window.  I arrived home from work that day, baked up a batch, and enjoyed it for breakfast the next two days.  It was so good!  I made mine vegan by using a flax egg.  And because I do no like walnuts, I subbed in cashews and raisins.  It was seriously fantastic and I have already made it multiple times since.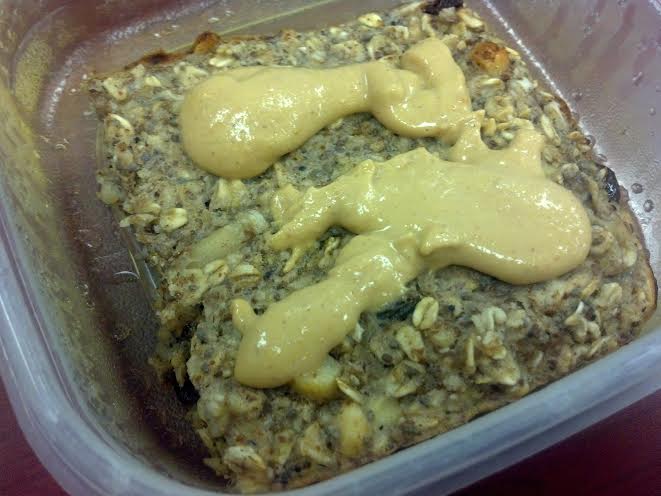 I (obviously) topped mine off with peanut butter!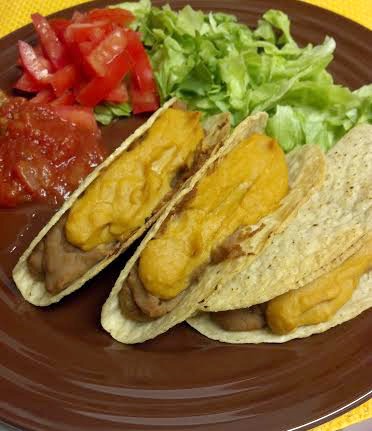 Up next is Ashlee's recipe for Baked Refried Bean Tacos & Vegan Cheese Sauce.  A few weeks ago I had a major craving for tacos and I was also feeling super duper lazy.  Ashlee really came to the rescue with this one.  These tacos are vegan, they are very quick and easy to make, and (most importantly) they are absolutely delicious.  I am actually kind of salivating just writing up this post and looking at the picture again.  Using hummus (I used a chipotle flavor) to make "cheese" was seriously genius on Ashlee's part.  Go make these.  And then thank me Ashlee! 😉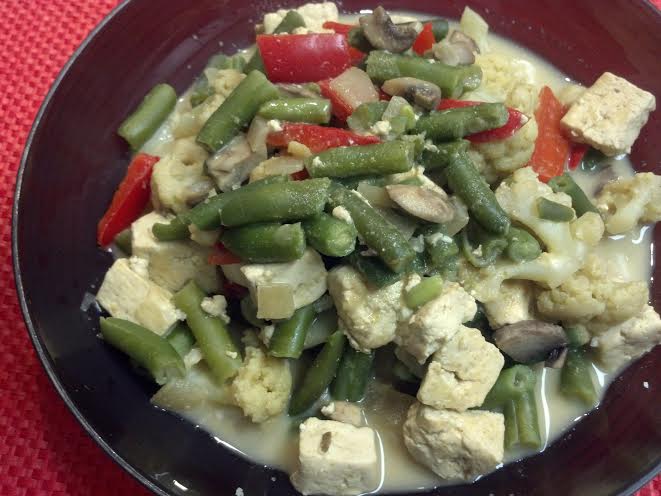 I have also been having major tofu cravings lately (it is still so funny for me to say/type that since I used to be "afraid" of tofu).  This craving also happened to coincide with the posting of Becky's recipe for her Red Thai Curry Stew.  Since by now it is pretty obvious that I really like curry and I really like tofu, combining the two sounded like a fabulous idea to me!  It didn't hurt that it also involved lots of veggies- green beans, red peppers, and cauliflower.  Basically, this was delicious!  I served mine over brown rice.  Protein, veggies, and healthy carbs for the win!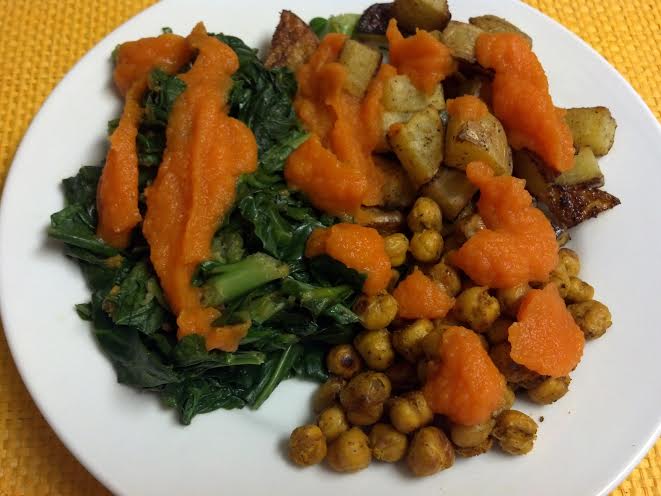 So my picture of the Carrot-Ginger Roasted Potato Bowl with Collards and Spiced Chickpeas looks nowhere near as pretty as Kathy's photo, but it sure did taste good!  I have been a fan of roasted chickpeas ever since I tried them, and Kathy's spicy, yet sweet, version is delicious.  And roasted potatoes…well, you can never really go wrong with those.  Add in some collards and the carrot-ginger sauce and you have a protein and veggie packed meal.  My sauce was much thicker  than Kathy's (aka not as pretty), but I was still very pleased with the taste.  This was my dinner on Sunday night and I ate it for leftovers two more times throughout the week.  I was pretty sad when the leftovers came to an end.  It is a good thing that it was easy to make so that I can add it to a future meal plan soon!
That just happened.  Two Fridays in a row of some of my favorite recipes from around the blogosphere.  And all vegan, at that!
Now go enjoy your weekend!  I am off to Des Moines to reunite with a bunch of my old college roommates.  It is bound to be a good time!  Say some prayers that I make it back alive on Sunday! 😉  Oh, and for the heads up…we are crazy busy at work right now so if I am a little bit scatterbrained/MIA over the next week or so, you know why!
Related articles