I must apologize, friends!  I have majorly left you hanging when it comes to sharing some of my favorite recipes from around the blogosphere.  In fact, it has been over a month since I shared my last Friday Foodie Favorites post.  But do not worry.  I am coming back strong with this one.
An awesome breakfast.
Two tasty dinners.
And one of the best lunches that I have taken to work in a long while.
Friday Foodie Favorites: February 21, 2014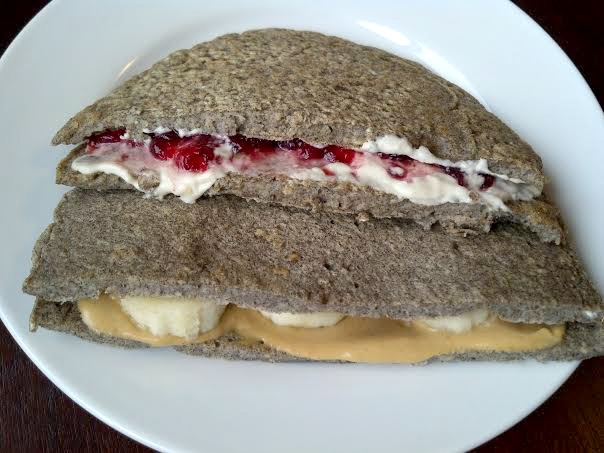 After reading about this recipe on numerous other blogs over the past several months, I finally decided to give it a shot.  Good call Hannah, good call.  Ashley's recipe for pan bread is super easy and extremely versatile.  For the first one, I made it with 3 TB of buckwheat flour and 1 TB of oat flour and made it into a peanut butter and banana sandwich.  For the second one, I made the pan bread with 2 TB of buckwheat flour and 2 TB of oat flour.  This one became a sweet and savory breakfast sandwich using Tofutti herb and chive vegan cream cheese and blackberry jam.  The second one was definitely my favorite.  I liked the texture of it better and I loved the sweet and savory combo.  I cannot wait to experiment with various flours the next time I make these.
Both of today's dinner recipes are brought to you by the ever-so-awesome Robyn.  If you have been following my blog for very long, then you know how great her recipes are.  And if you have not figured that out yet, then you obviously have not been paying very good attention.  I kid…sort of 😉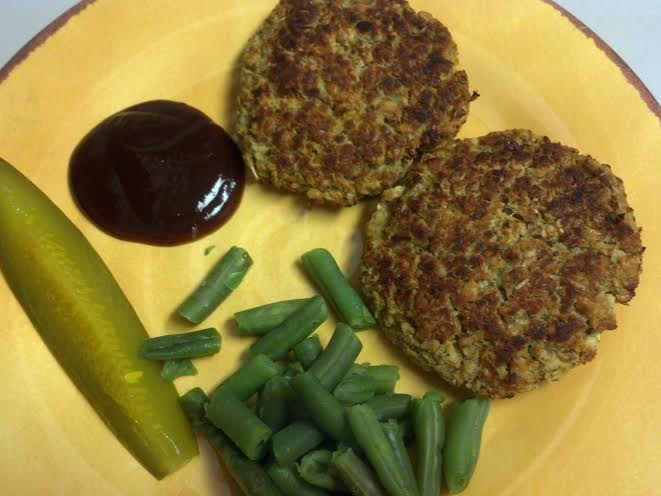 This is one of the simplest recipes that you will ever find.  It is also one of the most delicious.  I have made a lot of vegetarian burgers over the last two years – most of them bean burgers – but this was by far the easiest recipe and definitely one of the tastiest.  I cooked up Robyn's White Bean Burgers on a Sunday night about a month ago and loved them so much that I made them again a couple of weeks ago.  I am a major white bean lover so it really comes as no surprise that I loved these.  Add in some onions, oats, nooch (yum!), and spices and you are good to go.  I chose to bake mine because I have better luck keeping bean burgers together that way, and they turned out nice and crispy- just the way I like them!  I, of course, dipped mine into barbecue sauce!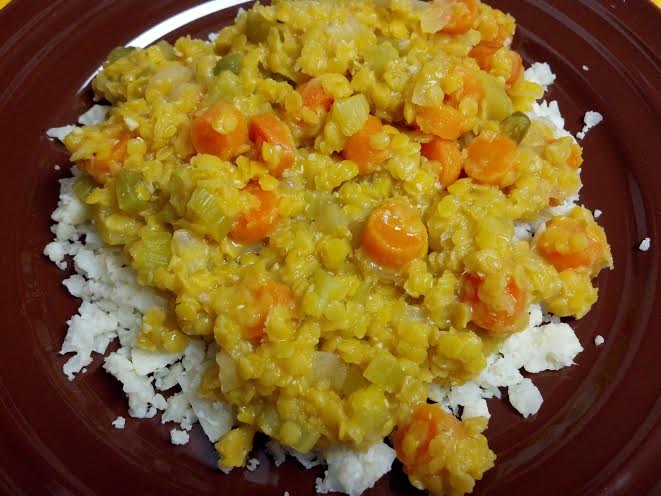 The second recipe of Robyn's that I made recently was for her Lemony Ginger Red Lentils.  You guys, these are SO awesome!  I am a big-time lentil fan, though I normally cook the green variety.  Making this dish reminded me of how absolutely delicious red lentils are.  I love the flavor and texture of them, and the lemon and ginger seasonings that Robyn added to these basic red lentils really took them over the edge.  Add in some tasty vegetables (hellllo carrots!) and serve them over a mixture of cauliflower rice and whole brown rice, and you have one tasty dinner (and leftovers for lunch)!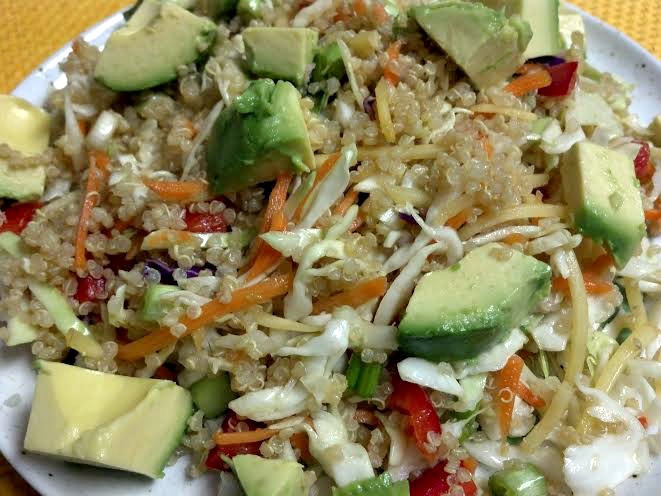 This final dish is so. so. good.  How can anything with avocado and some of my favorite veggies not be good, though, right?  Chung-Ah's recipes for her Asian Quinoa Salad definitely tastes exactly how her blog is described.  It is Damn Delicious.  I altered Chung-Ah's recipe slightly in order to use the ingredients that I had on hand.  The yellow quinoa and coleslaw mix subbed in for the red quinoa and the red cabbage, and both were perfectly delicious substitutions.  I also left out the corn and the chow mein noodles because I did not have any on hand.  The quinoa, veggies, vinaigrette, and avocado were enough for me, though I am sure those additions would be damn delicious 😉 as well.  I ate this for dinner the first night that I made it and brought the leftovers for lunch the next day at work.  I Instagramed that this was one of the best lunches I had eaten at work in a long time.  Seriously, it is a good one.
So, do you forgive me yet?  Maybe?  I hope so.  I think I definitely shared some pretty tasty recipes this Friday in order to make it up to you!  Now go have a fabulous Friday and a wonderful weekend! 🙂