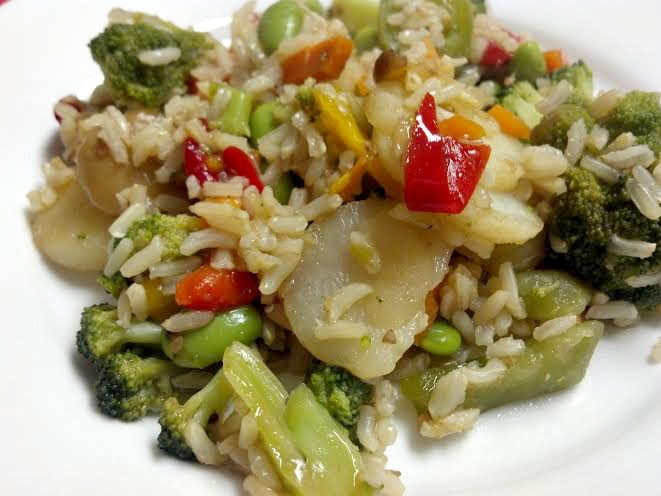 It has been quite some time since I have written up a Magazine Monday post, now hasn't it?  I have shared several of these in the past- with hopes of motivating myself to dig (and cook) through what seems like a never-ending pile of recipes torn from magazines.  After a hiatus from my magazine cooking, it is time to dive right back in!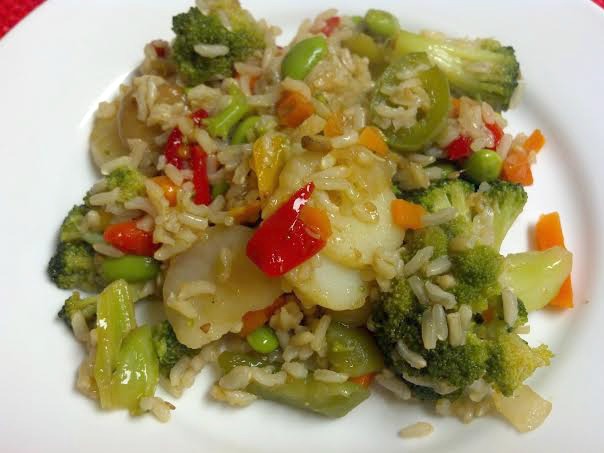 About a month ago (yes, it took me that long to post about this), I was in need of an easy, fast, yet delicious recipe.  Lucky for me, my dear friend, Vegetarian Times, came to the rescue.  Their January/February issue featured an article dedicated toward "Freezer Pleasers," or recipes focused on utilizing vegetables and fruits from the frozen aisle of your grocery store.  The first recipe featured- for an Edamame Rice Bowl- instantly caught my eye stomach.  It was centered around loads of hearty and nutrient-rich veggies and served on a base of whole brown rice.  Basically, this was my kind of meal.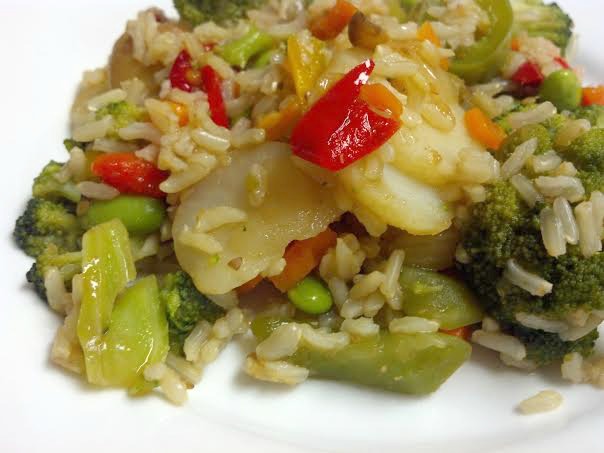 Of course, because it is nearly impossible for me to follow a recipe to a tee, I made a few alterations – and good ones, at that!
Vegetable Stir-Fry Rice Bowl
*Slightly adapted from Vegetarian Times
Serves 2
Ingredients
water, for cooking
1 14.4 oz bag of your favorite frozen stir-fry blend (mine had broccoli, carrots, celery, water chestnuts, and mushrooms)
1 cup frozen bell peppers and onions blend
1/4 cup frozen shelled edamame
1 TB grated fresh ginger
1/4 to 1/2 cup sesame vinaigrette* (depending on how "saucy" you'd like it!)
1 1/2 cups cooked brown rice
*I used Trader Joe's Sesame Soy Ginger Vinaigrette (fyi, this is not vegan because it contains honey)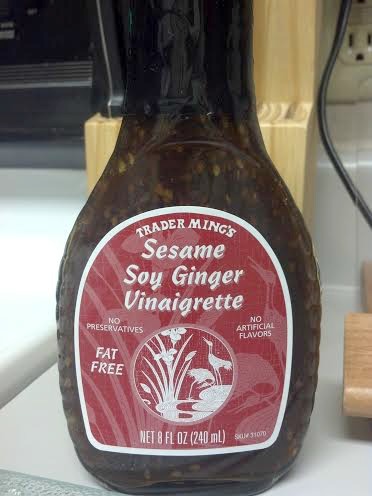 Directions
1. Line a large skillet or wok with a thin layer of water.  Heat over medium-high heat until very hot.  Once hot, lower heat to medium.
2. Add frozen stir-fry mix, peppers, edamame, and ginger to the pan.  Cover and cook over medium heat for approximately 8 minutes, or until cooked through.  Add additional water, as necessary.
3. Lower the heat to medium-low.  Stir in vinaigrette and cooked brown rice.  Heat for an additional 3 to 5 minutes, or until heated through.  Add additional vinaigrette, if desired.  Continuing cooking until warm.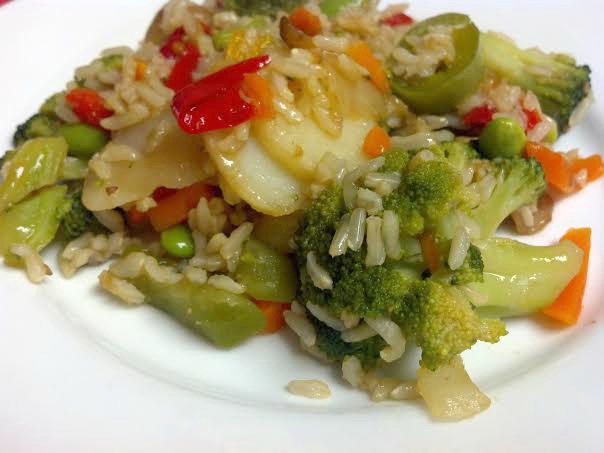 Since I had pre-cooked the rice the weekend prior to making this, the whole dish came together in about 15 minutes and without even having to use a knife.  I don't know about you, but sometimes I tend to get really lazy when it comes to chopping vegetables.  No chopping required with this one!  Just dump, grate, stir, pour, stir, and eat.  Pretty darn easy.  And very tasty.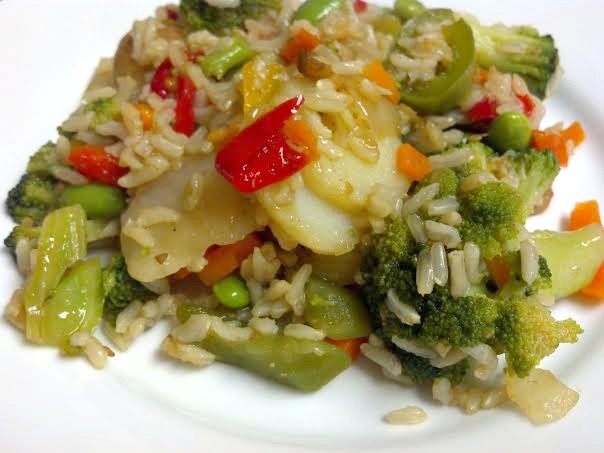 Past Magazine Monday posts:
Soy-Sesame Lettuce Wraps
Tofu Ramen Soup
Bok Choy with Mushrooms and Red Bell Peppers
Butternut Squash Barley & Cauliflower Rice Risotto
Have you made any recipes from magazines lately?  If so, what have you been cooking up?
What is your favorite "freezer" meal?