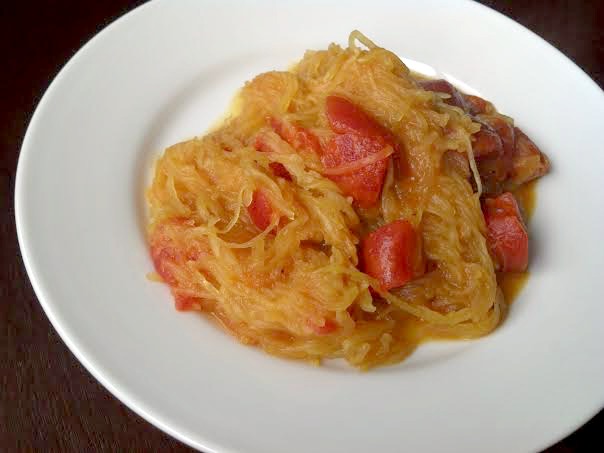 Last week I promised that I would share yet another spaghetti squash recipe with you.  Because really, can there be enough of them?  I think not and I hope you agree.  And why it took me so long to combine two of my current favorite foods: curries and spaghetti squash- I have no idea!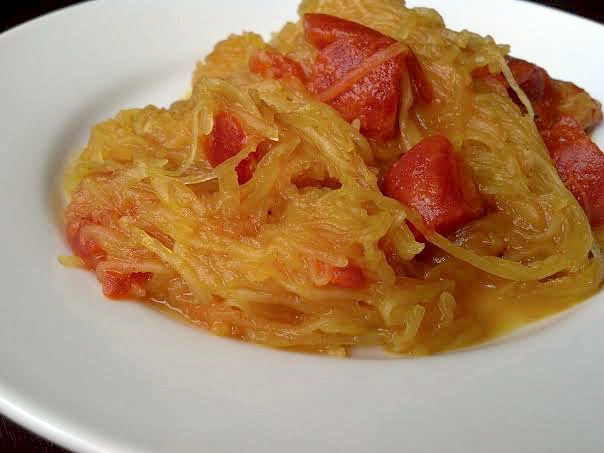 I am not one to be afraid by the word "curry" in a recipe description.  Well, I take that back.  I am not afraid of curry when it is a dish that I am making myself and can, thus, control the amount of heat in it.  Now don't get me wrong.  I am no wimp when it comes to spice.  I like spicy food just as much as the next guy girl- well, unless you do not like spice at all, that is.  But I want to be able to enjoy my spicy food.  I want to be able to eat it, taste the flavors, and savor it.  And that is exactly what I did with this dish.  But hey, if you are a wimp when it comes to heat, a runny nose never hurt anyone now did it? 😉  Plus, if you live in the Midwest like I do, you might actually welcome a bit of a runny nose in exchange for a warm and spicy meal.  The weather this week is downright cold and brutal.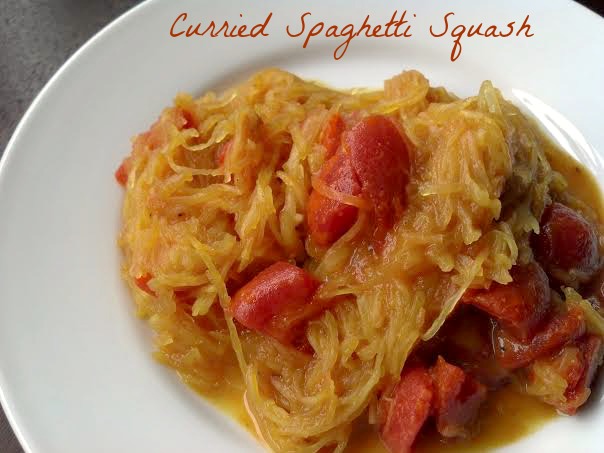 Curried Spaghetti Squash
Serves 2-3
Ingredients
olive oil cooking spray
1 large spaghetti squash
1 cup coconut milk
1 tsp vegetable soup base (I used Better Than Bouillon)
5 tsp green or red curry paste
1 tsp curry powder
1/2 tsp turmeric
1/8 tsp cayenne pepper (leave out if you want it less spicy)
fine sea salt, to taste
black pepper, to taste
1 14.5 oz can diced tomatoes, drained
1 TB cornstarch + 2 TB cold water, mixed together
Directions
1. Preheat oven to 425 degrees F.  Line baking sheet with foil and spray with cooking spray.  Carefully cut the top off of the spaghetti squash, cut it in half, and scoop out the seeds.  Place the squash cut side down onto the baking sheet and roast for approximately 35 minutes.  Let cool.
2. In a large skillet over medium heat, whisk together coconut milk, soup base, curry paste, and spices.  Add tomatoes and heat for approximately 6 to 8 minutes,
3. Meanwhile, using a fork, scrape the spaghetti squash to resemble the shape of pasta.  Add the squash to the skillet and cook for approximately 2 to 3 minutes, or until warm.
4. Lower the heat to medium-low and stir in the cornstarch and water mixture.  Cook for an additional 3 to 5 minutes, or until the sauce has thickened to your liking.  Add additional cornstarch + water if necessary.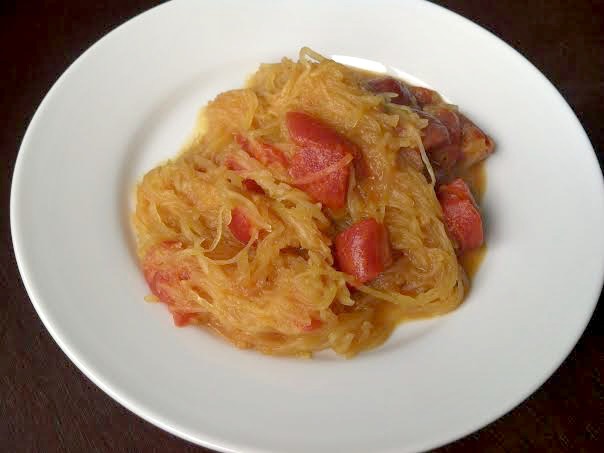 And if you are a little afraid of the spice, pour yourself a glass of ice water or milk (almond for me!) and grab some tissues!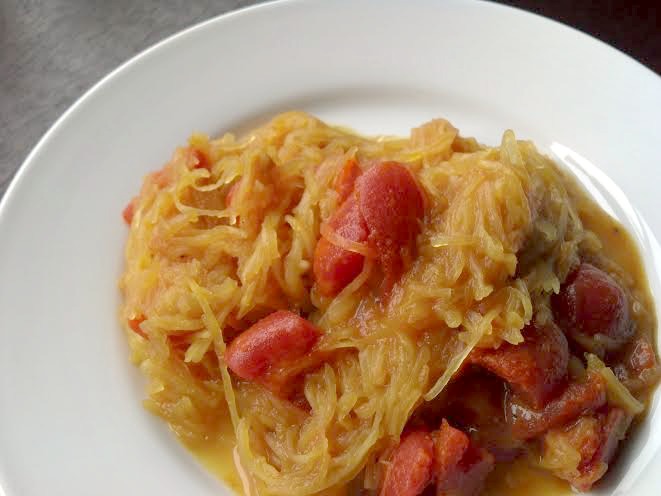 I have loved Indian food for awhile now (especially curries), and spaghetti squash and I have pretty much been BFFs for the past year or so.  At first I was not sure how the two combined would be, but I was pleasantly surprised with this one.  In fact, I am now quite certain that you cannot find a bad way to prepare spaghetti squash.  Any suggestions for what I should try next?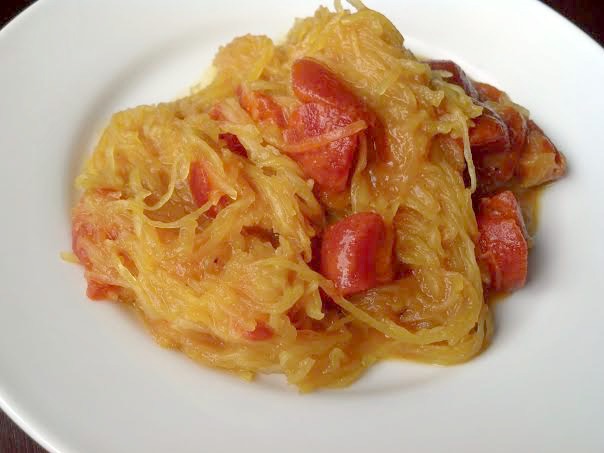 What is your favorite way to prepare spaghetti squash?
Related articles