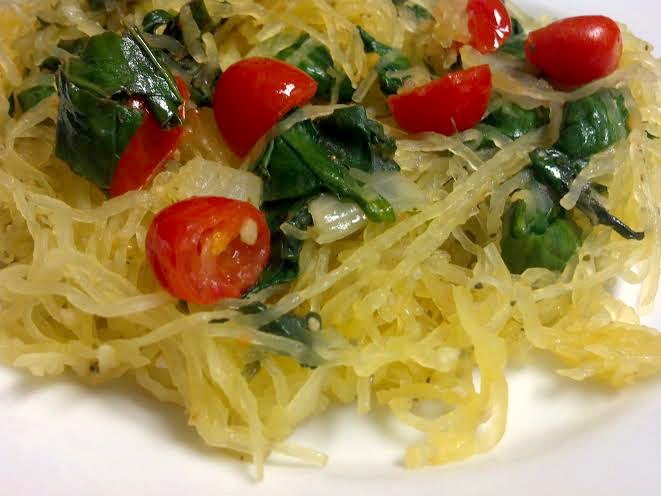 It is confession time.
Even though it has been weeks since I first teased you with a picture of this dish, I still have no desire to write up a post about it.  It is not because it was not delicious.  That is not it at all.  In fact, this was tasty the first time I ate it and it was tasty as leftovers the next day.  Instead, I think I am still a bit unmotivated after my almost two-week-long blogcation.  So, friends, please forgive me as I attempt to slowly gain back some steam within the blogging world.  I promise I will make it up to you!  For now, however, a simple recipe will have to suffice.  You are okay with that…right?  I sure hope so!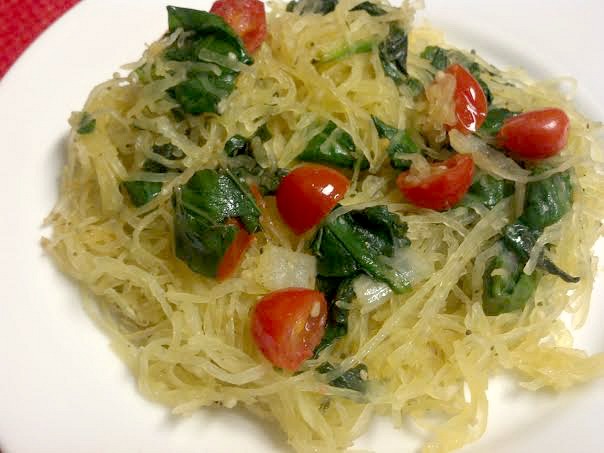 Tomato Basil Spaghetti Squash Pasta
Servings: 2-3 (2 for me because I love to eat!)
Ingredients
olive oil cooking spray
1 large spaghetti squash
water, for cooking
2 cloves garlic, minced
1/4 medium yellow onion, diced
fine sea salt, to taste
1 cup cherry tomatoes, halved
1/4 cup packed fresh basil, roughly chopped
2 to 3 large handfuls fresh spinach, roughly chopped
2 TB extra virgin olive oil
1/2 TB Italian seasoning
Directions
1. Preheat oven to 425 degrees F.  Line a baking sheet with foil and spray with cooking spray.
2. Cut squash in half and remove seeds.  Place the squash cut side down onto the baking sheet.  Roast for approximately 35-40 minutes.
3. While the squash is cooling slightly, line a large skillet with a thin layer of water.  Heat over medium-high heat until the water is very hot.  Once hot, lower the heat to medium and add garlic and onions.  Cook for approximately 8 minutes, or until softened, adding additional water as necessary. Season with sea salt.
4. Lower the heat to medium-low.  Stir in tomatoes, basil, and spinach.  Cook for approximately 3 to 5 minutes, or until the spinach has wilted.
5. Shred the spaghetti squash with a fork until it resembles pasta.  Stir in the squash and cook an additional 3 to 5 minutes, or until warm.
6. Turn off the heat and stir in extra virgin olive oil and Italian seasoning.  Add additional seasoning, if desired.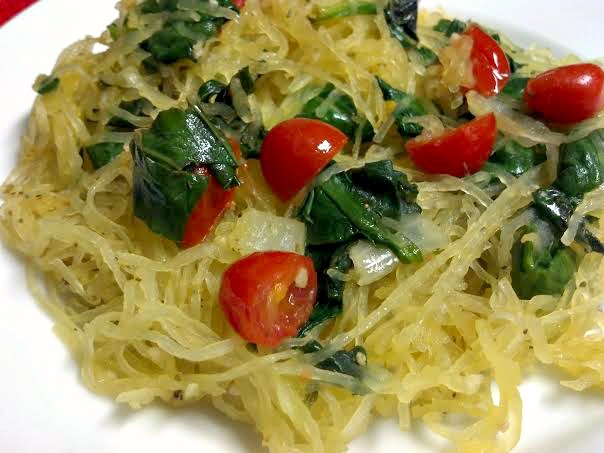 I never realized that "pasta" could be so delicious with just simple ingredients like olive oil, basil, and seasonings.  No need for alfredo or marina sauces here.  In fact, it is the simplicity of this dish that I really love.  It is easy to make and the veggies, herbs, and seasonings really shine through.  Oh, and make sure you purchase fresh basil.  I used dried basil for the longest time, and boy was I missing out!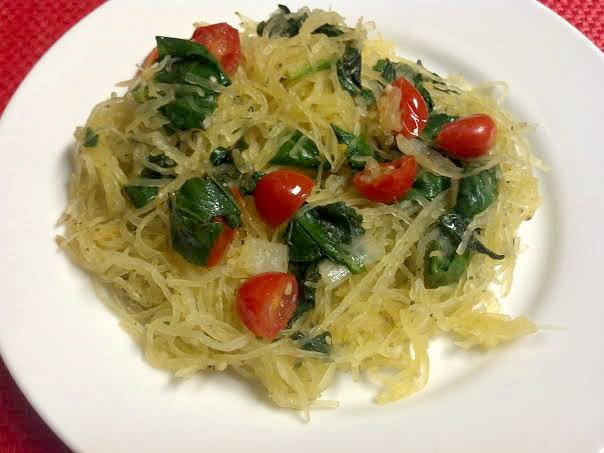 I hope you are not getting tired of spaghetti squash recipes yet.  I have a Curried Spaghetti Squash recipe headed your way next week!