Ahh, Wednesday.  How I love thee.  Thursday and Friday are the best work days since they are so close to the weekend.  But I still really enjoy Wednesday.  Wednesday is when it all turns around.  Wednesday is when we reach that peak in the hill of the week and start to begin the downward  slide into the weekend.  Random, but typing that definitely made me think of skiing…which totally reminded me of the fact that the Olympics are starting soon.  I am a major Olympics junkie and will be glued to my TV during the month of February.  Anyone else share my love for the games?  I am partial to the Summer games, but the Winter games are still fantastic!
So now we have the weekend to look forward to, the Olympics to look forward to…and an entire day of delicious mostly plant-based eats!  Check 'em out!
What I Ate Wednesday Saturday
Breakfast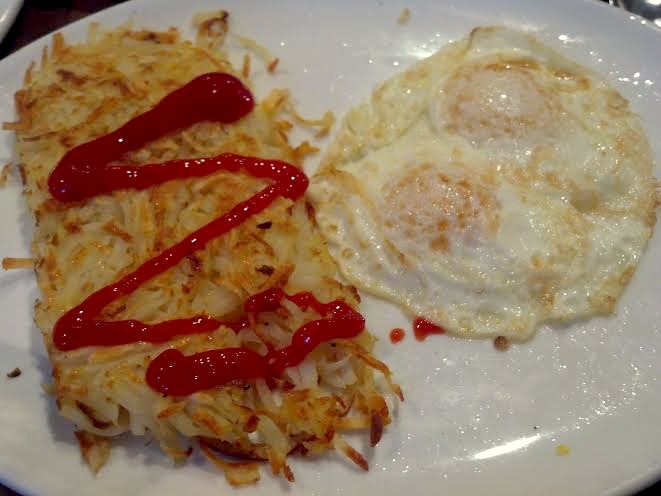 On Saturday morning I met up with Erin, Joanna, and Lindsay, Erin, and Elizabeth who I met through a local meet-up group.  We ate breakfast at Wheatfield's, a local restaurant with deeelicious breakfast food!  I ordered two eggs over easy and hashbrowns, which I definitely topped off with lots of ketchup!  Does anyone else think ketchup is a must with breakfast potatoes?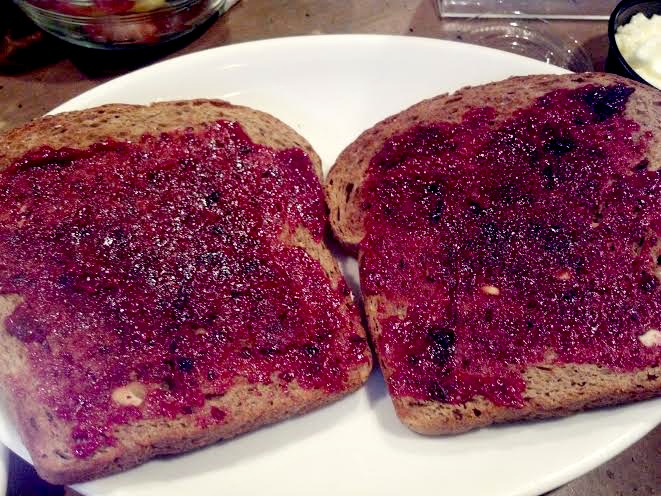 On the side I had two pieces of toast topped with the best bumbleberry jam.  The jam is definitely one of my favorite things about Wheatfield's.
Lunch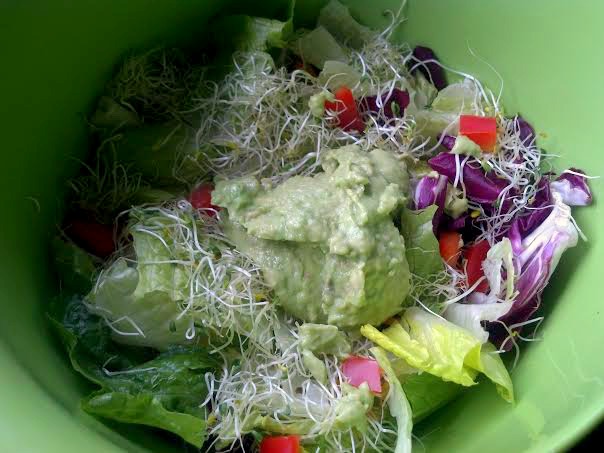 Lunch was a big 'ol salad consisting of organic Romaine lettuce, alfalfa sprouts, red peppers, and a dressing I mixed up with avocado, apple cider vinegar, water, garlic, and lime juice.  Does anyone else eat their salads out of giant mixing bowls? 😉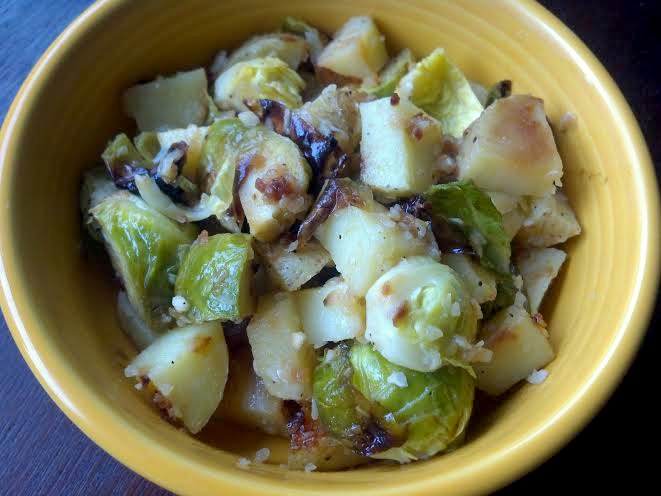 On the side I ate a bowl of roasted French onion potatoes and brussel sprouts.  More on these on Monday!
Snacks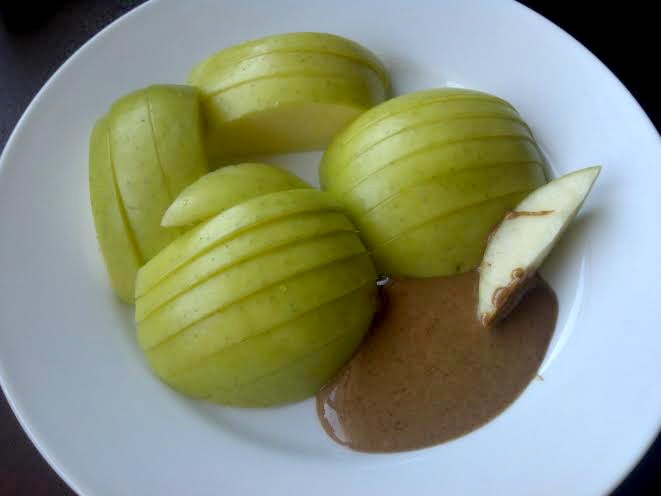 In the afternoon I snacked on a Golden Delicious apple with creamy almond butter.  I swear, I could drink that stuff right out of the jar ;).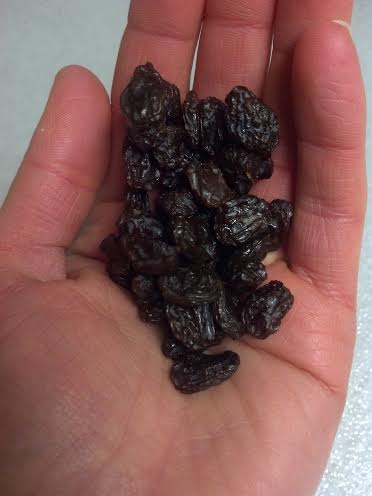 I also ate a handful of raisins (yes Mom, I like raisins now!) to tide me over until dinner.
Dinner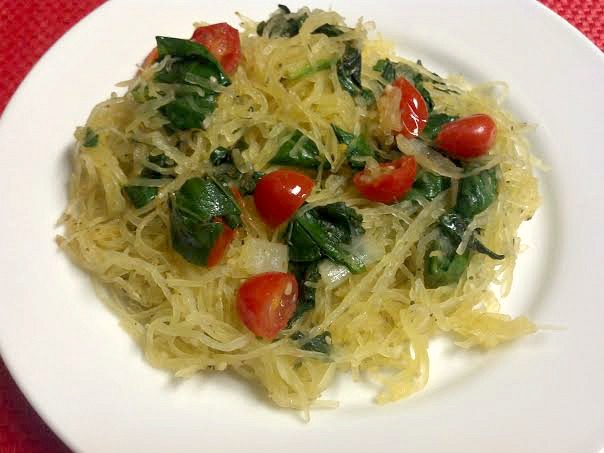 Dinner was a late one, but a good one.  I made tomato and basil spaghetti squash pasta.  Look for this recipe in the near future!
Snacks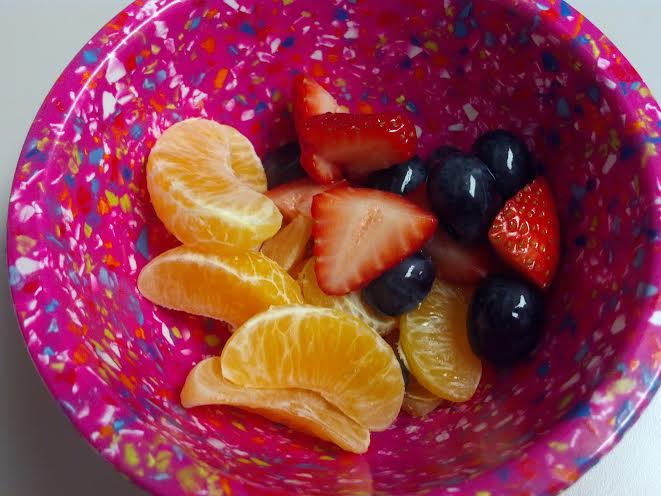 In the evening I snacked on a bowl of fresh fruit.  In the mix was one clementine, strawberries, and black seedless grapes.  I am still majorly hooked on these grapes.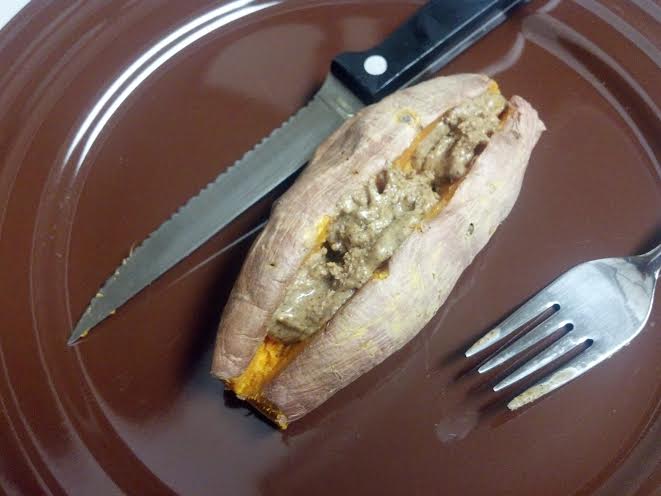 I saved the best for last with my late-night snack.  I "baked" a sweet potato in my microwave and topped it off with Justin's maple almond butter.  It was so, so good!
Before I leave you today, I want to demand highly encourage you to head on over to Kelly's blog, Hidden Fruits and Veggies.  Kelly has guest posted here on the blog and has a wonderful blog, herself.  You will find super deeeeelicious vegetarian and vegan recipes that you will want to make ASAP, no matter what time of day it is.  Kelly is celebrating her blogiversary today and her vegeversary on the 30th (go Kelly!).  To help celebrate, Kelly is hosting a giveaway with fantastic prizes, including (but not limited to): product and/or coupons from Bob's Red Mill, Nasoya, Amy's, Theo chocolate, Stubb's, the Happy Herbivore Light and Lean  cookbook, a tofu press (I love mine!), and a grocery store gift card.  Trust me, you do not want to miss out on this giveaway, so head on over to Kelly's blog and enter!
Have a wonderful Wednesday!
Related articles