It is Friday and we are more than halfway through the month of January.  Both of these things are very, very good.  I already mentioned that January and I just do not get along.  This is the month where I am still feeling some of the holiday blues, and it is also one of the coldest and dreariest months around.  Therefore, the faster it goes by, the better.  Fridays are also fantastic because on most Fridays I am able to share with all of you some of my favorite eats from around the blogosphere (does anyone else use this word, or is it just me?;)).  I hope you enjoy Fridays for this reason, as well!
Friday Foodie Favorites: January 17, 2014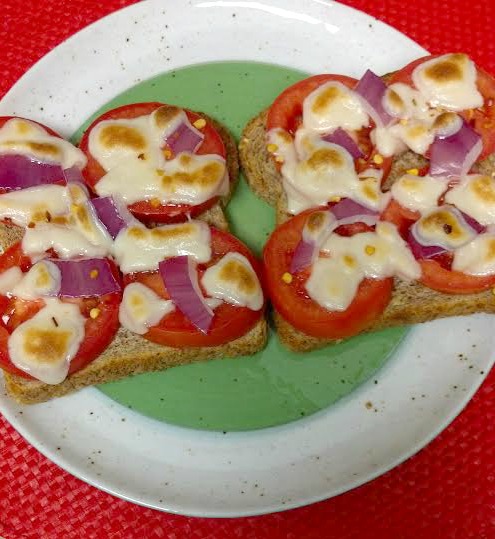 Easy peasy pizza on the fly.  That is exactly what you will find with this recipe.  I found the idea for this meal on the Hungry Happens Tumblr account.  I made my pizza with red Roma tomatoes on two slices of toasted Ezekiel bread, and topped it off with sliced red onions, Daiya vegan provolone "cheese," and red pepper flakes.  I stuck it under the broiler for about three minutes  and voila: healthy pizza in five minutes flat.  This is an absolutely perfect dish for a quick lunch or for one of those work nights when you have no desire, whatsoever, to cook.  You'll be seeing this one again in the near future, I'm sure of that!
Are you ready for another quick and simple dinner idea?
This is definitely it!  When Heather mentioned that she had cooked up Kristina's Popped Quinoa and Cheesy Eggs, I knew I had to whip up my own slightly adapted version.  I used the same provolone vegan "cheese" that I mentioned above in order to make it a mostly plant-based dish.  I've said it before and I'll say it again: dippy eggs are one of the reasons why I have not gone fully vegan yet.  There is just no replacement for some good ole runny yolks.  I also added a bit of sriracha sauce to my plate because seriously, what doesn't taste good with sriracha? 😉  I loved this dish!  The crispy popped quinoa was SO good, especially when mixed with the egg yolk, "cheese," and sriracha.  I enjoyed it so much the first night I made it that I had to make it again the following night.  I will never see "unpopped" quinoa in the same light from now on.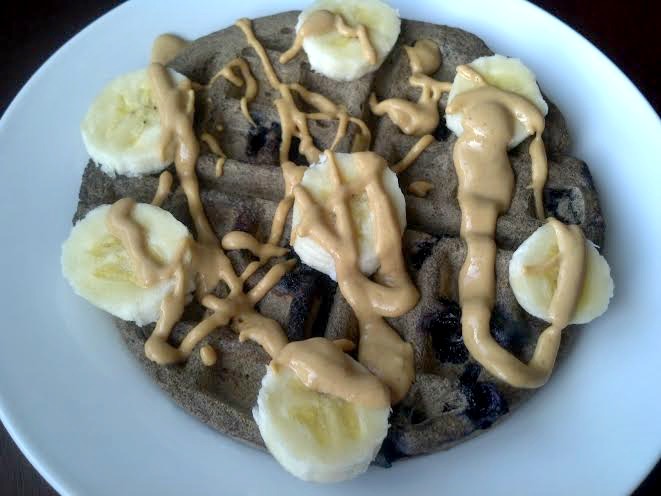 Santa brought me the waffle maker that I had on my list, so on Sunday I decided that it was time to put it to use.  I was in a search of a vegan recipe, but also one that was made for one person.  So many of the recipes out there make enough for at least six waffles, which is great for leftovers, but I was feeling lazy and only wanted to make one ;).  I stumbled upon Ashlae's recipe for a Buckwheat Waffle for One and knew that this was going to be "the one" for my first go at waffle-making.  Um, can I just say that this was a very good move on my part?  My blueberry buckwheat waffle turned out SO good (and on the first try!) and was even more delicious when I topped it off with peanut butter and bananas.  If you are looking for a waffle recipe "for one," then this is a great one for you.  My mind is already thinking about my next waffle creation.  I am thinking it is going to have to involve chocolate…
And finally…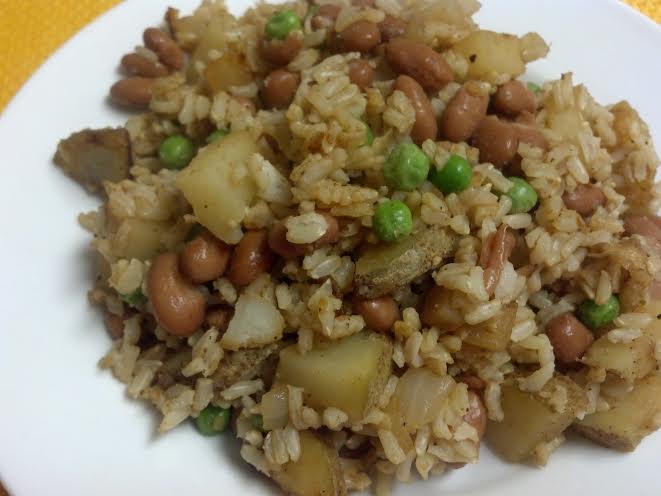 The instant that I came across Melissa's recipe for Potato and Green Pea Masala, I knew that I had to make it!  It contains so many of my favorite foods (especially peas!) and it is Indian cuisine, which I am a big-time fan of.  Making this was a darn good decision.  It was so easy and so delicious.  Sometimes I really just crave whole and simple dishes and this one really fit the bill.  I subbed in whole brown rice because I did not have any wild rice and I found it to be a perfectly acceptable substitution.  This will definitely be going on my rotation of frequently made dishes.
Do yourself a favor and go make one (or all!) of these recipes ASAP.  Oh, and go enjoy your Friday and your weekend! 🙂
Related articles