Welcome to the first Friday Foodie Favorites of 2014!  I had to think a little bit when I was writing the title to this post.  I am still not used to it being 2014 and not 2013.  I have a feeling it will take me several weeks to fully get used to that.  But 2014 is going to be a great year, I am convinced of that!  And what better way to start it off right than by highlighting some of my most recent favorite recipe finds from around the blogosphere?  I thoroughly enjoy trying other bloggers' recipes and I hope that you love reading about them.  When I find something good (or REALLY good), I just have to share it with you!
Friday Foodie Favorites: January 3, 2014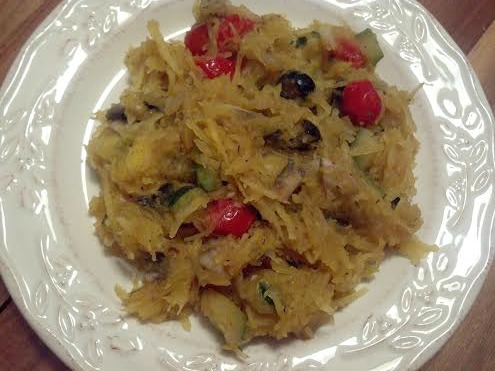 It's another one of Robyn's delicious recipes!  I made her Spaghetti Squash Pasta Puttanesca a few weeks ago and loved it so much that I made it again over my Christmas break.  What else can I say other than that Robyn has some seriously delicious spaghetti squash recipes.  Heck, she just has really great recipes in general.  If you are a spaghetti squash lover like I am, you really must make this dish.  It is ridiculously flavorful, cozy, and veggie-filled.  Can it get any better?  I think not!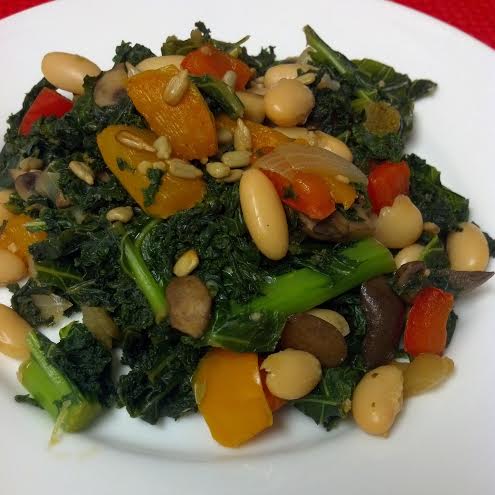 Don't get me wrong, I love cold massaged kale salads.  But a couple of weeks ago I was really craving a warm meal.  I had "bookmarked" a warm kale salad back in August, and I knew that this was the perfect time to give it a try.  Lindsay's Warm Balsamic Kale Salad totally hit the spot.  I made a few alterations to the original recipe in order to make it vegan by leaving out the butter and subbing in nutritional yeast in place of the cheese.  I also followed her recommendation to add in beans for some extra protein.  I am a bit obsessed with white Great Northern beans right now, so they were such a tasty addition.  If you are craving some kale after the holidays then I highly recommend that you try this dish out.  It's tasty, easy, and an all-around winning combination.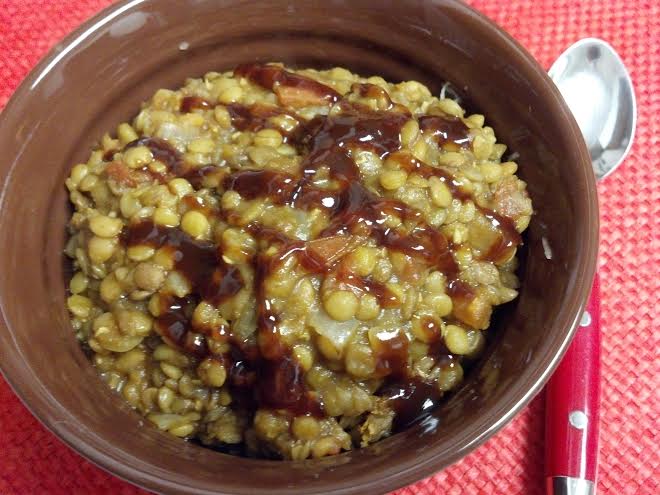 Looks are most certainly deceiving with this next one, but I am SO excited to share it with you.  If you are barbecue lover like I am, then you are going to want to pay attention.  Trust me, barbecue isn't just for meat-eaters and Lindsay's recipe for BBQ Lentil Stew is proof of that!  I omitted the sausage in order to make it vegan and served it over roasted spaghetti squash (because clearly I am obsessed).  Making this dish was definitely one of the best cooking decisions that I have made lately.  If you love BBQ sauce like I do, do yourself a favor and make this ASAP.  Oh, and don't forget to add a little extra BBQ sauce to the top because you can never have too much barbecue! 😉
And finally…I must share this new side dish that I made for Christmas this year.  When I was deciding what I was going to contribute to my family's Christmas meal, I wanted something a bit different from what I would normally make- and also something a bit healthier.  I found the perfect side dish after perusing my saved recipes: Anne's Quinoa Salad with Pecans and Cranberries.  I left out the chives because I was not able to find any at the grocery store and I added in green onions.  This dish was definitely one of my favorite parts of our Christmas meal this year.  It was healthy, delicious, flavorful, and satisfying.  I ate seconds of it during the Christmas meal and then ate leftovers during several meals after.  This will absolutely be making appearances during future holidays.
I had lots of tasty favorites for you this Friday now didn't I?  Please let me know if you give them a try!