I was provided with coupons for free product by Driscoll's Berries, but as always, all opinions are my own.
I am a snacker.  I am not one of those three meals and one snack kind of girls.  No.  I am more like a three meals and six snacks kind of girl.  Snacks fuel me up with energy and get me through my days, especially the long and busy work days.  Because I incorporate a lot of snacks into my day, I also try my best to ensure that the majority of these snacks are healthy options.  And after following a fairly "clean" mostly plant-based diet for a couple of years now, I am no stranger to the plethora of delicious good-for-me snacks out there.
You see some of my favorite snacks featured in my What I Ate Wednesday posts, but I decided it might be nice to dedicate an entire post to some of my favorite go-to healthy snacks.  I am teaming up with Driscoll's Berries to provide you with several ideas for how to replace your unhealthy snacks with some delicious alternatives- blueberry style.  Blueberries are a great snack choice because they are low in calories, rich in antioxidants, high in Vitamin C, and are a good source of fiber (source).   Let's turn our 3pm snack cravings into healthy, berry-filled ones!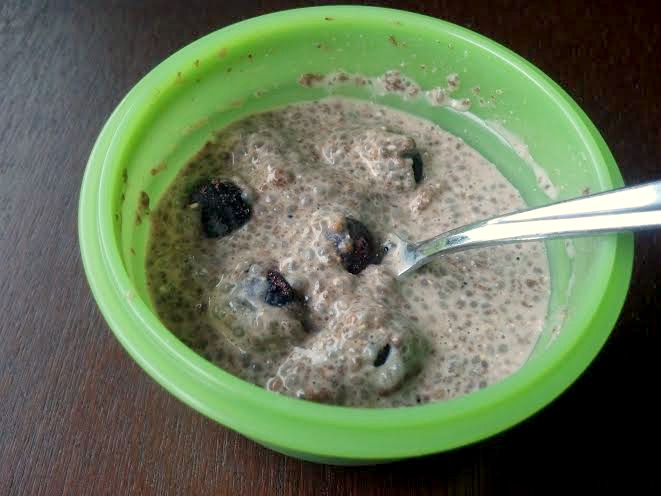 I just recently jumped on the chia seed pudding band wagon, and boy am I glad that I did!  My favorite flavor right now is a chocolate chia seed pudding (recipe below).  I love adding sweetness to mine by adding in fresh fruit.  This snack is the perfect solution for your sweet tooth afternoon cravings because it is high in fiber (8 grams to be exact) to keep you full, and it is sweet from the blueberries.
Chocolate Chia Seed Pudding
Serves: 1
Ingredients
1 TB whole chia seeds
1 TB milled chia seeds
1 packet Stevia or 2 tsp coconut sugar
1 tsp cocoa powder
dash of cinnamon
dash of vanilla
1/2 cup unsweetened vanilla almond milk
blueberries (optional…but not really ;))
Directions
1. Mix all dry ingredients.
2. Stir in wet ingredients.
3. Cover and refrigerate overnight, or for at least 5 hours.
4. Stir in blueberries or other desired add-ins (raspberries and/or chocolate chips would be delicious, too).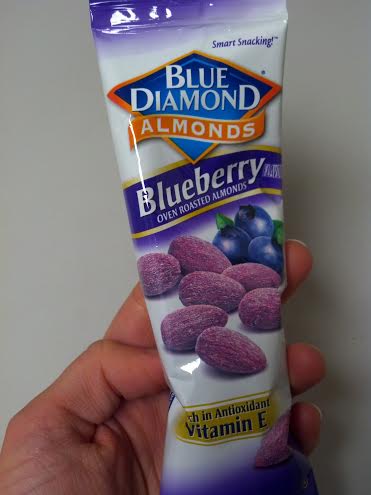 Speaking of keeping you full, how about some sweet protein-rich blueberry almonds?  I love Blue Diamond almonds because they have so many delicious and flavorful varieties.  I am a big fan of the sea salt and vinegar and coconut flavors, and just recently tried the berry flavors.  There's nothing quite like satisfying my snack cravings with some healthy fats!  I normally eat half of a bag and pair it with dried fruit, like raisins.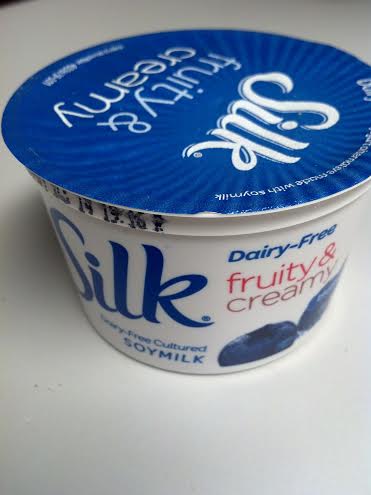 Before transitioning to a mostly vegan diet, I was a major fan of yogurt.  It was actually rather difficult for me to stop eating it.  That is, until I discovered and tried non-dairy yogurts.  I am a big fan of soy, almond, and coconut milk yogurts, and stirring in chia seeds and fresh berries takes them over the top.
And finally, quite possibly the best for last…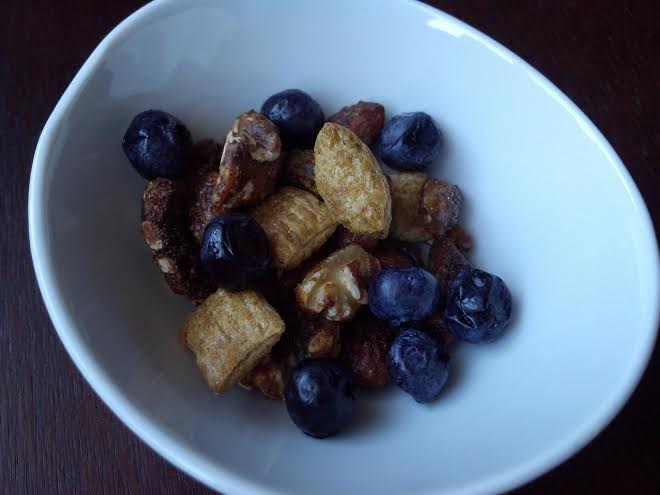 Driscoll's sent me a sample of their Blueberry Trail Mix, which made for a perfect afternoon snack.  I simply added my own blueberries and chowed down.  It is probably a good thing that they only sent me a sample because I definitely could have eaten handful after handful ;).  And lucky for you, I am going to pass along the recipe.
Blueberry Trail Mix
Serves: 12
Ingredients
1 cup raw whole almonds
1/2 cup shelled walnuts
1/4 cup raw pistachios
1 1/2 TB honey
1 tsp canola oil
1/2 tsp chipotle powder
1/4 tsp cayenne powder
1/4 tsp ground cinnamon
1/2 tsp Kosher salt
1 cup Barbara's Original Puffins Cereal (I think it would be awesome with the cinnamon flavor, too!)
blueberries, for serving
Directions
Preheat an oven to 300 degrees F.  Line a baking sheet with parchment paper.  In a large bowl, combine the almonds, walnuts, and pistachios.  In a small saucepan, combine the honey, oil, chipotle powder, cayenne, and cinnamon.  Warm the mixture over low heat, stirring well until the mixture is warmed through.  Pour the honey mixture over the nuts and stir with a rubber spatula until coated.  Sprinkle the salt over the nuts and toss to combine.  Spread the nuts in a single layer on the prepared baking sheet.  Bake until golden brown, 20-25 minutes.  Let cool completely before serving.  Transfer the nuts to a large bowl.  Add the cereal and toss to combine.  To serve, combine 1/4 cup nut mixture with 1/4 cup fresh blueberries.  Store nut mixture in an airtight container for 1 week.
Don't get me wrong.  Blueberries on their own are absolutely delicious.  But when reaching for a snack to satisfy those pesky afternoon cravings, adding in lots of protein, fiber, and some healthy fats is so important in order to help keep us full and satisfied.  All of these snack ideas totally fit the bill.
Now hop on over to the Driscoll's website for more 3pm blueberry snack ideas and to enter into the 3pm Snack Survival Sweepstakes to win a Vitamix blender, snack containers, and blueberries for a year.  You better believe I entered!