Instant Pot Chicken Zoodle Soup takes the comfort of homemade chicken noodle soup to the next level.  This version is Paleo, grain-free, and dairy-free!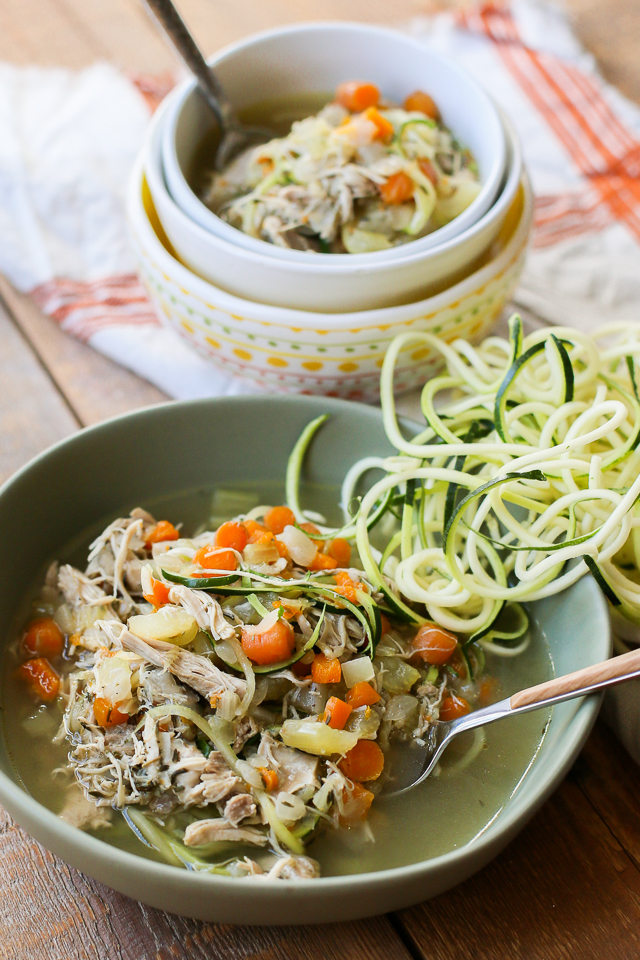 I've been feeling quite a bit under the weather lately.  With colds, GI bugs, and a postpartum flare of my Lyme symptoms, things have been pretty rough.  In fact, it is kind of a miracle that I am writing this post at all.  But when you love what you do, you make room to squeeze it in during the periods of feeling "good."
With all of the craziness in my life right now, my desire to cook elaborate meals is at a zero.  As in, not happening.  So, an Instant Pot meal it is!  A comforting Instant Pot meal.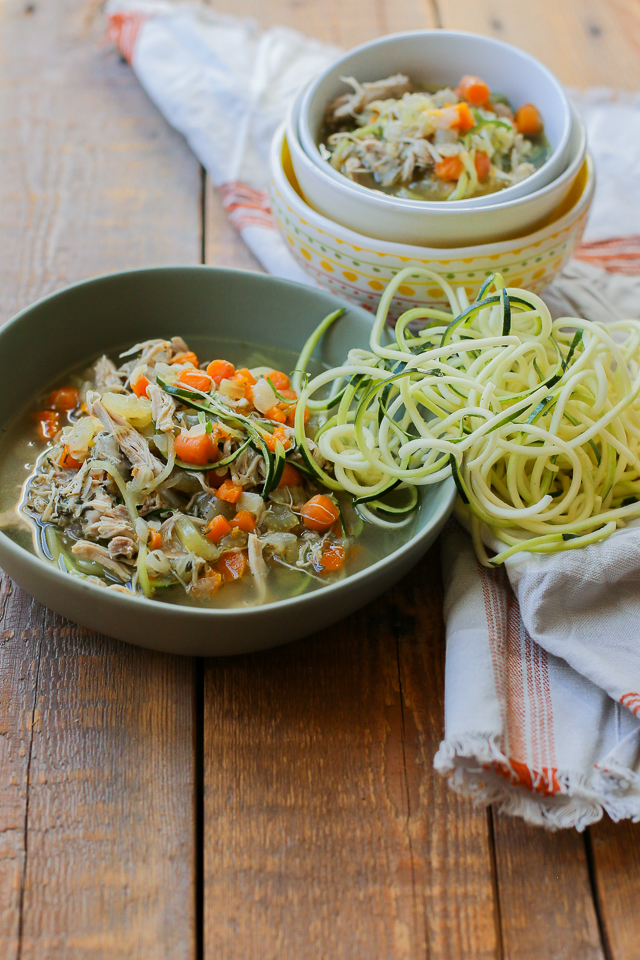 I have made gluten-free chicken noodle soup in the Instant Pot with GF noodles, but since I recently fully transitioned back to Paleo, noodles are not happening.  Luckily, zoodles totally are!
I have to admit I am a bit ashamed of the fact that the last time I used my spiralizer was easily over a year ago.  Gosh, maybe even two years ago.  But it is back in my life to stay now, and there truly is nothing better than a spiralized zucchini.  It is as if they were made to be turned into zoodles.  And zoodles were totally made to be in chicken soup.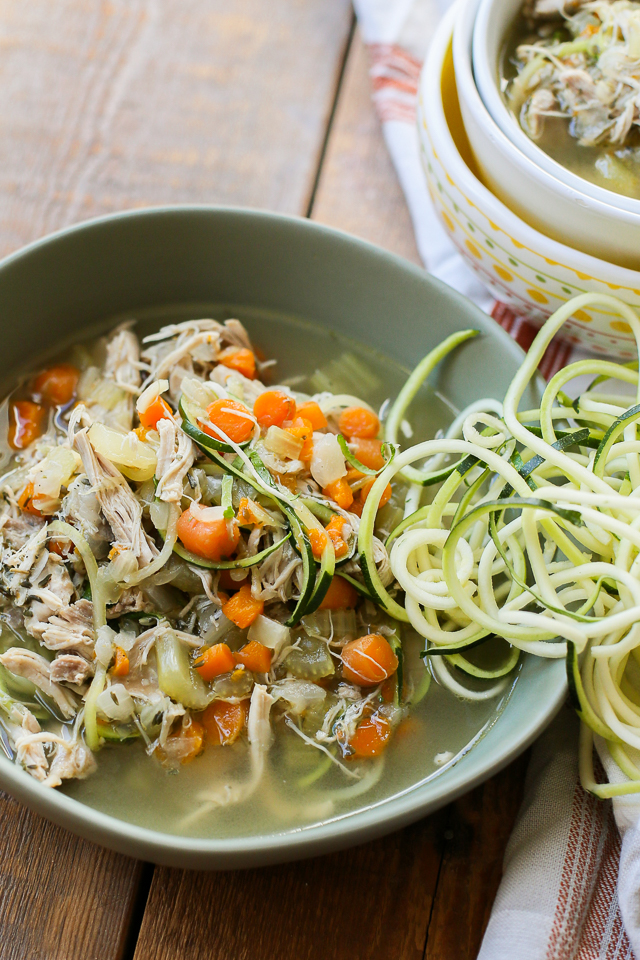 P.S. The veggies in this soup can be easily customized based on what you like or have on hand.  But if you want my opinion, go with the classic chicken soup vegetables: celery, carrots, and onion!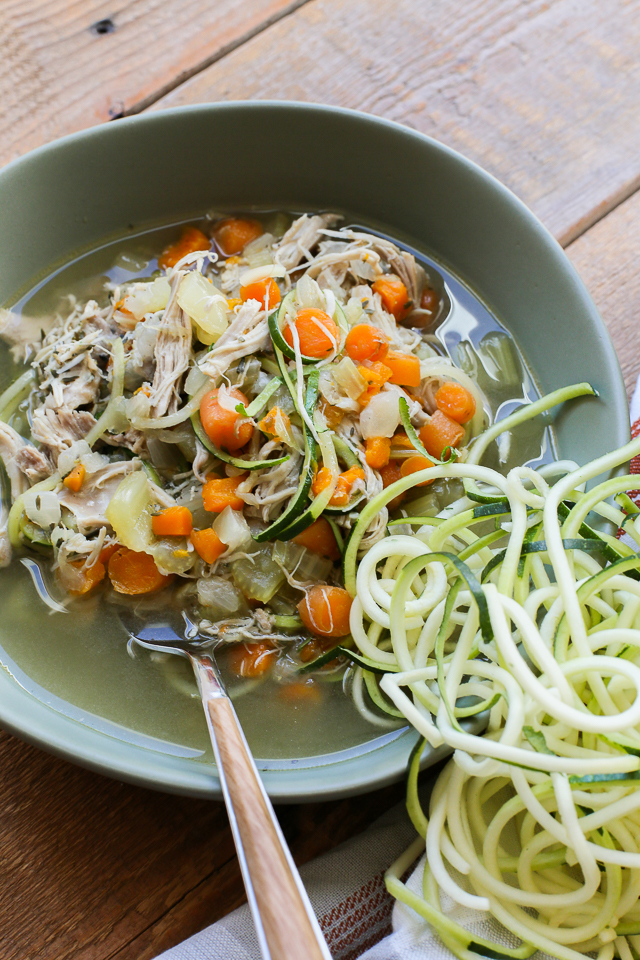 Instant Pot Chicken Zoodle Soup
AIP Paleo, Paleo, Gluten-Free, Grain-Free, Dairy-Free, Nightshade-Free, Soy-Free, Nut-Free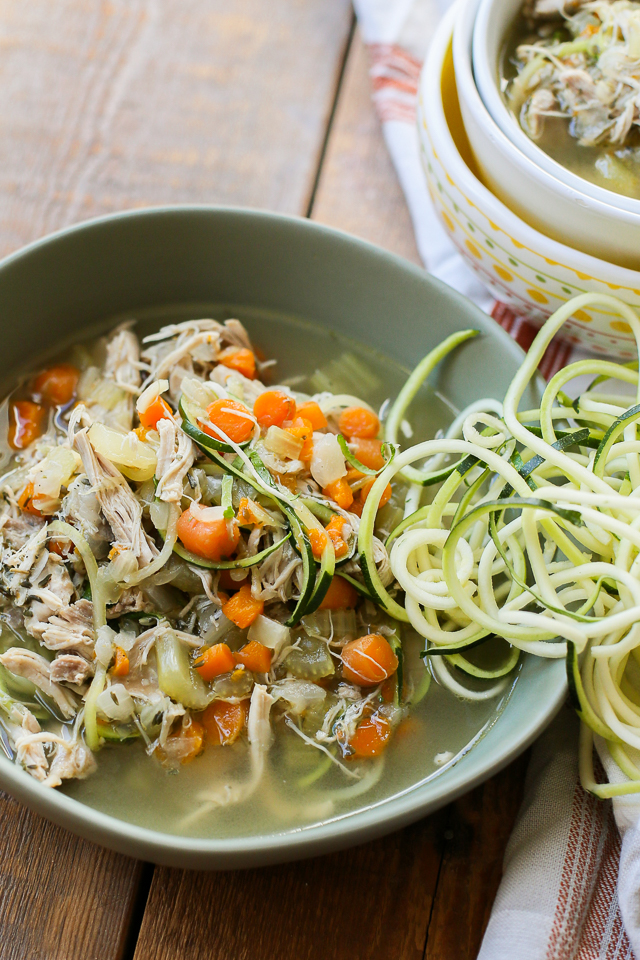 Ingredients
1 TB of virgin coconut oil
1 medium organic yellow onion, diced
2 cups of organic sliced carrots
1 cup of chopped organic celery
1 1/2 LB of organic, free-range chicken*
3 tsp of fine sea salt
3 tsp of garlic powder
3 tsp of dried thyme
2 tsp of ground black pepper (omit if AIP)
32 oz of free-range chicken bone broth
2 medium zucchini, spiralized and trimmed
Instructions
Place coconut oil into the Instant Pot and turn on the "saute" function.
Once the coconut oil is melted, add onion, carrots, and celery. Cook for approximately three minutes.
Place whole pieces of chicken on top of the vegetables. Add salt, garlic powder, thyme, and black pepper. Add chicken broth.
Place the lid on the Instant Pot, seal, and cook using the "soup" function for 13 minutes.
While the soup is cooking, spiralize your zucchini and set aside.
Once the Instant Pot beeps, press "cancel" and manually release the pressure.
Remove the lid, add the zucchini, and turn on the "saute" function. Bring to a boil to slightly cook the zucchini noodles and then press "cancel." Top with additional raw zucchini noodles, if desired.
Serve alongside your favorite grain-free crackers or plantain chips.
Notes
*Chicken thighs or breasts will work for this recipe.
7.8.1.2
17
https://cleaneatingveggiegirl.com/2018/02/27/instant-pot-chicken-zoodle-soup/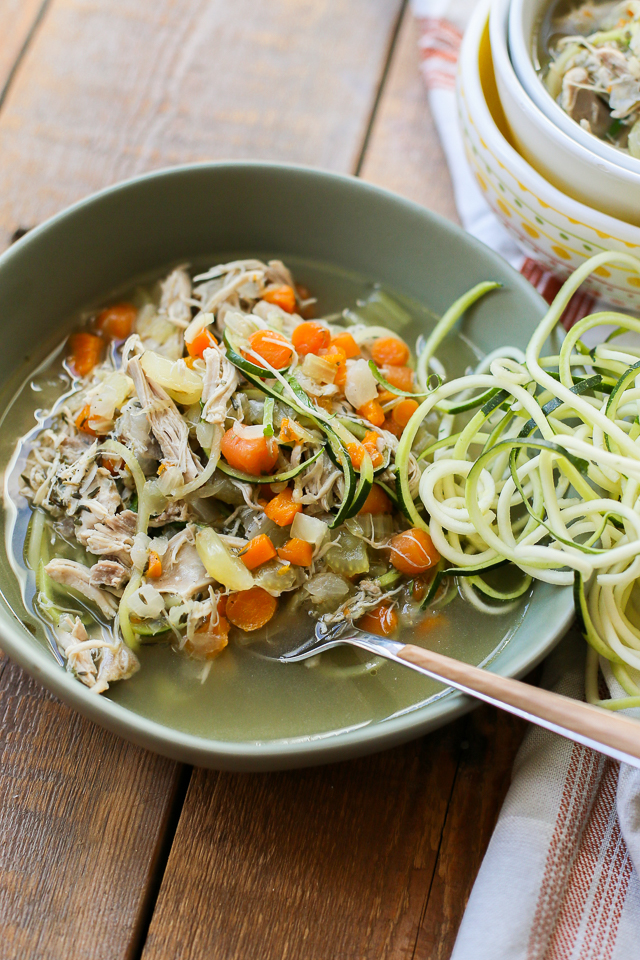 Instant Pot Chicken Zoodle Soup for a cozy meal! #Paleo #glutenfree #soup #InstantPot Click To Tweet