The perfect creamy coconut chia pudding dirt cup parfaits for a healthier gluten-free, dairy-free, and Paleo breakfast, dessert, or birthday party treat!
This recipe was a total accident.  It is like the universe absolutely wanted me to make these chia pudding dirt cup parfaits, so it made certain that my original cooking intentions were a complete fail.
You see, I wanted to make regular 'ole chia pudding with coconut milk.  Except is got super goopy and the texture was simply meh.  But since I needed something for breakfast and I hate wasting food, I threw it all back in the Vitamix for a second time and prayed something good would happen.  Something good happened, indeed.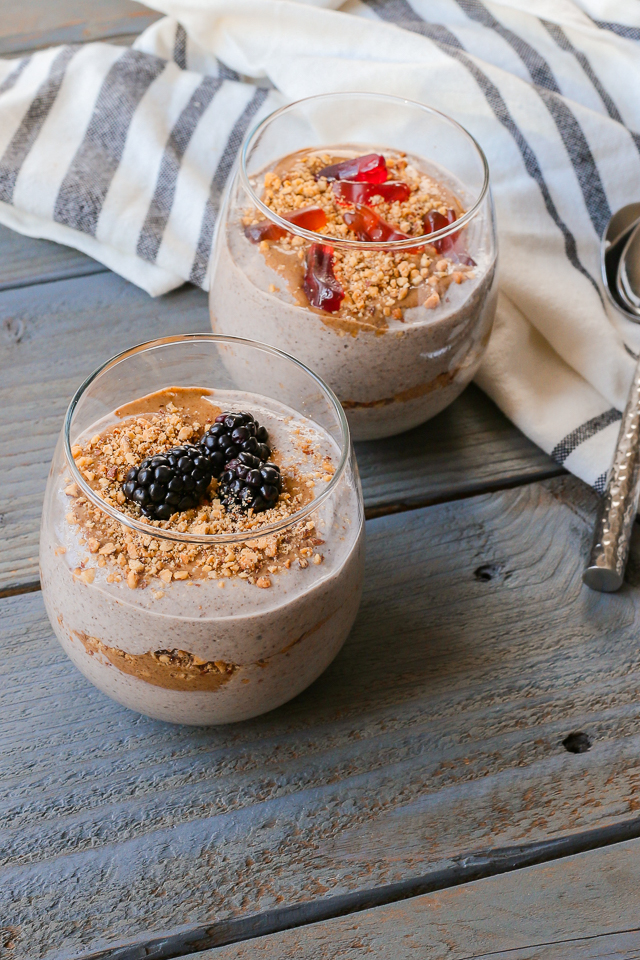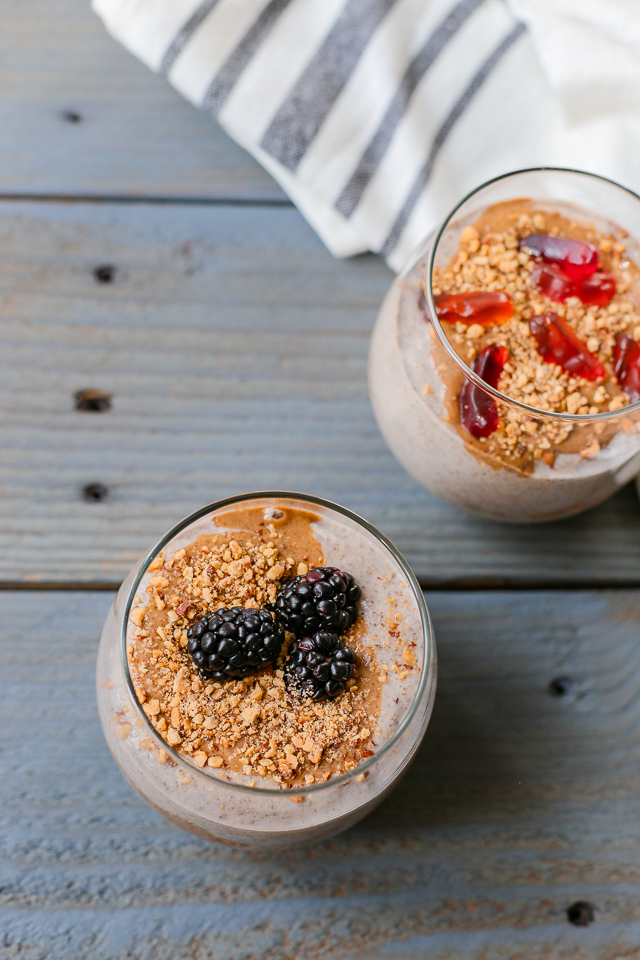 The goopiness was gone, and the chia pudding was super creamy.  Unlike chia pudding where the seeds are kept intact, this actually tasted like legit pudding.  But since there was just a hint of texture that remained from the chia seeds, it instantly reminded me of one of my favorite childhood treats: dirt cups.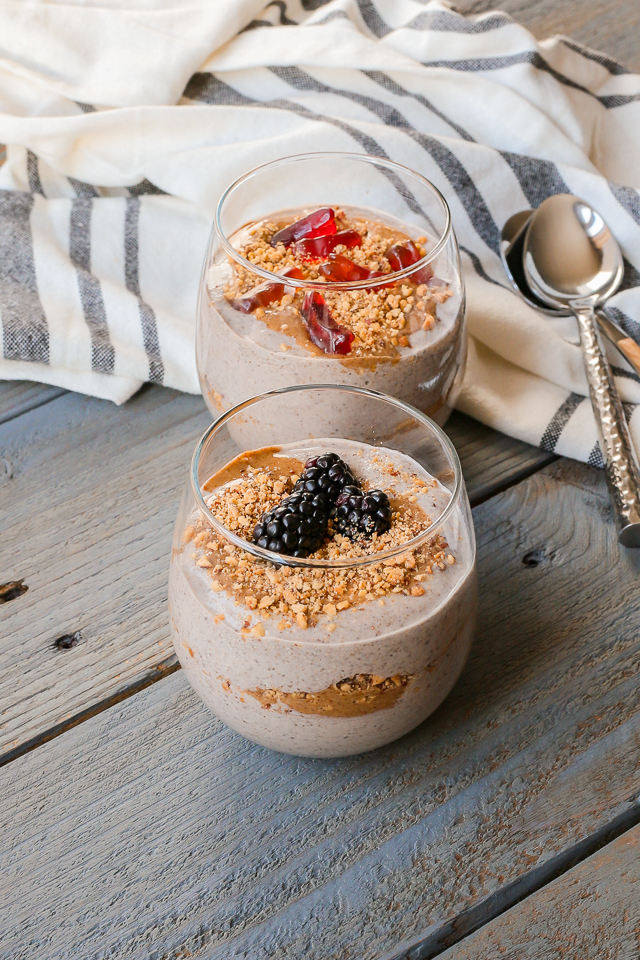 If you do not know what dirt cups are, you clearly never went through elementary school.  Maybe it is a generational thing, but they were definitely a birthday party staple when I went from kindergarten through sixth grade.  The traditional dirt cups use gummy worms in them since you find worms in dirt.  But to make these healthier and more natural, I choose organic fruit snacks for the "kids" (or big kids) version.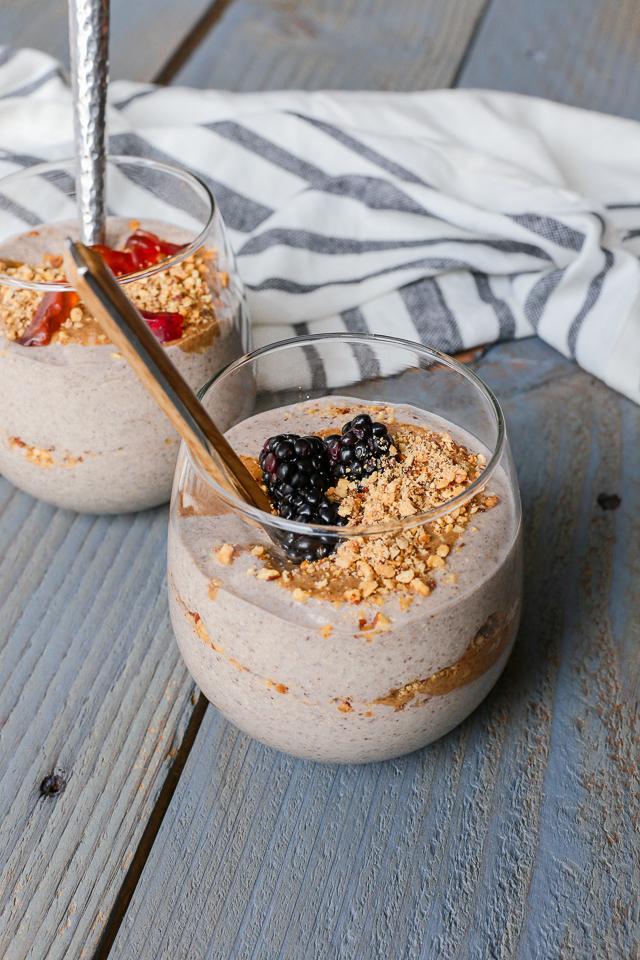 I am not quite as into sweets as I was back then (mostly because of some of my dietary changes), so the other version is a little more adult focused.  Fresh fruit totally works in place of worms, right?  I mean, come on.  These are legitimately healthy.  We're talking good for you.  I am sure I don't need to tell you how I feel about treats that are good for you.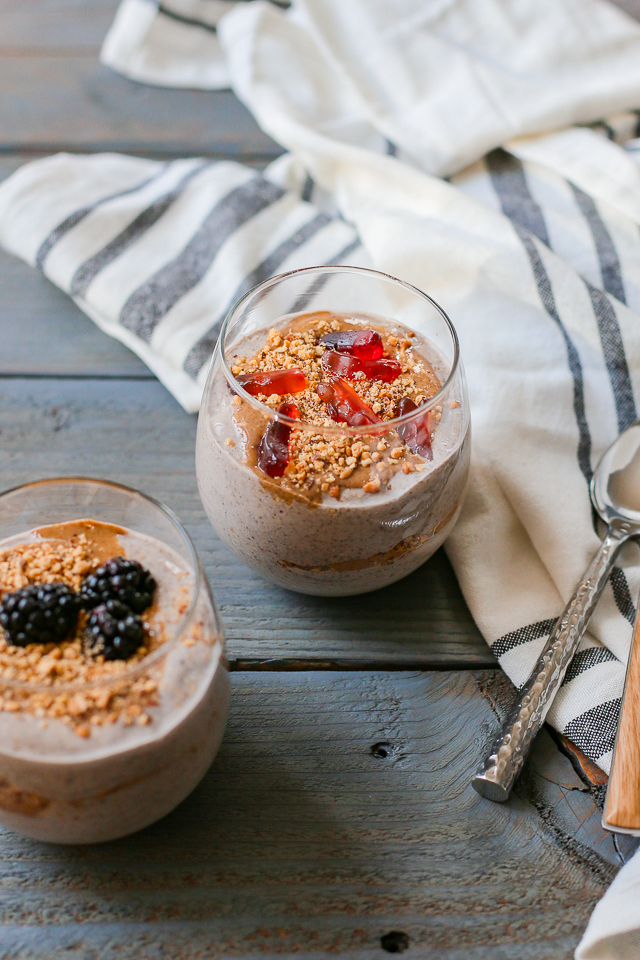 So pick your favorite.  Or, make both!  Eat the healthier version for breakfast and the slightly sugary version for dessert.  These chia pudding dirt cup parfaits will make you oh-so-happy anytime of day!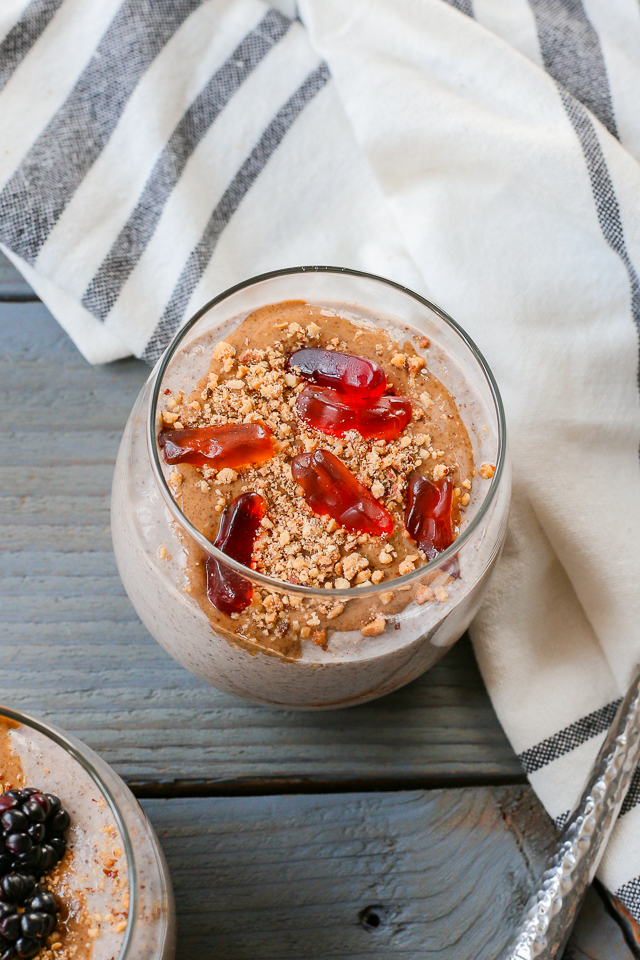 Creamy Coconut Chia Pudding Dirt Cup Parfaits
Paleo, Gluten-Free, Grain-Free, Dairy-Free, Vegan, Vegetarian, Soy-Free, Nightshade-Free
Ingredients
1- 13.5 oz can of organic, full-fat coconut milk*
1 1/2 cups of filtered water
1 ripe banana
1 heaping tsp of ground cinnamon
1 TB of pure maple syrup or raw honey (optional, depending on taste)
1/2 cup of chia seeds
1/4 cup of nut butter (I used almond butter)**
1/4 cup of crushed or ground nuts (I used almonds)**
fun toppings, like organic fruit snacks, berries, or dark chocolate chips
Instructions
In a high-powered blender, combine coconut milk, water, banana, cinnamon, and sweetener (if using). Blend on high until well mixed.
Pour chia seeds into a large glass bowl. Top with the coconut milk mixture. Stir until well-combined. Cover and refrigerate for at least three hours, or until thickened. I prefer keeping mine in the fridge overnight.
Place the chia pudding back into the blender and blend on high, or until the majority of the chia seeds have broken down. The mixture should be thick like pudding.
Create your dirt cup parfaits by layering one fourth of the pudding mixture into the bottom of each of the bowls or mason jars. Top each with one forth of the nut butter and one fourth of the crushed nuts. Repeat this step to create a second layer.
Top with desired toppings.
Notes
*Look for varieties that do not contain added gums.
**If you are avoiding nuts altogether, you could replace these with sunflower seeds/butter or coconut flakes/butter.
7.8.1.2
16
https://cleaneatingveggiegirl.com/2018/02/15/chia-pudding-dirt-cup-parfaits/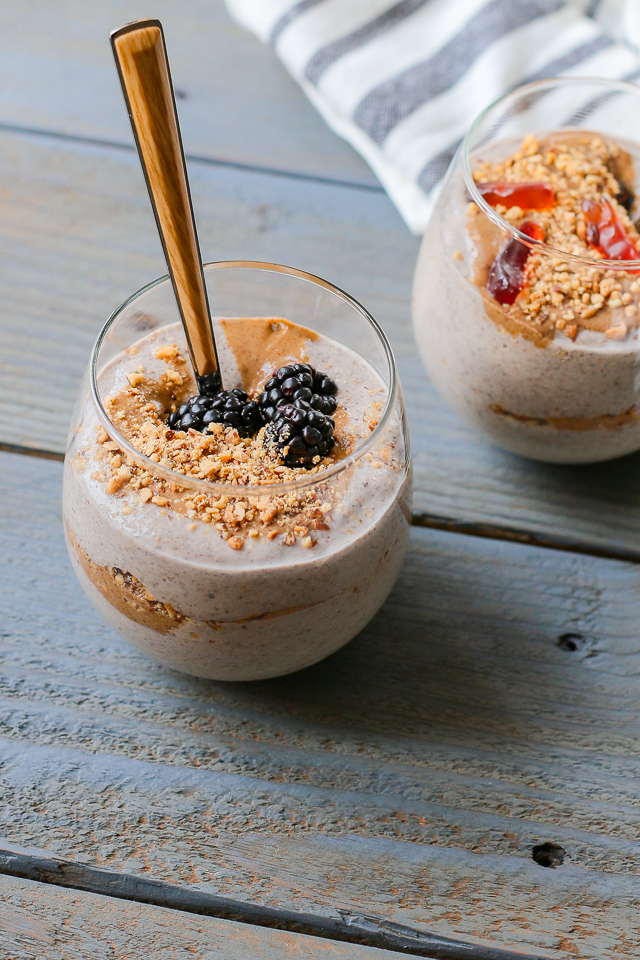 Healthier Chia Pudding Dirt Cup Parfaits for #breakfast or #dessert! #vegan #Paleo Click To Tweet