Thank you Council for Responsible Nutrition for sponsoring this post. This is #MyWeekSupplemented.
It is no secret that I have been on a whirlwind of a ride with my health over the past six years or so.  While I recently received a chronic Lyme diagnosis, it took a whole lot of time, doctors, diet changes, and tests to get here.  Prior to my health issues, I was a multivitamin only kind of girl.  However, my blood test results over the past few years have been eye-opening as I have discovered that I am deficient in many important vitamins, minerals, and nutrients.  I always thought I could get everything I needed through a healthy diet, but my body has told me that I need extra help in reaching optimal health.  That is where supplements come into play.  And according to the Council for Responsible Nutrition, I am apparently not the only one benefiting from supplement use.  In fact, 76 percent of U.S. adults take some form of dietary supplement each year.  Clearly, we can all use a little extra help!
Before we dive into my specific supplement routine, I want to preface this post with a couple of points:
1. I am sharing the supplementation routine that works for me, but that does not mean it is appropriate for you.  If you think you may be lacking in certain vitamins or minerals or are just not feeling your best, I strongly encourage you to get blood work done to test your levels.  It is best to test and not guess when it comes to supplementation!  You should work with a doctor or other healthcare practitioner to determine which supplements are right for you.
2. While supplements are a great support for health and wellness, they are just that: supplements.  They should not be solely relied on for good health.  I always pair my supplements with other health boosters, including: eating a balanced diet, reducing toxin exposure, preventive care, exercising, and working to reduce stress.
3. The final point I want to highlight is that you should choose your supplements wisely.  Generally speaking, you really do get what you pay for, so be sure that the brand you choose is of high quality.
Now let's get to it!  Here is my supplement routine as of January 2018.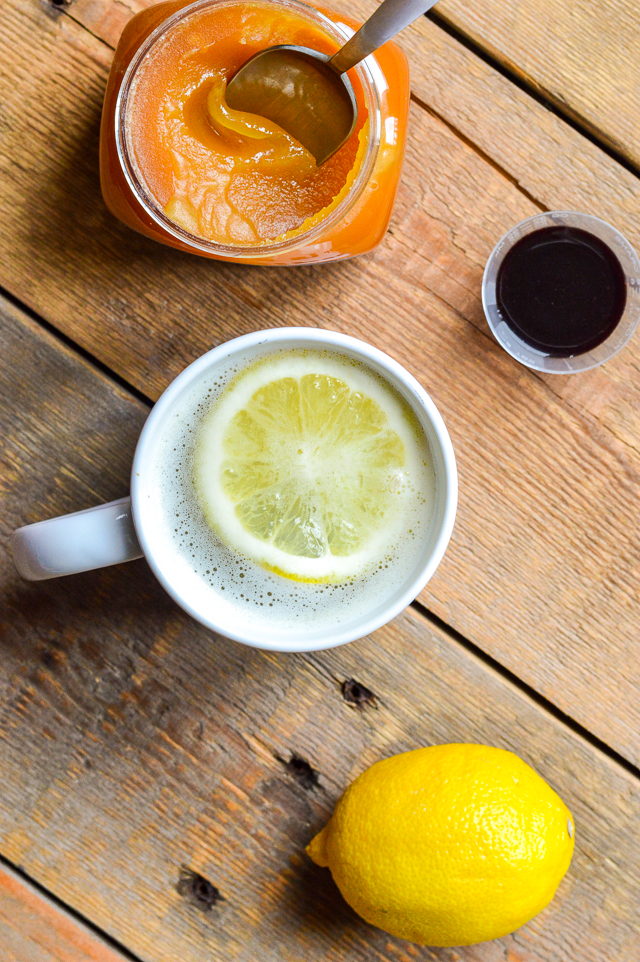 My mornings these days tend to start with a few powerhouse supplements.  After downing a glass of cold water to rehydrate, I sip on a mug of hot filtered water mixed with raw honey, organic fresh-squeezed lemon juice, and collagen peptides.  I love the added protein found in the collagen peptides.  Lately, I have also been downing a shot of elderberry syrup (sometimes multiple times per day).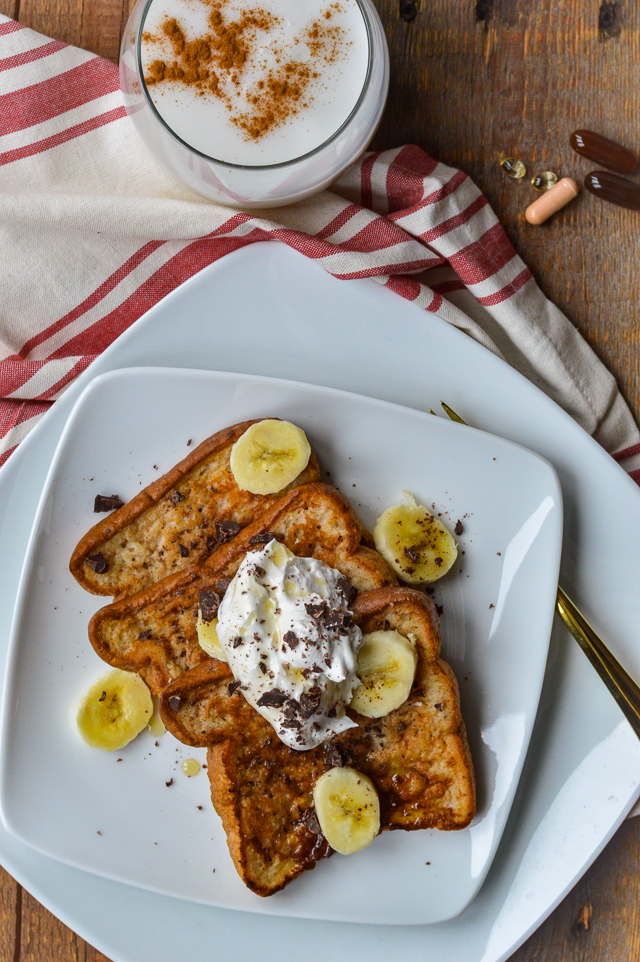 Breakfasts are definitely not always this fancy, but on this particular day I was shooting photos for this French toast post.  On the side, I took two capsules of sunflower lecithin, Vitamin D, and a Vitamin B complex.  The sunflower lecithin is a part of my breastfeeding routine, while the Vitamin D and B supplements are essential for helping me reach optimal levels of these important nutrients.  I have tried to get enough of these Vitamins through natural sources like sunlight and food, but without supplements I have never been able to reach optimal levels.
In fact, it took Vitamin D supplementation for me to get from a crazily low level to an optimal level.  My Vitamin D level was 16.5 in March of 2015 and has moved all the way up to 97 at my most recent appointment (for reference, 75-100 tends to be an optimal level)!  The only thing I changed as far as my Vitamin D intake goes is supplementation.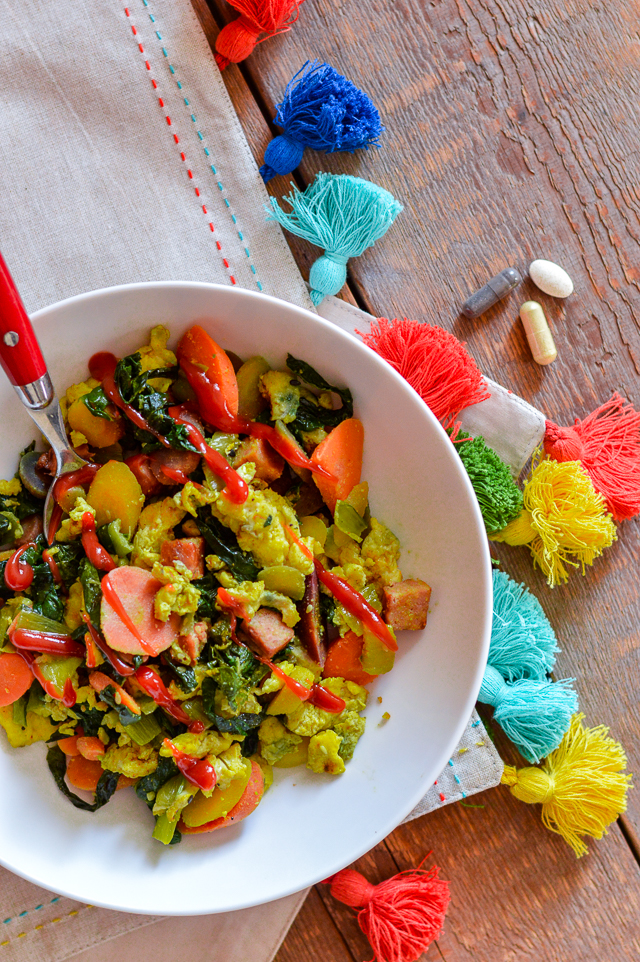 My lunches over the past several weeks have been a lot of leftovers that I meal prepped over the weekend.  This lunch consisted of my Epic breakfast hash, alongside my mid-day supplements.  I take a Vitamin C tablet, a multivitamin, and a probiotic.  I like to incorporate fermented foods into my diet for good gut health, but I have found that kombucha and sauerkraut alone are not enough.  This is where my favorite soil-based probiotic comes in handy!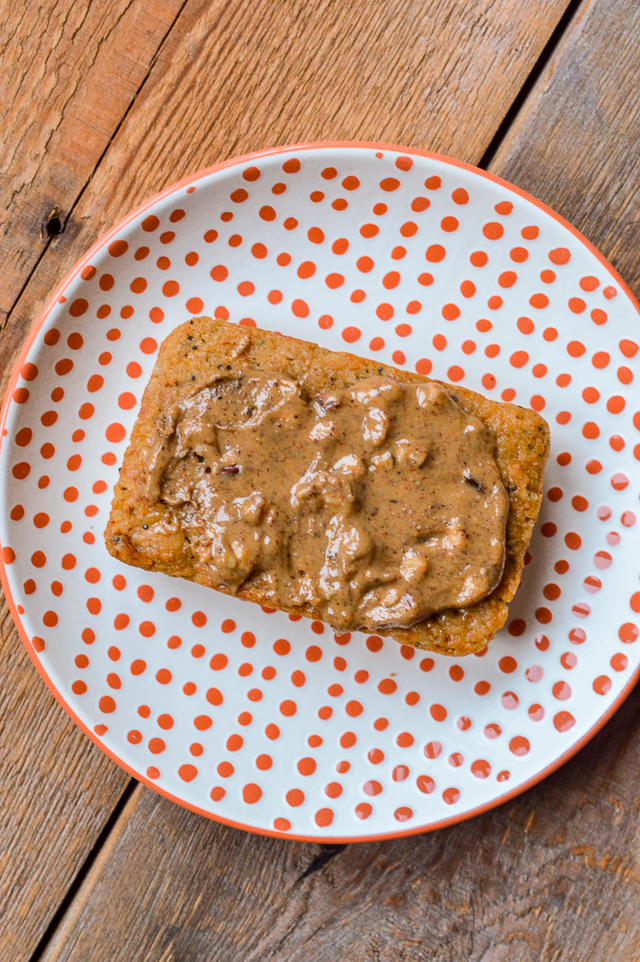 Snack time is one of my favorite times to get extra protein into my diet.  While this may look like just a bar topped with nut butter, there is secret protein hiding inside!  I love mixing a bit of vanilla or chocolate protein powder into my nut butter to up the fullness factor.  This has proven to be especially helpful lately since I am constantly hungry from breastfeeding!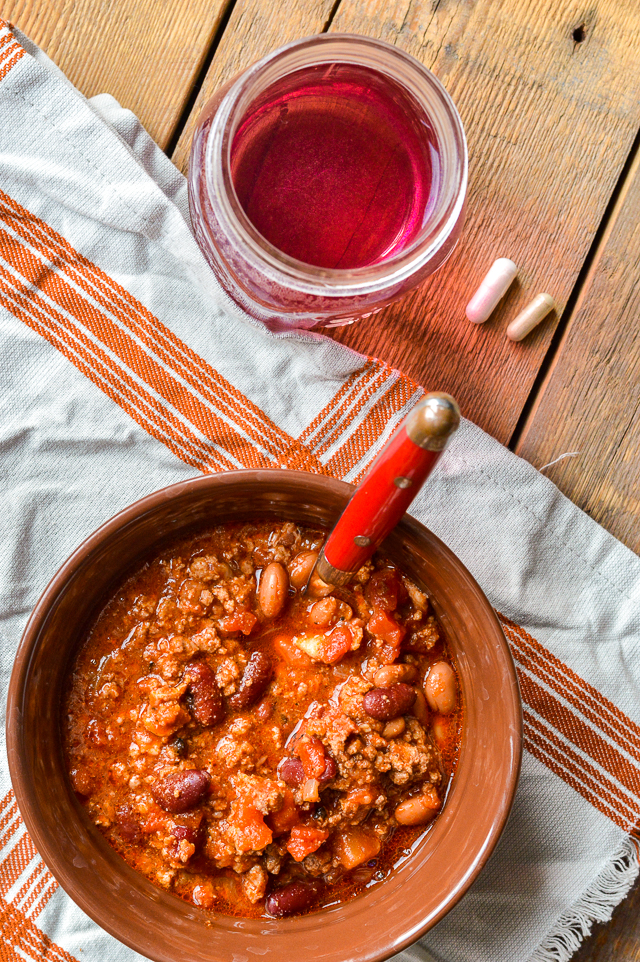 This dinner was bomb.  Is there anything better than homemade chili on a cold night?  I paired my chili with my current favorite drink: water mixed with a grape electrolyte powder.  Staying hydrated while breastfeeding is so important, and I tend to get bored with just plain water.  I love using a healthier electrolyte powder to flavor things up and get extra vitamins and minerals into my day.
I used this delicious drink to wash down my two evening supplements: iron and magnesium glycinate.  My blood levels over the last couple of years have always been low for both iron and magnesium, despite eating a diet rich in both of these elements.  I have also found that my multivitamin alone is not enough to get my levels where they need to be, so I am experimenting with additional supplementation of these two.  I am thinking I may need to up both after my next health check-in.
As of January 2018, this is my supplement routine, but it is always changing based on my most recent blood work.  And now that I have a chronic Lyme diagnosis, I can tell you that it will absolutely be changing again once I am finished breastfeeding.  I imagine you will see a whole lot more herbal supplementation happening, and I will be sure to update you on things when that happens!
Tell me: Which supplements do you incorporate into your week?
My current supplement routine going into the new year! #ad #MyWeekSupplemented
Click To Tweet
I was selected for this opportunity as a member of CLEVER and the content and opinions expressed here are all my own.