The Ultimate Triple Tuna Egg Potato Salad combines potato salad, egg salad, and tuna salad into one dynamic Paleo, gluten-free, and dairy-free lunch or snack option. This healthy and clean salad is also Whole 30-approved.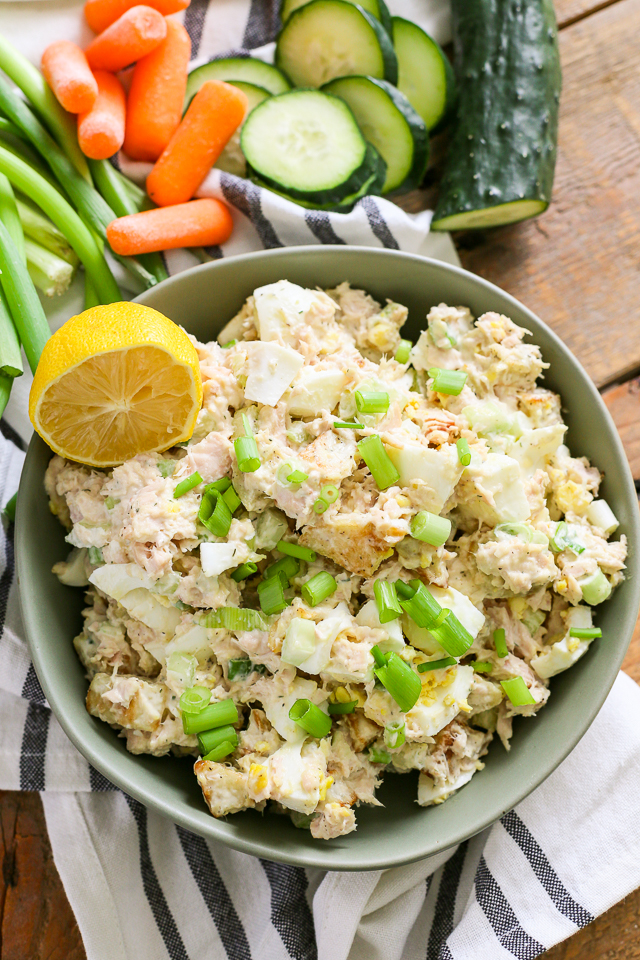 You know that moment when you cannot decide if you want to eat tuna, egg, or potato salad?  No, just me?  Maybe it is just me, but silly little dilemmas like these totally run across my mind on a weekly basis.  #FoodieProblems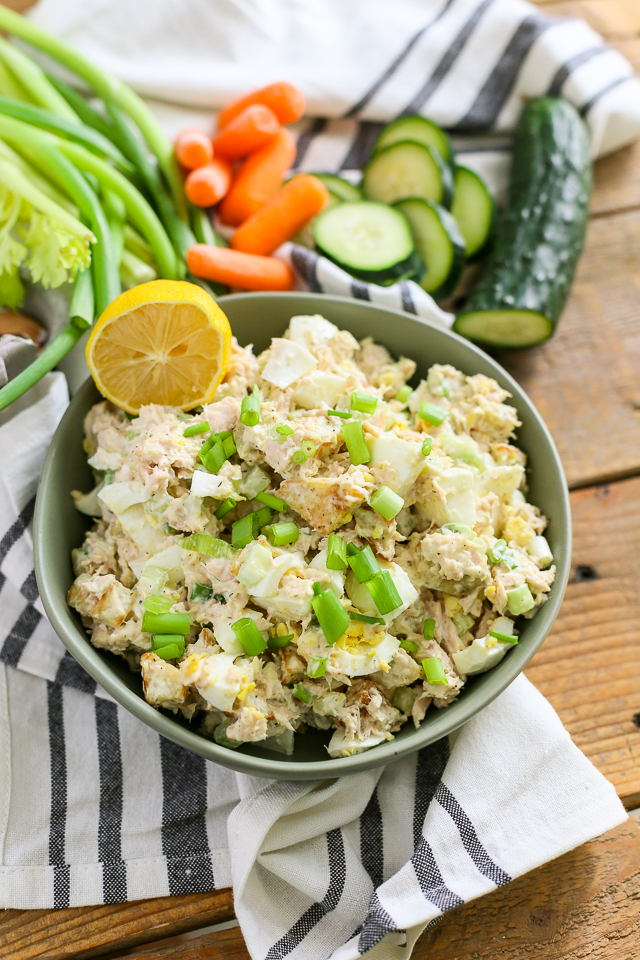 Obviously, the natural solution to this problem is to make all three.  But not separately.  Make all three in one.  I've seen eggs in potato salads.  I've seen tuna in egg salads.  But I have never seen all three together.  So either I have been living under a rock, or tuna egg potato salad isn't normally a thing… yet!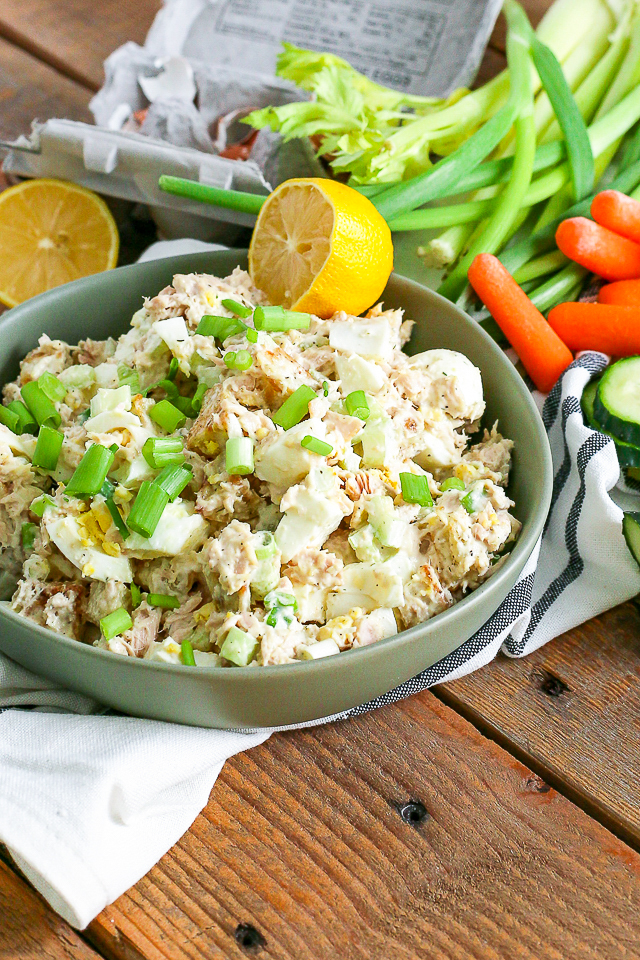 The beauty of each of these salads by themselves is that they tend to share similar accompanying ingredients.  That is why they work so darn well together.  Throw in some celery, green onions, mayo, and seasonings and lunch is done.  I am a big fan of meal prepping this on the weekend for meals at work.
If tuna egg potato salad isn't "off the wall" enough for ya, I put another twist on the classic by roasting my potatoes instead of boiling them.  I did this because I wanted to easily prep my potatoes the night before making this salad, and I just generally love the taste of roasted potatoes.  It was a bit of a risk the first time I made the salad, but it totally worked.
You can absolutely boil your potatoes if that is your thing.  You can also sub out the tuna for chicken if you don't like seafood, or for chickpeas if you are a vegetarian!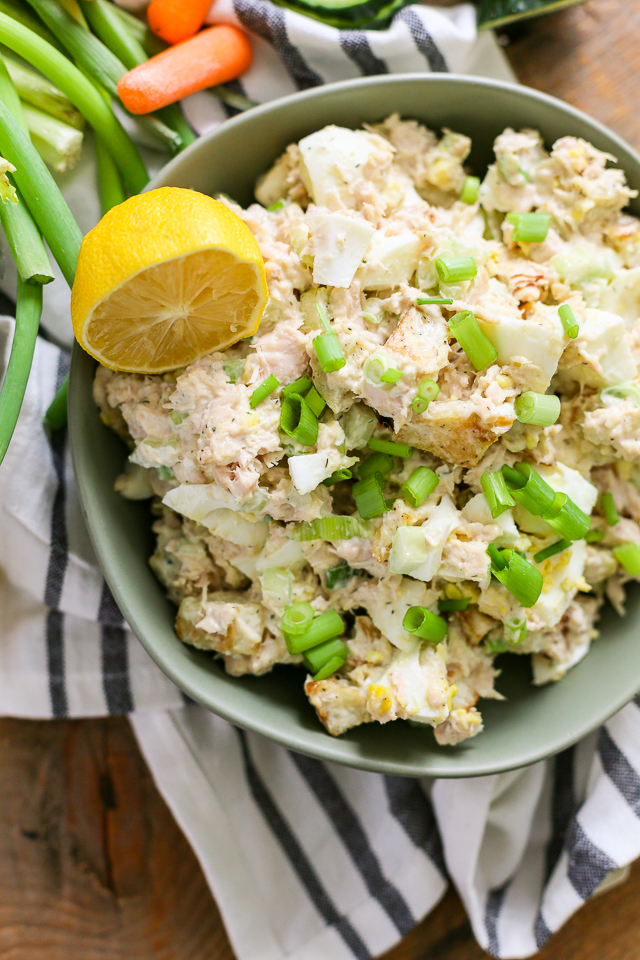 The Ultimate Triple Tuna Egg Potato Salad
Paleo, Whole 30, Gluten-Free, Grain-Free, Dairy-Free, Soy-Free, Nightshade-Free, Pescetarian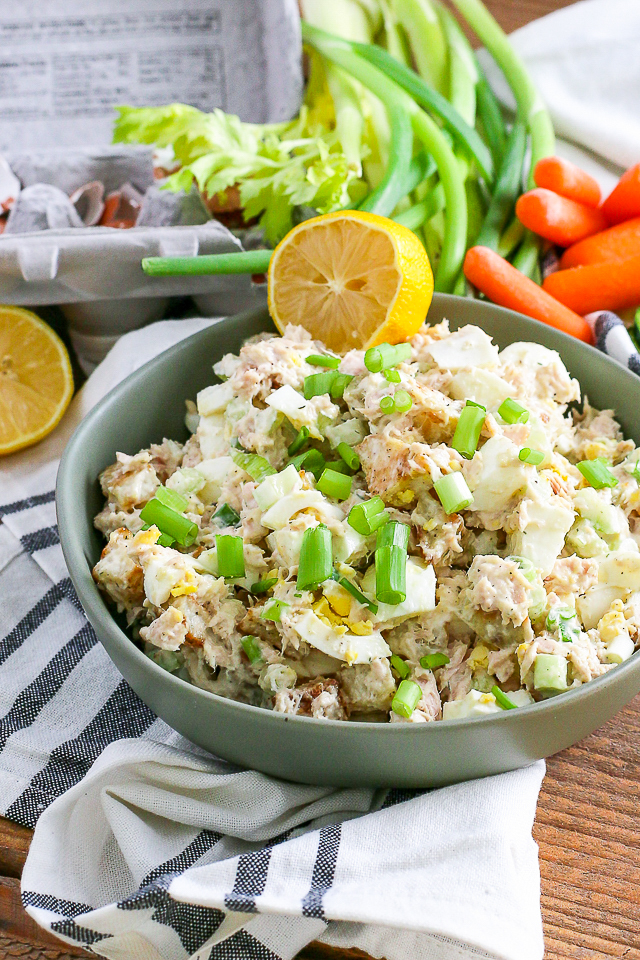 Ingredients
4 large pasture-raised organic eggs
1 pound of small red potatoes, peeled and cubed
2 TB avocado oil
1 tsp fine sea salt
1/2 tsp ground black pepper
1 tsp ground garlic powder
2 5-ounce cans of wild albacore tuna, drained
1/4 cup of diced celery
1/4 cup of sliced green onions
3/4 cup of Paleo-friendly mayo*
1 tsp of fine sea salt
1 tsp of ground black pepper
1/2 tsp of fresh or dried dill
Instructions
Place eggs in a pot and cover with cold water. Bring water to a boil. Once boiling, turn the heat off and cover the pot with a lid. Let the eggs sit for 12 minutes. Remove from the pot and place in an ice bath for at least 5 minutes. Peel, slice, and store in the fridge.
While the eggs are cooking, preheat oven to 400 degrees F. Mix cubed potatoes, avocado oil, salt, pepper, and garlic powder. Place on a parchment paper-lined baking sheet. Roast for approximately 25 minutes, or until golden brown (stir at least once while roasting). Let cool.
Combine eggs, potatoes, tuna, celery, onions, mayo, and spices in a large bowl. Stir until well-combined.
Serve in a grain-free tortilla, on Paleo bread, or with veggies and plantain chips.
Notes
*Primal Kitchen mayo is my favorite!
**I like to cook my eggs and potatoes the night before making the salad.
7.8.1.2
13
https://cleaneatingveggiegirl.com/2018/01/08/ultimate-triple-tuna-egg-potato-salad/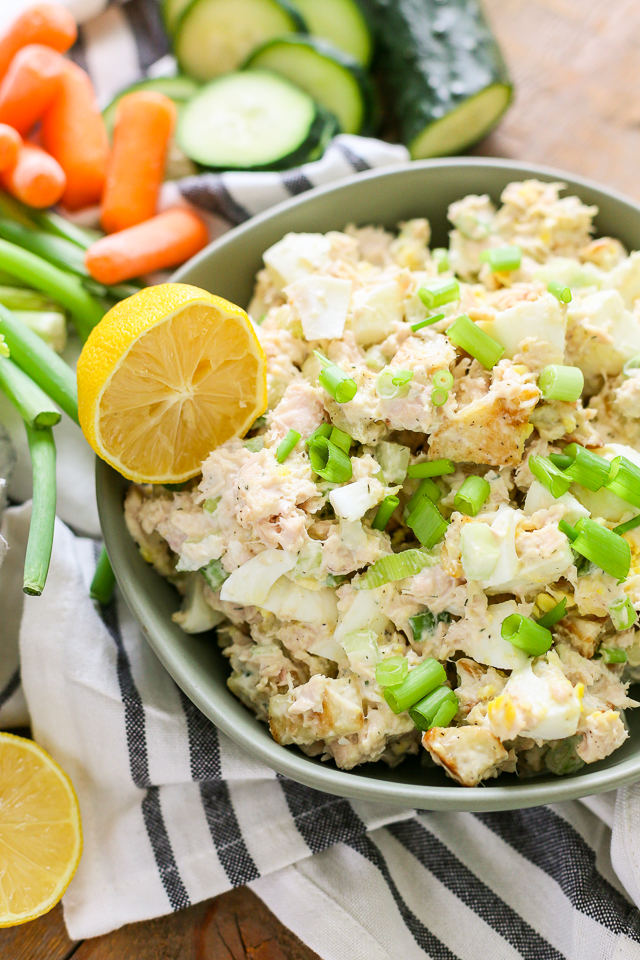 The Ultimate Triple Tuna Egg Potato Salad for a #Paleo lunch! #recipe #glutenfree Click To Tweet