Lemony Kale and Sausage Soup is the perfect gluten-free, dairy-free soup for a cold Fall or Winter night dinner.
Do you know how I can tell  I am a new mom?  Well, besides being overly tired and already having contracted a cold from my son's daycare, my lunches have been looking nothing like they did before I was pregnant.  I used to have "fancy" leftovers from one of the latest recipes I had created and made ON A WEEK NIGHT.  That never happens now.
For the past three months, my lunches have looked more like leftover gluten-free pasta, gluten-free chicken nuggets, and now soup OUT OF A CAN!  Granted, it is Amy's Kitchen brand and organic, but still.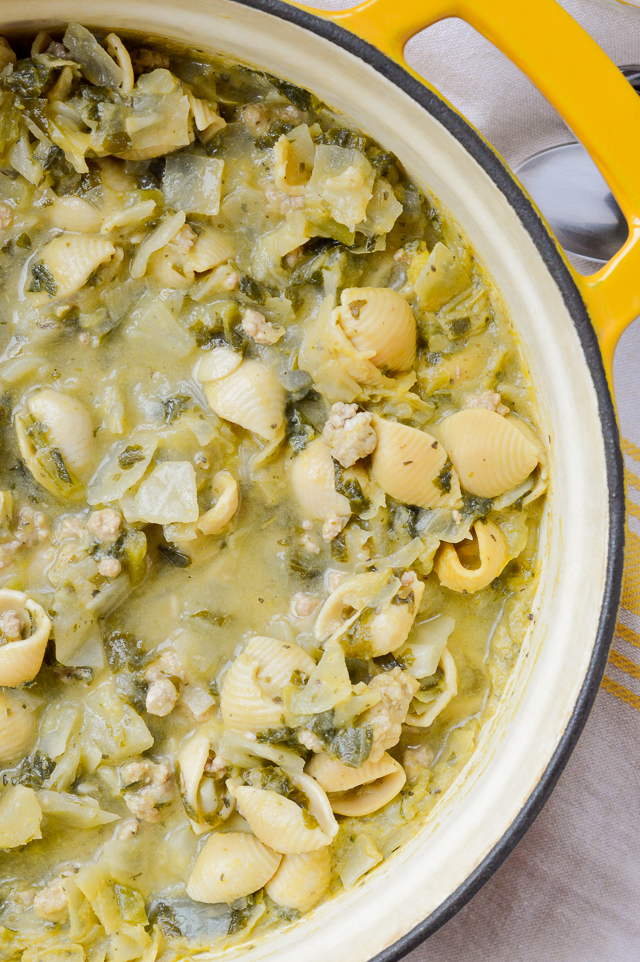 Thank goodness for this 'ole blog, though.  Now that I am starting to get back in the swing of things with recipe creation and writing, I feel like some of my meals might actually be homemade.  Like this Lemony Kale and Sausage Soup.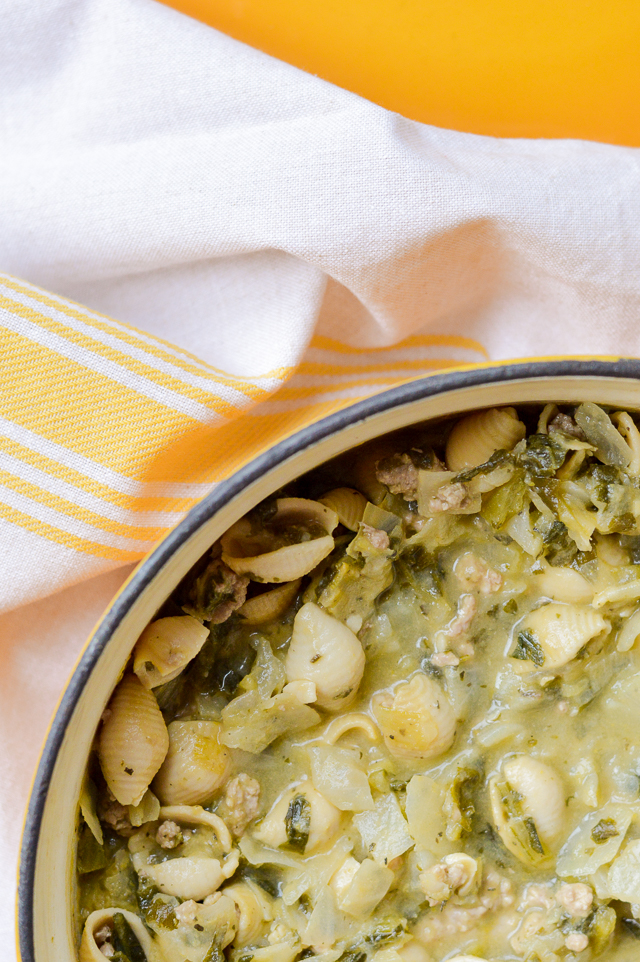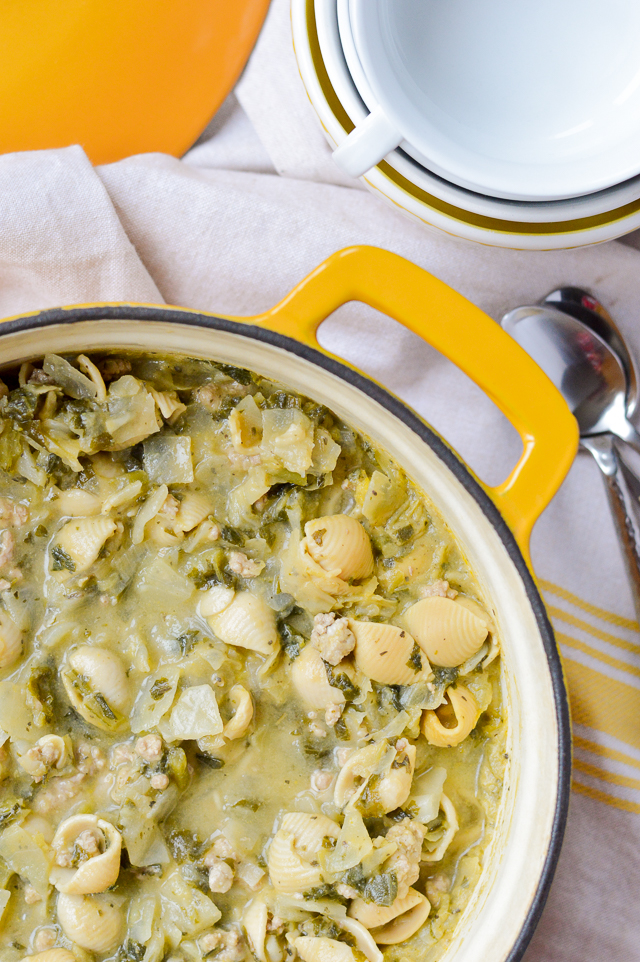 I first made this soup back when I was pregnant and we received fennel in our CSA.  I am generally not a huge fennel fan but did not want to waste it, so I threw it in a soup.  And guess what?  It actually works really well.  Maybe it is the combination of fennel with sausage, or that the acidity of the lemon juice cuts down a bit on the tartness.  Regardless, I am a fan.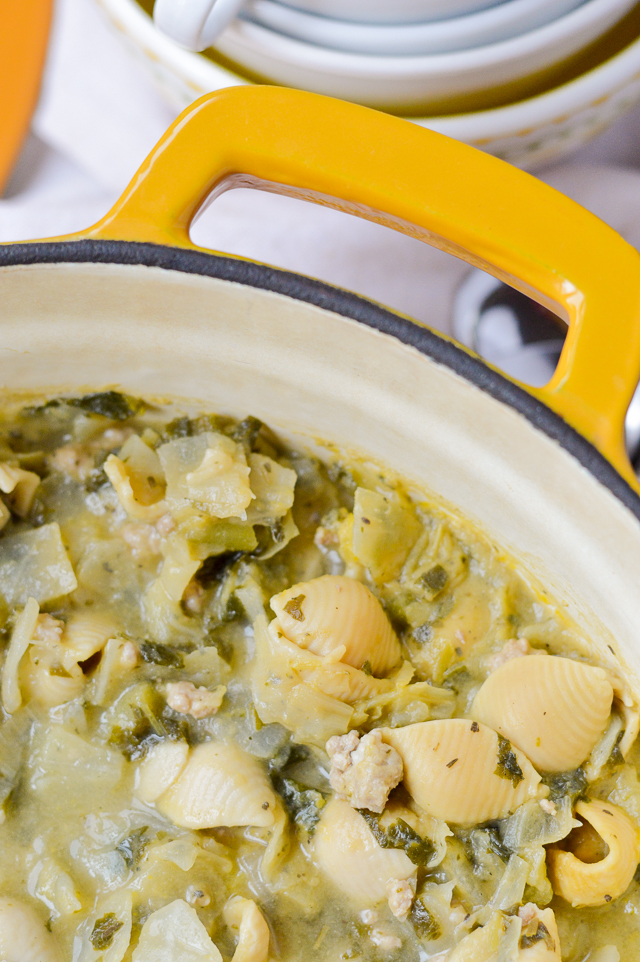 Say hello to my homemade lunch for this week: Lemony Kale and Sausage Soup!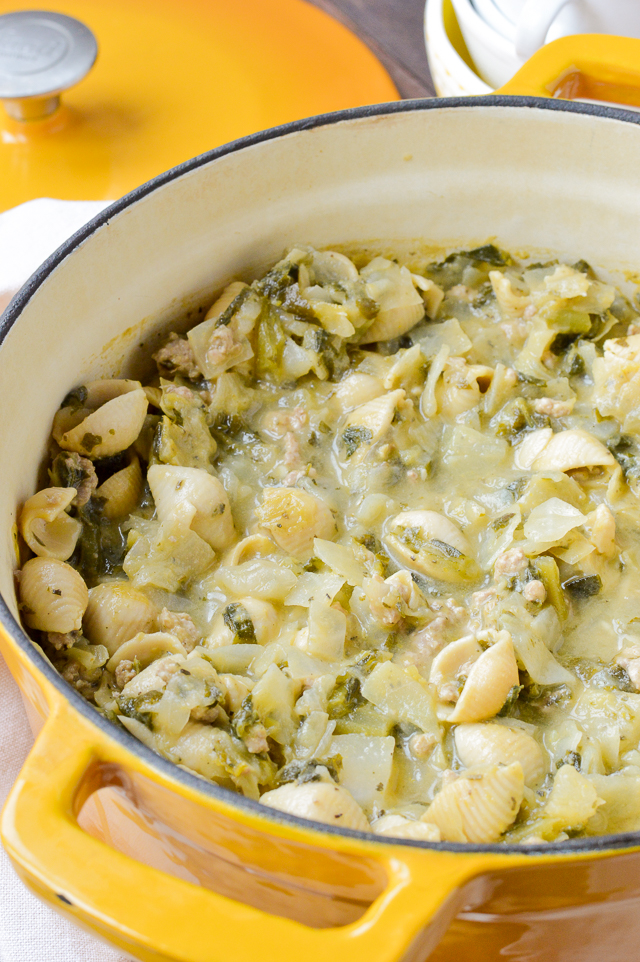 Lemony Kale and Sausage Soup

Gluten-Free, Grain-Free Option, Dairy-Free, Soy-Free, Nightshade-Free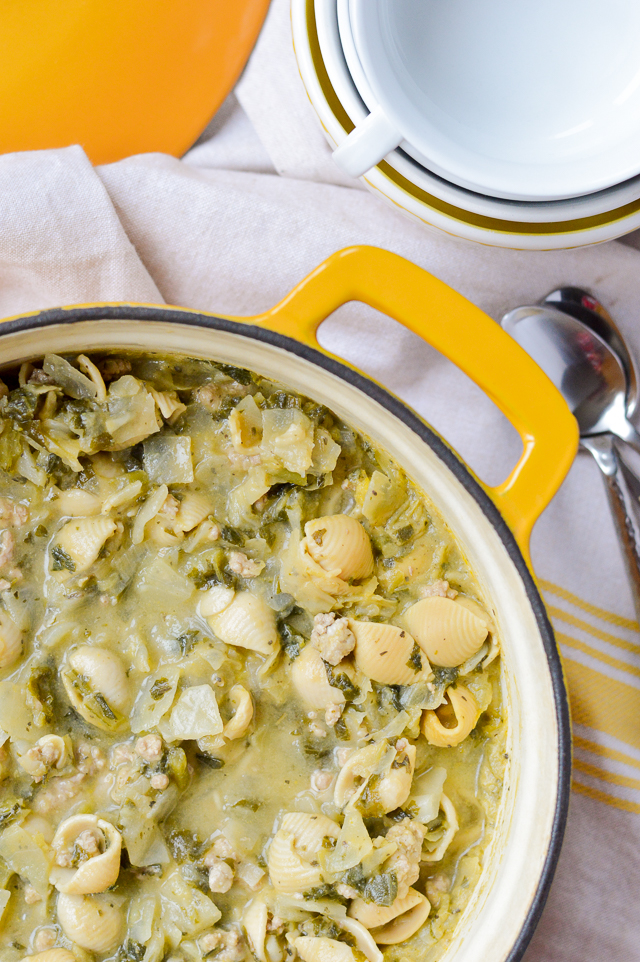 Ingredients
1 pound of organic, pasture-raised ground pork
1 small yellow onion, chopped
1 fennel bulb, chopped (could also use one large leek instead)
1 medium head of green cabbage, chopped
8 cups of organic chicken broth or bone broth
1 TB of dried thyme
1 TB of dried garlic powder
2 tsp of dried onion powder
2 tsp of dried basil
2 tsp of fine sea salt
1 tsp of dried rosemary
1 tsp of dried parsley
8 ounces of gluten-free shell or elbow pasta (I used the Banza brand for grain-free)
1 cup of frozen or 2 cups of fresh kale, chopped
the juice from one small lemon
Instructions
In a large soup pot or dutch oven over medium heat, brown ground pork and onion. I cooked mine for approximately 10 minutes.
Stir in fennel or leek and green cabbage. Cook for an additional five minutes.
Add chicken broth and seasonings. Raise the heat to medium-high and bring to a boil. Once boiling, lower the heat to medium-low, cover, and simmer for approximately 45 minutes. Stir occasionally.
Raise heat to medium-high and bring to a boil. Stir in pasta and kale. Cook for approximately 10 minutes, or until the pasta is cooked through.
Add lemon juice, to taste.
7.8.1.2

10

https://cleaneatingveggiegirl.com/2017/11/14/lemony-kale-and-sausage-soup/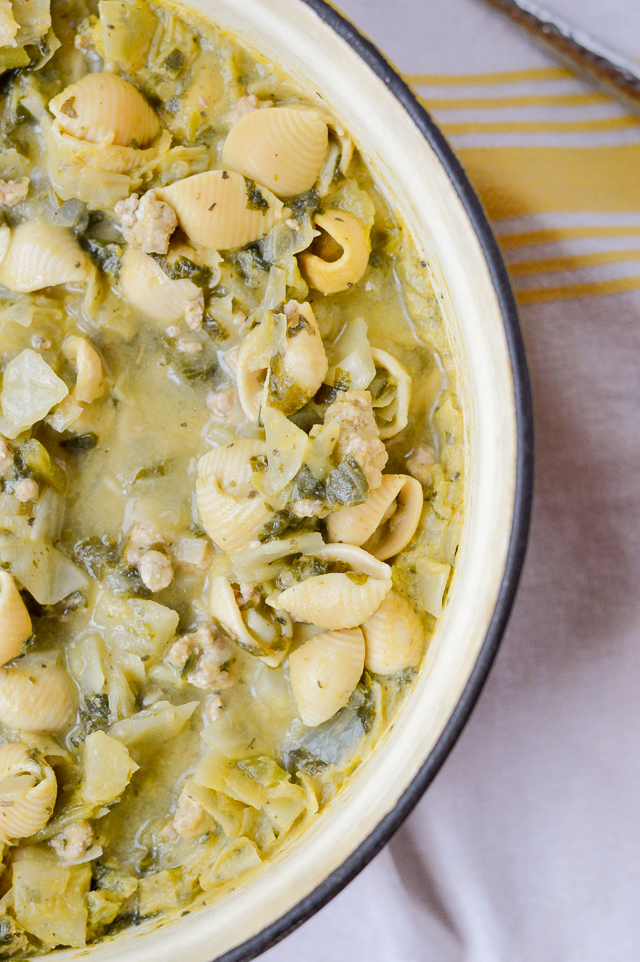 Be sure to pin this recipe for Lemony Kale and Sausage Soup using the share buttons below!
A Lemony Kale and Sausage Soup perfect for cold #fall nights! #glutenfree #soup
Click To Tweet