Chicken Sausage and Vegetable Foil Packets are perfect for the grill. They're Paleo, gluten-free, dairy-free, healthy, and easy!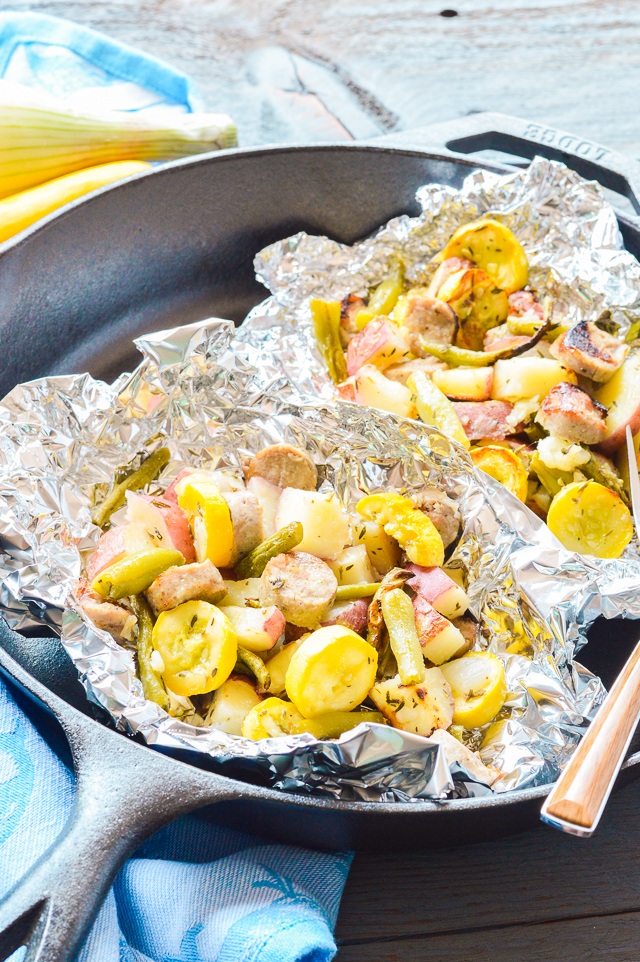 I haven't been this excited about a recipe in a long time.  For one, it is healthy, balanced, and delicious.  But most importantly, it is extremely easy to prepare and cook, which is at the top of my list for important recipe features at 40 weeks pregnant.  It is also even better when you have a husband that grills it for you in 90 degree weather.  Because clearly I'd rather be sitting in the air conditioning with my feet up!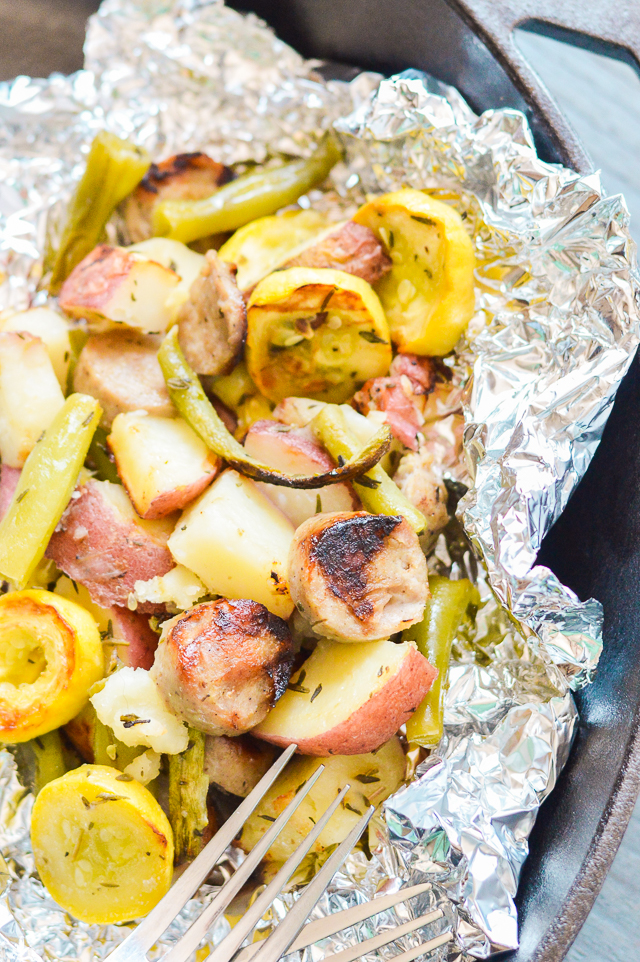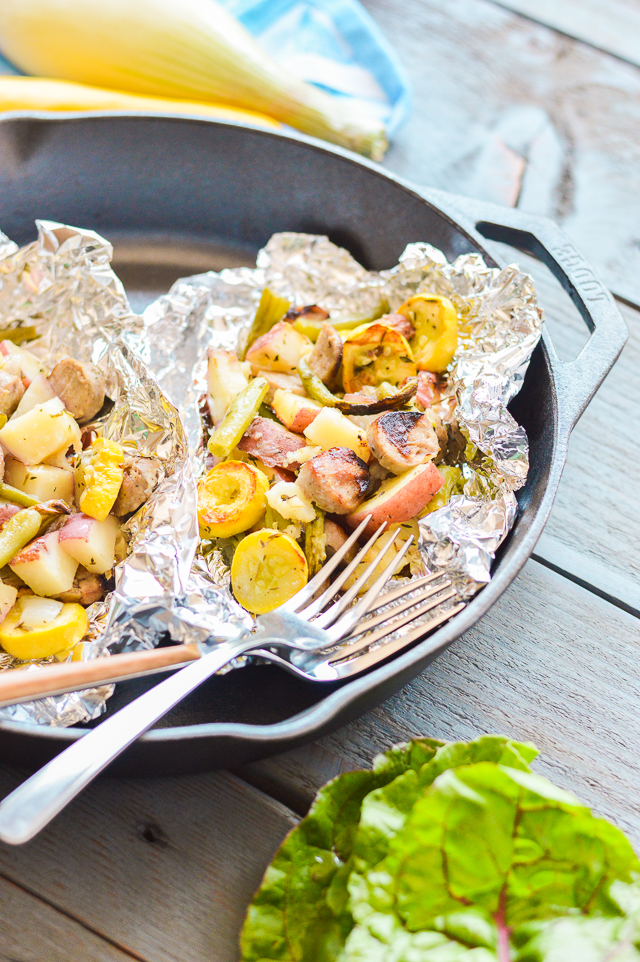 Jeremy and I have made this at least three times so far this Summer, and I have found that my favorite veggies to include in the packets are baby potatoes, fresh green beans, onions, and yellow squash.  But guess what?  You can totally change this up in whatever way you'd like.  I'm thinking sweet potatoes, peppers, and zucchini would all work so well in these foil packets.
As for the sausage, feel free to use whatever floats your boat.  My personal favorite these days is skinless chicken and apple sausage.  I am definitely bothered by strange textures, and sausage casing just really does nothing for me.  Plus, the skinless sausages are way easier to cut and prep, so it's a win-win.
Chicken Sausage and Vegetable Foil Packets
Paleo Option, Gluten-Free, Grain-Free, Dairy-Free, Soy-Free, Nightshade-Free, Nut-Free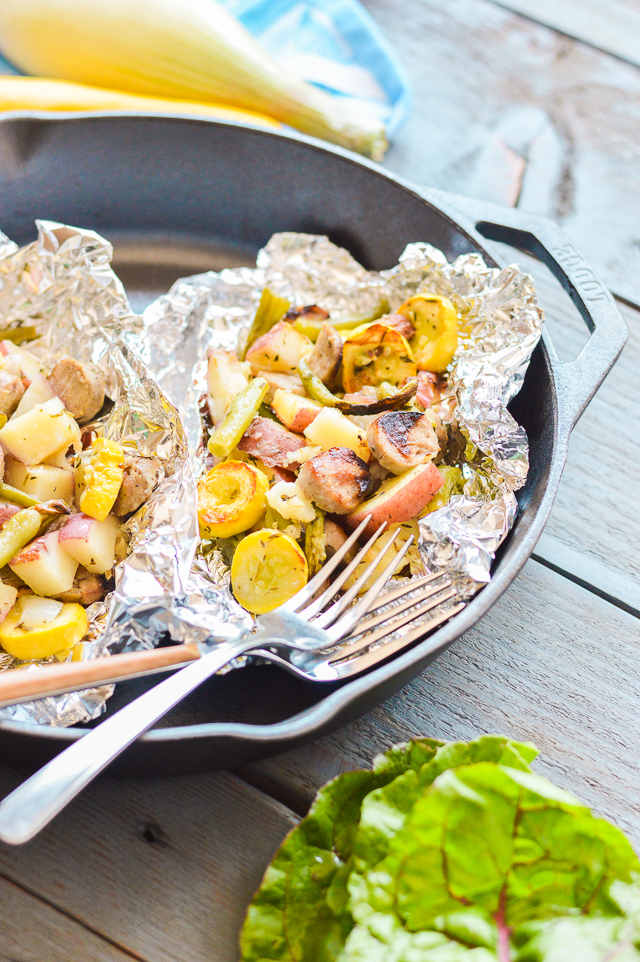 Ingredients
1 LB of organic baby red potatoes, quartered
2 small organic yellow squash, coined
1 1/2 cups of organic green beans, ends trimmed*
1 small organic yellow onion, diced
4 organic chicken sausages, sliced
2 TB of ground thyme
1 tsp of fine sea salt
1 tsp of ground garlic powder
1 tsp of onion powder
4 TB of organic ghee or grassfed butter, separated
Instructions
Preheat the grill to high heat.
Combine potatoes, squash, green beans, onion, and chicken sausage in a large bowl.
Add spices and stir to combine.
Divide mixture onto six to eight sheets of foil. Add 1/2 TB of ghee or butter to each foil packet. Fold up the ends of the foil packet. Wrap in a second sheet of foil to secure.
Grill for approximately 30 to 35 minutes, or until the vegetables are fork tender.
Notes
*Sub in zucchini or peppers in place of green beans for Paleo option.
7.8.1.2
6
https://cleaneatingveggiegirl.com/2017/07/16/chicken-sausage-and-vegetable-foil-packets/
Chicken Sausage and Vegetable Foil Packets are perfect for Summer! #recipe #Paleo #glutenfree Click To Tweet