A super easy Chicken and Veggie Bean Bake that requires minimal prep and only one pan!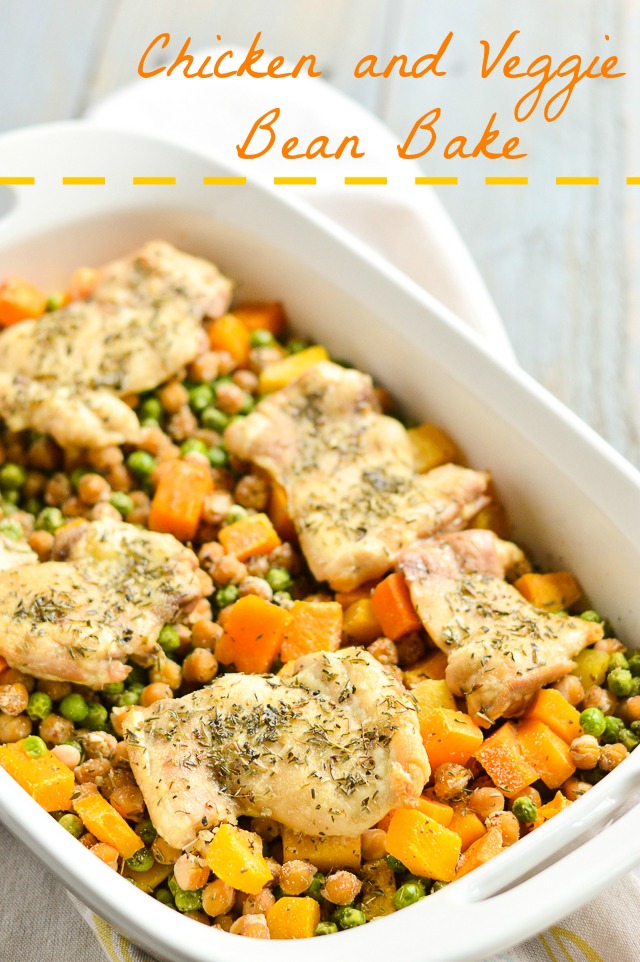 This may just be the pregnancy brain speaking, but I honestly don't always love cooking.  Shocking, right?  But in fact, I'd say I only truly enjoy the cooking experience about half of the time.  The other times it just feels like something that has to be done in order to avoid eating every single meal out and spending our entire monthly budget on food.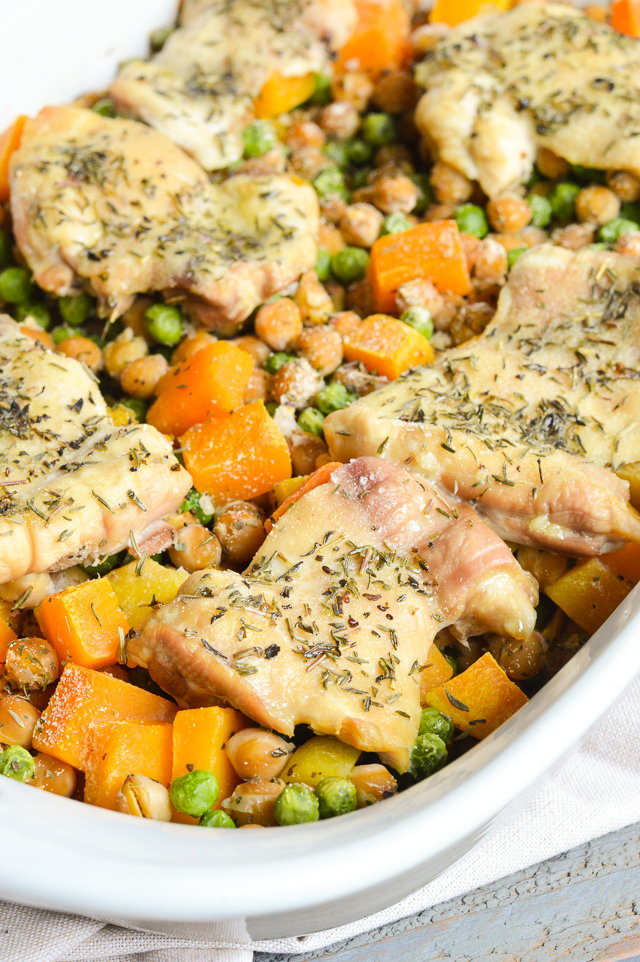 In reality, cooking just isn't my jam sometimes.  It's on those kind of days when recipes like this one are true lifesavers.  This Chicken and Veggie Bean Bake has become a staple in our household over the past year and for good reason.  It requires one casserole dish, less than ten minutes to prep, and zero chopping.  That's right.  No chopping (one of my least favorite parts about cooking)!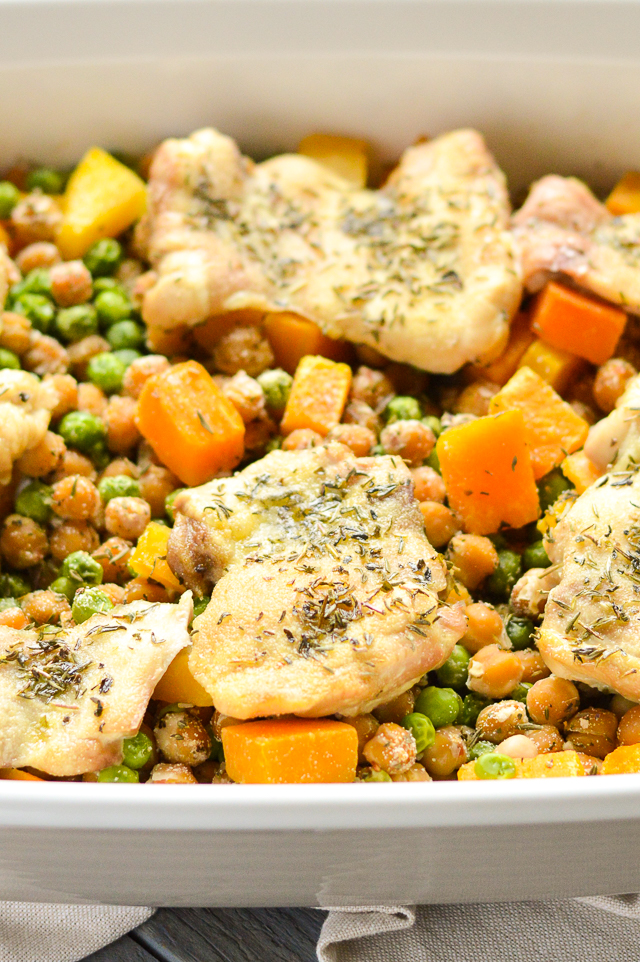 Are you sold yet?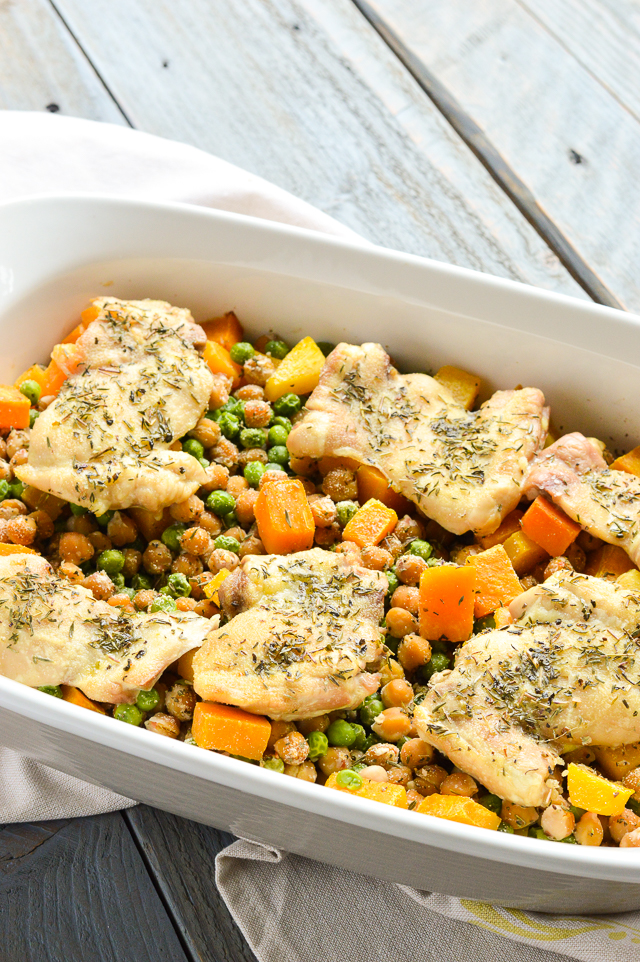 What if I told you that it is 100% husband approved?  And that he actually requests that I make this!  Heck, now that I think about it, this is so easy that he should start making it for me, don'tcha think?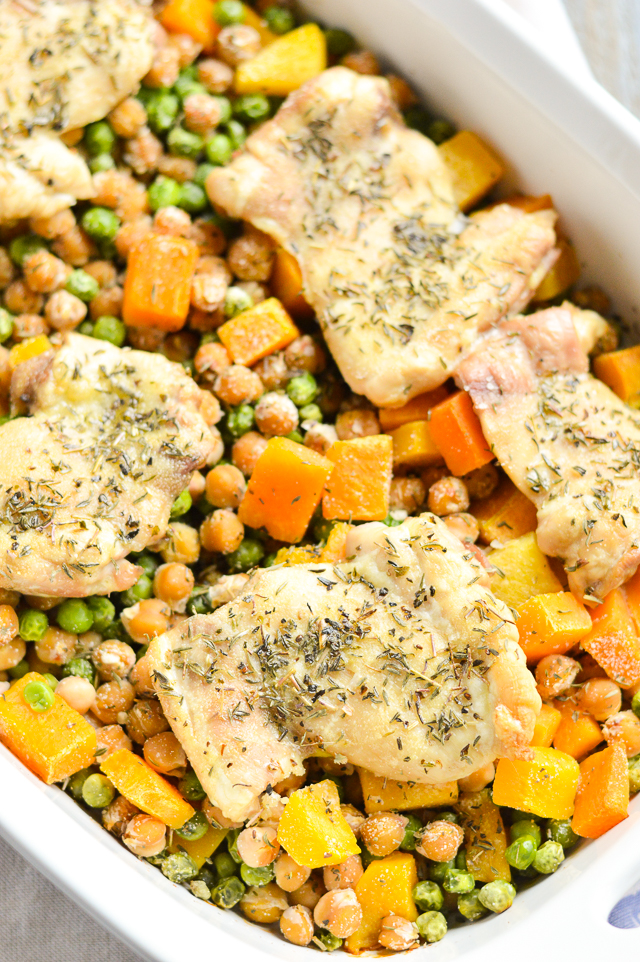 Chicken and Veggie Bean Bake
Gluten-Free, Grain-Free, Dairy-Free, Nightshade-Free, Soy-Free
*Slightly adapted from this recipe.
Serves 4
Ingredients
2 15 oz cans of organic chickpeas, drained and rinsed
1 10 oz package of frozen organic green peas
1 10 oz package of frozen organic chopped butternut squash (sweet potatoes work great, too)
1 TB dried thyme
1/2 TB dried basil
2 tsp onion powder
2 tsp dried minced onion
1 tsp fine sea salt
1 LB of organic, pasture-raised boneless, skinless chicken thighs
1-2 TB extra virgin olive oil
additional seasonings for topping, as desired
Directions
1. Preheat oven to 375 degrees F.  Add chickpeas, peas, butternut squash, and spices to a large 9 x 13 casserole dish.  Stir to combine.
2. Place chicken thighs on top of beans and vegetables.  Rub chicken with extra virgin olive oil.  Sprinkle additional seasonings (about 1 tsp each) on top of chicken.
3. Bake uncovered for approximately 35 to 45 minutes, or until the chicken is cooked through and the beans and veggies are a bit crispy.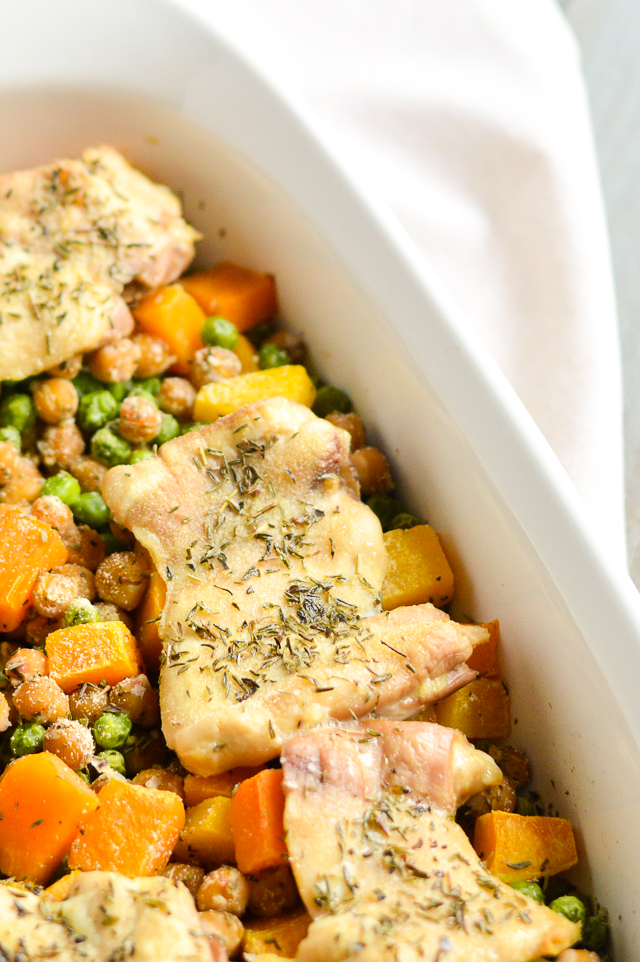 A Chicken and Veggie Bean Bake that requires ZERO chopping! #recipe #glutenfree #healthy Click To Tweet