Grain-Free Beef and Plantain Enchiladas are perfect for Mexican night, Taco Tuesday, and Summertime.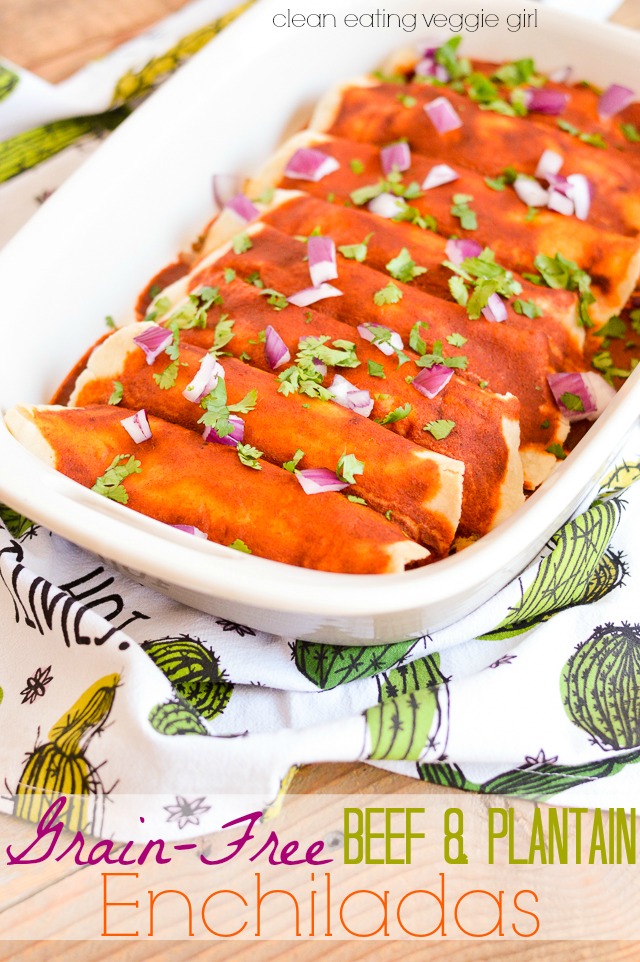 Here I am showing up late to the Cinco de Mayo party.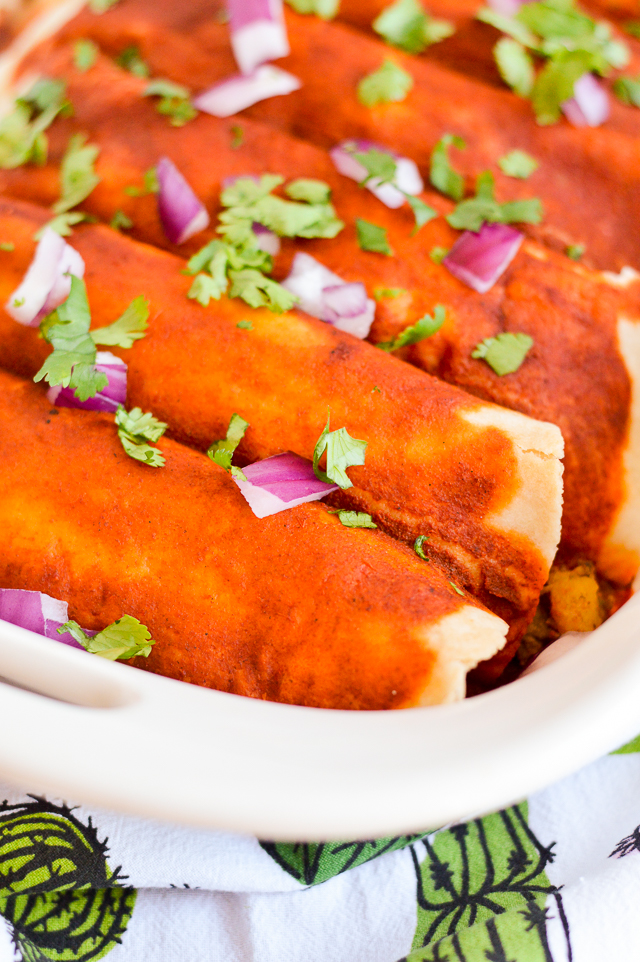 It never fails that I always post holiday-ish recipes after the actual holiday occurs.  Well, except for that one time when I made this in preparation for the 4th of July.  Which, by the way, you should totally make this Summer.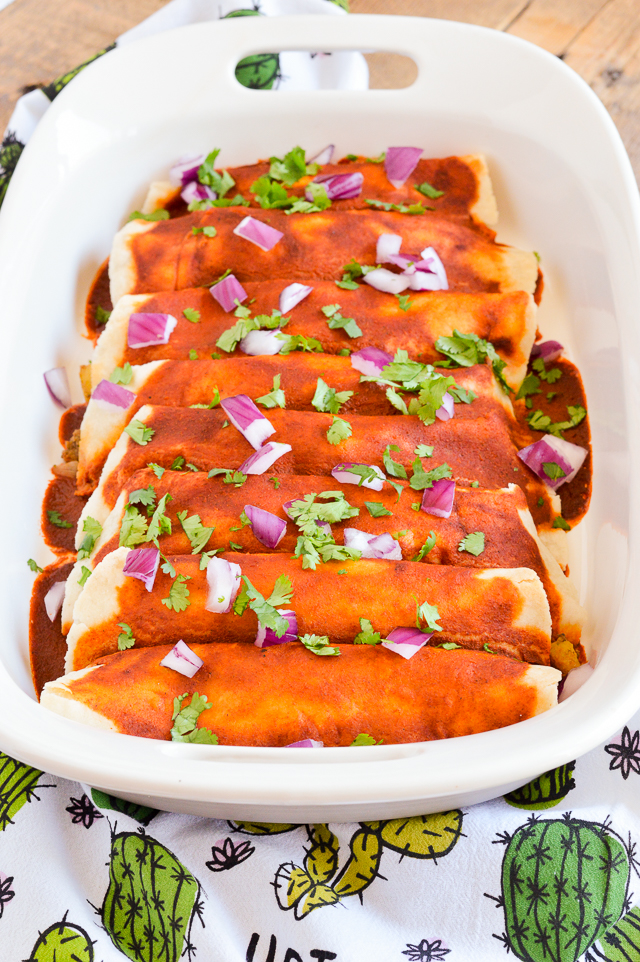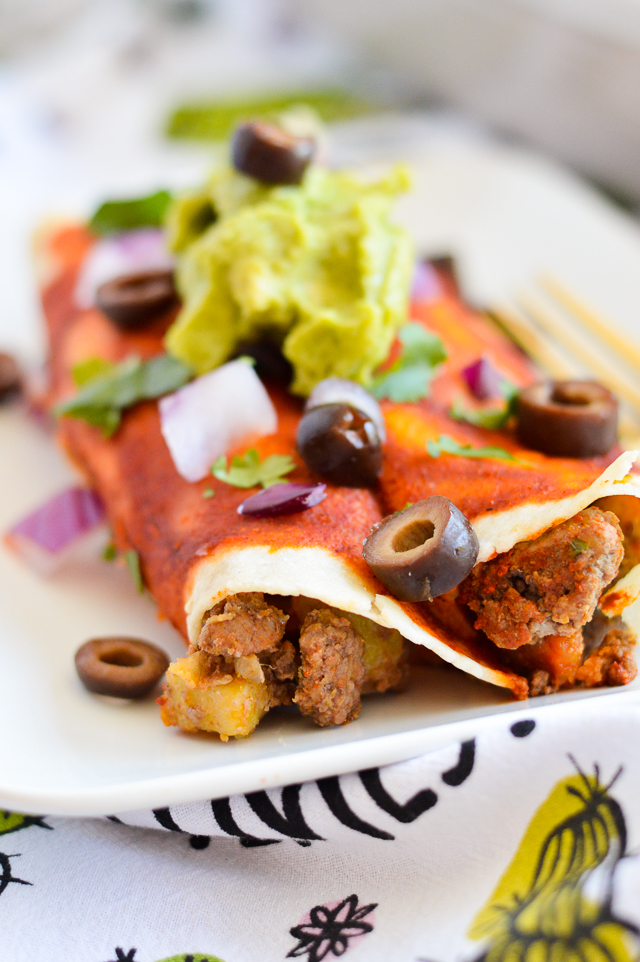 The truth of the matter is that I really have no excuse whatsoever as to why I didn't post this last week since it has been moved around in my blogging editorial calendar for over six months now.  That's right.  I've been wanting to share this recipe for more than half of a year.  But then morning sickness happened.  And laziness.  Mostly laziness.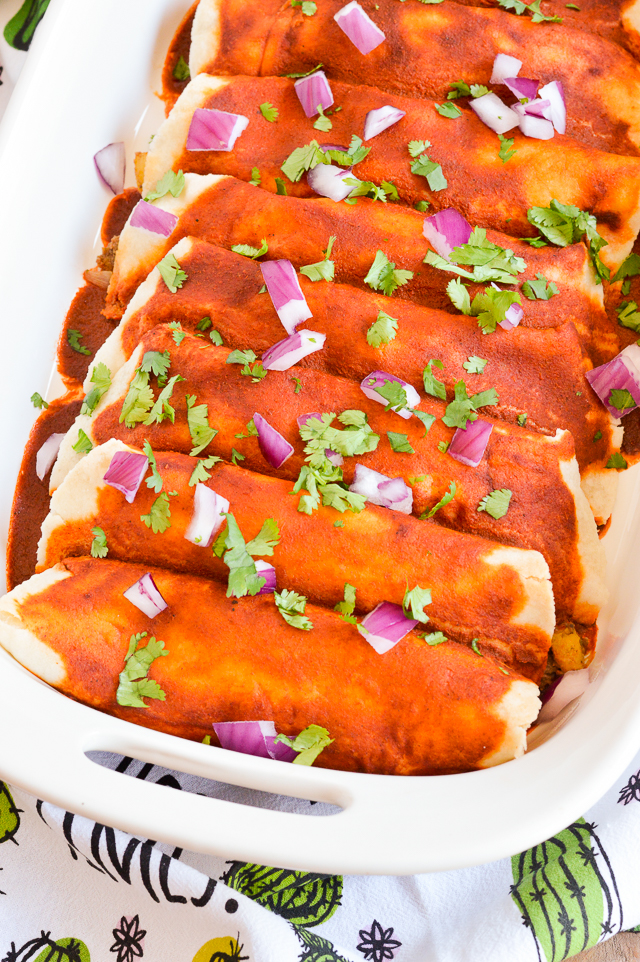 Since it was so long ago, I honestly have zero recollection of how this recipe idea came to be.  I imagine I was probably eating fried plantains in some sort of Mexican-ish way and thought, "hmm, I should totally shove these in some enchiladas!"  I swear, my finest ideas generally come from other food experiences.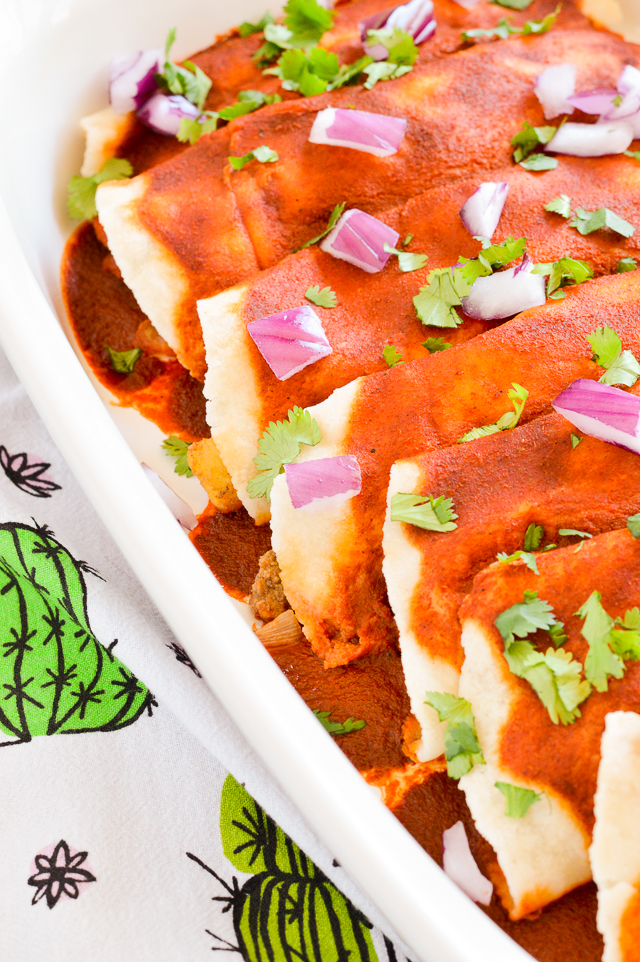 Regardless, you should make these.  And P.S. feel free to throw in some cheese if that is your thing.  Though my cheese-loving husband gave these two thumbs up and did not say a single thing about adding cheese.  So it's clearly 100% optional.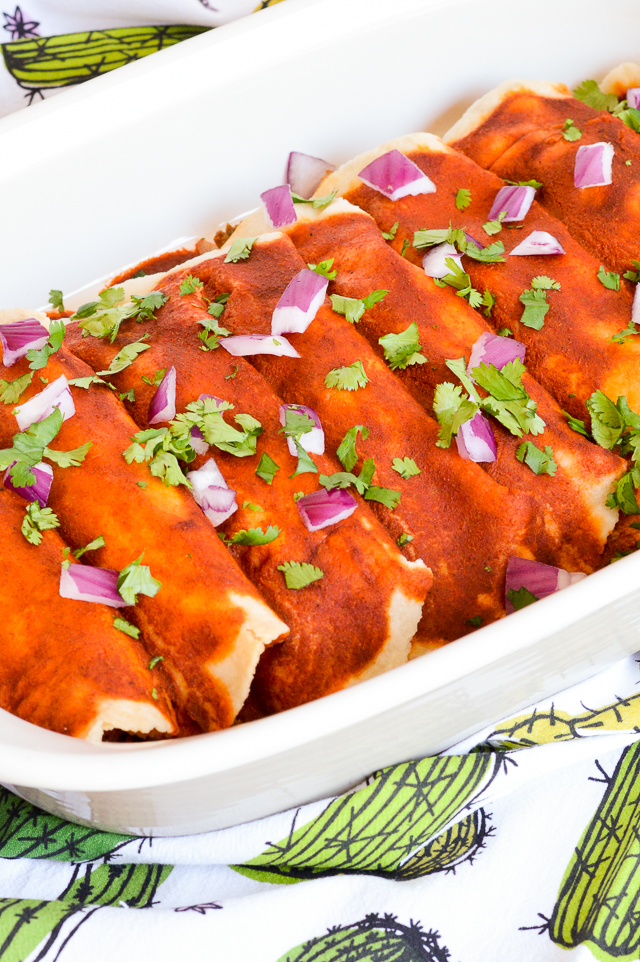 Grain-Free Beef and Plantain Enchiladas
Paleo, Gluten-Free, Grain-Free, Dairy-Free, Soy-Free, Nut-Free Option
Serves 4
Ingredients
1 pound of organic, grass-fed ground beef
1/2 of a medium yellow onion, diced
1 large or 2 small plantains, peeled and chopped into 1/4-inch pieces (green if you want all savory or yellow if you want a sweet and savory combo)
1 tsp of garlic powder
1 tsp of onion powder
1/2 tsp of fine sea salt
1/4 cup of packed fresh cilantro, chopped
1 8oz package of Frontera red chile enchilada sauce
8 grain-free tortillas (or these for a nut-free version)
desired toppings: extra cilantro, onion, guacamole, black olives, cheese
Directions
1. Preheat the oven to 350 degrees F.  Add beef, onion, and plantains to a large skillet and cook over medium heat until the beef is browned and the onion and plantains are cooked through.  As long as your beef is 85% lean or less, it will give off enough fat in the cooking process that you do not need oil.  If you are using extremely lean beef or sub in ground turkey, I'd recommend starting with a tablespoon or two of your favorite cooking oil.
2. Season the beef and plantains with garlic powder, onion powder, and salt.  Stir in fresh cilantro and 1/4 cup of the enchilada sauce.
3. Heat tortillas in the microwave for 30 seconds, or until they fold easily.  Scoop 1/8 of the mixture into each tortilla, roll into enchiladas, and place seam-side down in a large baking dish.
4. Pour remaining enchilada sauce over top and bake for 15 minutes.
5. Serve with desired toppings.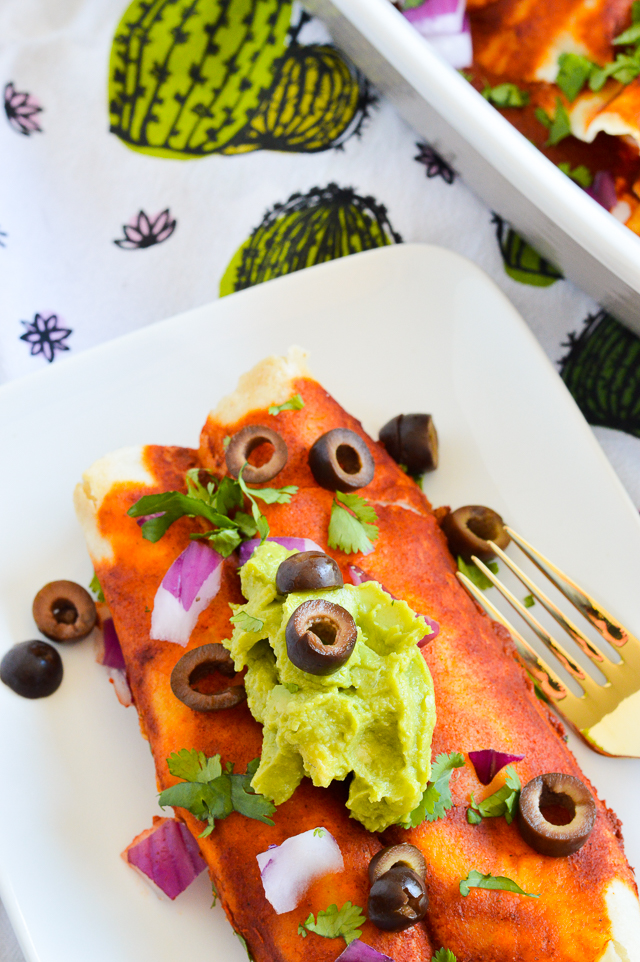 #CincodeMayo a bit late with these Grain-Free Beef and Plantain Enchiladas! #glutenfree #recipe Click To Tweet
This post contains affiliate links.  Thank you for supporting CEVG and enabling me to continue working towards better health!