These Paleo Fruit Pizza Bars are the perfect healthier dessert recipe for the Fourth of July and all of your Summer barbecues!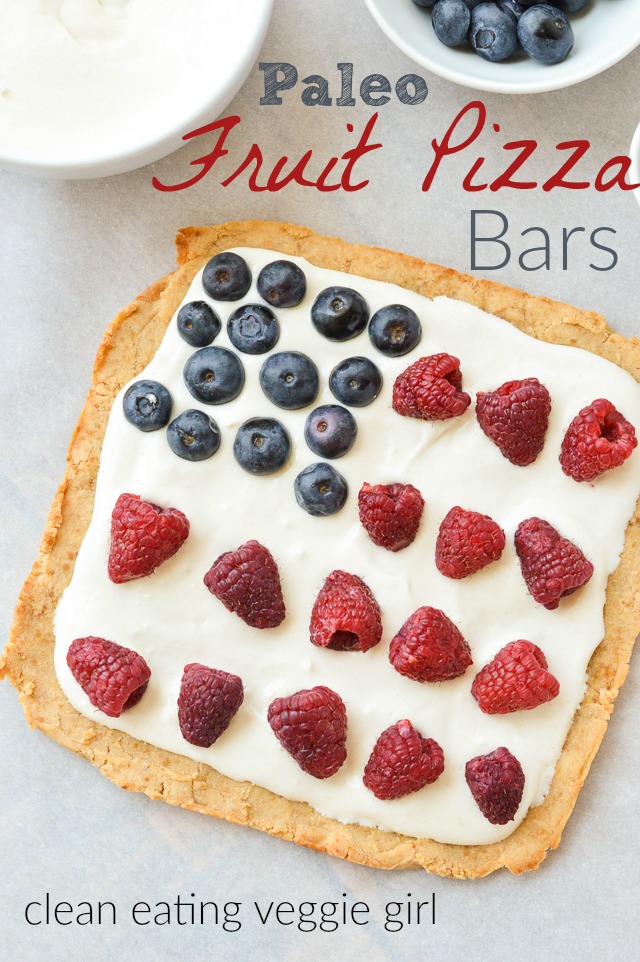 America.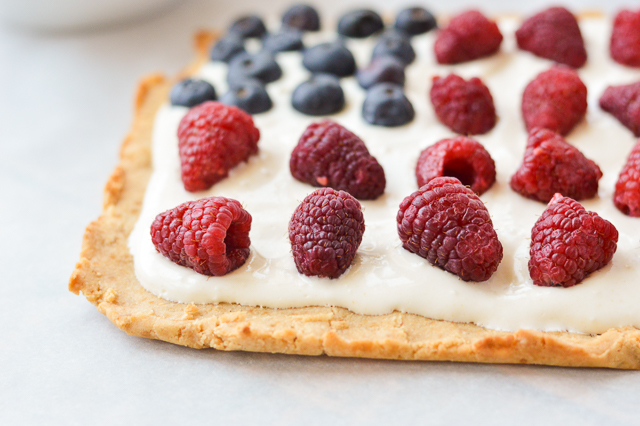 Am I right?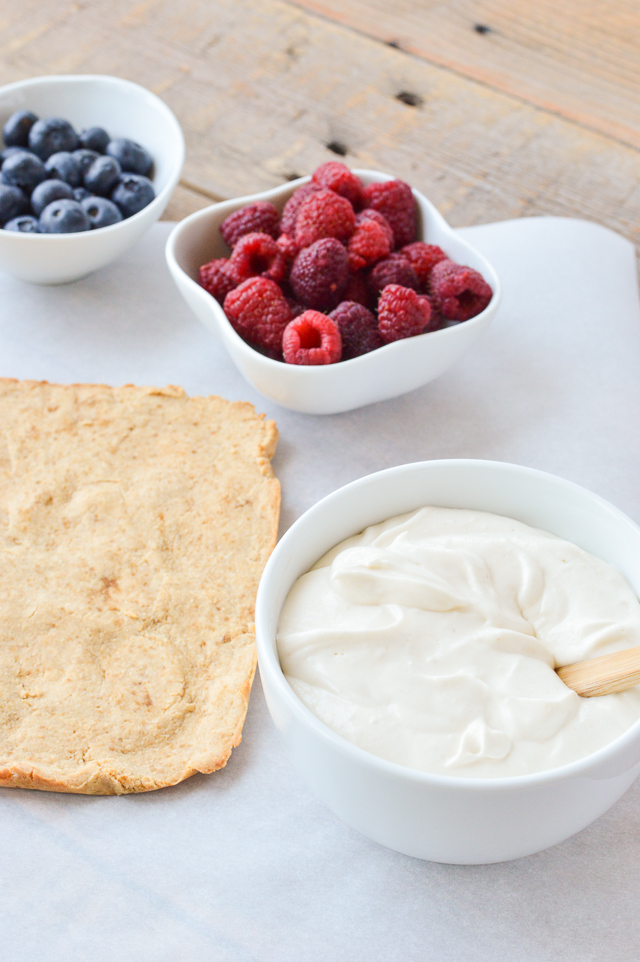 Looking at this Paleo fruit pizza just makes me so darn happy.  It makes me think of Summer, freedom, friends, family, and- to be honest- really good barbecue food.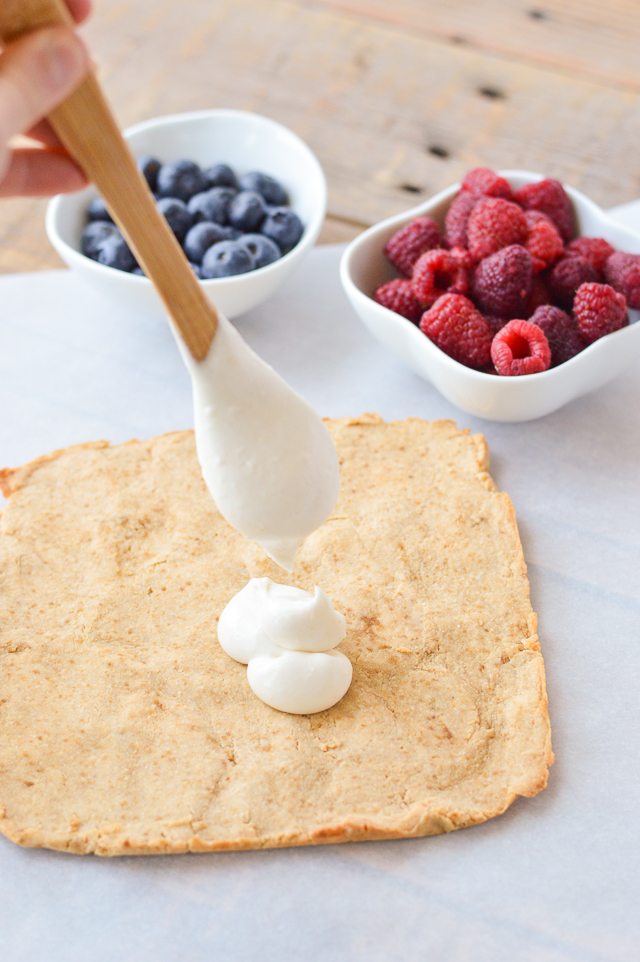 And of course the biggest barbecues of the year are those that happen on the 4th of July.  Let's be honest, the food is just about as important as the fireworks.  If not more important.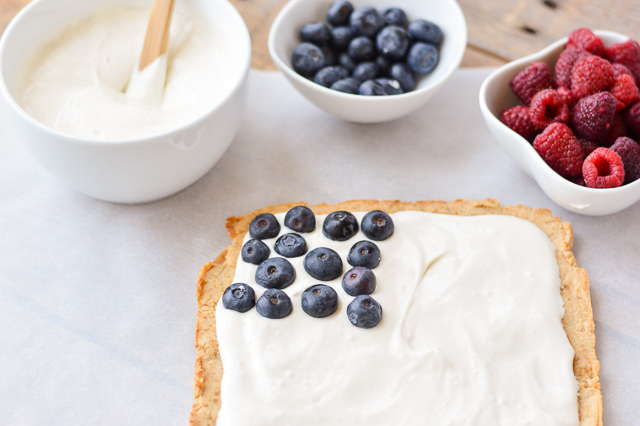 Eating a mostly Paleo diet is actually quite easy when it comes to grilling out.  Burgers?  Check.  Veggie kabobs?  Check.  Fresh fruit?  Check.  It is totally possible to have a perfectly Paleo 4th of July.  But even a perfectly Paleo barbecue isn't quite right unless there is a dessert option, too.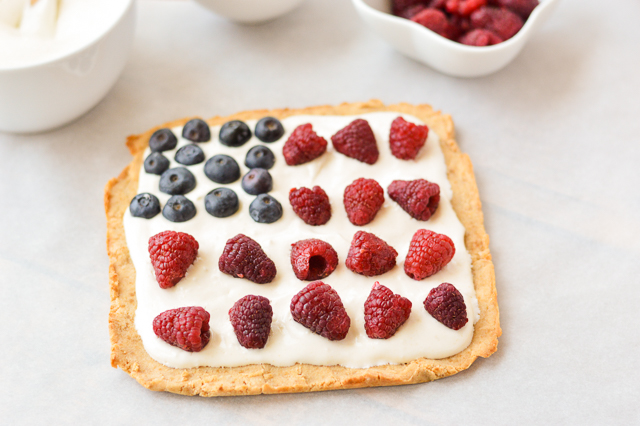 I definitely believe that one of the best Summertime desserts (other than ice cream) is fruit pizza.  It's fresh.  It's colorful.  And it's even a little bit healthy when topped with organic fruit.  At least that is what we are telling ourselves, right?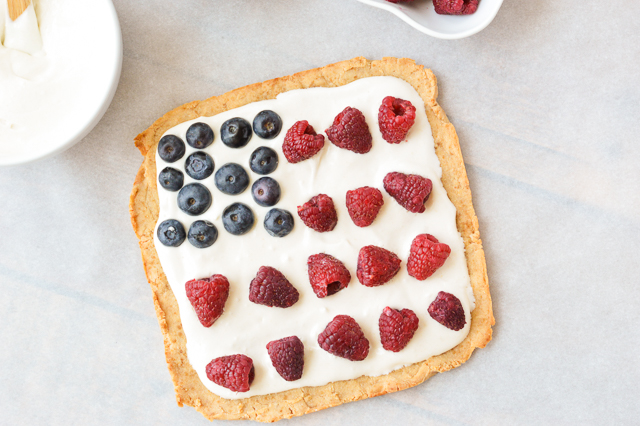 Obviously your traditional fruit pizza isn't exactly gluten-free, dairy-free, or refined-sugar-free.  Luckily, this one is, so you can indulge your little heart out.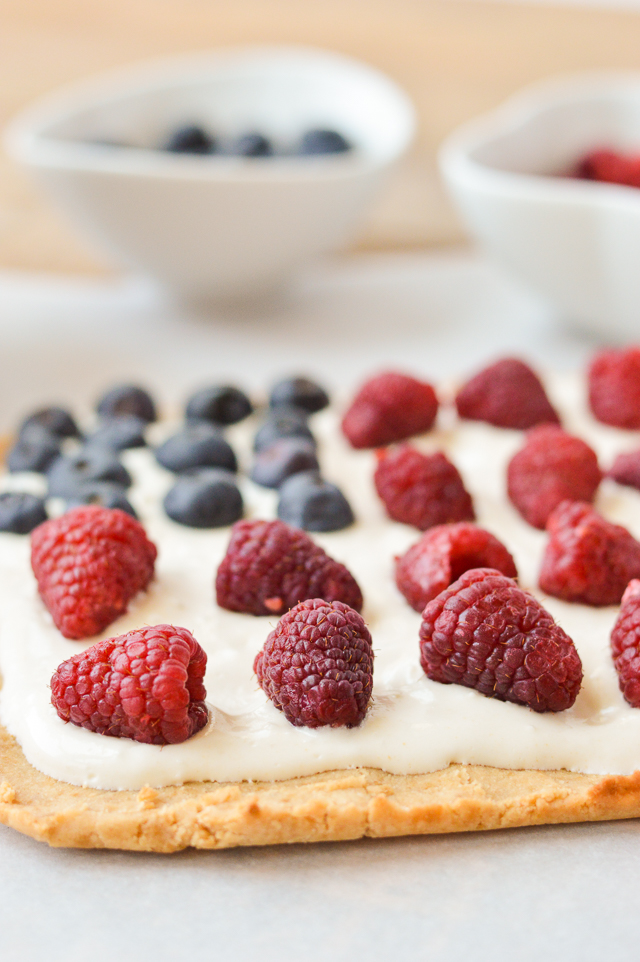 Paleo Fruit Pizza Bars
AIP Paleo, Gluten-Free, Grain-Free, Dairy-Free, Soy-Free, Nut-Free, Egg-Free, Vegan, Vegetarian
*Major credit goes out to this recipe and this recipe that both served as the building blocks for these bars.
Makes approximately 6 (big) to 9 (small) bars.
Ingredients
For the crust:
1/2 cup of coconut flour, sifted
2 TB of arrowroot powder, sifted
3 tsp of coconut sugar, sifted
1/8 tsp of salt
1/2 cup of melted virgin coconut oil
1/4 cup of water
2 tsp of vanilla extract (alcohol-free if AIP)
For the frosting:
1/2 cup of palm shortening
1/4 cup of raw Artisana Organics coconut butter, melted
1 heaping TB of raw local honey
1 tsp of vanilla extract
1 TB of arrowroot powder, sifted
1 TB of coconut flour, sifted
For topping:
Your favorite fresh, organic fruits (I used blueberries and raspberries for this 4th of July theme, but these are interchangeable with blackberries and strawberries)
Directions
1. Start by making the crust.  Preheat your oven to 350 degrees F.  Line an 8 x 8 baking pan* with parchment paper (or grease with extra palm shortening).
2. Combine sifted coconut flour, arrowroot powder, coconut sugar, and salt in a medium bowl.  Make a well in the center.  Add the coconut oil, water, and vanilla extract to the well.  Stir until it thickens and a dough forms (it may be slightly crumbly).
3. Press the dough into the baking pan and bake for approximately 15 to 20 minutes, or until golden brown.  Mine was in the oven for about 17 minutes.  Remove and allow to cool on a rack for at least 30 minutes.
4. While the crust is baking, make your frosting by combining the palm shortening, coconut butter, honey, and vanilla extract in a medium bowl.  Use a hand mixer on high speed to beat until smooth (this can also be done in a stand mixer).  Add in the sifted arrowroot powder and coconut flour.  Beat until smooth.  You can add additional arrowroot powder and coconut flour if you would like it thicker, but keep in mind that it will thicken once refrigerated.
5. Once the crust is cool, spread the frosting over the top leaving about 1/4-inch of crust around the edges.  You may have leftover frosting, but save it for dipping with fresh fruit!  Top the pizza with whatever fruit you love the most.
6. Store in the refrigerator since coconut-based products tend to melt.  You can remove the pizza from the refrigerator about 10 minutes prior to serving (to soften a bit) if you would like.
*If you want a true rectangle (for the flag) or just want to serve more, feel free to double the recipe and use a 9 x 13 pan.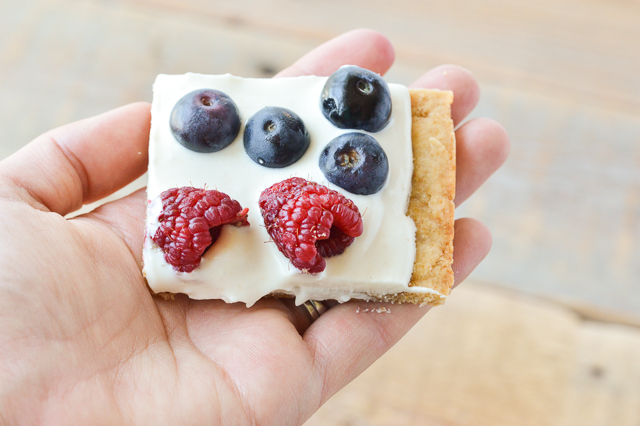 P.S. These totally aren't just for the 4th of July.  We're talking Memorial Day, Labor Day, or just any day that you love America (ever day).  And if you change-up your fruit, you can make it work for just about any holiday.
Because every single day should be a Paleo Fruit Pizza Bar eating holiday.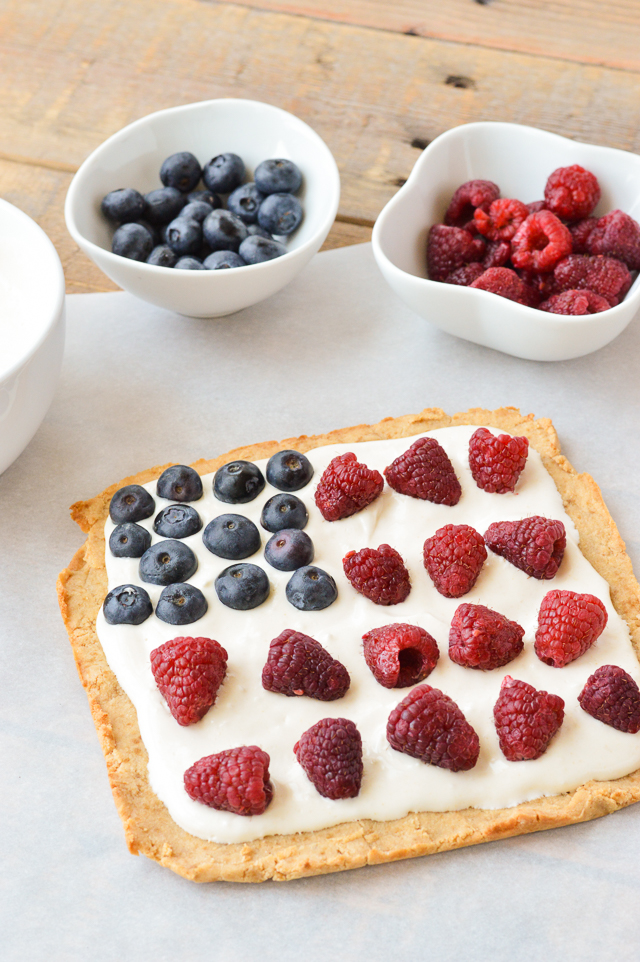 P.S. Jeremy's thoughts about this fruit pizza (and I quote): "That stuff is good!"
Make these #Paleo Fruit Pizza Bars for the 4th! #glutenfree #recipe
Click To Tweet
This post contains affiliate links.  Thank you for supporting CEVG and enabling me to continue working towards better health!