Nightshade-Free Deconstructed Shepherd's Pie makes for the perfect cozy gluten-free dinner!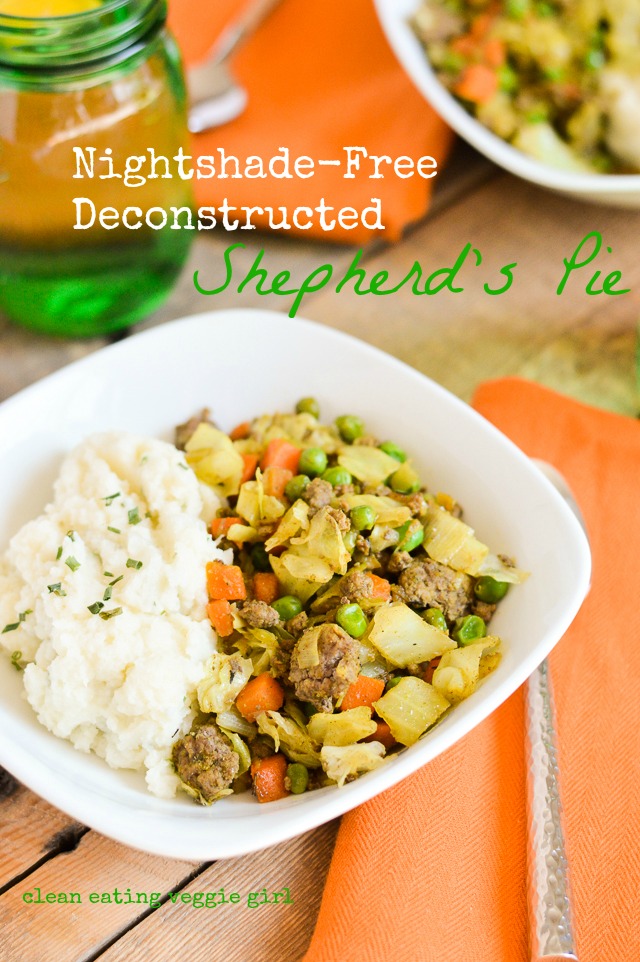 I have been dreaming of this dish from the moment I first made it.  Seriously.  It is dream-worthy.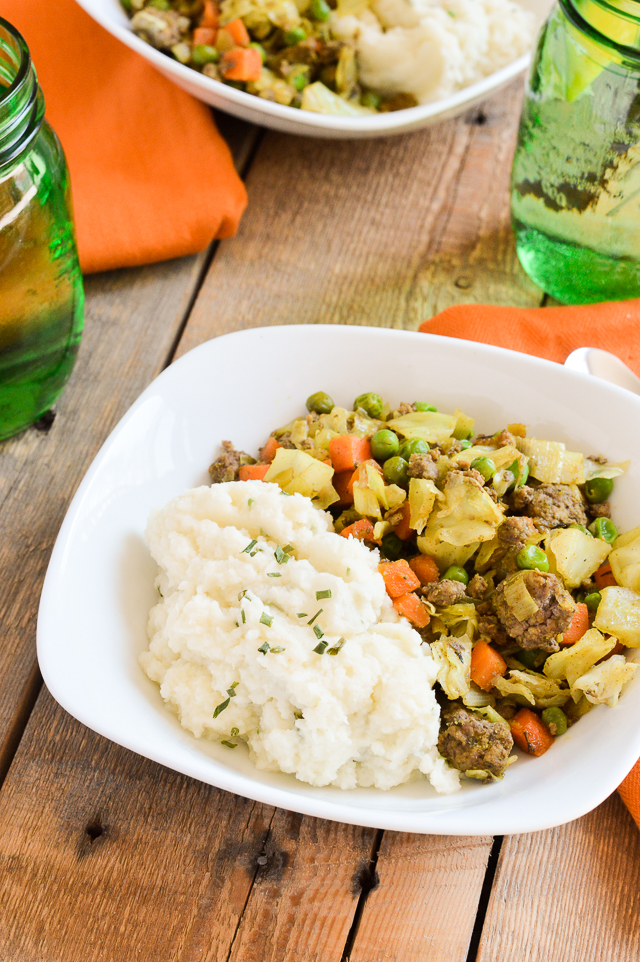 Even though I never really grew up eating Shepherd's Pie (in fact, I don't think I ever tasted it until my adult years), I have had a bit of a fascination with the whole concept for several years now.  I mean honestly, why wouldn't I?  It contains beef, yummy vegetables, and is topped with delicious mashed carbs.  All of that combined is pretty much an automatic win in my book.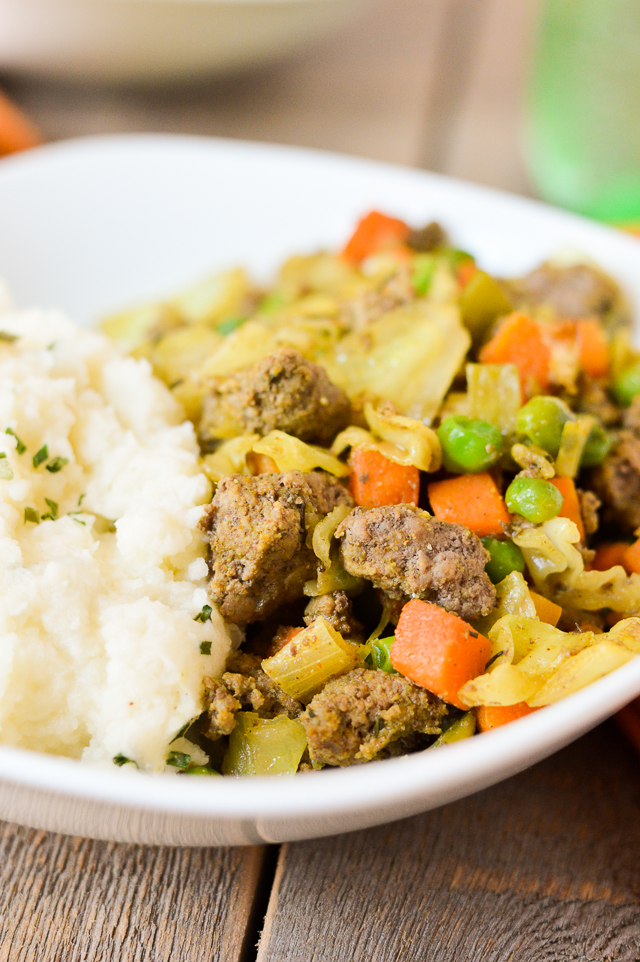 Traditional Shepherd's Pie is generally made with things like tomato paste, worcestershire sauce, and white potatoes.  Since these aren't super friendly foods for my body currently, I made myself a nightshade-free version by changing up the sauce/seasoning a bit and swapping out white potatoes for cauliflower.  Mashed sweet potato, butternut squash, or parsnips would be super delicious, as well.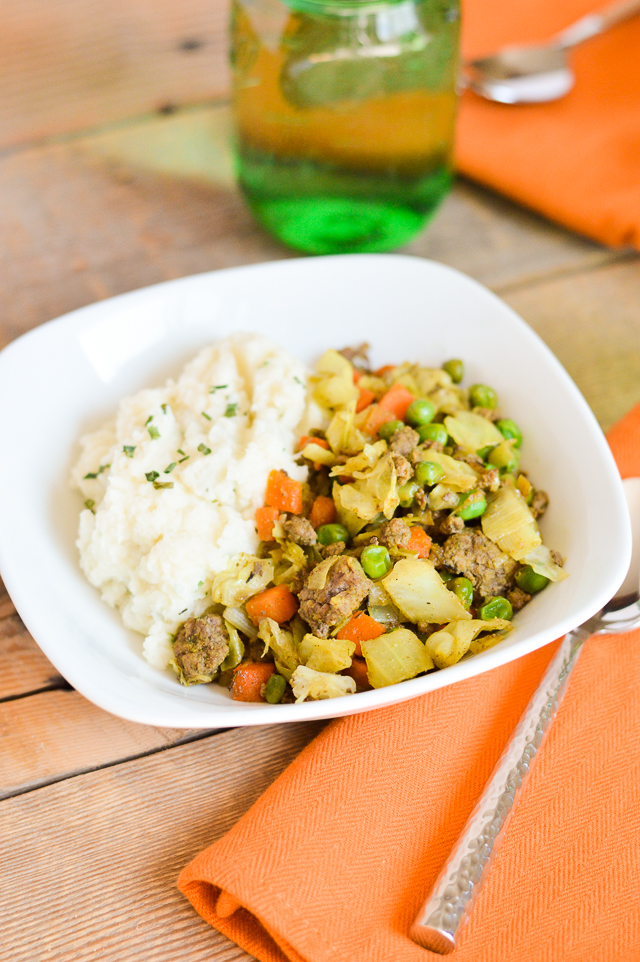 That wasn't the only switcheroo I did with this recipe.  I also threw in a few more "nontraditional" veggies, while also making things extra lazy by keeping the two components of the dish deconstructed.  This recipe literally dirties only two dishes and comes together in under 30 minutes.  I can totally see this happening on a week night since it fits my requirements of not taking too much time or effort to whip together.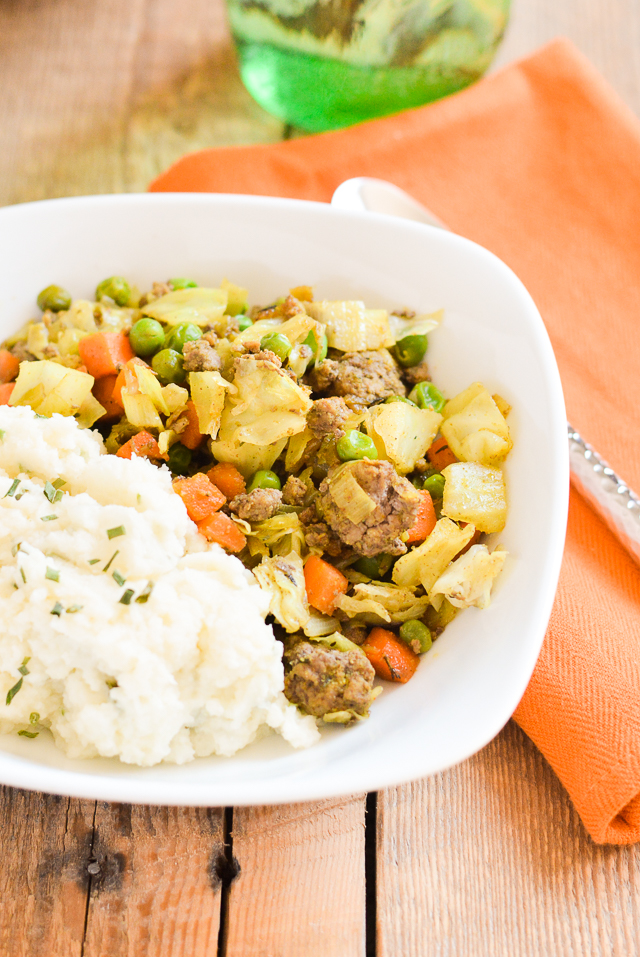 Nightshade-Free Deconstructed Shepherd's Pie
Gluten-Free, Grain-Free, Dairy-Free, Soy-Free, Nightshade-Free
Serves 4 to 6
Ingredients
1 LB of organic, grass-fed ground beef (you could also use ground turkey)
1 large leek (white part only), washed and chopped
1 medium head of green cabbage, chopped
1 10 oz bag of frozen organic peas and carrots
1/8 cup liquid coconut aminos
1 tsp fish sauce
2 tsp onion powder
1 tsp ground sage
1 tsp dried thyme
1 tsp fine sea salt
1/2 tsp ground turmeric
1/4 tsp ground cinnamon
a double-batch of my mashed cauliflower
Directions
1. Begin by roasting the garlic for your mashed cauliflower and  browning the beef over medium heat in a large skillet.
2. After about 3 minutes of cooking, stir in the leek and cabbage.  Cover and continue cooking until the meat is browned and the veggies are cooked through, or for approximately 15 minutes.  Stir occasionally.
3. While the meat and veggies are cooking, bring a large stockpot of water to a boil.  Add frozen cauliflower and cook until fork tender, or about 10 minutes.  Drain.
4. Add the frozen peas and carrots to the meat and veggie mixture.  Season with coconut aminos. fish sauce, and spices.  Lower the heat to medium low, cover, and cook until warm, or for about 5 minutes.
5. Add oil and roasted garlic to the cooked cauliflower and mash.  I like using an immersion blender for this.   Stir in seasonings, to taste.
6. Plate the meat/veggie mixture and mashed cauliflower.  You can plate these side by side, or one on top of the other.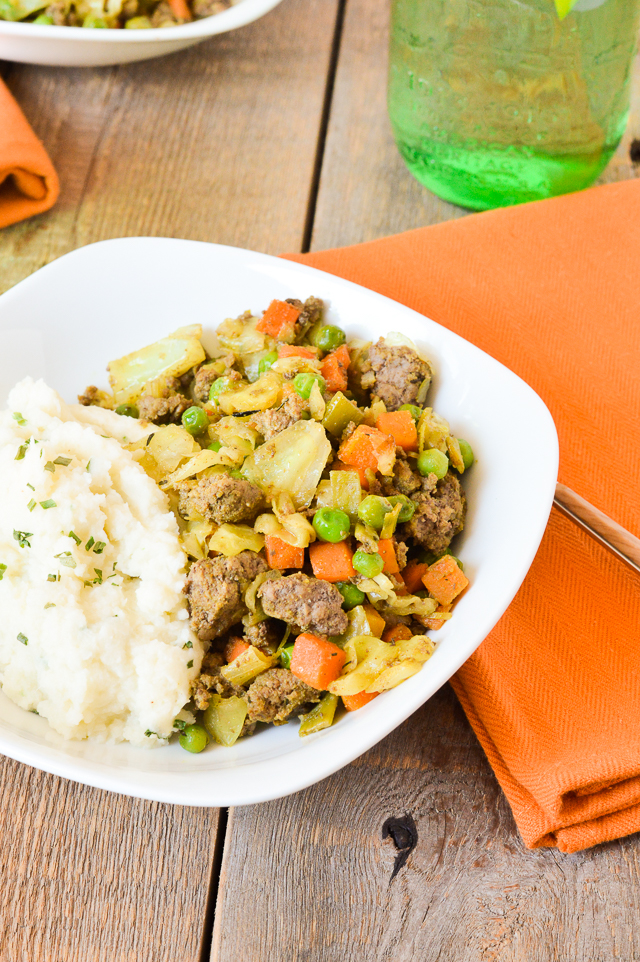 A yummy Nightshade-Free Deconstructed Shepherd's Pie for the win! #glutenfree #dairyfree Click To Tweet
This post contains affiliate links.  Thank you for supporting CEVG and enabling me to continue working towards better health!