These Beefy Beet Burgers with Sweet Peanut Butter Sauce are sure to be the Summertime burgers of your dreams.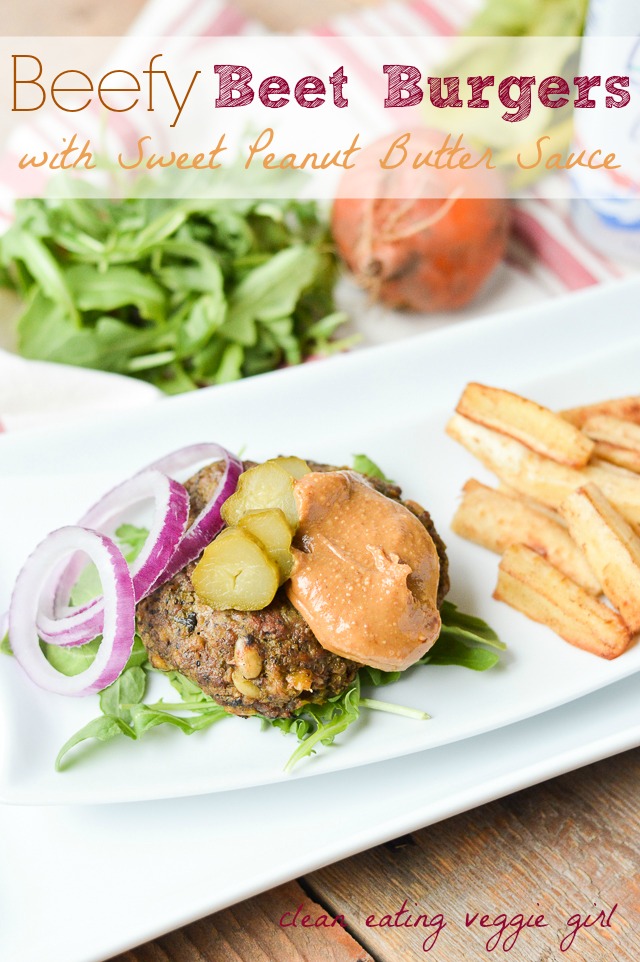 This recipe has been a loooong time coming.
Granted, when I originally pictured how this post might go, I was a vegetarian eating a mostly vegan diet, so the addition of beef is a bit of a curve ball.
In December of 2013, I ate at Wilson and Washburn in Omaha for the first time.  Though so much of the menu sounded delicious, I wound up ordering their beet burger.  The beet burger was a vegan menu option that came topped with pickled jalapenos and a house smoked peanut butter sauce.  While the combination may sound a bit cray cray, it was easily one of my favorite dishes from the almost three years that I spent in Omaha.  The smokey peanut butter… unreal!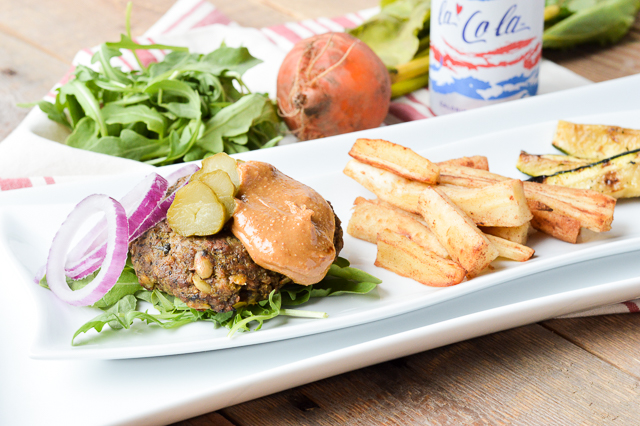 While I had been intending to recreate this deliciousness on my own, I kept putting the idea on the back burner.  Seriously.  Over two years passed before I finally made it happen!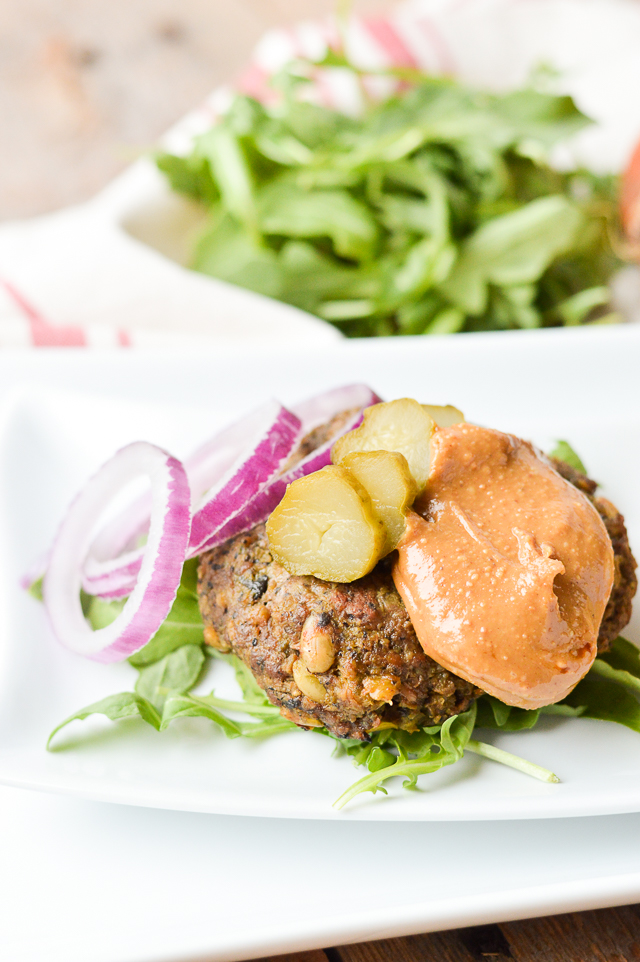 Instead of a vegan beet burger (though that would be an awesome option, too), I made y'all a grassfed beefy beet burger with fun additions like mushrooms and pumpkin seeds.  I decided to skip the jalapenos since I'm trying my best to avoid spicy foods and instead chose to sub in good 'ole fashion pickle slices.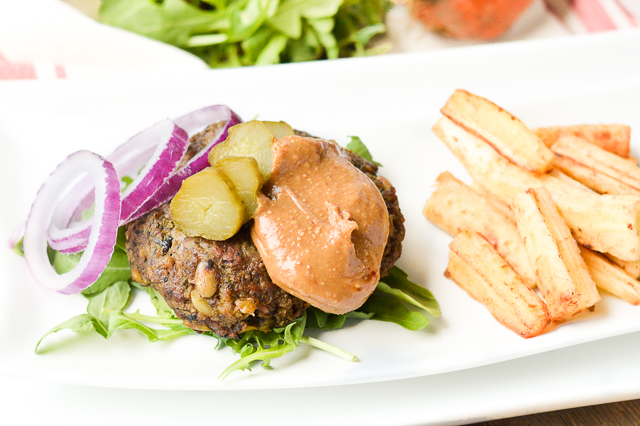 Of course I could not forget about the peanut butter sauce.  Since I have been eating some legumes now and then, I decided to go with the real deal.  But to keep things a bit healthier, I swapped out the liquid smoke flavor for something a bit sweeter thanks to my good friend, coconut aminos.  To make this Paleo, try sunflower seed butter, almond butter, or cashew butter instead.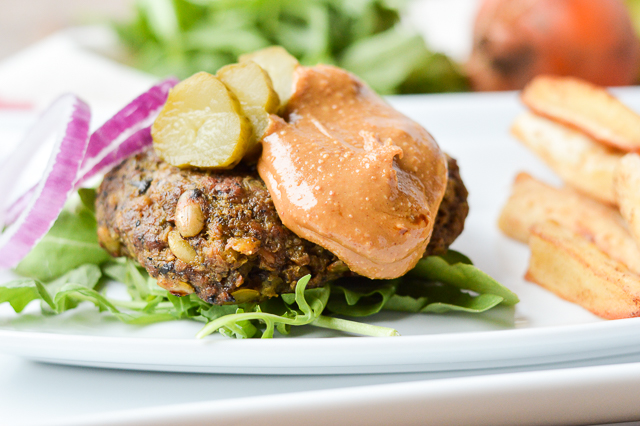 After all of the swapping you may be wondering, "does it even taste like the real deal?"  To be honest, it has been quite awhile since I have eaten the original burger at Wilson and Washburn thanks to my GF lifestyle.  But even still, I certainly think it is 100% drool-worthy.  This burger was made to be on a restaurant menu.  Welcome to Hannah's Burger Cafe.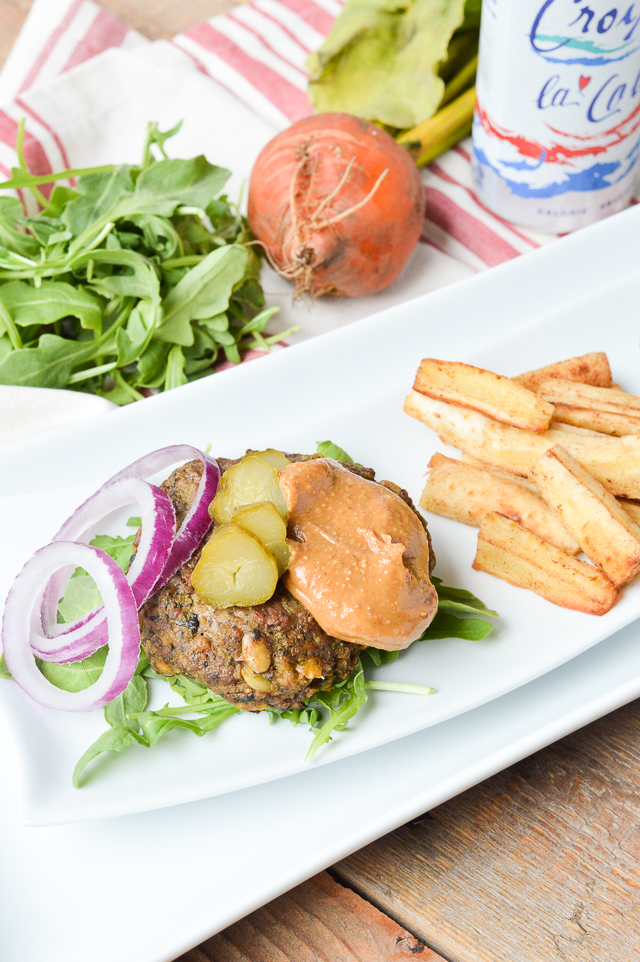 Beefy Beet Burgers with Sweet Peanut Butter Sauce
Paleo-Friendly, Gluten-Free, Grain-Free, Dairy-Free, Egg-Free, Soy-Free, Nightshade-Free
Makes 4 to 6 burgers (depending on size)
Ingredients
1 cup of sliced baby bella mushrooms
1/2 of a medium shallot, chopped
2 large beets, peeled and chopped (I used golden beets, but regular beets work too)
1 TB of virgin coconut oil or extra virgin olive oil
1 LB of organic, grassfed ground beef
1/4 cup of pumpkin seeds (or sunflower seeds)
1 tsp of fine sea salt
1/2 tsp of freshly ground black pepper
heaping 1/4 cup of natural, creamy peanut butter
1 tsp of liquid coconut aminos
dill pickle slices
red onion slices, optional
arugula, optional
Directions
1. Combine mushrooms, shallots, and beets in a food processor.  Pulse for approximately 30 to 60 seconds, or until finely chopped.
2. Heat a large skillet over medium-high heat.  Once hot, add the oil and lower to medium.  Stir in mushroom/shallot/beet mixture and saute until softened, or for approximately eight to 10 minutes. Let cool.
3. Combine cooked vegetables with the ground beef, pumpkin seeds, sea salt, and black pepper until everything is mixed well.  I use my hands for this.  Refrigerate the mixture for at least 30 to 60 minutes.  Form into patties.
4. Preheat grill over medium heat.  Grill burgers for approximately 10 to 15 minutes, flipping once halfway through, until they reach the desired temperature.
5. While the burgers are grilling, combine the peanut butter and coconut aminos, stirring until mixed.
6. Serve the burgers over a bed of arugula and top with the sweet peanut butter sauce, dill pickle slices, and red onion slices.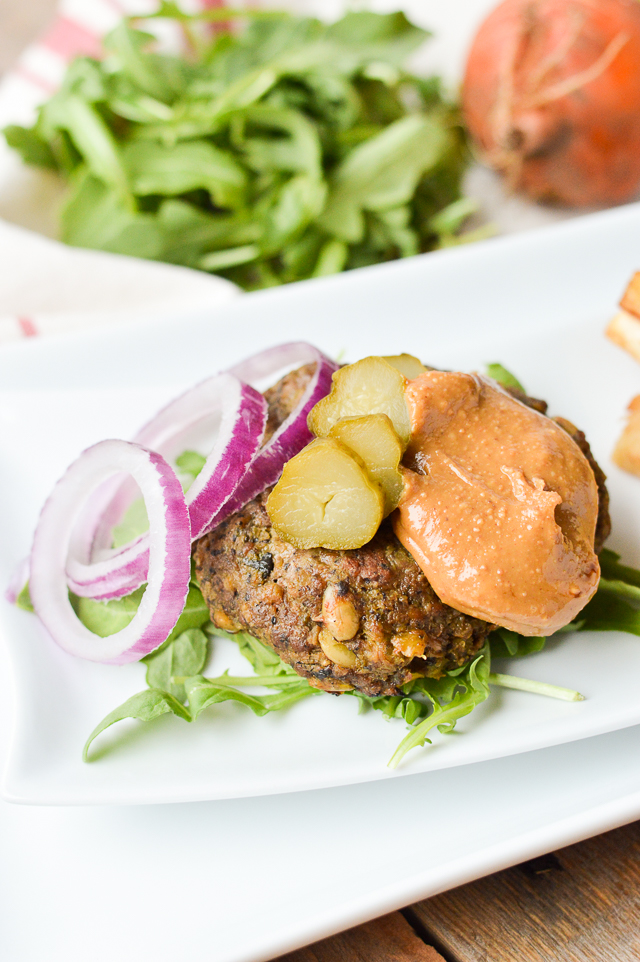 Don't even think about skipping the sweet nut butter sauce.  Get over the fact that it sounds "weird."  It is life-changing.
Amazing Beefy Beet Burgers with Sweet Peanut Butter Sauce for the win! #glutenfree #Paleo
Click To Tweet
This post contains affiliate links.  Thank you for supporting CEVG and enabling me to continue working towards better health!