A Paleo Banana-Free Chocolate Chia Pudding that is low in sugar and perfect for breakfast on the go!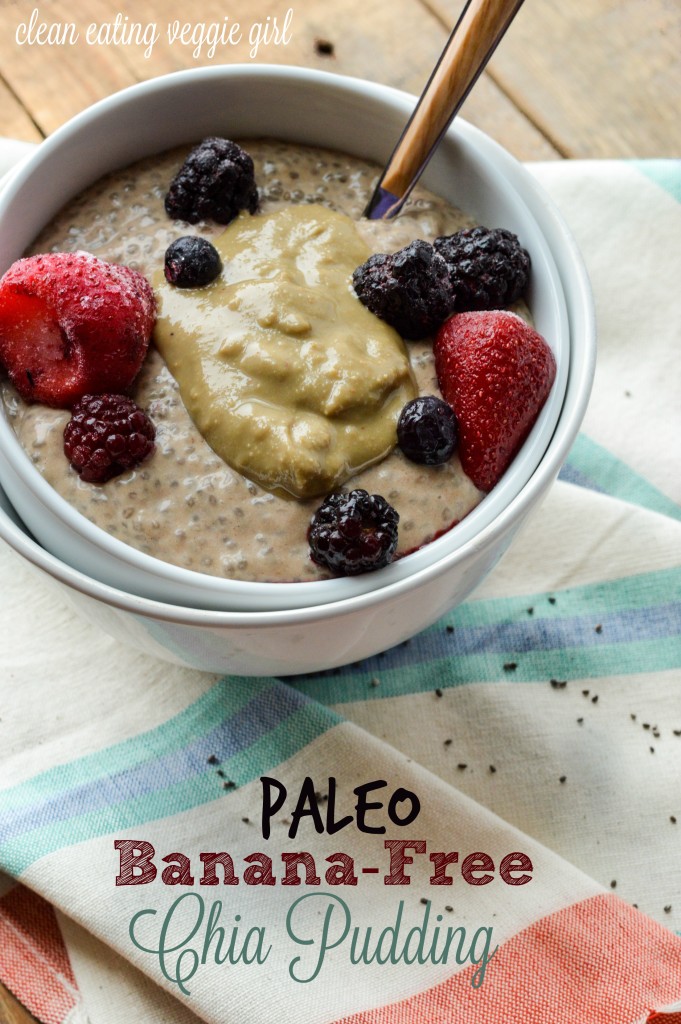 I have shared a lot of recipes on this little 'ole blog.  Hundreds, to be exact.  But to this day, the one recipe that I have probably made the most (as in, every week) is my Chocolate Banana Coconut Chia Pudding.  Maybe it is because it is super easy to prep ahead.  Or maybe it is because it tastes like eating dessert for breakfast.  I mean, who wouldn't love that?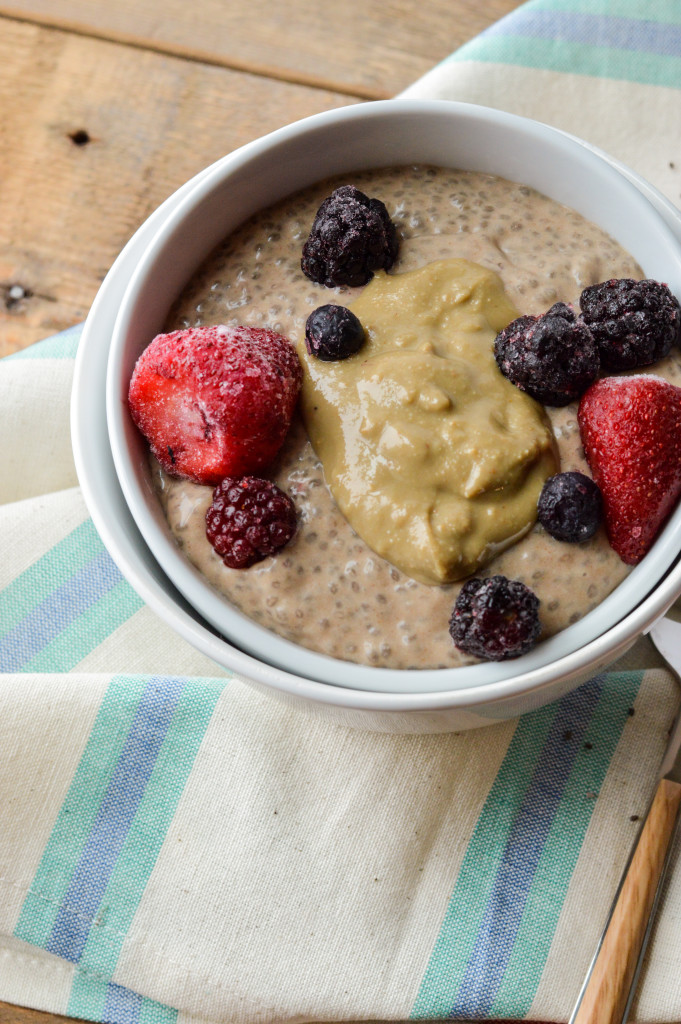 So while I think my original chia recipe is pretty darn fab, I have been experimenting with trying to lower the sugar content a bit by creating a banana-free version.  I know many people who are on sugar-free or low-sugar eating regimens for health reasons, but there is no reason why they should not be able to join in on the goodness of chia pudding!  Problem solved.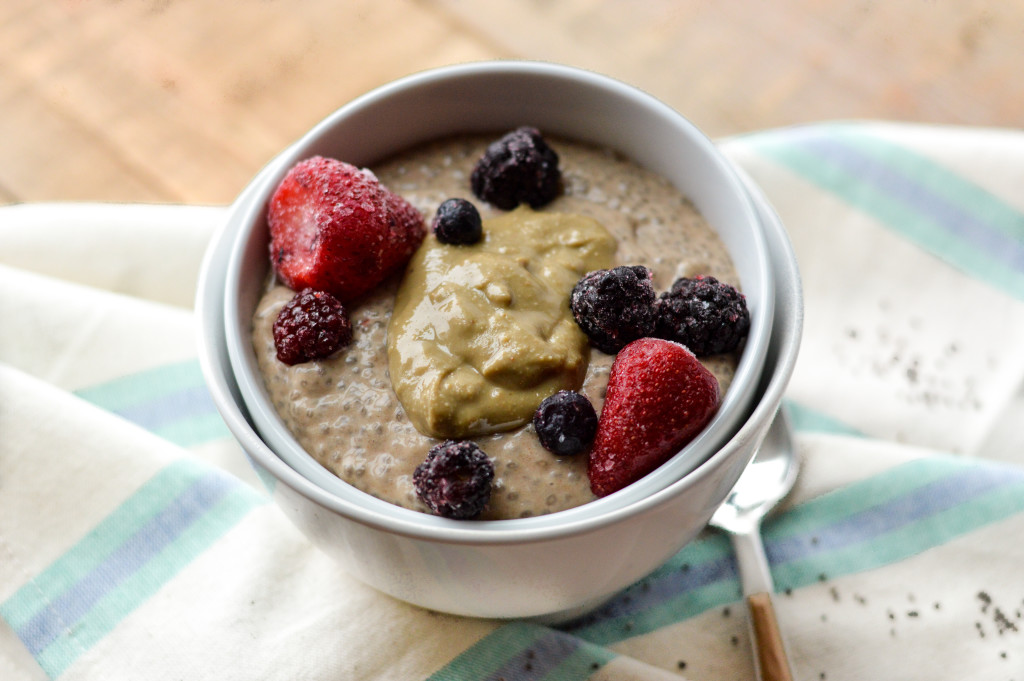 My banana-free chia pudding also fits in perfectly with the theme for this month's The Recipe Redux post.  It's all about getting creative during breakfast time, all while keeping things healthy.  I'd say veggies in a sweet breakfast totally fits the bill.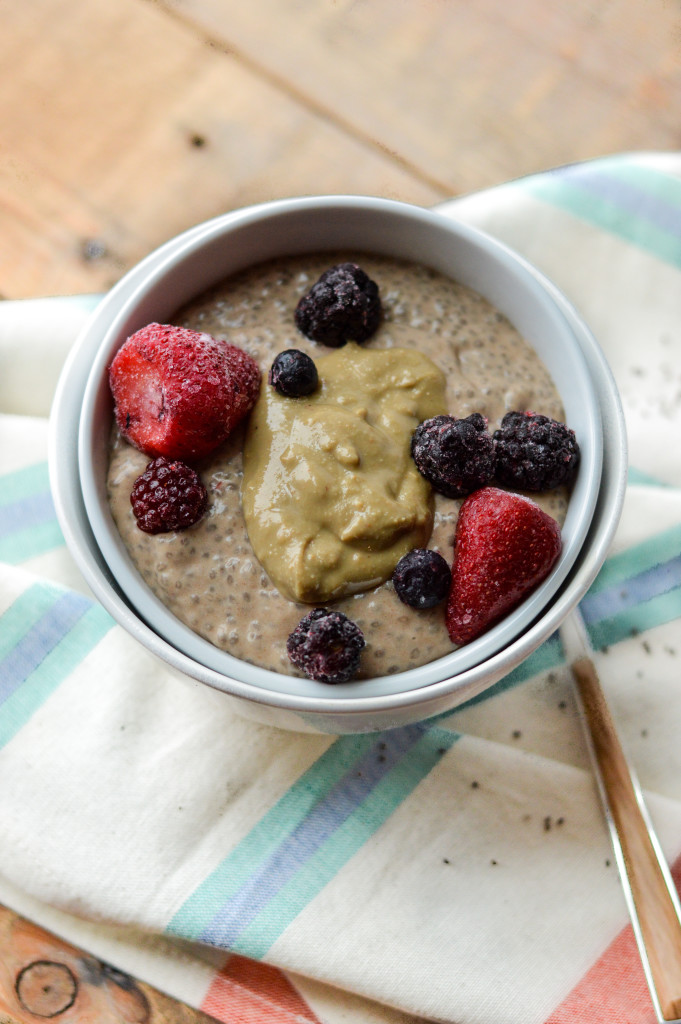 Chia pudding is also fantastic if you are looking for a quick breakfast during the work week.  It takes five minutes to prep the night before (or several nights before), and then it is grab-and-go time even when you are half asleep.  Though to be honest, I love chia pudding so much that it literally is the one thing that gets me out of bed some mornings.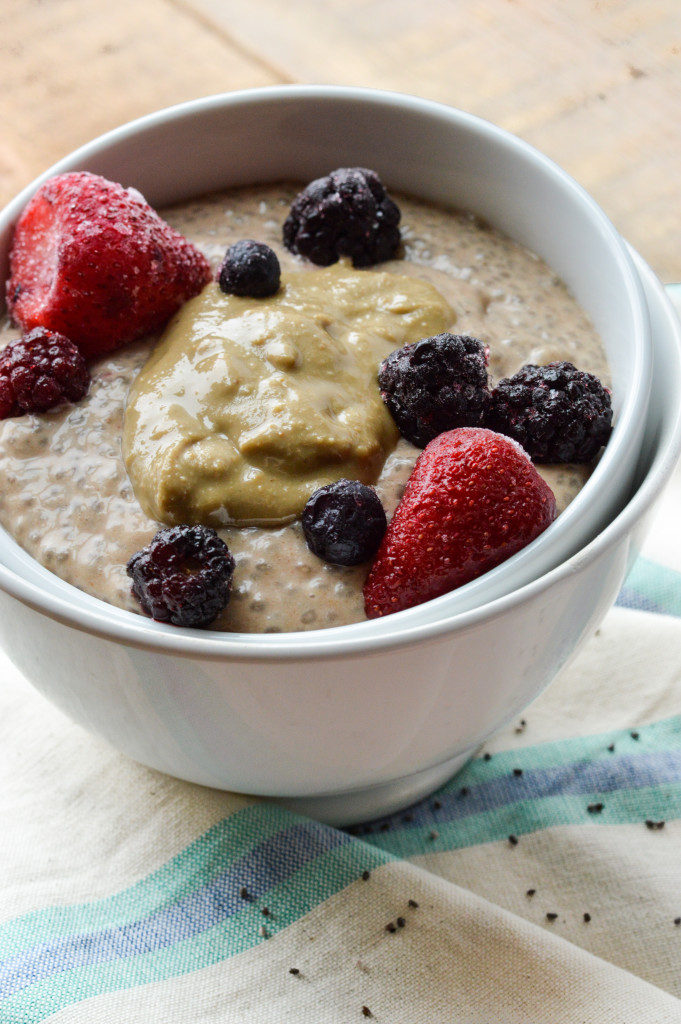 Paleo Banana-Free Chocolate Chia Pudding
Paleo, Gluten-Free, Grain-Free, Dairy-Free, Vegan, Nightshade-Free, Egg-Free, Nut-Free, Soy-Free
Serves 1
Ingredients
1/3 cup of full-fat coconut milk (check your ingredients for no additives or gums)
1 cup of filtered water
1/2 cup of cooked sweet potato (I prefer Japanese or white sweet potatoes)
1 tsp carob powder
1/2 tsp ground cinnamon
3 TB chia seeds
Directions
1. Combine coconut milk, filtered water, sweet potato, carob powder, and ground cinnamon in a high-powered blender.
2. Turn on the blender and gradually increase to the highest speed.  Blend for approximately 30 seconds, or until well-combined.
3. Place chia seeds into a pint-sized mason jar.  Pour contents of blender into the jar.  Secure with a lid and shake gently until well-mixed.
4. Refrigerate overnight, or for at least four hours.
5. Add desired toppings.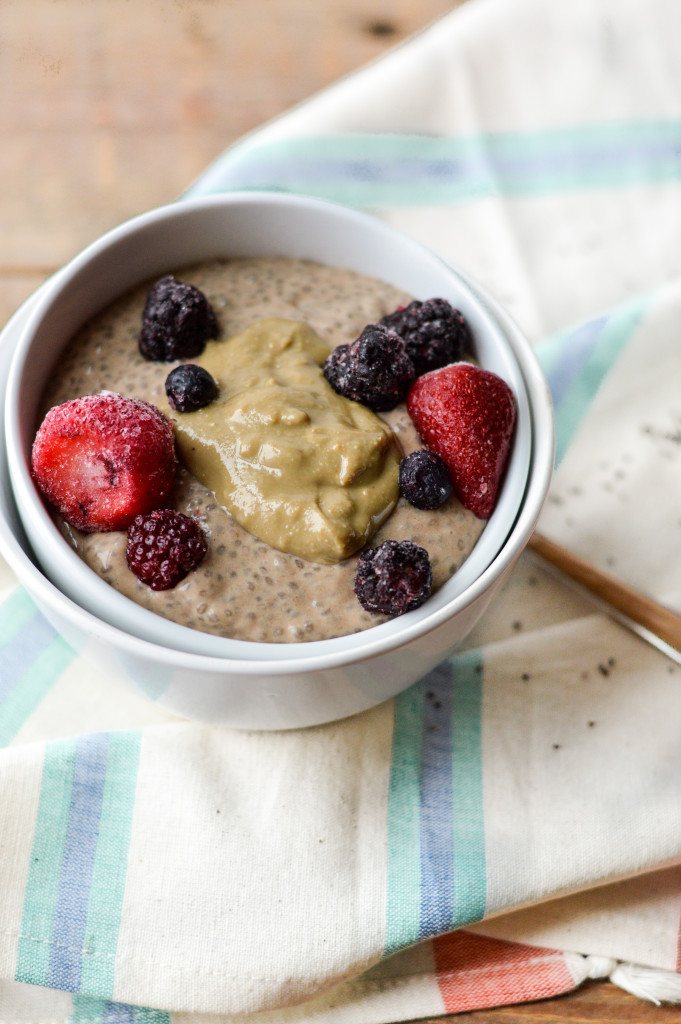 Sunflower seed butter is my absolute must when it comes to topping chia seed pudding.  In fact, I think it is half of the reason why I love chia pudding so much!
Berries, coconut flakes, cacao nibs, and nuts (if well-tolerated) are all great topping options.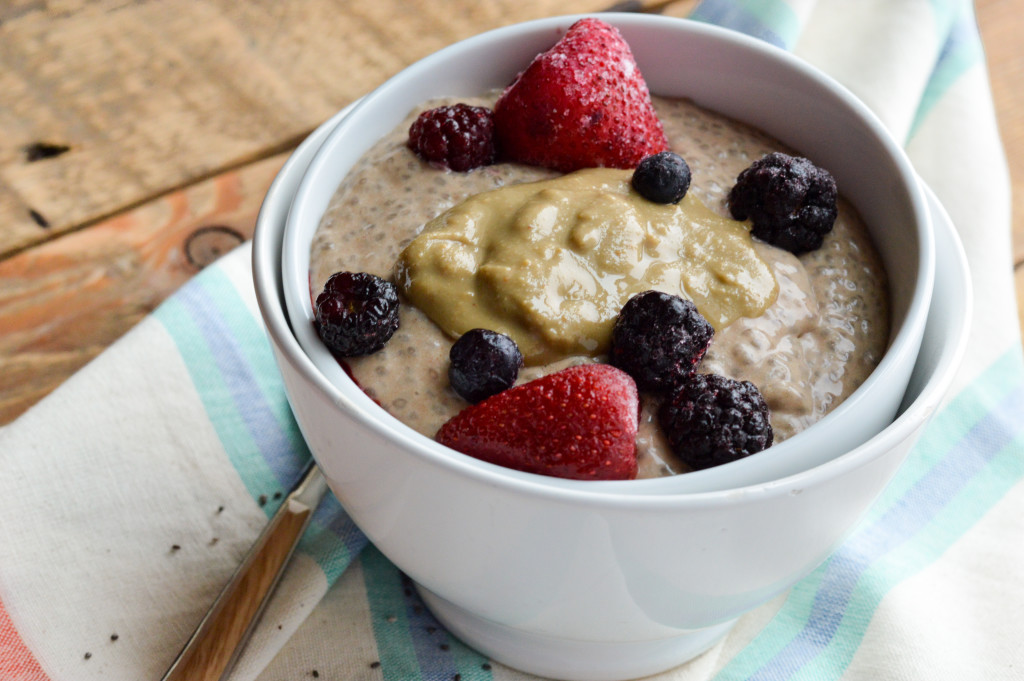 This just may be my new favorite thing ever.  Or at least until the next thing comes along!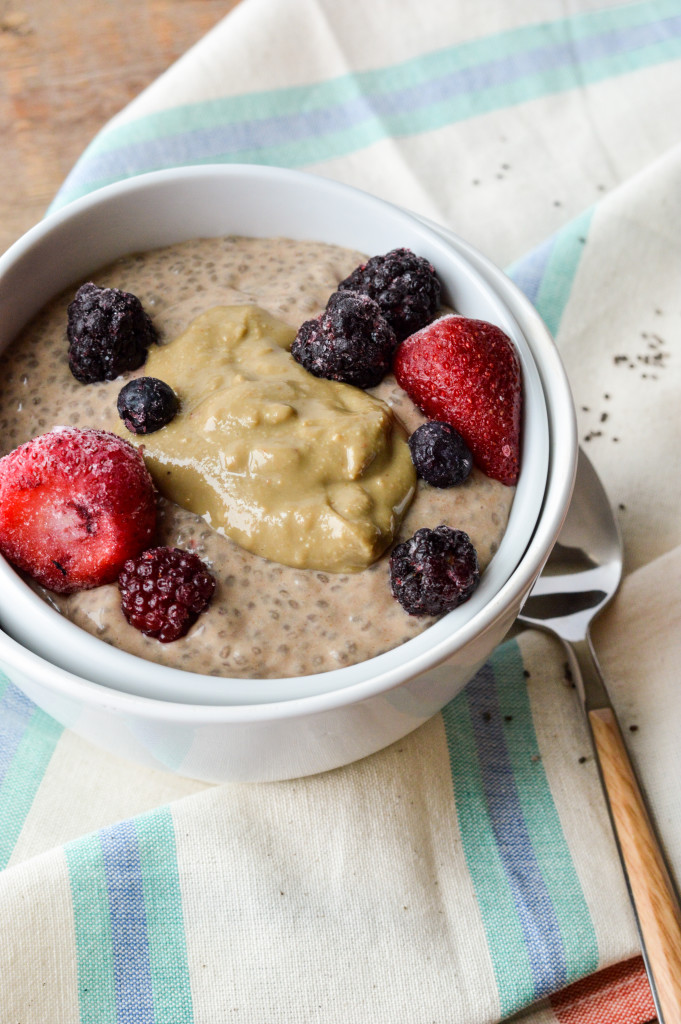 How to make banana-free chia seed pudding #Paleo #vegan #glutenfree Click To Tweet
This post contains affiliate links.  Thank you for supporting CEVG and enabling me to continue working towards better health!