Paleo Turkey and Pickle Roll-Ups are gluten-free and Whole 30 approved.  They make for a simple lunch or snack, and are the perfect addition to your holiday appetizer table.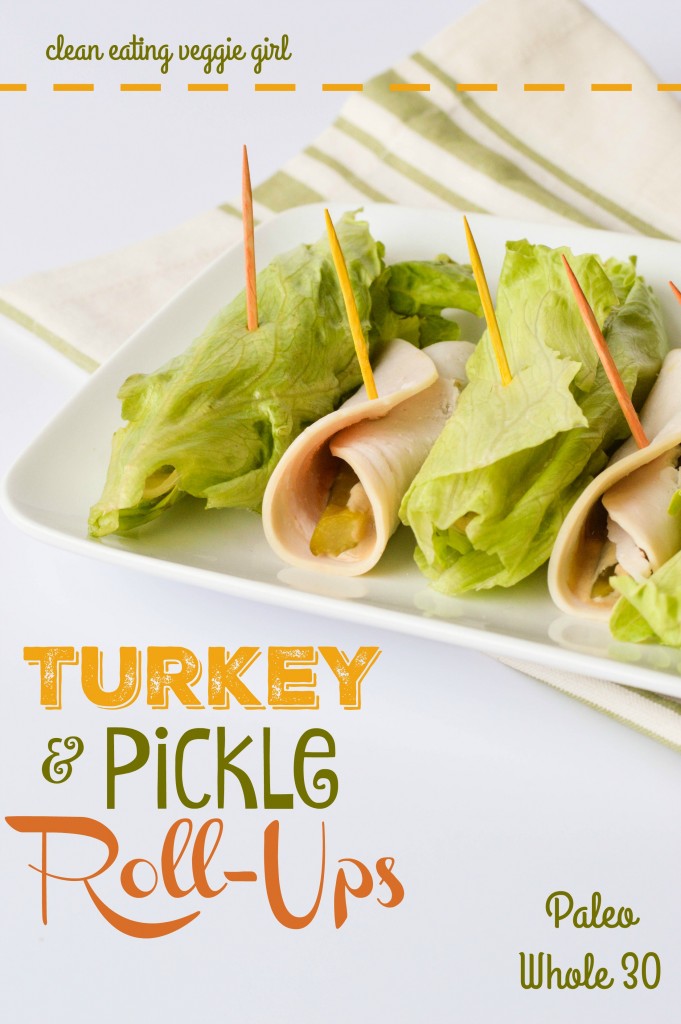 Laziness.  It happens to the best of us, right?  I think this is especially true when doing an elimination diet during the holiday season.
The past couple of months I have been lacking in meal planning inspiration, which then leads to lacking in meal prep motivation.  I credit this simple "recipe" on that lack of inspiration and motivation because when you don't feel like cooking an elaborate meal, snack, or holiday appetizer, the simplest (yet seriously delicious) turkey and pickle roll-ups come to be.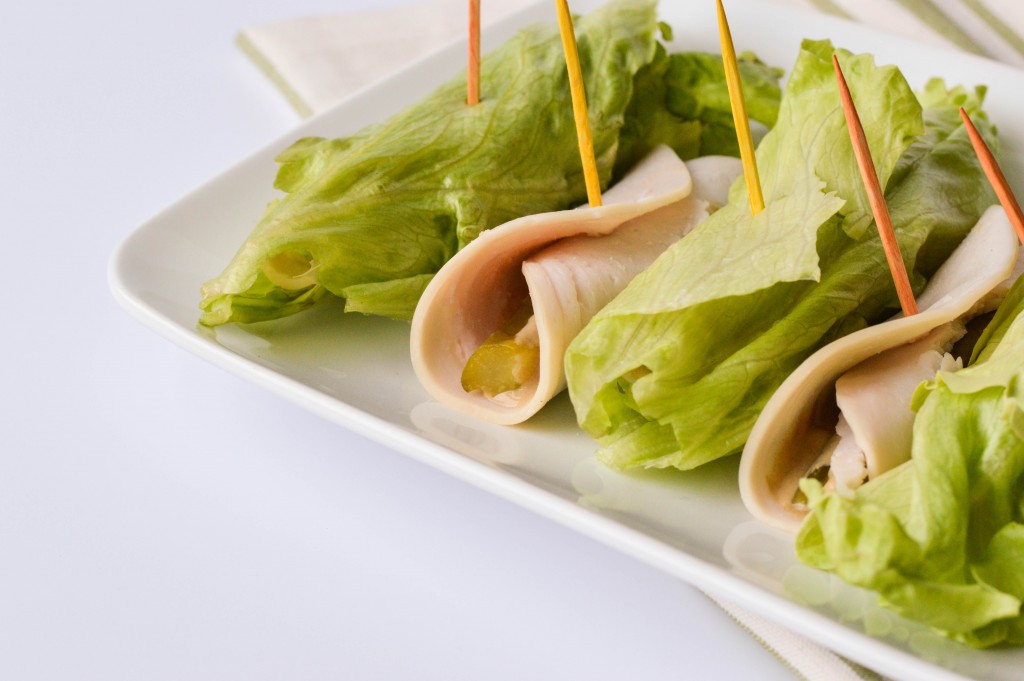 Did I mention they only require four ingredients?  Oh, and some colorful toothpicks.  Toothpicks definitely not optional.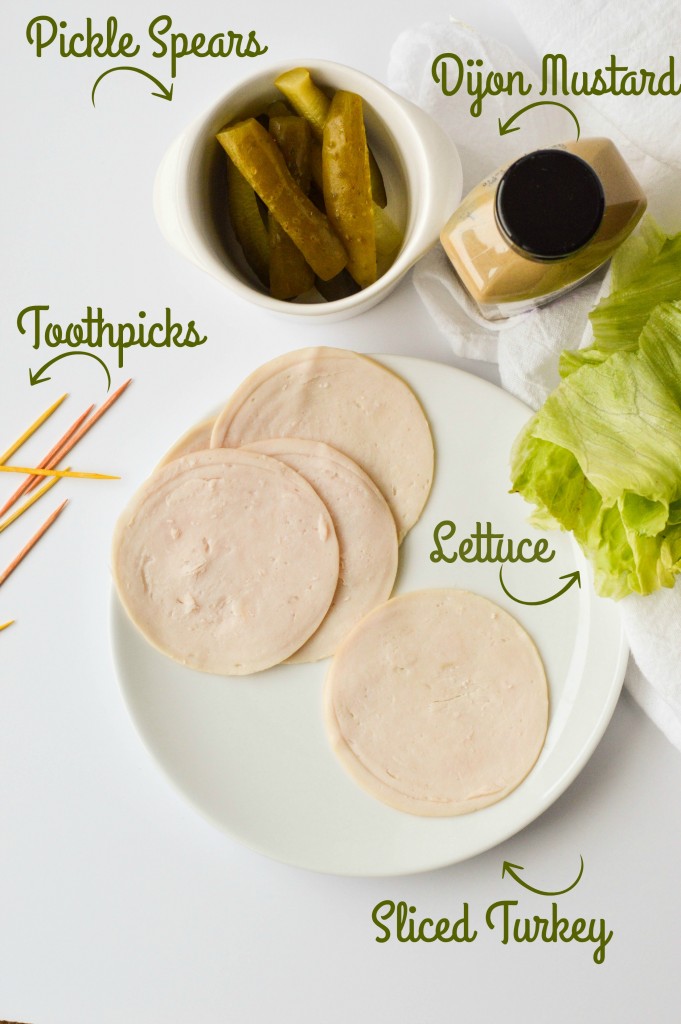 Paleo Turkey and Pickle Roll-Ups
Whole 30, Gluten-Free, Grain-Free, Dairy-Free, Nightshade-Free, Soy-Free, Egg-Free, Nut-Free
Serves 2 to 4
Ingredients
6 ounce package of organic sliced turkey breast
1/4 cup Dijon mustard
4 dill pickles sliced into quarters
1 head of iceberg lettuce, torn into "wraps"
toothpicks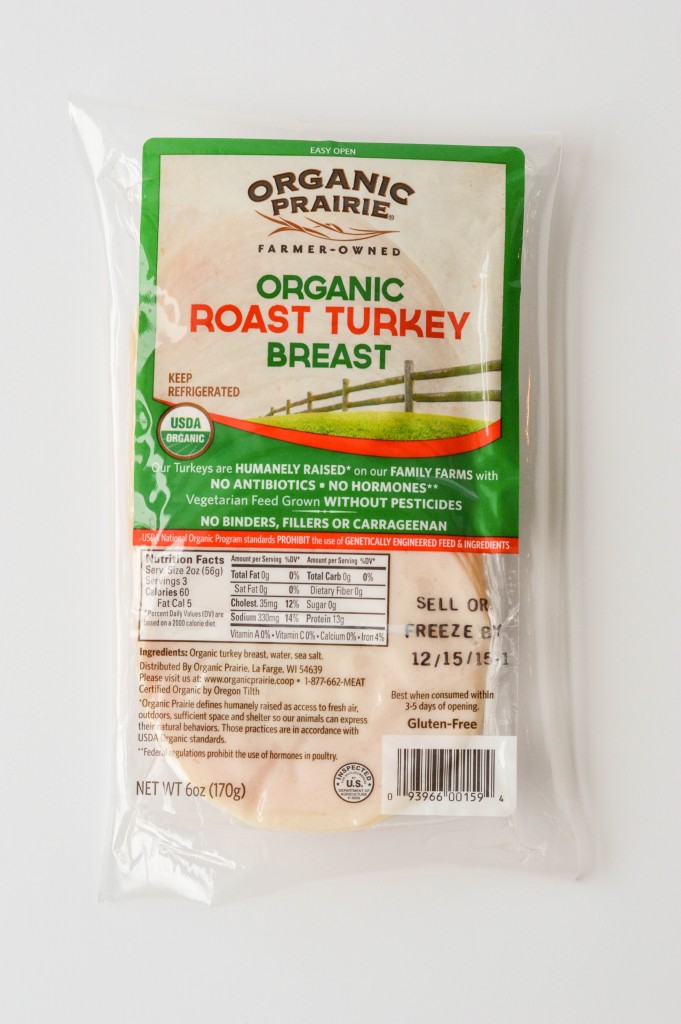 The Organic Prairie brand of turkey is my favorite because it is gluten-free, organic, contains no binders, fillers, or carrageenan, and is made from turkeys raised without antibiotics or hormones.  This is essentially the only brand of sliced turkey that I have found that meets my standards and does not contain gross chemicals or added sugar.  Organic turkey breast, water, sea salt.  Pretty impressive, right?  Side note: this post is not sponsored in any way, I just love this turkey!
One thing you should be aware of when it comes to Organic Prairie sliced meats is that you will likely need a knife to carefully separate the slices since they do not contain any of those nasty fillers or preservatives.  AKA: the slices stick together.  Therefore, go into making these roll-ups with a tad bit of patience!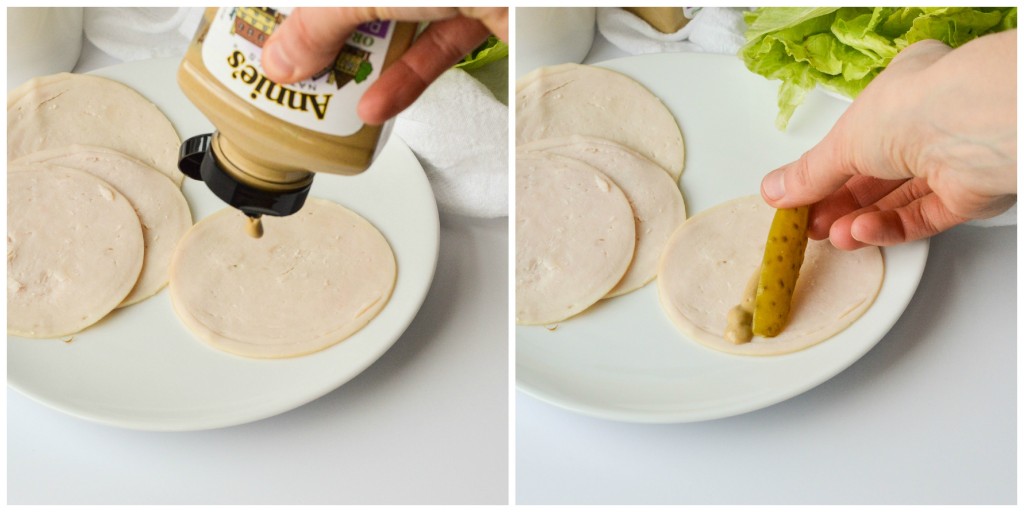 Start by spreading a dollop of mustard (about a teaspoon) onto each slice of turkey.  Next, add one of the quartered pickle spheres.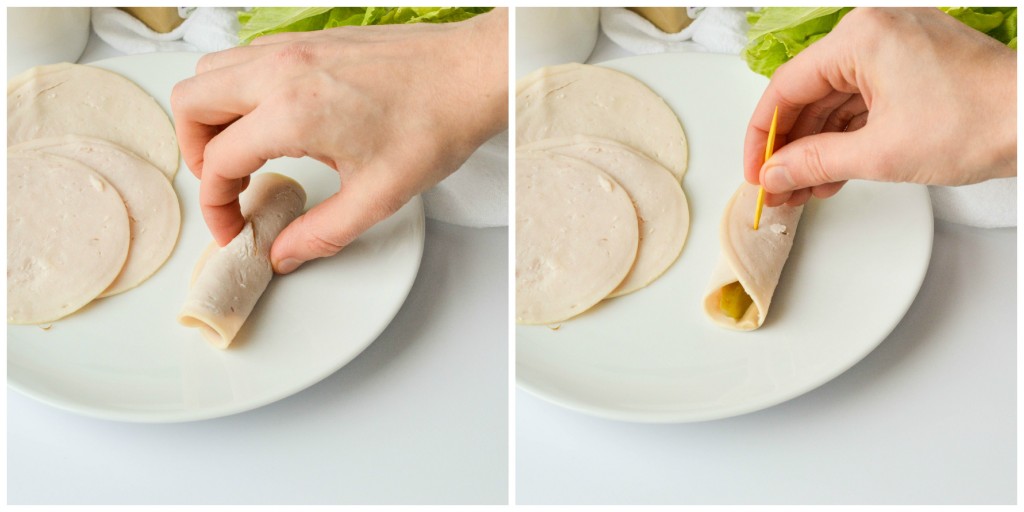 Carefully roll everything up and stick a fork toothpick in it!  A fork would totally work, but that'd be a lot of forks!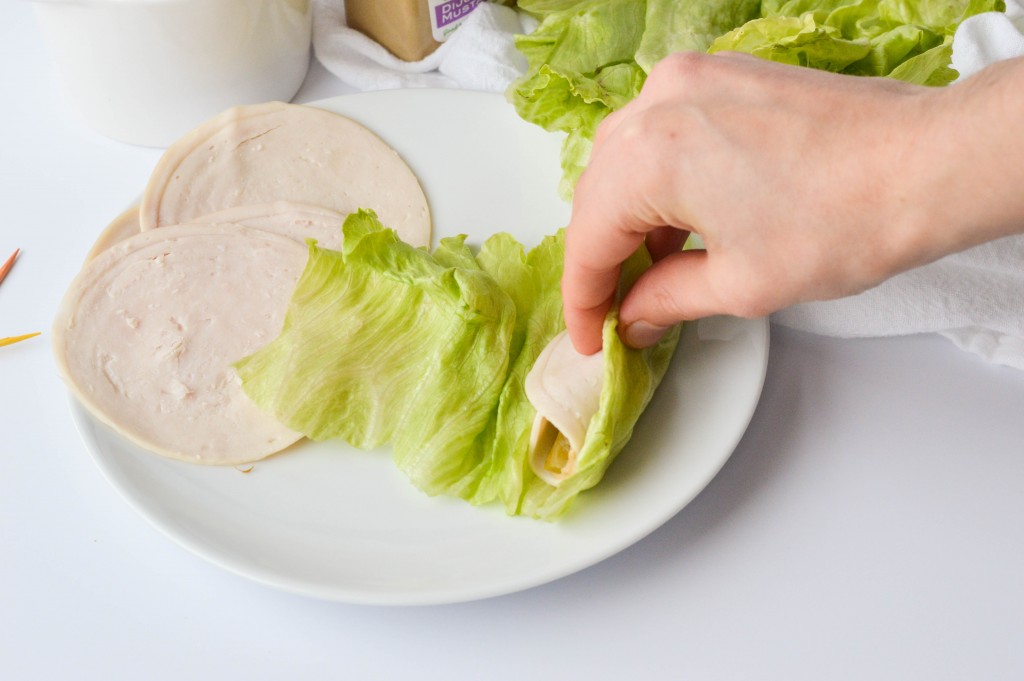 If you are a lettuce lover like I am and want a bit more substance to the roll-ups, wrap each one in lettuce before securing with the toothpicks.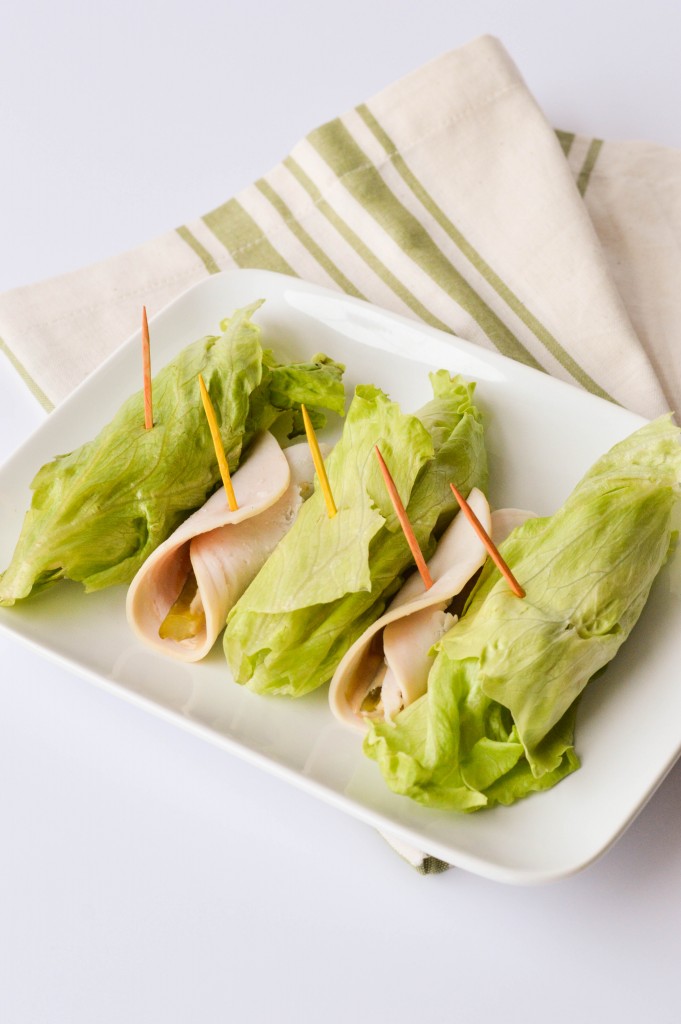 Whether it is for a party of 15 or a party of one, these roll-ups are too easy and delicious not to make.  And don't worry.  They will taste so good that you won't even have time to be sad if it is, in fact, just a party of one.  That just means more for you (and me), right?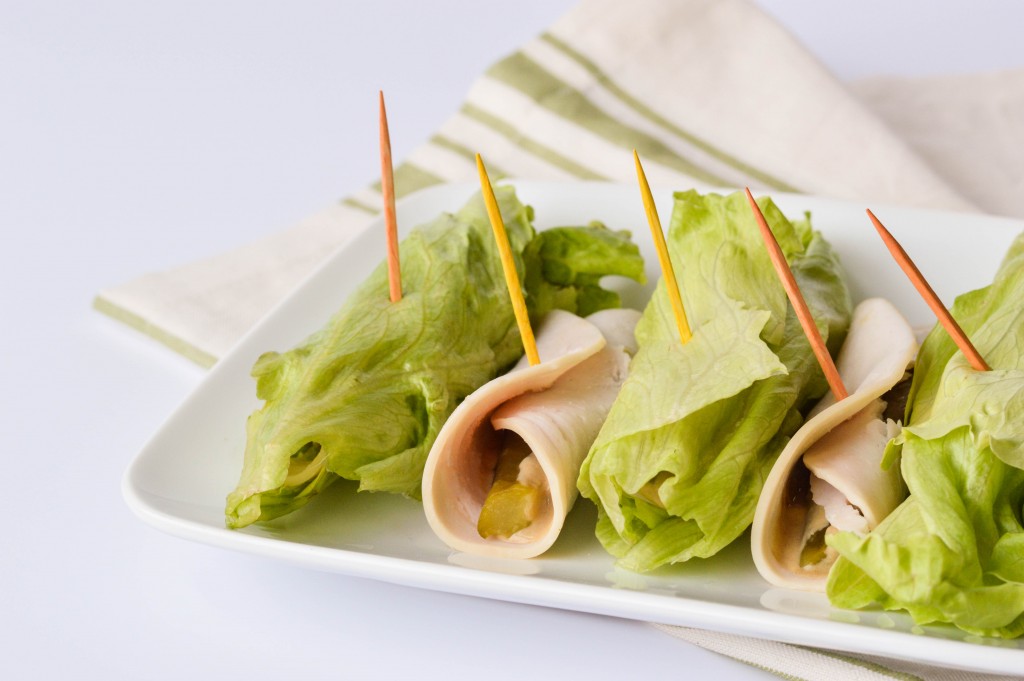 Easy #Paleo Turkey and Pickle Roll-Ups are great for lunch or entertaining! #glutenfree Click To Tweet
What is your favorite "snacky" lunch?
Are you a fan of roll-ups at parties?
This post is not sponsored, but it does contain affiliate links.  Thank you for supporting CEVG and enabling me to continue working towards better health!