A simple tutorial on how to make mashed cauliflower using frozen cauliflower.  This comforting side dish is completely vegan, gluten-free, nightshade-free, Paleo, and AIP-friendly!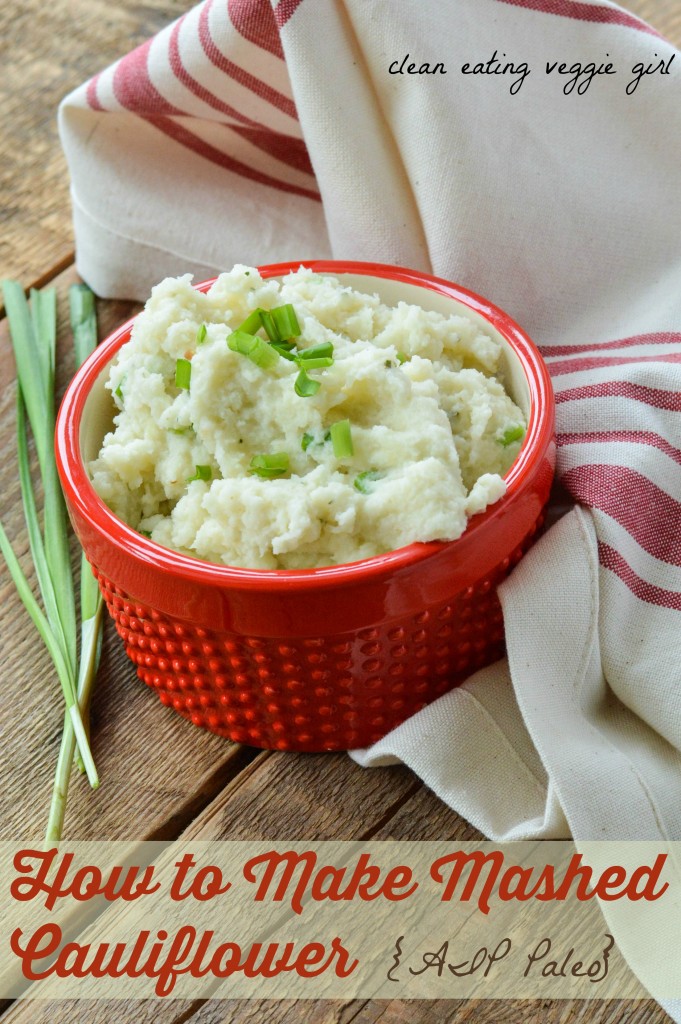 Cauliflower is one of those crazy versatile foods that I actually severely dislike on its own.  The taste of it just plain does nothing for me.  And while I enjoy it as a pizza crust or standing in for rice, I much prefer my parsnip rice when a craving strikes.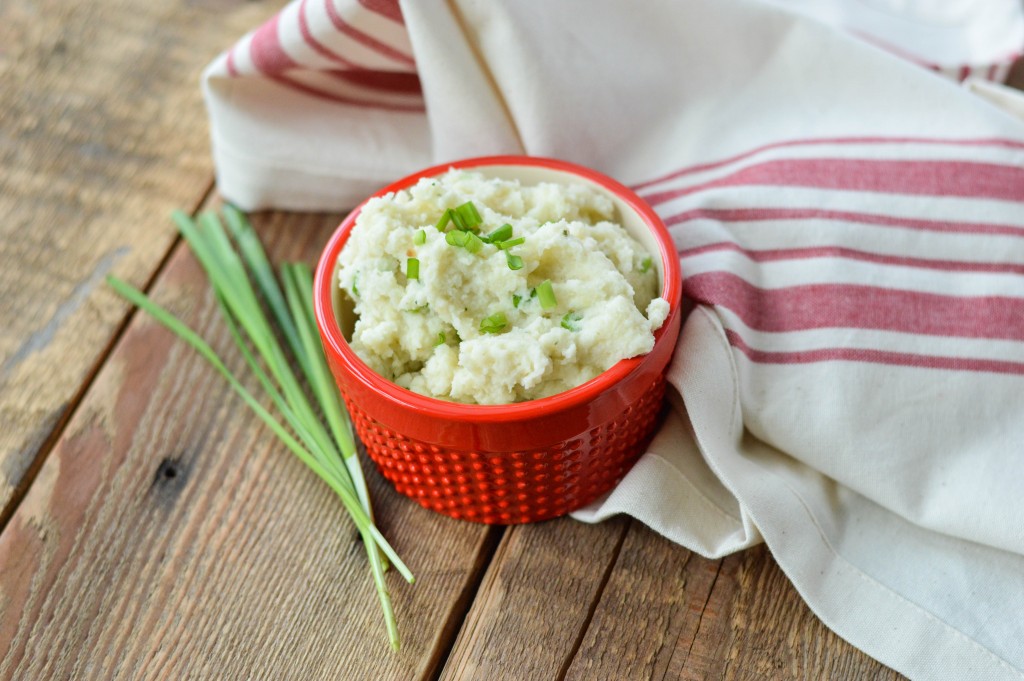 Now even though I just spent the last three sentences basically bashing on cauliflower, I promise that my heart has a rather large area of love for it, too.  Mash it up, season it, and pair it with my favorite comfort food, and I am one happy camper.  That's right.  I am here to attest to the fact that mashed cauliflower truly is delicious.  You may be skeptical like I was in the past, but I encourage you to try 'er out.  It tastes nothing like cauliflower.  Can I get a whoo-hoo?!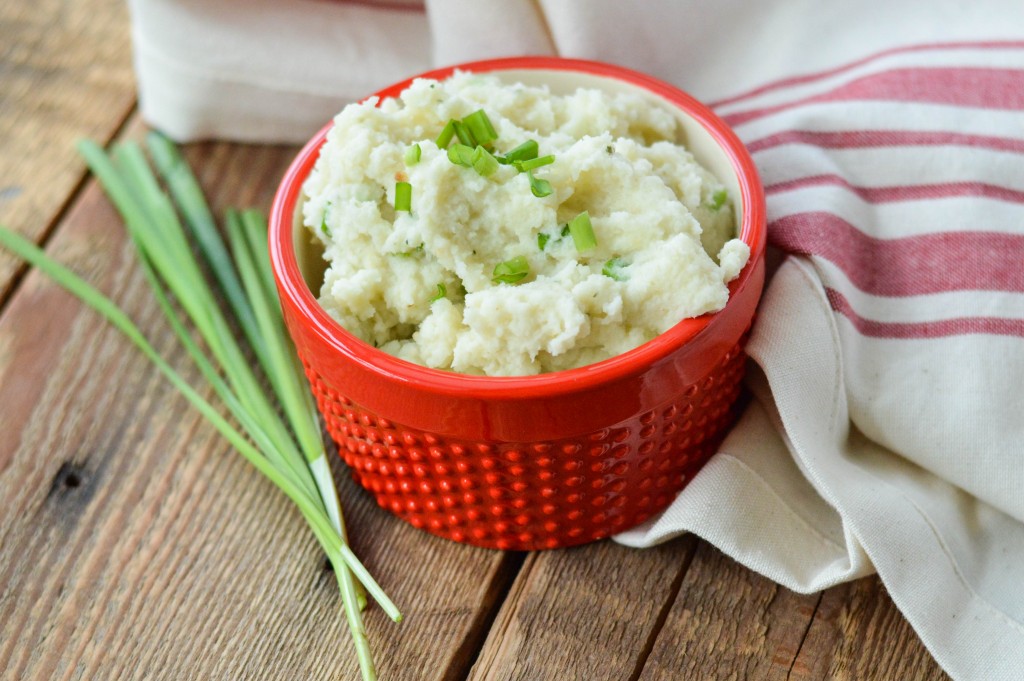 When I set out to try mashed cauliflower for the first time a few weeks back, I did tons of Google searching.  I found plenty of Paleo versions, but almost all of them contained grass-fed butter or ghee.  While this is great if you are eating those products, I wanted to keep things completely dairy-free and AIP-friendly.  After comparing recipe after recipe, I found that avocado oil might be a good substitute, that roasted garlic was a must, and that plenty of yummy seasonings and herbs would do the trick to make boring cauliflower taste good.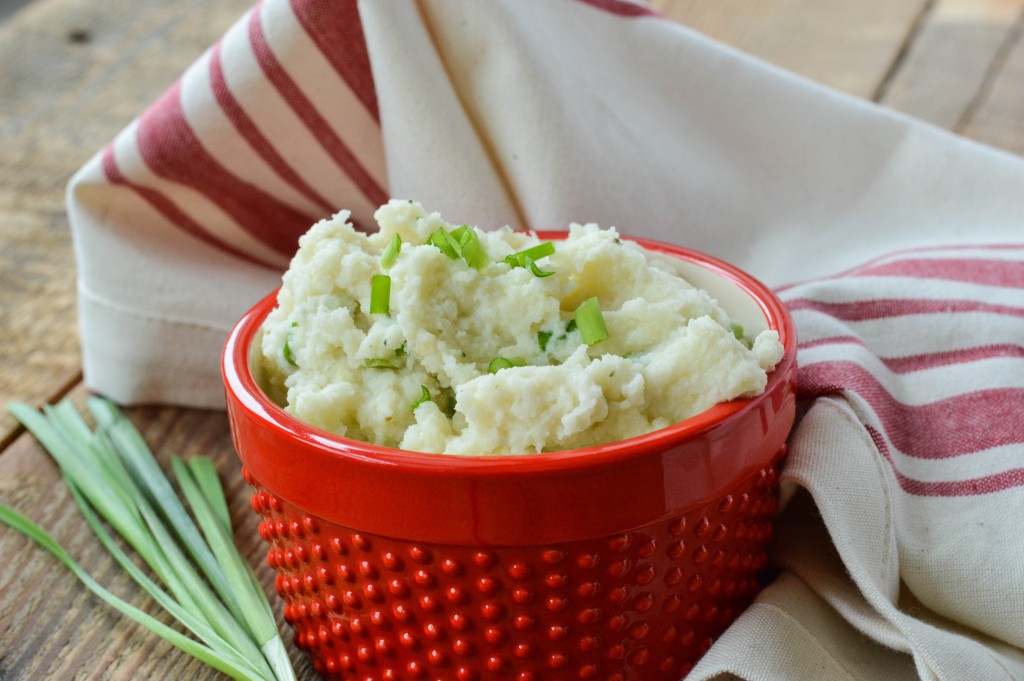 I also changed up my recipe a bit from others by using frozen cauliflower.  Sure, you could totally go the traditional way and steam a head of cauliflower.  But to be honest, I was feeling downright lazy when I decided to make this.  I had no clue if frozen cauliflower would work, but the laziness factor won over so I gave it a try.  Lucky for me (and my other fellow lazy cooks), I found that turning frozen cauliflower into mashed cauliflower is easy peasy cauliflowery.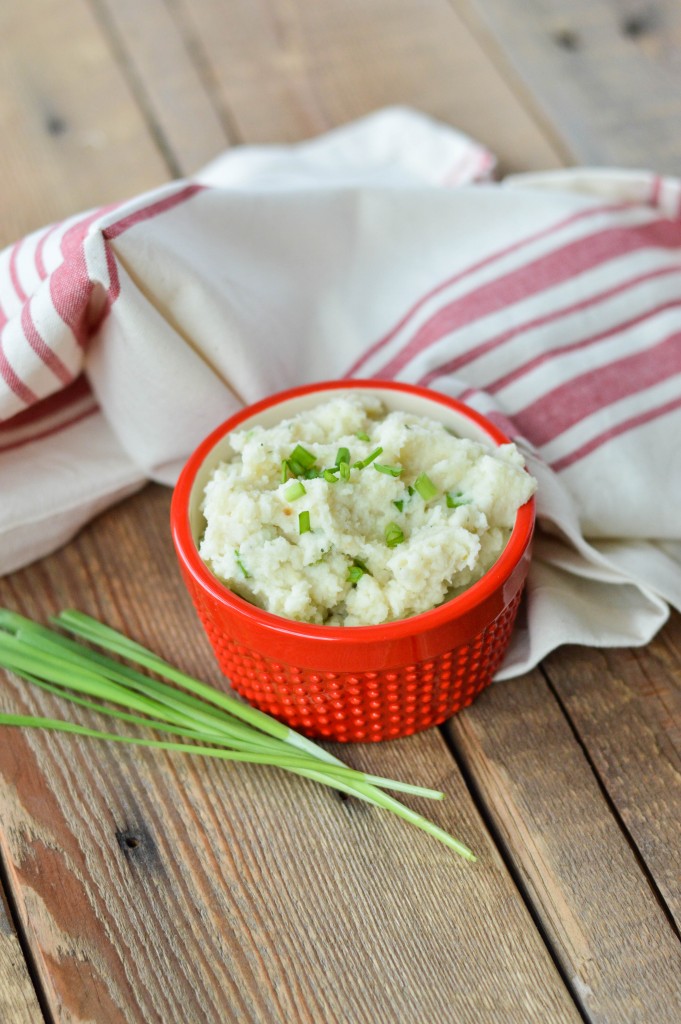 My holiday food loving soul is pretty darn happy that my body decided to crave this during the month of November.  Could the timing have been any more perfect?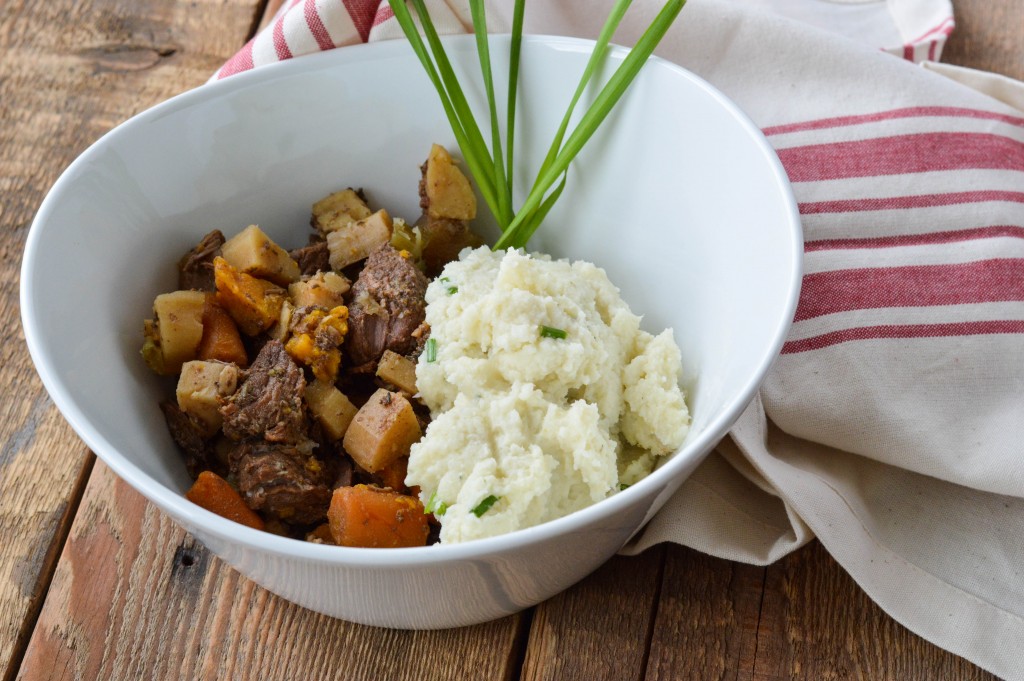 And while mashed cauliflower is an amazing accompaniment to any holiday table, chances are you will love it so much that you will want to add it to just about every meal.  I happen to think it goes perfectly with homemade beef stew!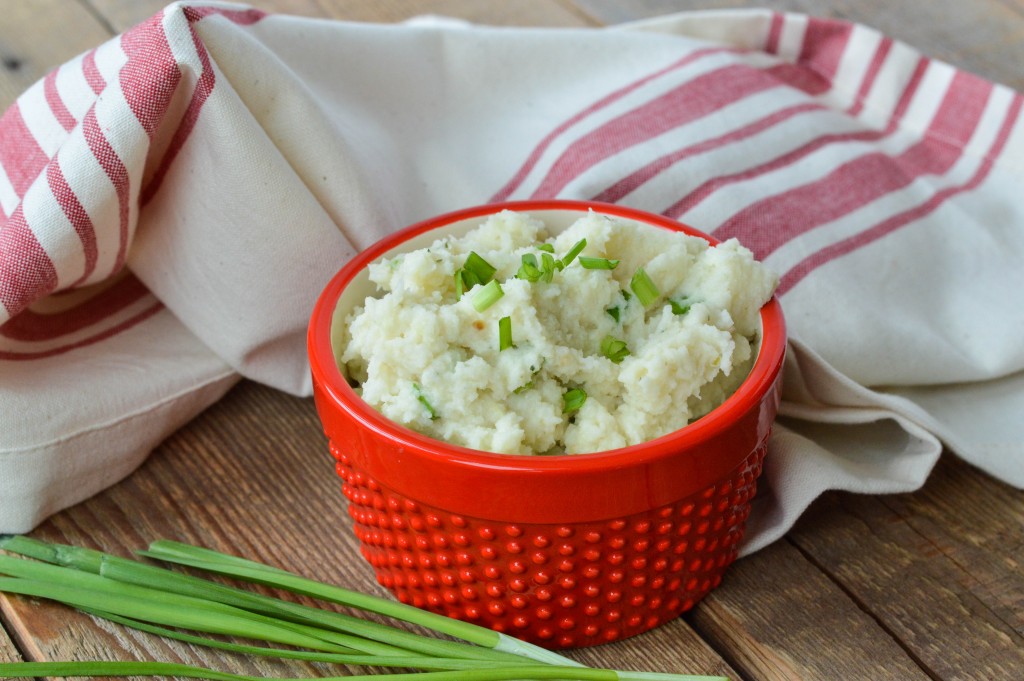 How to Make Mashed Cauliflower
AIP, Paleo, Vegan, Vegetarian, Gluten-Free, Grain-Free, Dairy-Free, Egg-Free, Soy-Free, Nightshade-Free
Serves 3 to 4
Ingredients
1 head of garlic (I used 4-6 cloves total)
2 10-ounce bags of frozen cauliflower
1/8 cup + 1 TB avocado oil (extra virgin olive oil also works)
1/2 tsp dried parsley
1/4 tsp fine sea salt
1/4 tsp garlic powder
1/4 tsp onion powder
1 heaping TB of chopped chives
Directions
1. Begin by preheating your oven to 425 degrees F.  Peel and discard the outer layers surrounding the garlic cloves.  Cut 1/4 inch to 1/2 inch from the top of the cloves so that they are exposed.  Wrap the garlic bulb in foil and roast for approximately 30 minutes.  Allow the garlic to cool enough to remove the remaining peel from the cloves.  Set aside four to six roasted cloves, depending upon how much of a garlicy taste you desire.  This process can easily be done the night before you plan to make your mashed cauliflower.
2. In a large pot over medium-high heat, bring six cups of water to a boil.  Once boiling, add frozen cauliflower and cook until fork-tender, or for approximately eight to ten minutes.  You can also add a pinch of salt to the boiling cauliflower, if desired.  Drain using a colander and pat dry with a towel to remove excess water.  Return the cauliflower to the pan.
3. Add garlic cloves, avocado oil, and seasonings to the cauliflower.  Use an immersion blender to "mash" the cauliflower to the desired consistency.  Adjust seasonings to your liking.  If you do not have an immersion blender, you can also "mash" the cauliflower in a food processor, but be careful not to over process it.
4. Stir in chopped chives.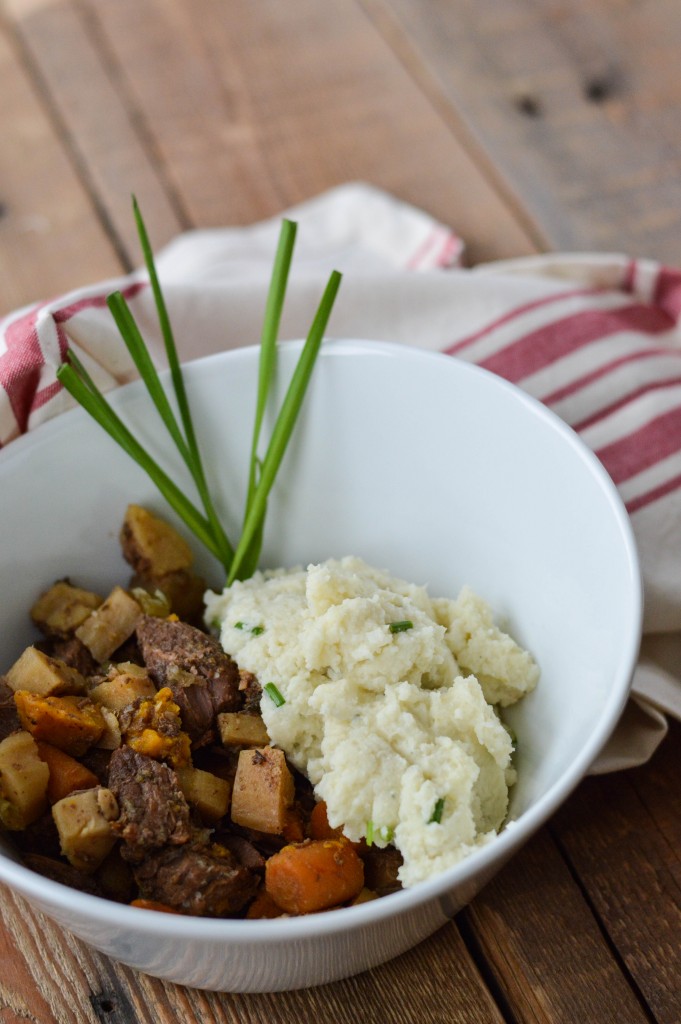 It looks like potatoes…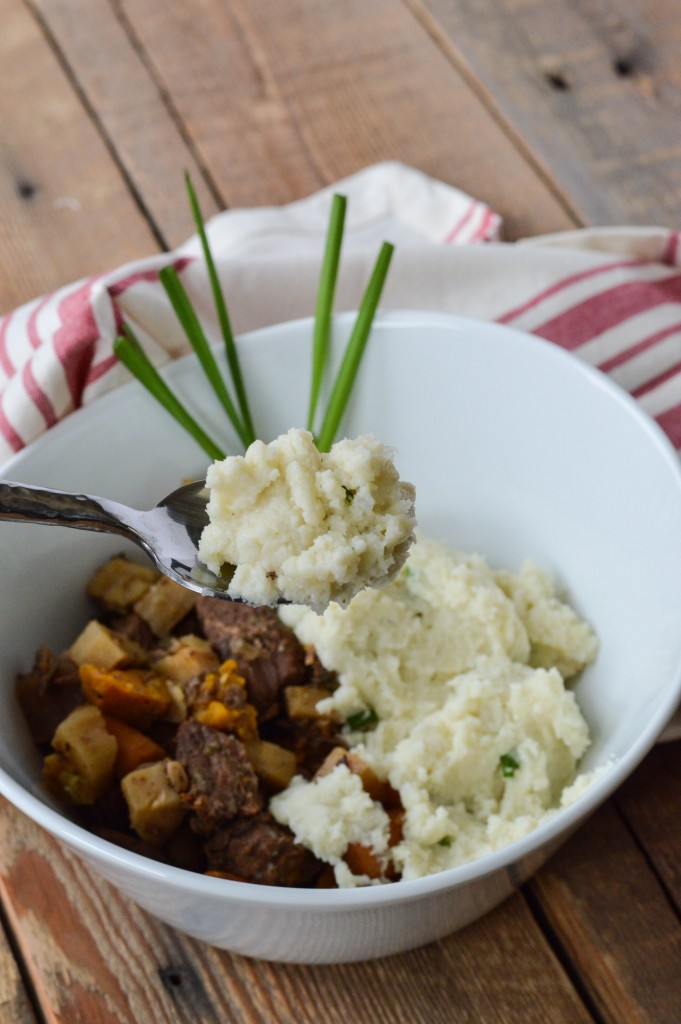 …and it tastes like them too!
How to Make Mashed Cauliflower #AIP #Paleo #Thanksgiving
Click To Tweet
I don't know about you, but these fake taters are totally making their way onto my Thanksgiving dinner table next week.  Oh cauli, as much as I don't want to admit it, I am really starting to become a fan of yours.
Have you ever made mashed cauliflower?
What is your favorite "fake-out" cauliflower creation?