I hope y'all had a great week this past week while I was in Colorado.  I'll start my recap posts tomorrow, but for now I am hooking you up with a crazy good (and easy) recipe for Sriracha Almond Turkey Burgers … aka heaven in burger form.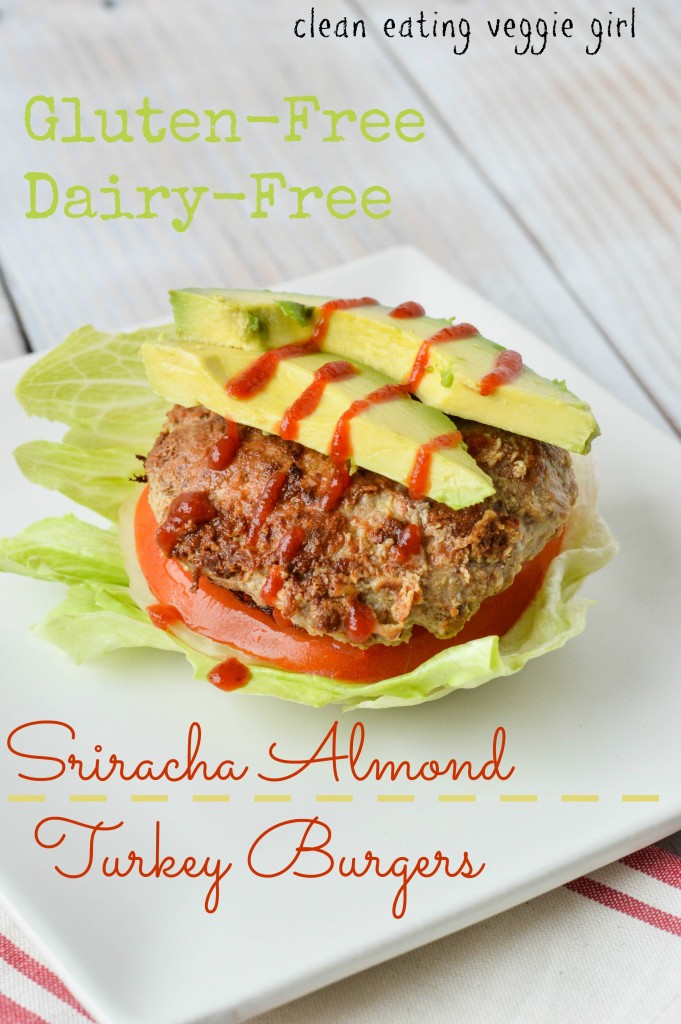 Sriracha?
Almonds?
Turkey Burgers?
Sign me up!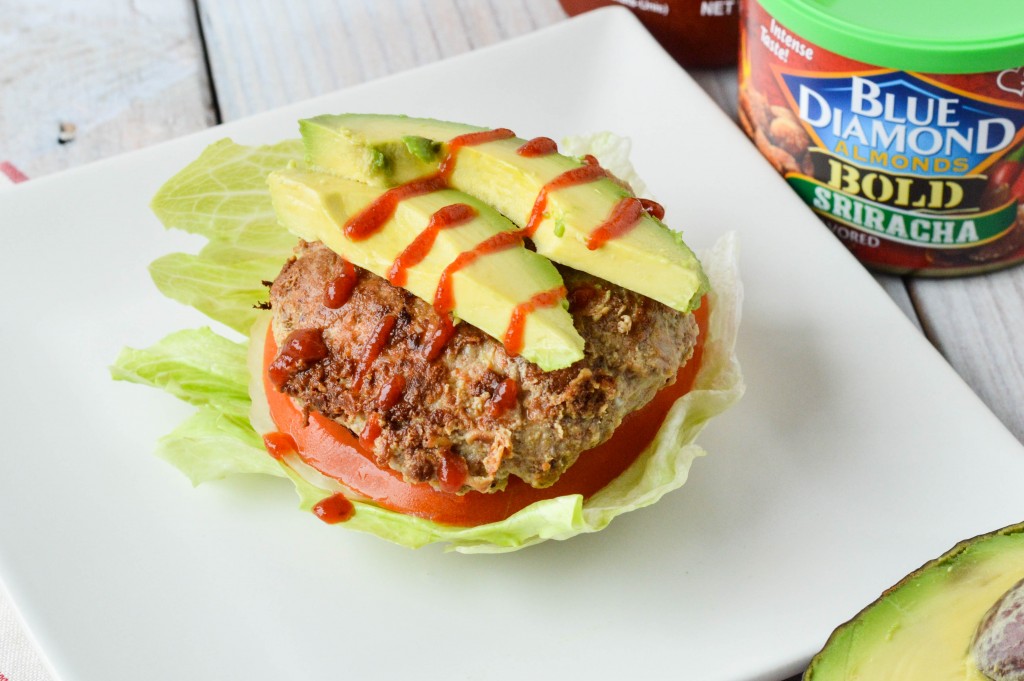 When I found out that Blue Diamond has a new almond flavor out that just so happens to be made with one of my favorite ingredients ever, I was pretty darn ecstatic.  Sriracha sauce in almond form?  It sounds like the best of both worlds, don't you think?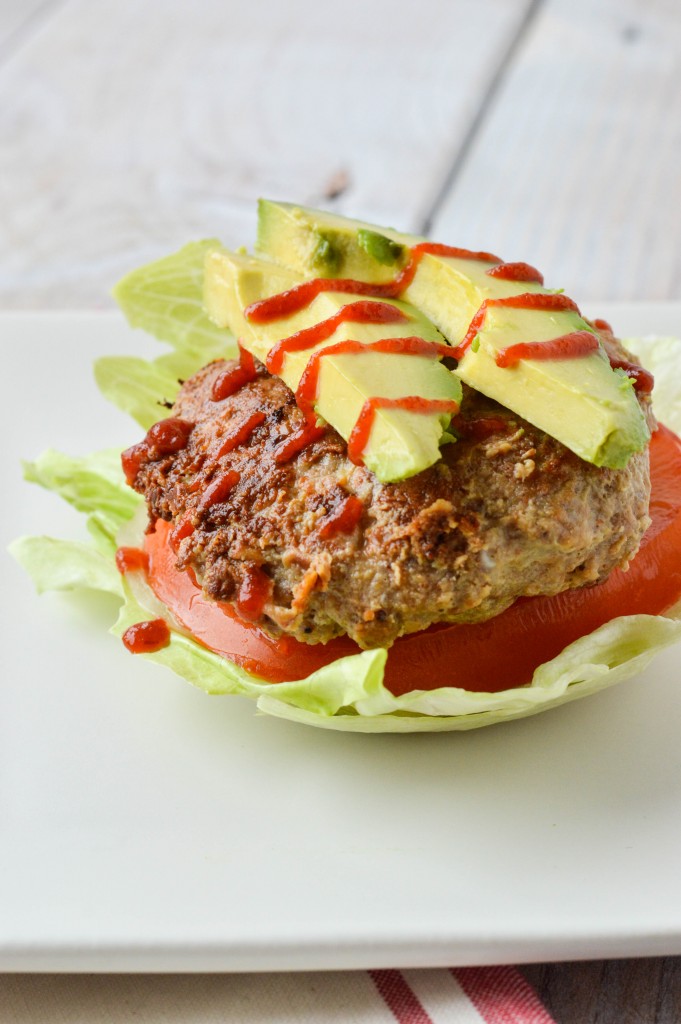 Of course I have been scarfing these babies down by the handful and they are great on their own.  But why not keep the Sriracha almond goodness going all the way into dinner time?  Almond eating should definitely not stop at snack time.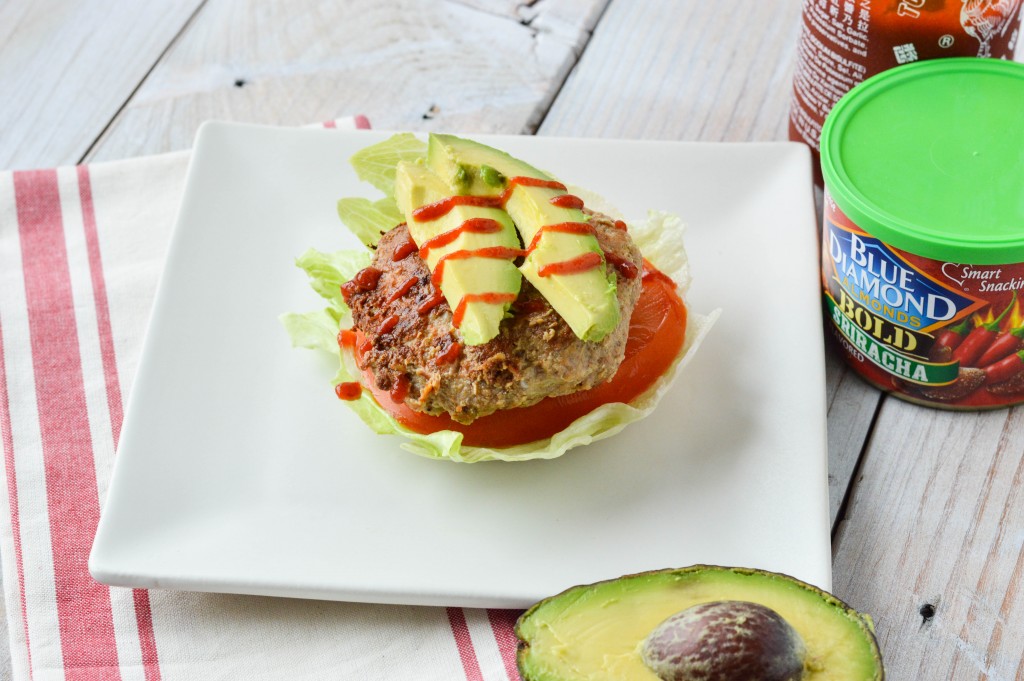 A couple of months back, I ground up some delicious honey Dijon flavored almonds and coated salmon filets with this flavorful almond "flour."  It was at that time that I realized the versatility and greatness of almonds when it comes to adding flavor and healthy fats to meal time.  I'm pretty sure you can make just about anything with them.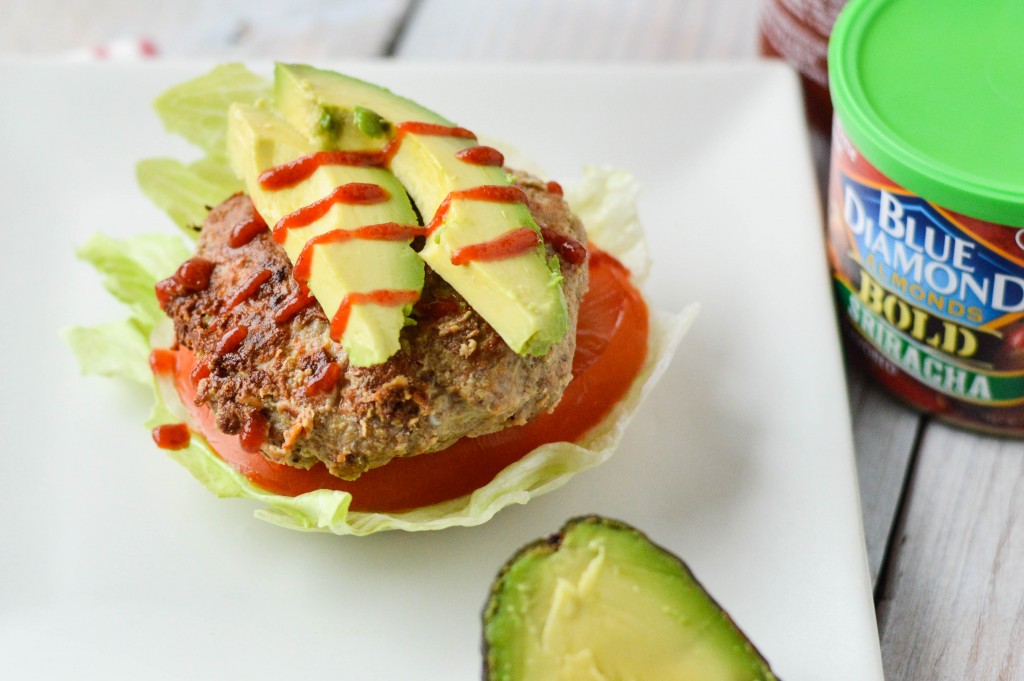 Since it is not unusual to find things like bread crumbs or all-purpose flour in burgers, why not use almond flour?  It packs a protein punch and is gluten-free friendly <– both are musts for me.  And while plain almond flour in turkey burgers would provide great texture, they would be missing something.  Something a bit, dare I say…  spicy?
Instead of being plain Jane with our turkey burgers, we are going to get spicy, saucy, and maybe even a bit sassy.  You might even want to pour yourself a margarita while you eat these.  Your mouth will thank you because these definitely have a bit of a kick to them!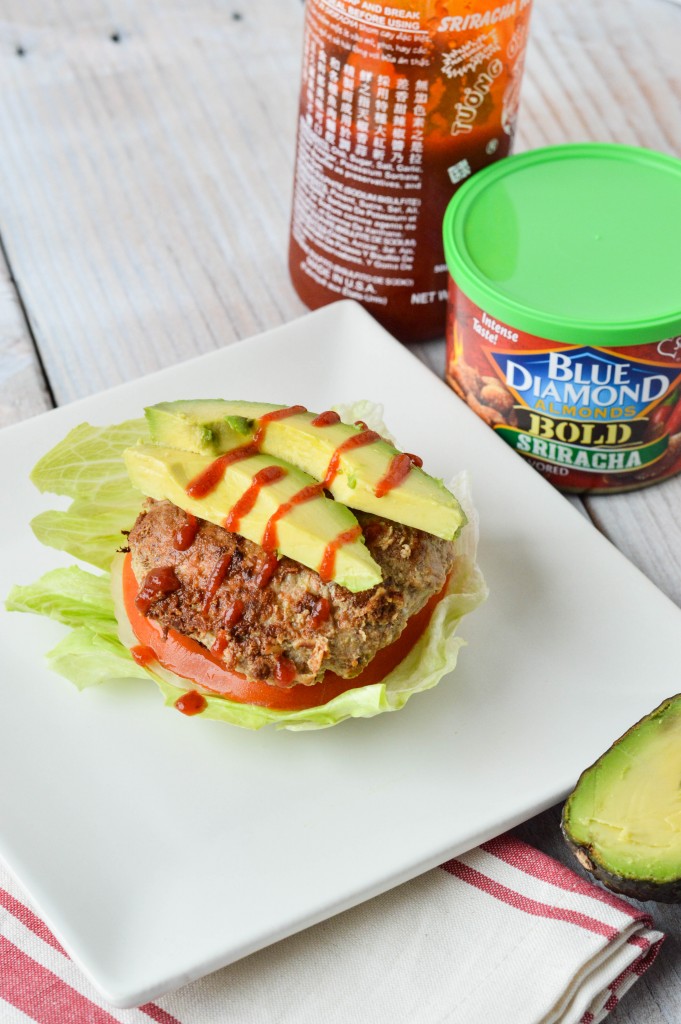 Sriracha Almond Turkey Burgers
Gluten-Free + Dairy-Free
Makes 4 burgers
Ingredients
3/4 cup Blue Diamond Sriracha Almonds
1 lb organic ground turkey
1-2 TB Sriracha sauce, depending on how spicy you want them
1 whole large egg, beaten
1/2 tsp garlic powder
1/2 tsp onion powder
1/2 tsp ground paprika
1/4 tsp ground cayenne pepper
1/4 tsp fine sea salt
1/4 tsp ground black pepper
2 TB coconut oil (for frying)
4 gluten-free buns or lettuce "buns"
desired burger toppings (onions, tomatoes, peppers, avocado, extra Sriracha sauce, etc.)
Directions
1. In a food processor or blender, grind almonds into a "flour."
2. Combine ground almonds, turkey, Sriracha sauce, egg, and spices in a large bowl.  Mix well (I used my hands).
3. Form the turkey mixture into four patties.
4. In a large skillet, heat coconut oil over medium heat.  Once hot, add burgers to the pan.  Cover the skillet and cook for approximately 10 minutes.
5. Flip the burgers, cover, and continue cooking for an additional 8 to 10 minutes, or until cooked through.
6. Serve the burgers on buns and top with your favorite burger additions.  If you like your burgers on the spicier side, be sure to drizzle extra Sriracha sauce on top!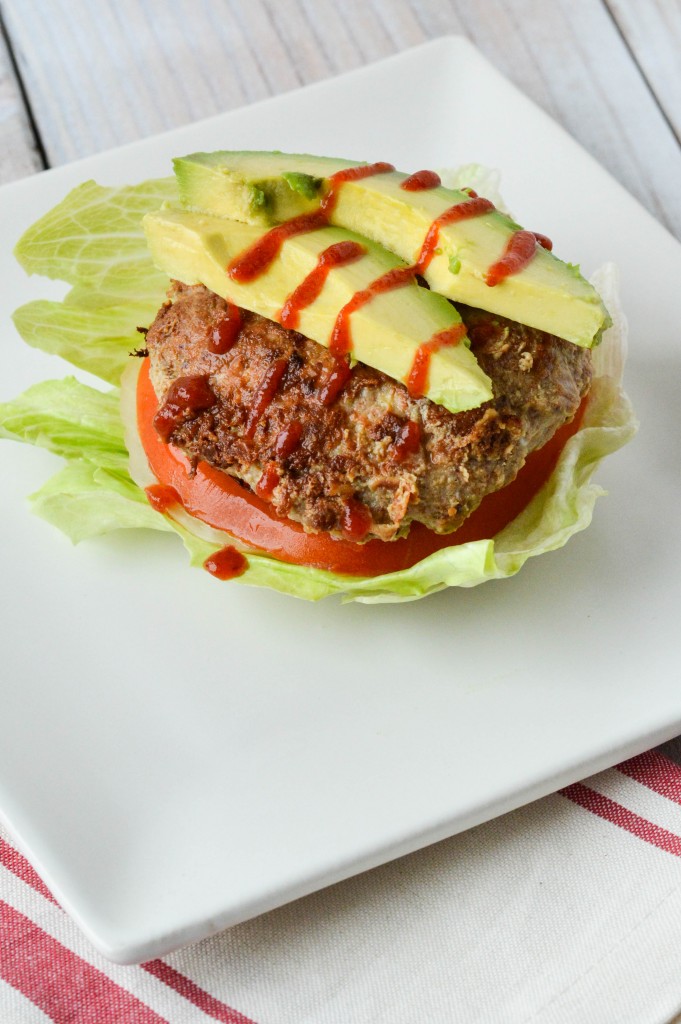 I have to say, the new Sriracha almonds may be my favorite flavor yet.  They leave me wondering if Blue Diamond could possibly ever come up with something good enough to top them.  Heck, who am I kidding?  They are pretty ingenious when it comes to almond flavors.  I am excited to see what they create next!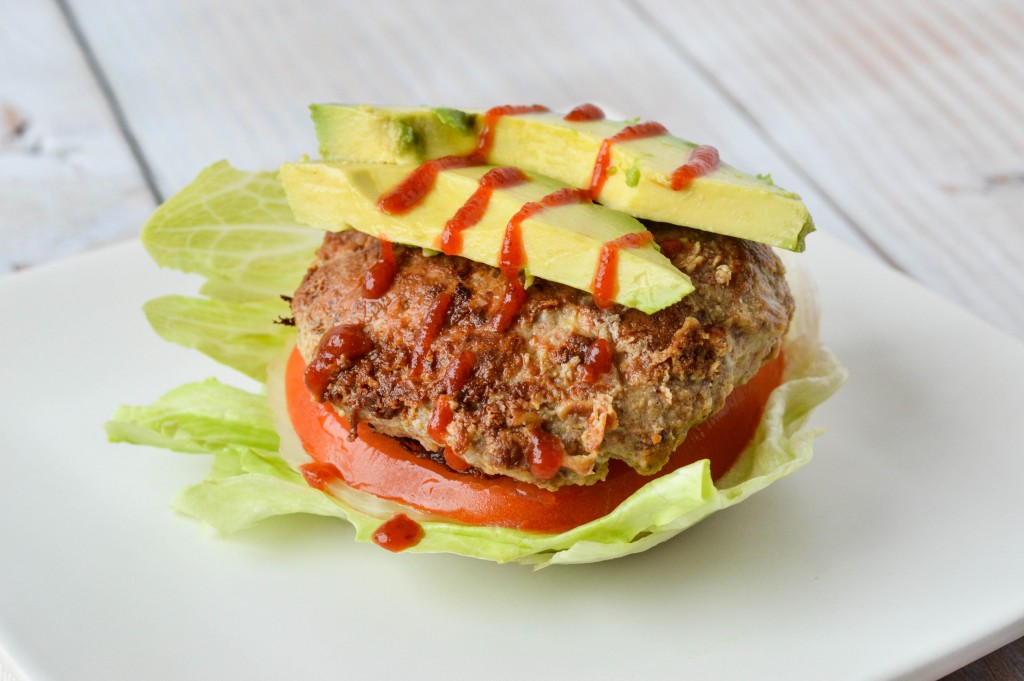 Spicy Sriracha Almond Turkey Burgers to liven up any summer meal! #recipe #cleaneats #sriracha Click To Tweet
Have you tried the Blue Diamond Sriracha Almonds yet?
What would you make with these almonds?
This post is sponsored by Blue Diamond Almonds.  Thank you for supporting the brands that make Clean Eating Veggie Girl possible!