Disclaimer: I do not have Celiac disease and, therefore, was not overly concerned regarding possible cross-contamination when making my selections at the following restaurants.  If you have Celiac disease, I certainly recommend asking the appropriate questions of your server regarding "GF-marked" items.
It is still a bit hard to believe that I am back in Omaha and back to work already.  After a week-long vacation in Colorado with Jeremy, I feel rejuvenated, happy, and also a little sad.  I never wanted it to end.  But I am trying not to focus on the post-vacation blues.  In fact, I am a bit too busy to even think about them.  With work, blogging, and planning for a wedding (<– yes, Jeremy proposed the night before we left for Colorado!), I have far more to think about than being sad that our Colorado vacation is over.  There is always next year to look forward to, right?
Since we packed a ton into just one week, I plan to recap it in four posts.  I'll also be sharing my experiences of eating gluten-free throughout Colorado in hopes that others traveling to CO can go prepared.  Now let's get to it!
Eating Gluten-Free in Denver, Colorado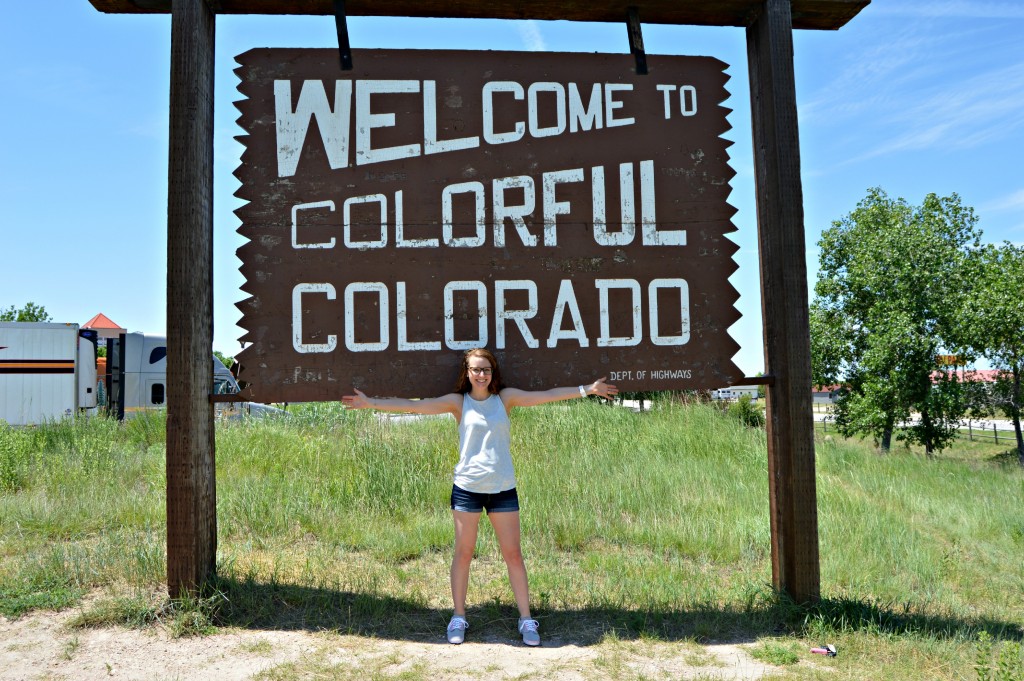 Jeremy and I left for our trip bright and early on Saturday morning.  This was my third time in Colorado, but my first time taking a picture with the welcome sign.  I was so darn excited to be there.  Colorado is a truly beautiful place!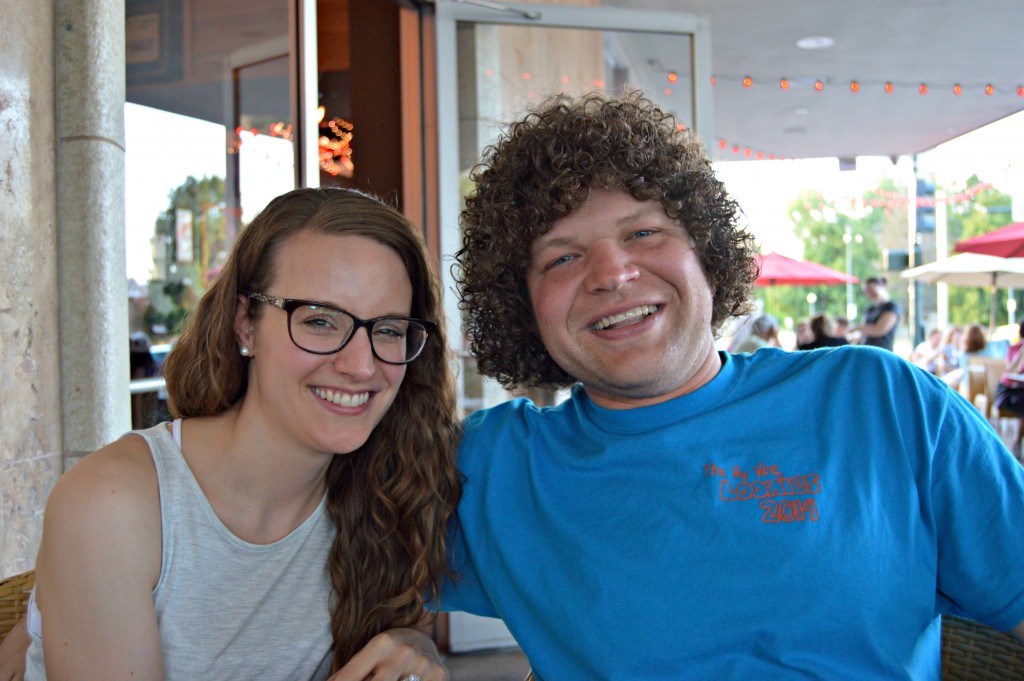 After the eight-hour drive, we arrived in Denver around 3:30.  We spent a couple of hours recouping, and then went out to dinner with Jeremy's aunt and uncle (who live in Denver) and Jeremy's brother and his girlfriend (who were also visiting).  Per his aunt and uncles recommendation, we hit up The Good Son Tap.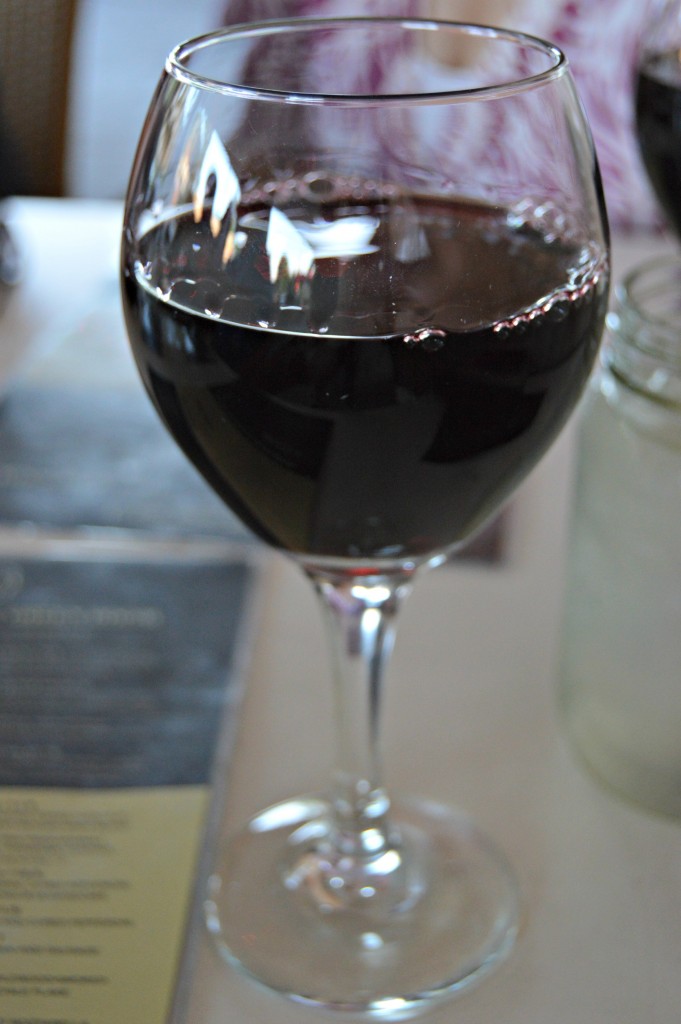 I started things off with a glass of Cabernet Sauvignon.  I am so excited that I am really enjoying wine these days.  The restaurant also had some gluten-free beer options, which was great to see.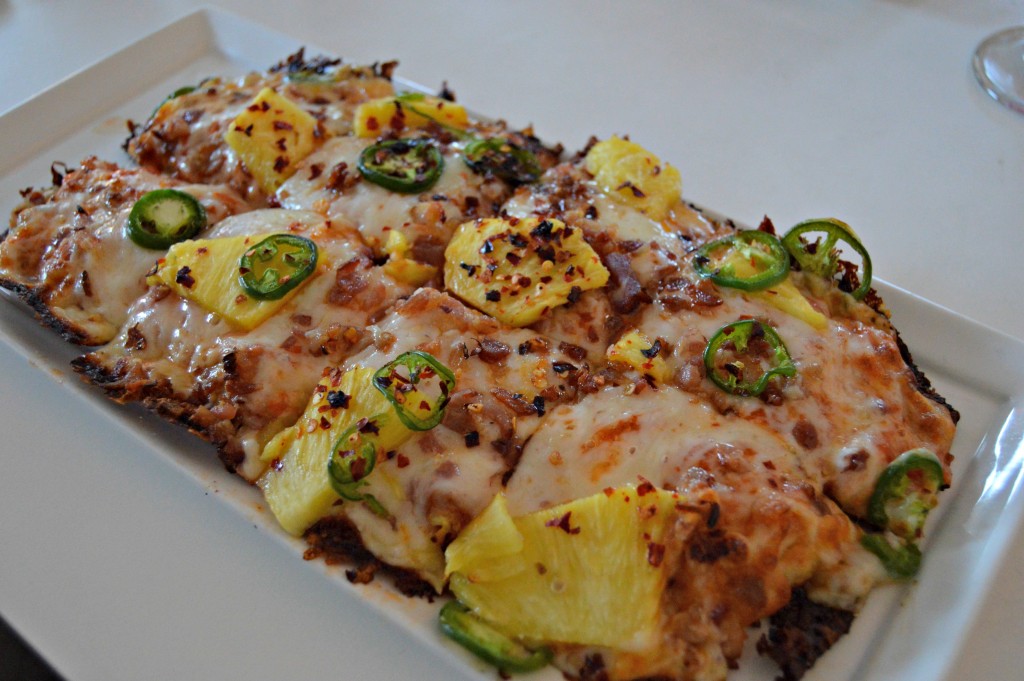 The six of us shared two appetizers: the spinach artichoke dip (I did not eat this) and the roasted cauliflower (amazing).  Jeremy and I then split the Tom Selleck pizza on a gluten-free crust.  It was topped with tomato sauce, smoked mozzarella, applewood-smoked bacon, pineapple, jalapeno peppers, and chili flakes.  The crust was absolutely delicious, and I honestly could not even tell that it was GF.  I loved the pizza toppings, though I had to leave the fresh jalapenos to Jeremy.  Jalapenos normally do not bother me, but these were extra spicy.   They gave me instant hiccups!  Once I removed the jalapenos, I was in pizza heaven.  I adore pineapple on my pizza!
On Sunday morning, Jeremy and I slept in.  We then drove about ten minutes to the South Pearl Farmer's Market.  We stopped there last summer and I absolutely loved it, so I knew we had to go back.  I ordered a green juice, which made me extra happy after a night of several drinks.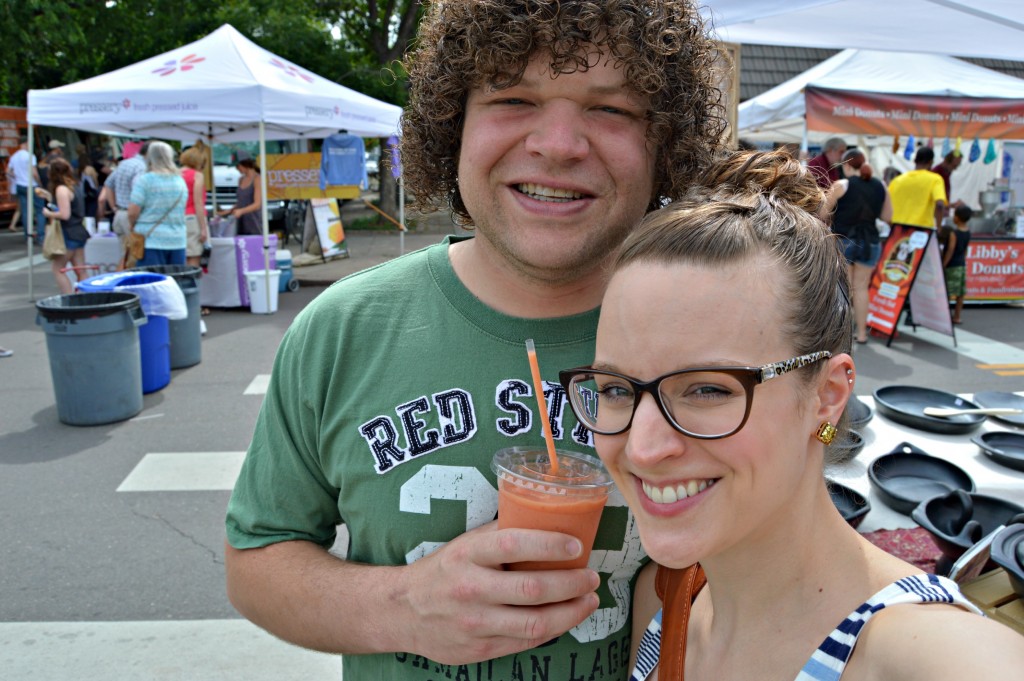 Jeremy ordered a fruit smoothie that was equally delicious!
We walked around the Farmer's Market for about an hour sampling food.  I was pleased to find several gluten-free options for me, including a crazy good carrot cake.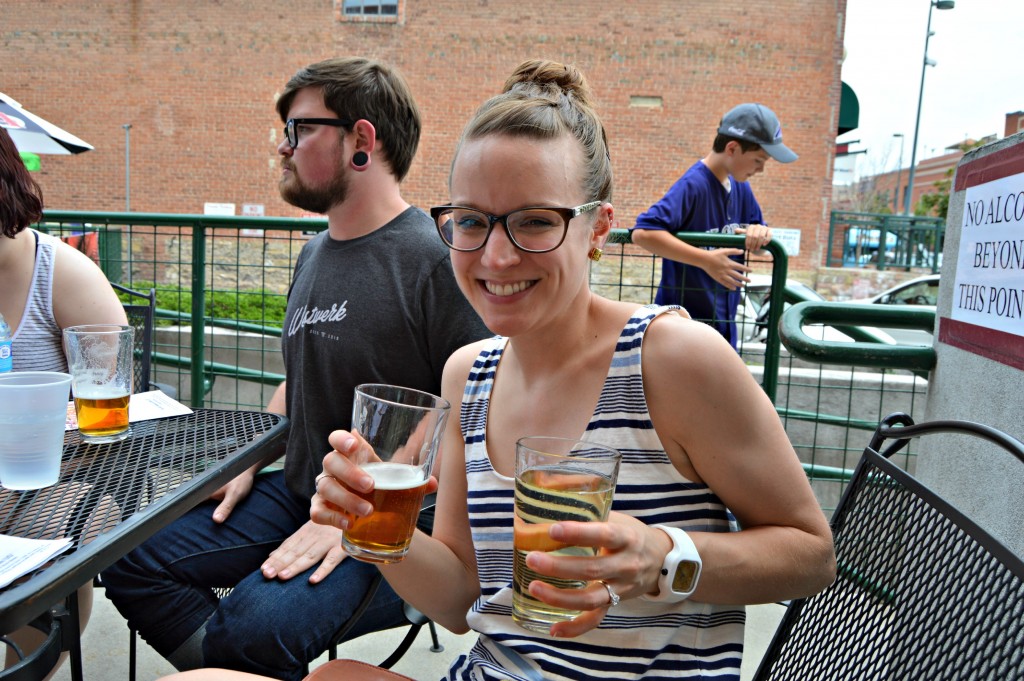 After our Farmer's Market adventures, the whole gang headed downtown for a few drinks before the Rockies game.  We stopped at Falling Rock Top House, where I enjoyed a Stone Delicious IPA and a Wyders Reposado Pear Cider that was aged in tequila barrels.  My old college self was loving that tequila flavor.
P.S. Double-fisting is totally acceptable on vacation.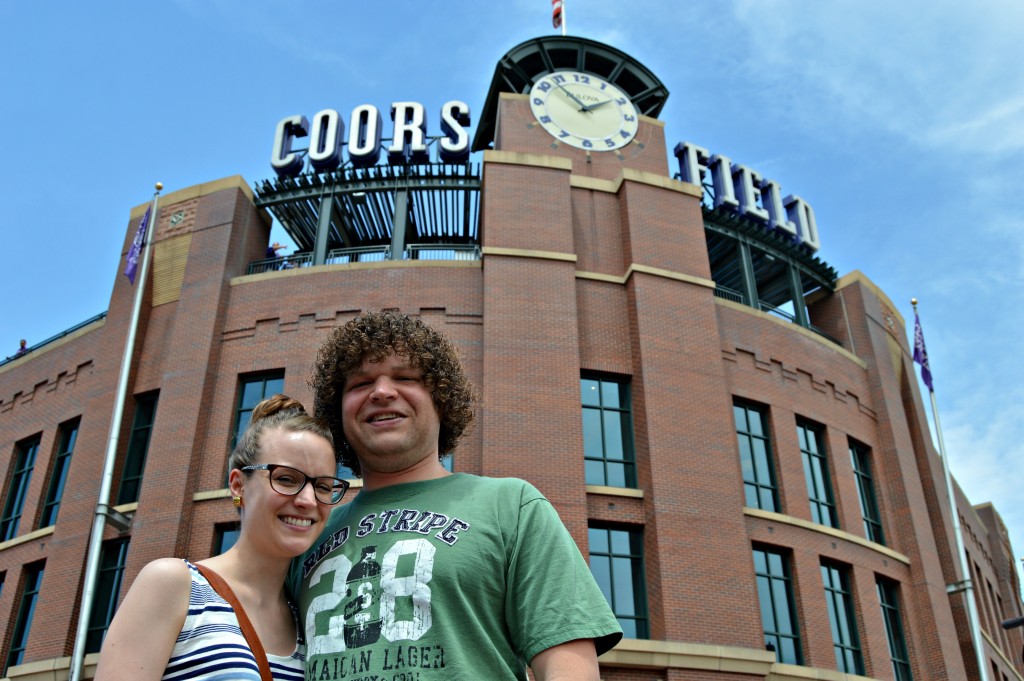 Falling Rock Tap House is just a short walk from Coors Field, so we headed that way about ten minutes prior to the start of the afternoon game.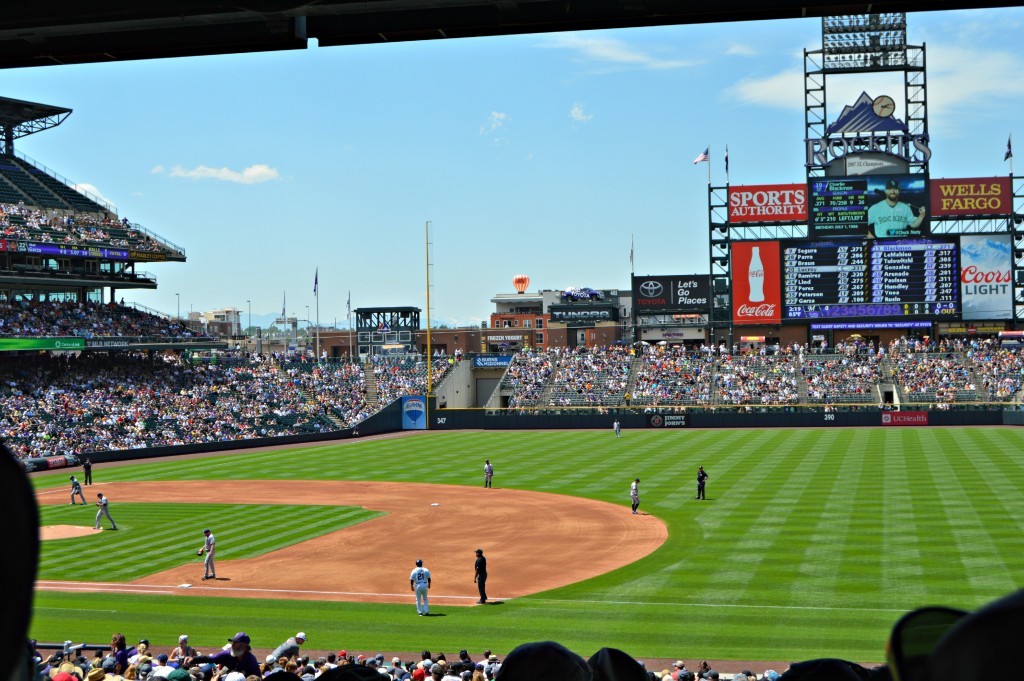 We were lucky enough to have seats in the shade because it was stinkin' hot (think 90's).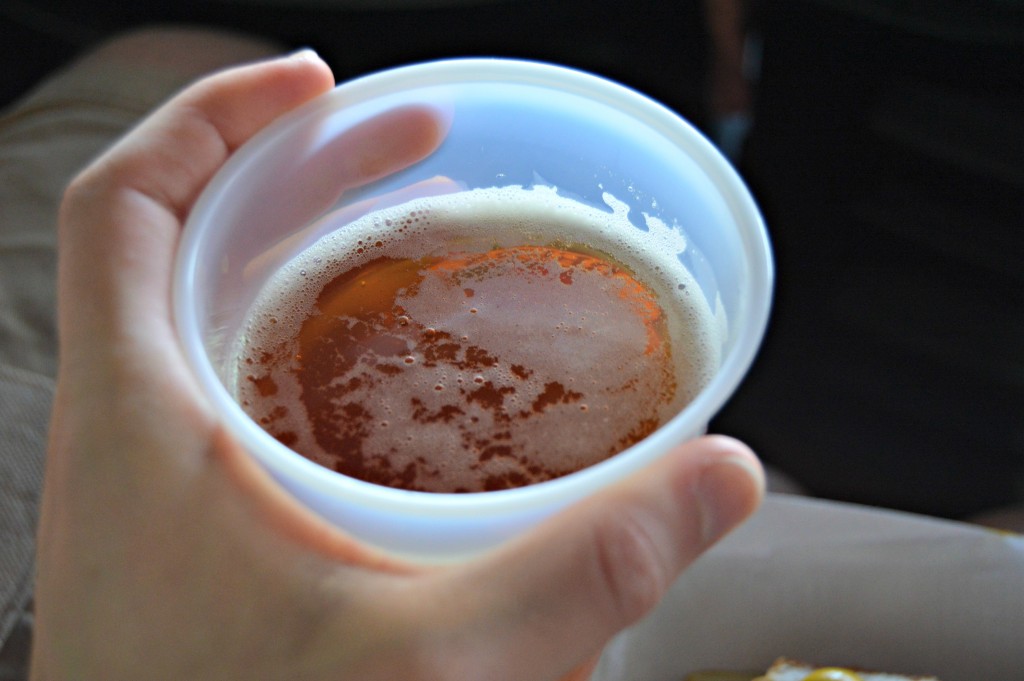 We obviously needed some cold beverages.
I have to take a minute here to brag about how amazing Coors Field's gluten-free options are.  They have an entire gluten-free stand (currently section 142) with drinks, mains, sides, and desserts.  I was seriously so impressed.  I ordered an Omission Pale Ale, which I dare say was probably better than Jeremy's Coors Light!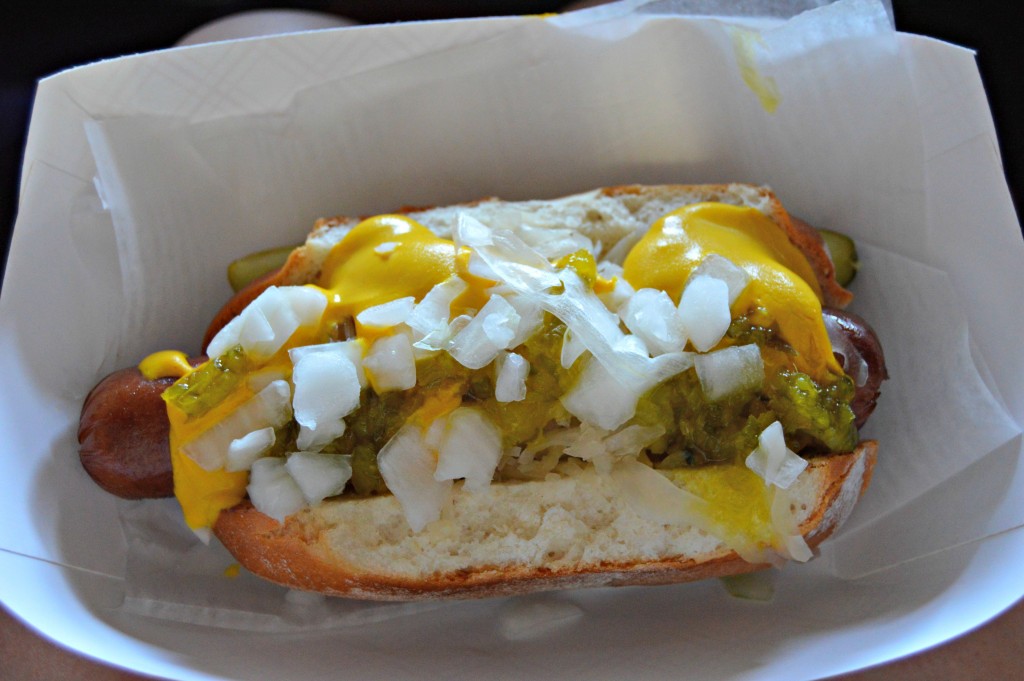 I obviously had to buy a hot dog.  It's just not a baseball game without one.  My hot dog was served on a gluten-free bun with sauerkraut, mustard, onions, and relish.  It was absolutely delicious, and my baseball hot dog cravings were 100% met.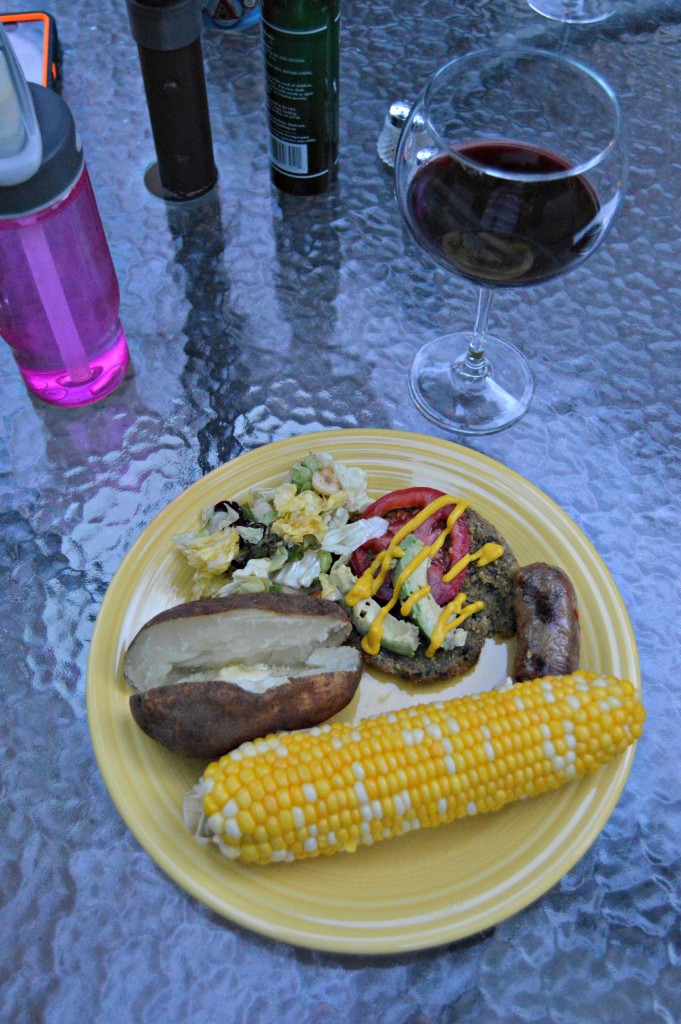 After the game we stopped by Great Divide Brewery (no gluten-free options here), and we ended the night with a home-grilled dinner.  My plate was packed with a veggie burger, half of a brat, the best sweet corn, a baked potato, and the most delicious salad that Jeremy's aunt made.  This meal was the perfect kick-off to the start of summer.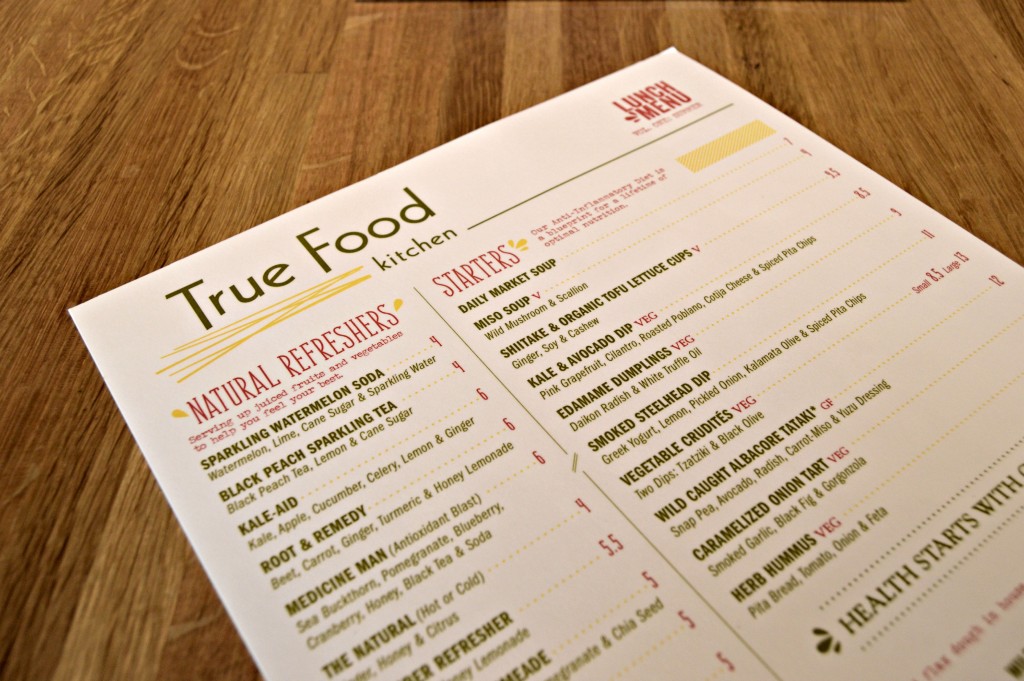 While Jeremy, his uncle, and his brother went fishing for the day on Monday, the rest of us had a girls day.  We spent the morning relaxing while eating breakfast, and then stopped by True Food Kitchen for a delicious and healthy lunch.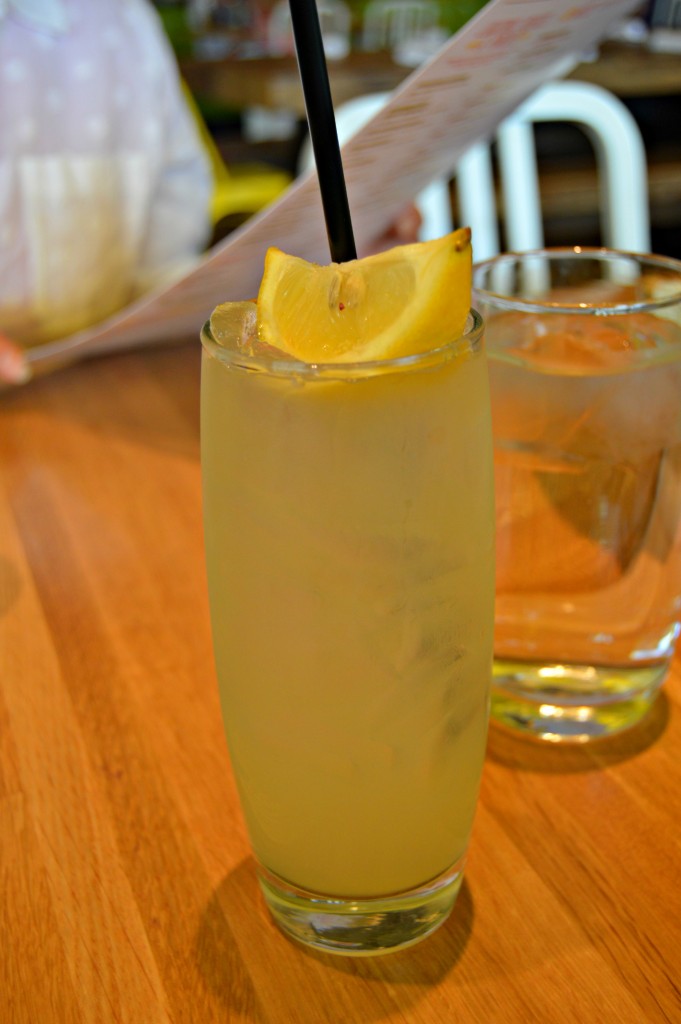 I normally stick with water at restaurants, but since it was vacation I decided to order their honey lemonade.  It was a great choice because it was insanely delicious.  Now I just need to figure out how to recreate it at home.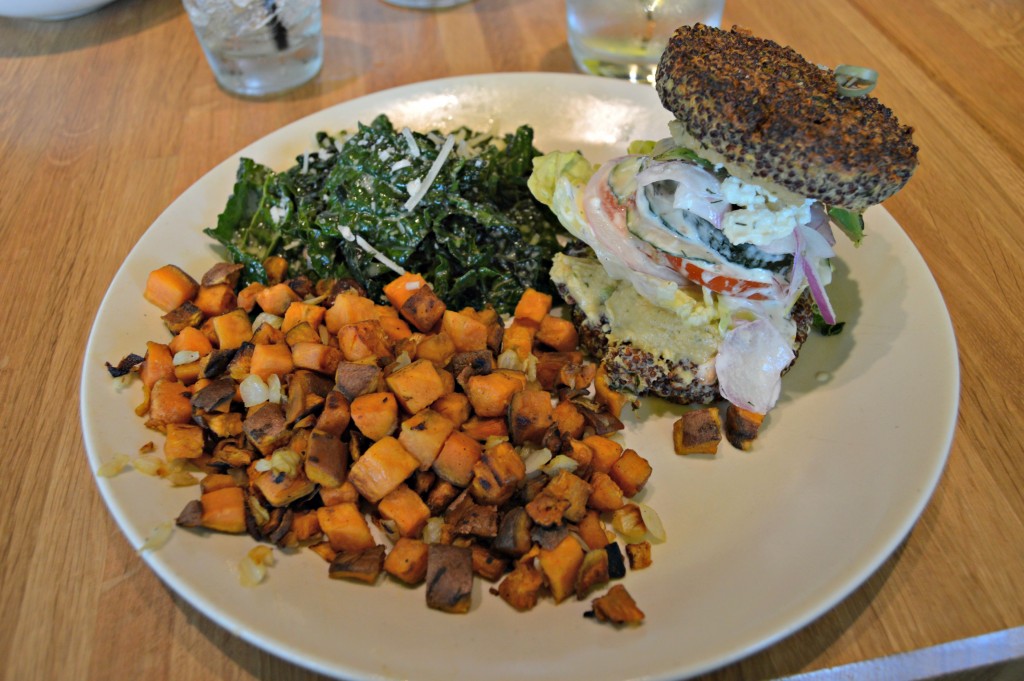 After a lot of going back and forth between several menu items (they have tons of gluten-free options!), I decided on the "Inside Out" Quinoa Burger, which was both gluten-free and vegetarian.  Inside of the quinoa patties was hummus, tzatziki sauce, tomatoes, cucumbers, red onions, avocado, and feta cheese.  I ordered their sweet potatoes and kale salad on the side.  Be sure to order the kale salad without bread crumbs if you are GF!  Everything was so delicious, and I absolutely plan on eating there again the next time we visit.
Once we finished eating, we headed out of Denver to meet the boys in Breckenridge for Monday evening and Tuesday.  More on that in my next Colorado recap post!
How to Eat Gluten-Free in Denver, Colorado #Denver #Colorado #glutenfree
Click To Tweet
Have you ever been to Denver?  Which restaurants are your favorites?