This post is sponsored by Blue Diamond Almonds.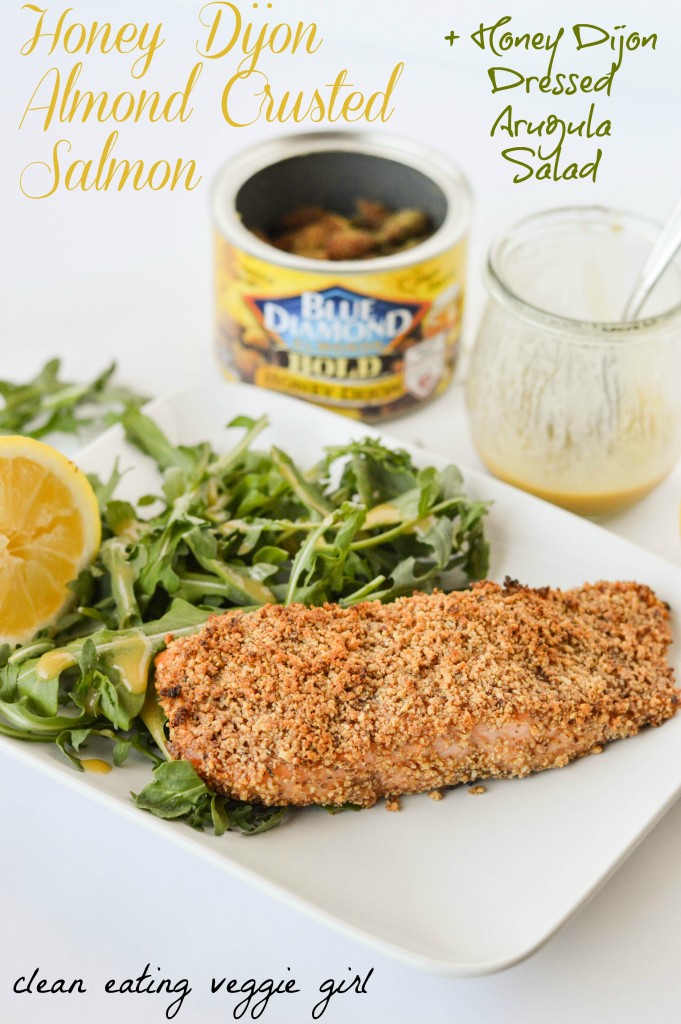 A year ago, I never would have thought I would be eating salmon, much less loving salmon.  Now I cannot get enough of it.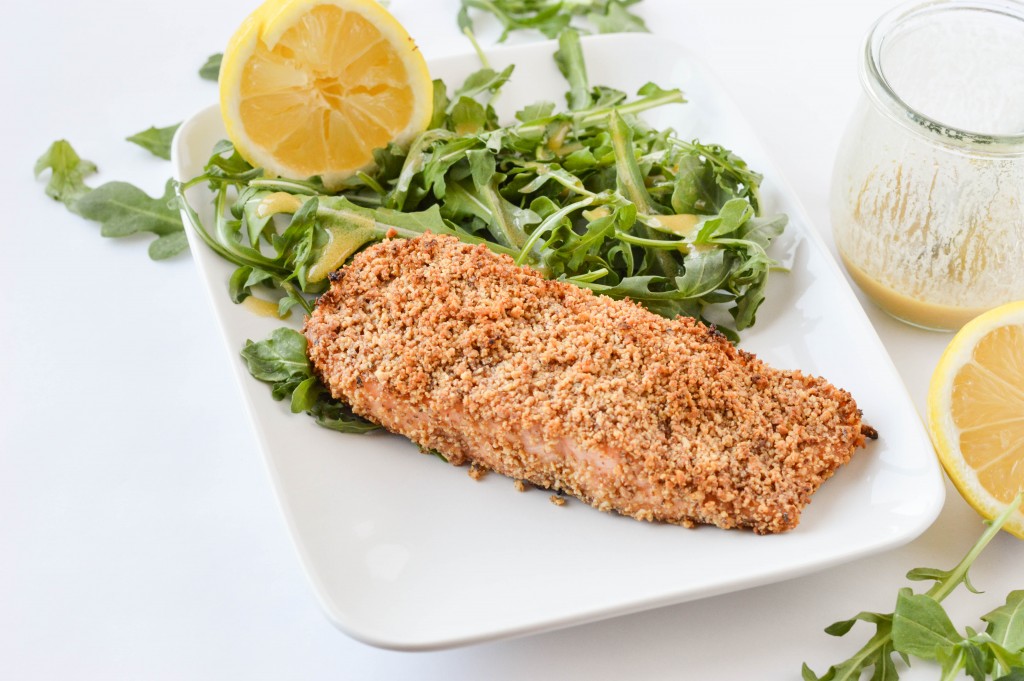 Though fresh salmon can be on the pricey side (um, $7.99 per filet is rough on my credit card), I try to treat myself to a filet a couple of times per month.
I have found several seasoning combinations that I love, but I am continually on the lookout for new and creative ways to make my salmon taste extra delicious.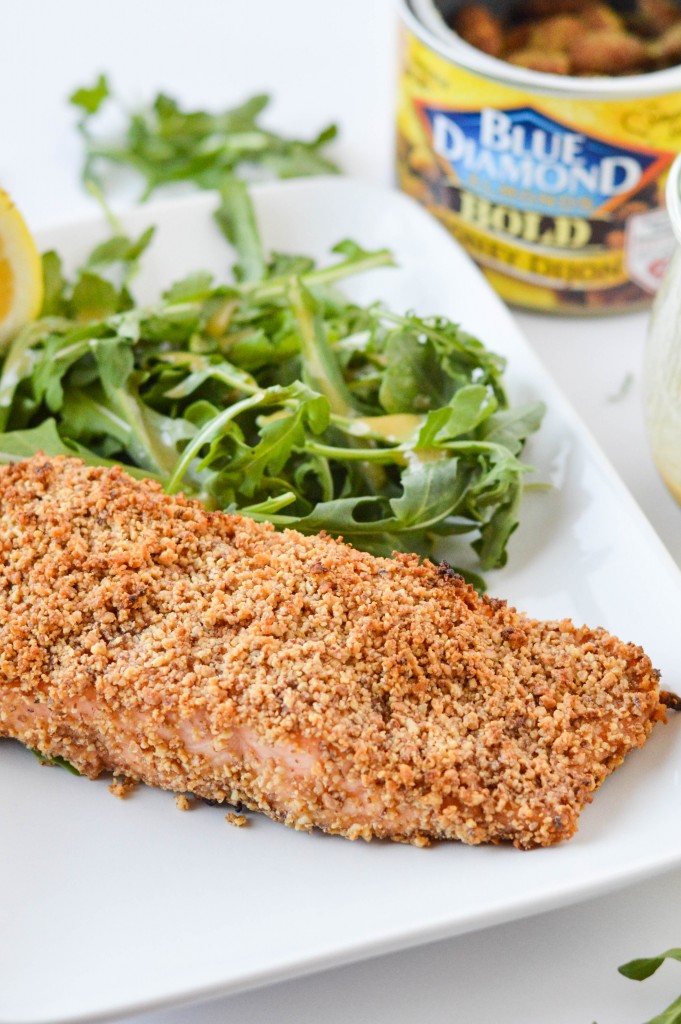 When Blue Diamond sent me their Honey Dijon almonds, I knew I wanted to make something bold.  I wanted to make something unique, something flavorful, and something healthy.
What could be more bold, unique, flavorful, and healthy than seasoning salmon filets with honey Dijon almonds?  Not much.
And while the almond crusted salmon is delicious all on its own, I couldn't leave you without a healthy side of greens.  Everything just looks and tastes better served alongside a fancy schmancy (but oh-so easy) arugula salad!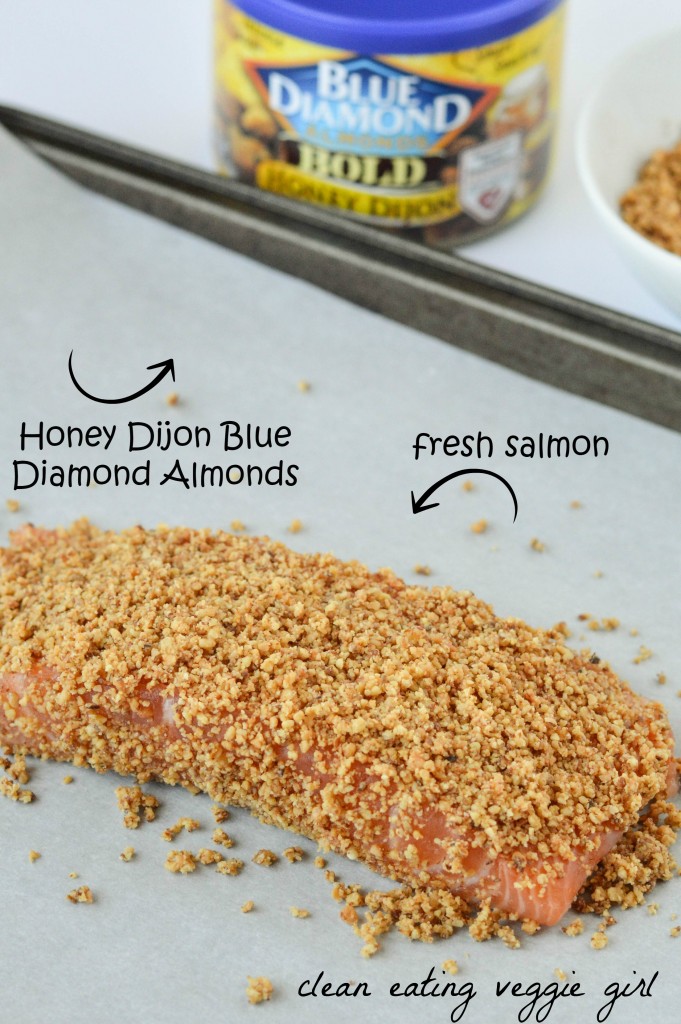 This whole dish does look kind of fancy, doesn't it?  Pretty please do not let that intimidate you.  While I honestly think this meal is something you could find on a restaurant menu or at a dinner party, it is one of the easiest dishes I have thrown together in the past several weeks.  If you can blend some almonds, whisk up a salad dressing, and work an oven…. well, my friends, you can impress the panties off of anyone that you make this for.  It is totally okay to impress yourself, too!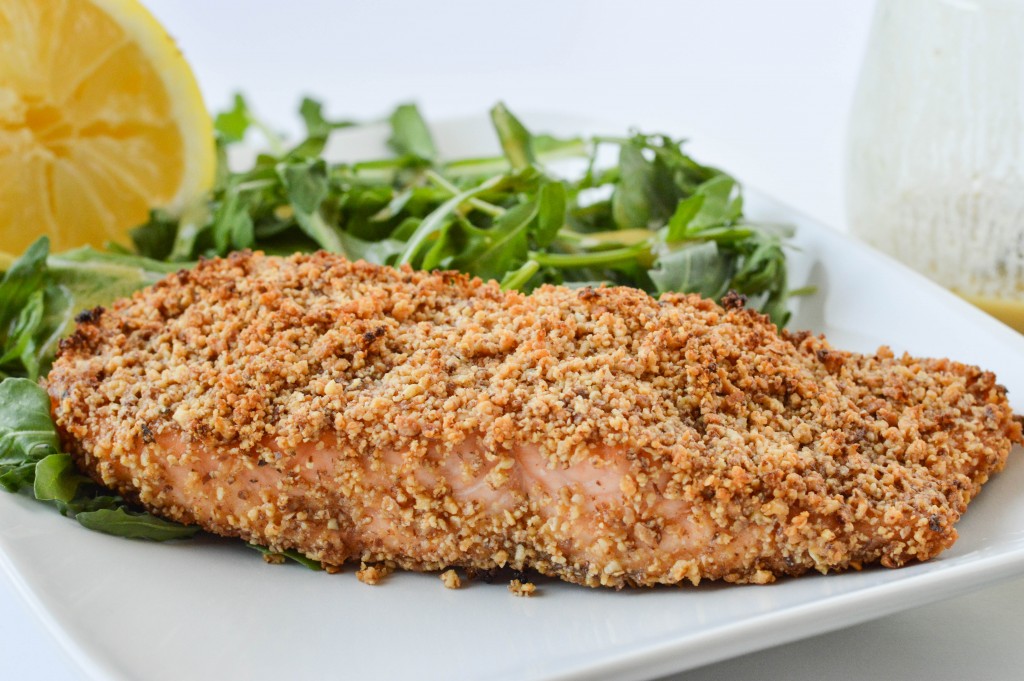 Honey Dijon Almond Crusted Salmon + Honey Dijon Dressed Arugula Salad
Gluten-Free
Serves 2
Ingredients
1/4 cup extra virgin olive oil
2 TB lemon juice
1 TB Dijon mustard
2 tsp honey
3/4 cup Bold Honey Dijon Blue Diamond almonds
2 6-ounce fresh skinless salmon filets (wild caught is preferable, but sustainably grown is fine too)
4 cups fresh arugula
Directions
1. Preheat oven to 400 degrees F.  Line a baking sheet with parchment paper or a silicone baking sheet.
2. Combine olive oil, lemon juice, Dijon mustard, and honey in a small bowl or mason jar.  Whisk or shake (with a lid) until well-combined.  Place in the refrigerator until serving time.
3. Place almonds in a blender or food processor.  I used my mini food processor.  Pulse for 30 to 60 seconds, or until the almonds look like this: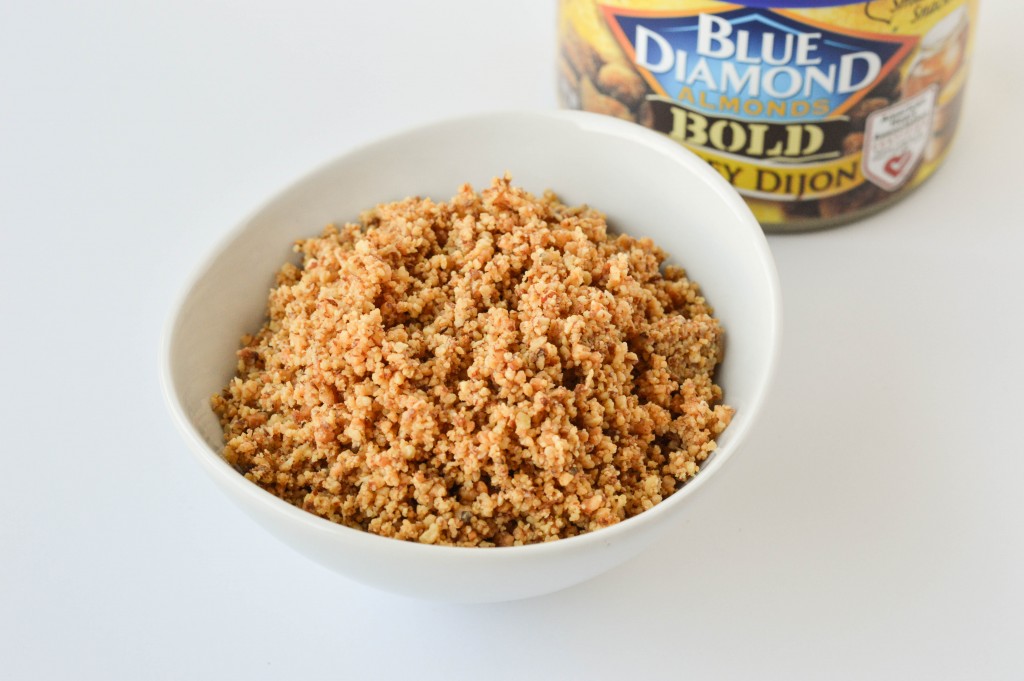 4. Coat one side of both filets with the ground almonds.  Carefully flip the filets and place them on the baking sheet.  Coat the second side with the remaining ground almonds.  You can also coat the edges of each filet, if you wish.
5. Bake the salmon filets for approximately 20 minutes, or until they reach an internal temperature of 145 degrees F.
6. Plate the salmon filets alongside a bed of arugula.  Top each salad with the honey Dijon dressing.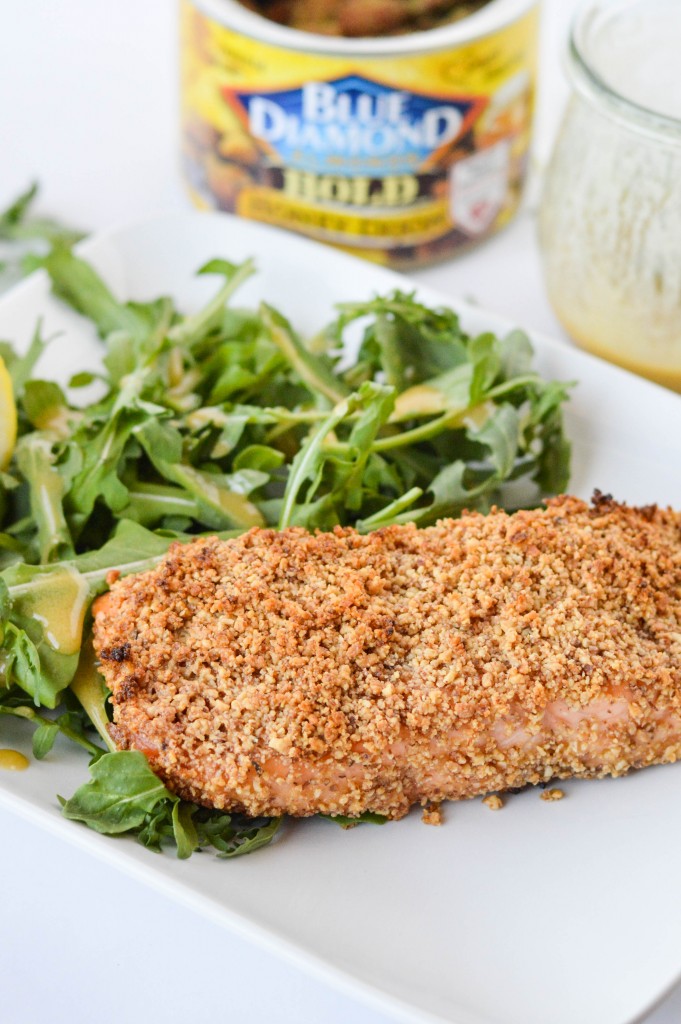 I am obsessed with how delicious this entire meal turned out.  I am now also obsessed with the idea of coating fish with ground seasoned almonds.  While the honey Dijon flavor pairs perfectly with salmon, I cannot help but be excited to try some other flavor combinations.  I am sure the salt 'n vinegar or Habanero BBQ flavors would be unreal.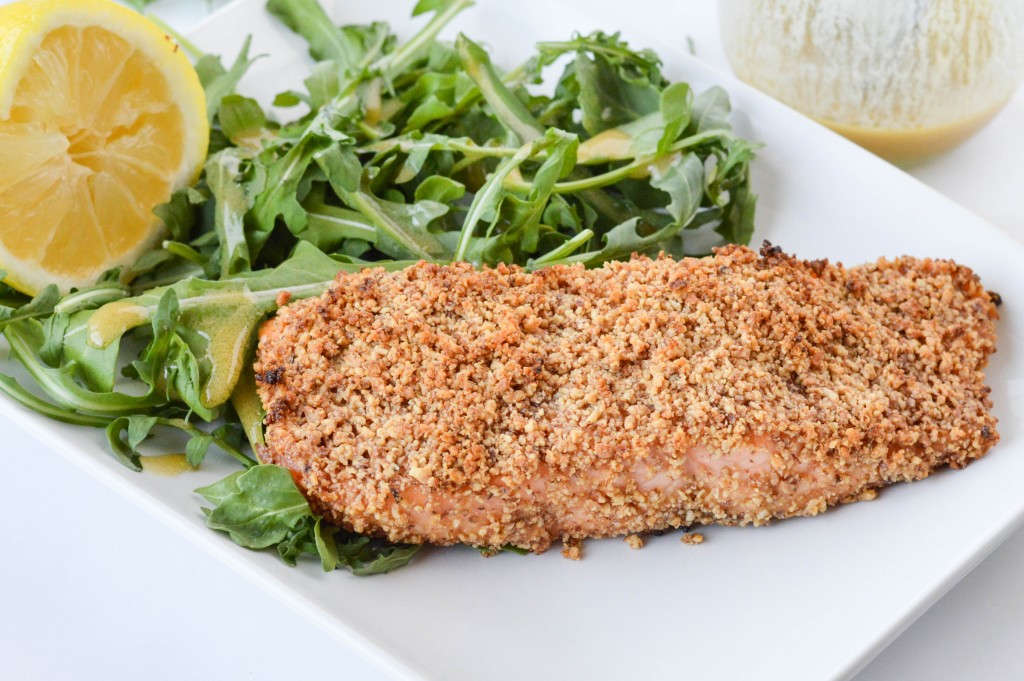 Please pin me and share me on Facebook and Twitter using the share buttons below!
Have you ever used ground seasoned almonds in a recipe?  Share your favorites in the comments!