Simple three-ingredient Lentil and Refried Bean Taquitos that are protein-packed, vegan, and gluten-free.
I thought I had hit the jackpot back in August when I made taquitos with refried beans and hummus.  Don't get me wrong.  The refried beans and hummus combination is delicious!  But this time I made us all something even better.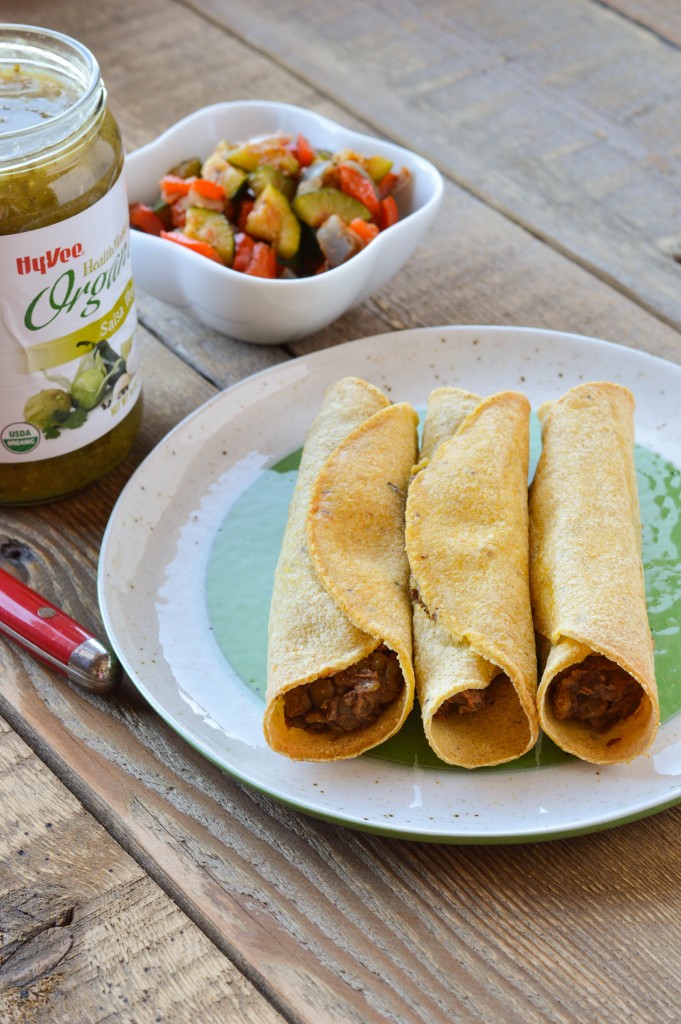 A couple of months back, I was eating plain 'ole taquitos made with refried beans.  They were delicious, but they got me thinking about what else I could use to make tasty taquitos.  When I looked down at the corn tortillas, I was almost instantly reminded of my favorite enchiladas ever from Alexis.  I started wondering how I could combine the delicousness of the enchiladas with the simplicity of the taquitos.  And then it hit me.  Lentils.  Duh!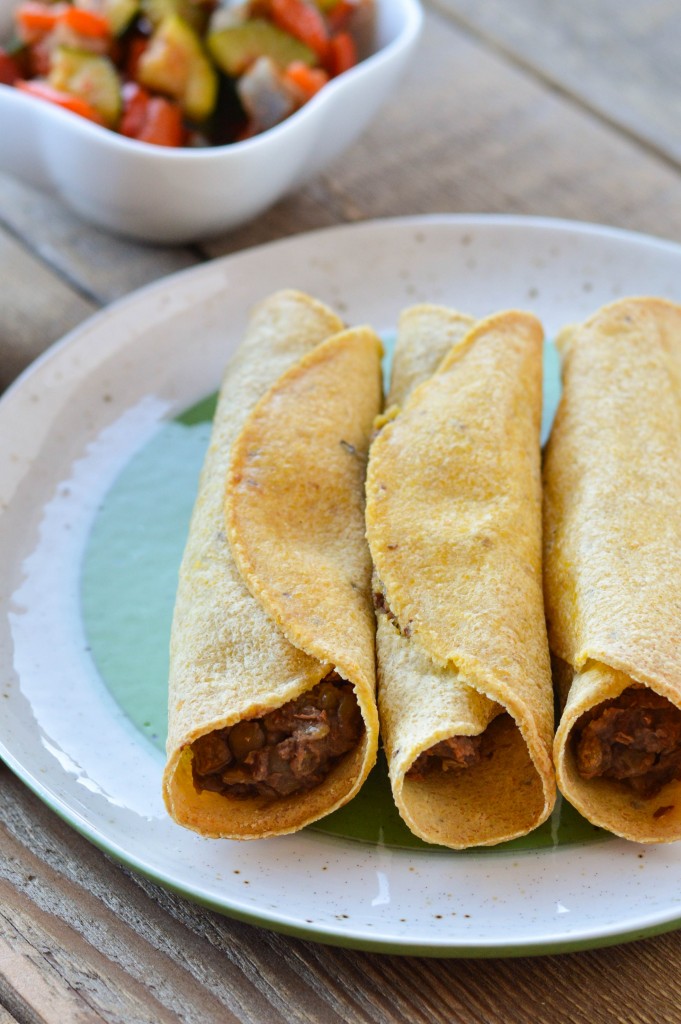 So I did it.  I made three-ingredient taquitos with lentils, and they were the most delicious taquitos I have ever eaten.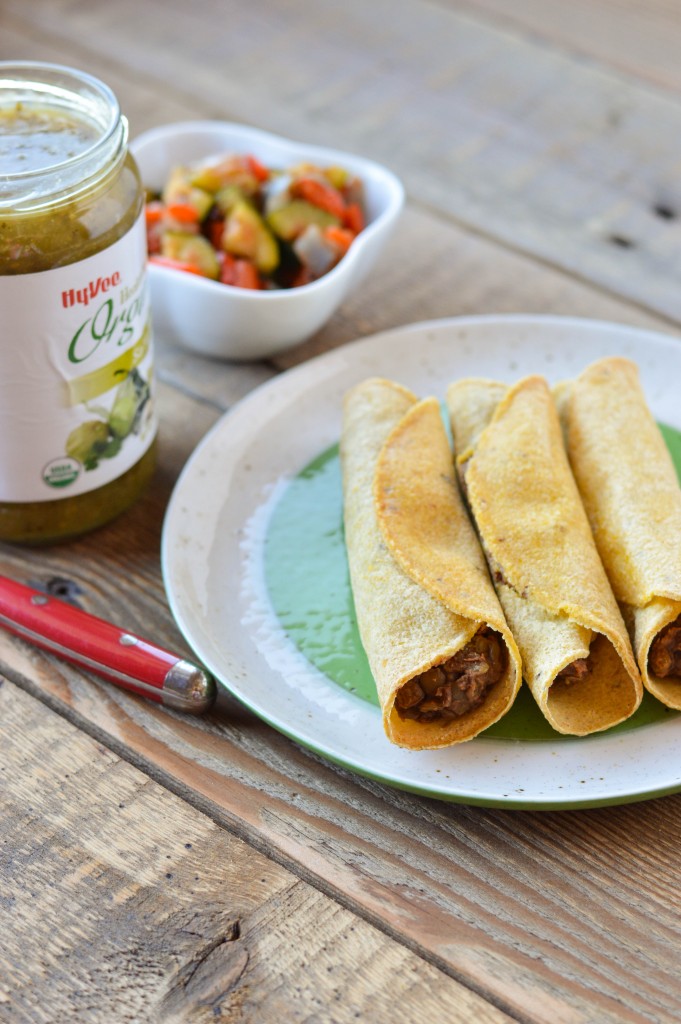 If you are looking for simplicity in the kitchen, these have your name written all over them.  Even if you "can't cook," you can definitely make these!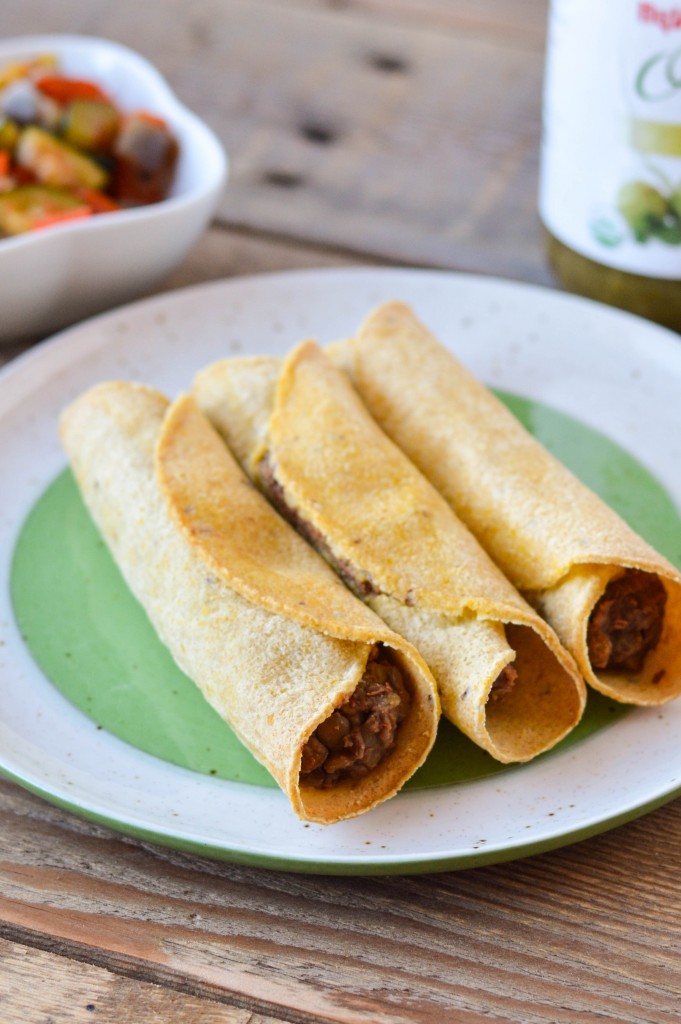 Lentil and Refried Bean Taquitos
Vegan + Gluten-Free
Makes 12
Ingredients
2 1/2 cups water (or vegetable broth for more flavor <– this is my preference)
1 cup uncooked brown lentils
15 oz can vegetarian refried beans
12 corn tortillas
*You can also use pre-cooked lentils, if desired.
Directions
1. Boil water or broth in a medium saucepan.  Once boiling, stir in lentils.  Reduce heat to medium-low, cover, and simmer for approximately 40 to 45 minutes, or until the lentils are soft and the liquid is absorbed.  Remove the lentils from the heat and set aside to cool.
2. Preheat oven to 375 degrees F.
3. Combine cooked and cooled lentils with refried beans in a medium bowl.  Stir to mix well.
4. Heat corn tortillas in the microwave, oven, or on the stovetop until they are soft enough to roll.  This step is important in order to ensure that the taquitos stay together.
5. Spread the lentil and bean filling evenly amongst the 12 corn tortillas.
6. Roll the tortilla shells tightly into the shape of taquitos.  Place seam-side down on a nonstick baking sheet.
7. Bake the taquitos for approximately 15 to 20 minutes, flipping once halfway through.  If you like your taquitos extra crispy, you will be closer to the 20 minute side of the cooking time.
8. Remove from the oven and let cool for at least 5 to 10 minutes.  Trust me, you do not want to bite into these when they are piping hot!  I may or may not have learned this from experience.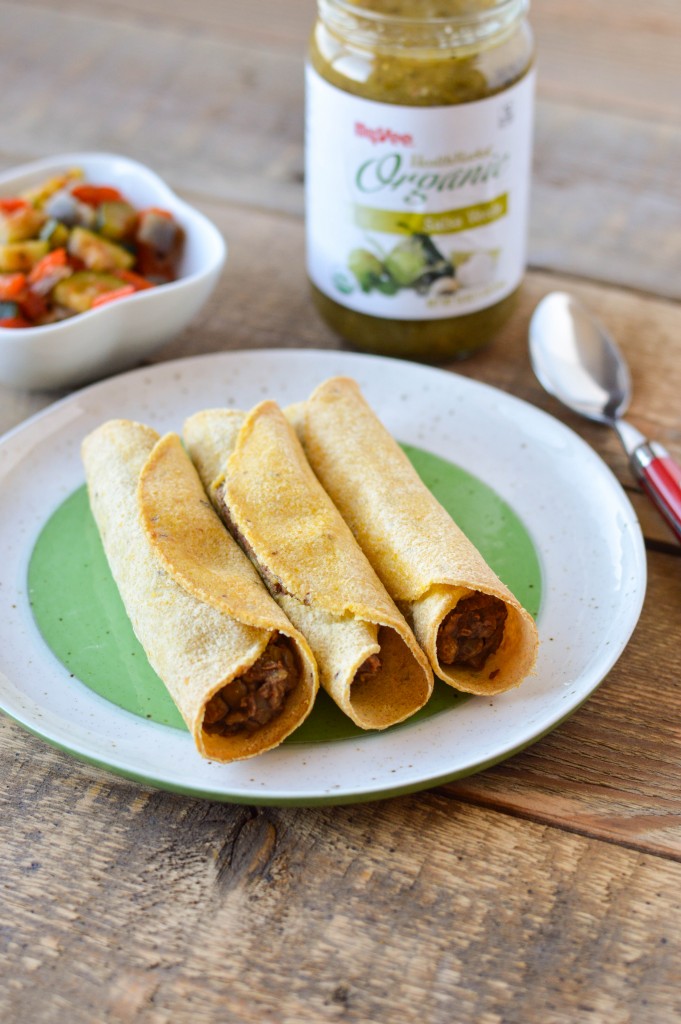 I served my taquitos with a side of taco-seasoned veggies and dipped everything in salsa verde.
I think I could make and eat these every single week.  I was even craving them for breakfast one of the days.  Heck, I bet these would be delicious early in the a.m.  I need to make that happen.
What is your favorite super-easy dinner idea that you cook often?