As I mentioned last week, adopting a gluten-free diet at home has been pretty darn easy for me.  I realized that I do not eat as much gluten as I thought, and with some simple substitutions like GF bread and oats, I have been tackling a gluten-free diet just fine.
My biggest struggles with following a gluten-free diet have been with giving up most beers and eating out at restaurants.  Luckily, I am fortunate to live in a city that is large enough to have several restaurants with gluten-free options.  While I may have to stop eating at some of my favorite restaurants, there are still plenty of options to go around!
A couple of weeks back, Joanna, Jordan, and I checked out a fairly new gluten-free-friendly restaurant called Spin! Neapolitan Pizza.  Spin! serves up delicious stove oven-cooked pizzas, flatbreads, sandwiches, salads, soups, and gelato.  Poor Erin was supposed to go with us, but she was not feeling well.  Lucky for her, all three of us loved our food and will definitely be wanting to make return visits.  You notice I said "visits," right?  Spin! Neapolitan Pizza is definitely a must try.
Omaha Eats: Spin! Neapolitan Pizza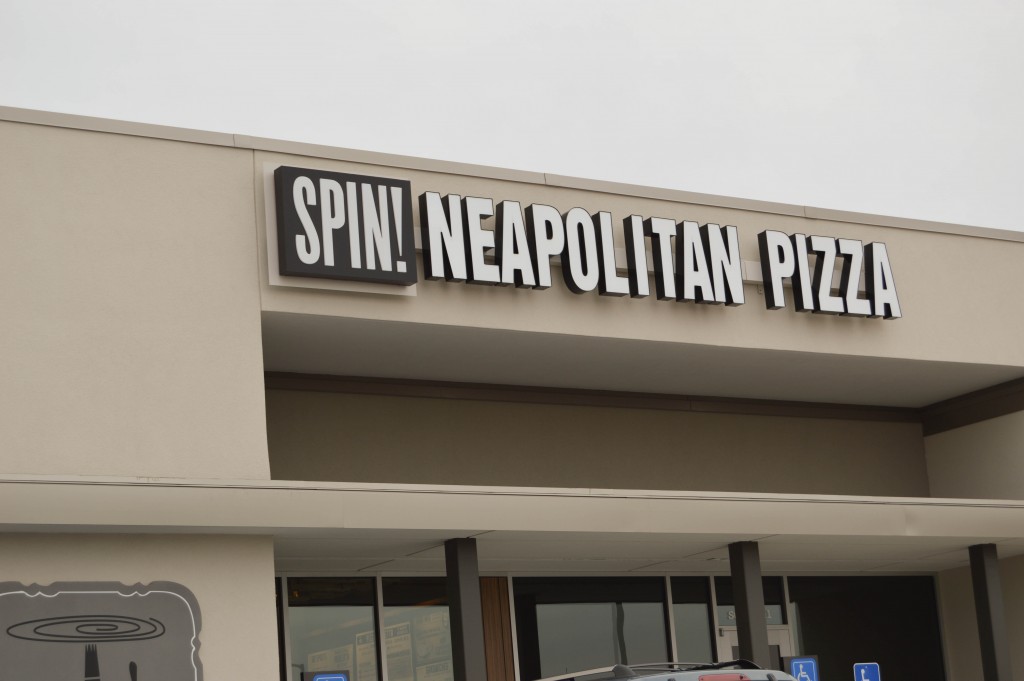 Joanna and I arrived to Spin! around 6:00.  Jordan had something come up at work, so we chose a booth in the restaurant and chatted while perusing the menu.  Once Jordan arrived, we jumped up and got in line.  Spin! is set up a way where you order at the door, get a number, and then sit down and wait to have the food delivered.  We were greeted in the ordering area and they happily offered to explain the menu.  I was also able to ask questions about their gluten-free offerings and how they prepare and cook the gluten-free crusts.  After making our final decisions, we each ordered and then took a seat back at our table.  The wait staff brought us our drinks and utensils, and they were so incredibly attentive and helpful.
All three of us chose to order the Mini Mias.  A Mini Mia consists of a personal-sized pizza that is paired with your choice of soup or salad.  The best part is that you can choose any pizza and any salad or soup.  While we loved having so many options, it definitely made our choices tough ones!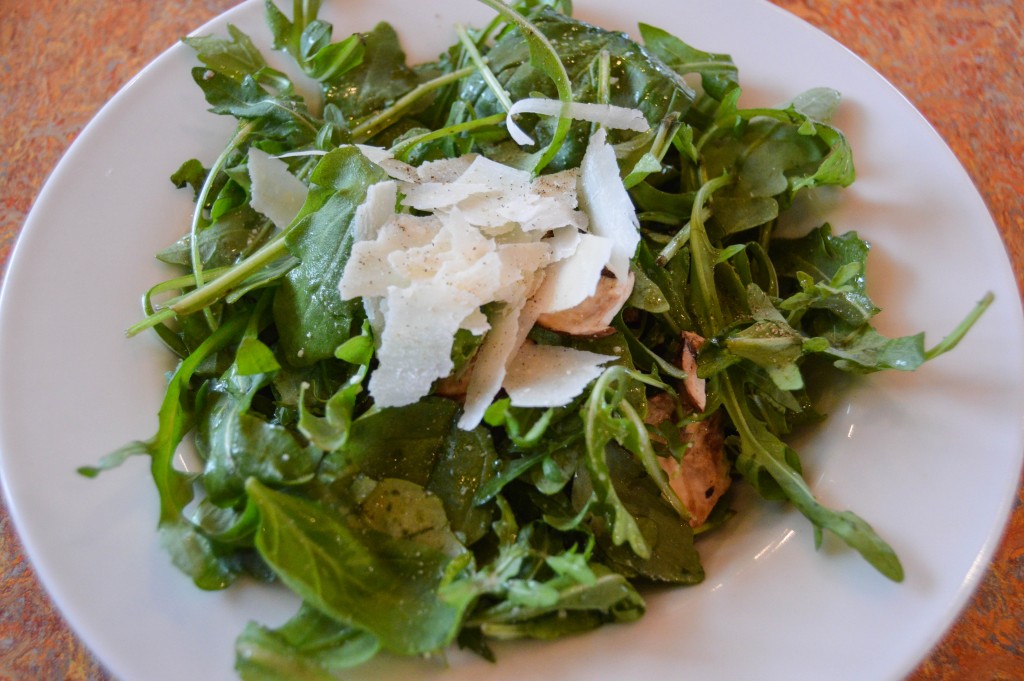 From the time we ordered our food to the time it was brought to the table, only about seven minutes had passed.  The service is definitely speedy at Spin!  I chose the Arugula salad, which included crimini mushrooms, grana padana cheese, and an extra virgin olive oil and lemon juice dressing.  It was classic, refreshing, and delicious!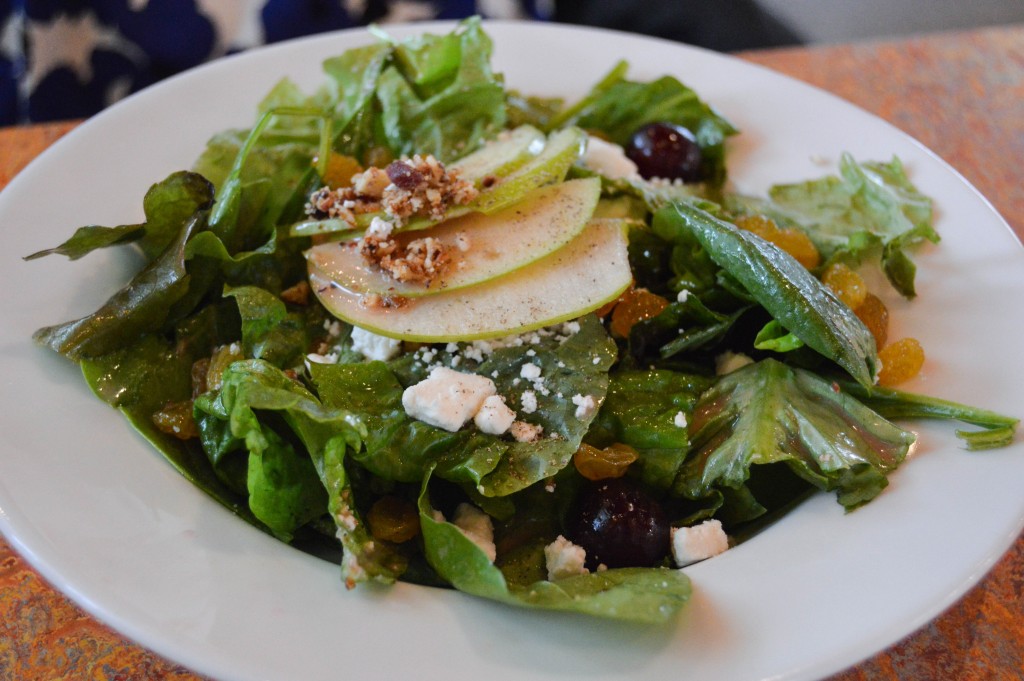 Jordan ordered the Sonoma salad.  The base was made of mixed greens, and it was topped with grapes, golden raisins, apples, goat cheese, chopped glazed pecans, and a blood orange vinaigrette.  From how she described it, it sounds like it was pretty darn good!
Joanna ordered a cup of minestrone soup to go.  She offered to let me take a picture of her to-go bag, but I figured y'all could probably get the gist without it 😉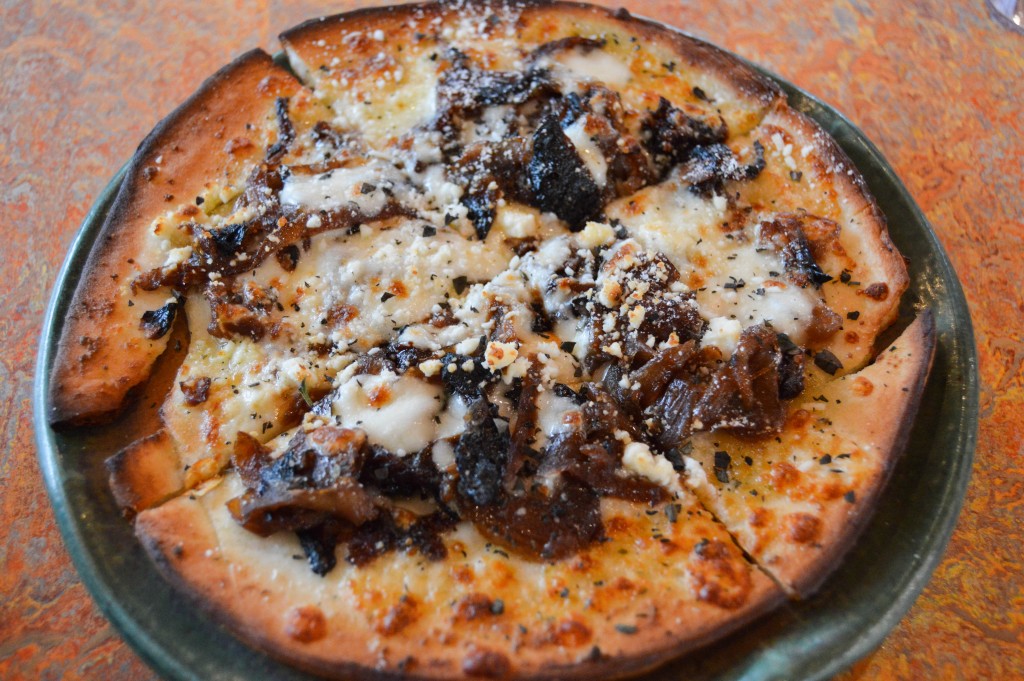 Right after our salad plates were cleared away, the pizzas arrived to the table.  I went back and forth between several pizzas (they have tons of vegetarian options), but ultimately decided on the Fig Onion Marmalade + Chevre on the gluten-free crust.  My pizza was topped with caramelized onions, goat cheese, and fresh mozzarella.  While all of the toppings were delicious, it was the marmalade and the gluten-free crust that stole the show.  I kid you not.  At least the first two bites that I took left me speechless.  It was the perfect combination of sweet and savory, and the crust was thin (just how I like it) and perfectly crispy.  I honestly would not have guessed it was a gluten-free crust if I did not already know.
Joanna and Jordan both stuck with the regular pizza crust.  Joanna's selection was the Italian Sausage + Apple Pizza.  Aside from the sausage and apples, the pizza also contained fresh mozzarella and crushed glazed pecans.  Joanna really enjoyed her pizza, and I know for a fact that she loved her meal at Spin! because I already spied a return trip on her Instagram feed!
The final pizza to make it to our table was Jordan's Prosciutto + Spinaci pizza.  Her pizza was topped with prosciutto, fresh spinach, fresh mozzarella, and the same fig onion marmalade that was on my pizza.  Essentially, her pizza was the meatified version of mine!  Jordan was also a major fan of the marmalade, and she had nothing but praise for the pizza she chose.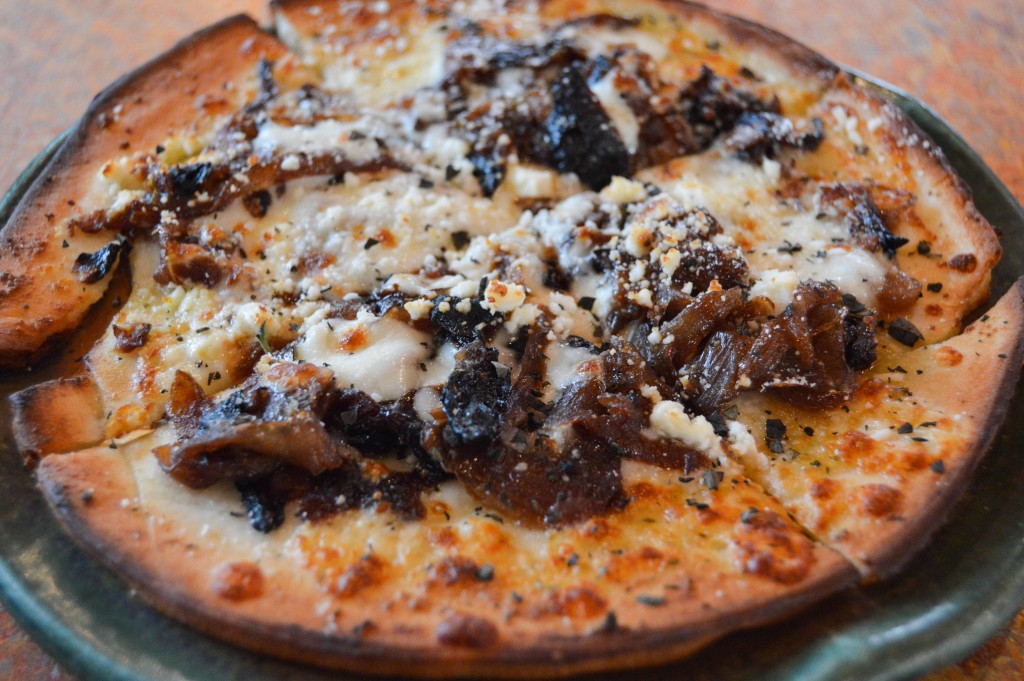 I ate all of my salad and three slices of my pizza.  Then we talked for over an hour until we realized we were the only three left in the restaurant.  What can I say?  Time flies when we get together!
I ate my fourth and final slice of pizza on my drive home.  I just could not resist it!  I was disappointed when the pizza was gone, but was so excited about having found a delicious gluten-free-friendly pizza place.  I should also mention that Spin! is vegan-friendly, too, as they give you the option of selecting vegan cheese for your pie.  Maybe I'll have to give that a try the next time I visit!  Trust me, there will definitely be a next time.
Omaha, Kansas City, Dallas, and OC readers, have you tried Spin! yet?