You may or may not have noticed that the blog was missing a little something last month.  Erin, Joanna, and I decided to take a month off from Three Cooks One Kitchen for one very little and special reason.  Little Miss Everly was born a little over a month ago and, rightfully so, Joanna was a bit busy with mom duty.  I'd call that a good reason for a 3C1K break, if I do say so myself!
But lucky for you, the three cooks are back!

Three Cooks One Kitchen: Veggie Frittata
Erin and I met at Joanna's house this past Sunday morning for one of my favorite things: a girls' brunch.  We wanted our first 3C1K after our break to be something simple, yet delicious.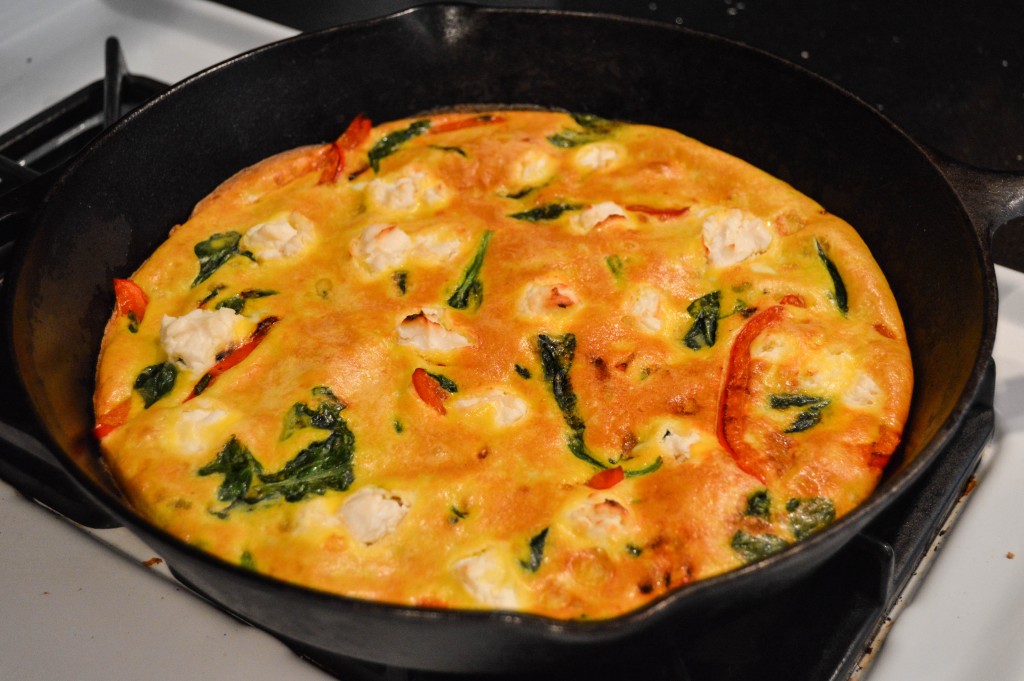 After some Google searching and blog reading, we decided on this Caramelized Onion & Red Bell Pepper Frittata from the Everyday Detox cookbook, as shared on Brittany's blog.  All three of us love eggs, it was an easy way to get some veggies in early in the day, and it sounded super simple.  In other words, we were sold.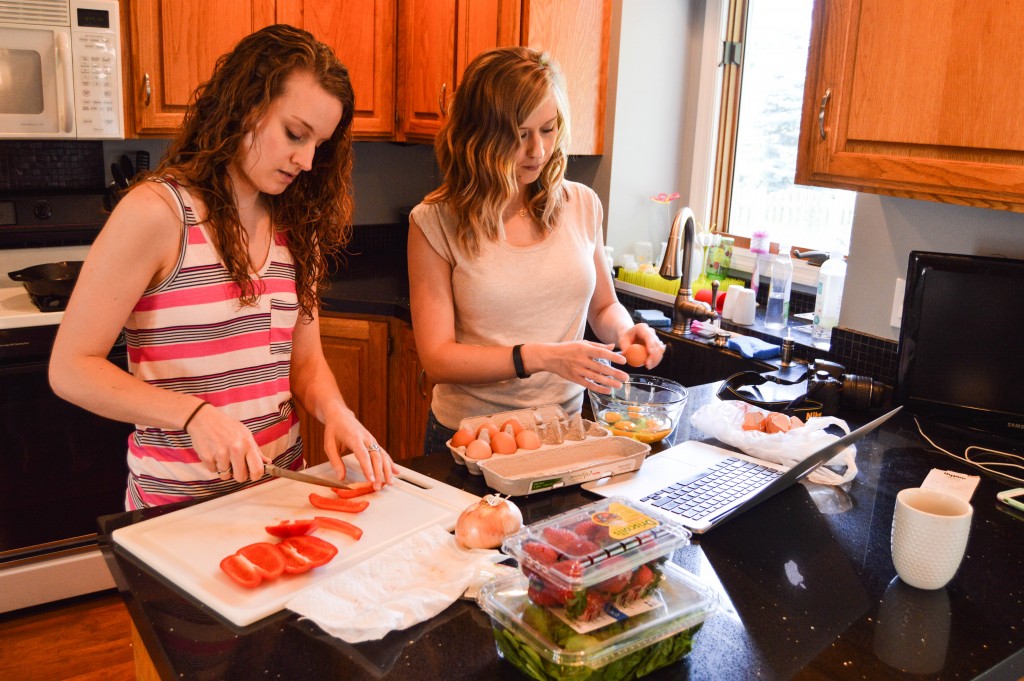 We began by getting all of the ingredients prepped and ready.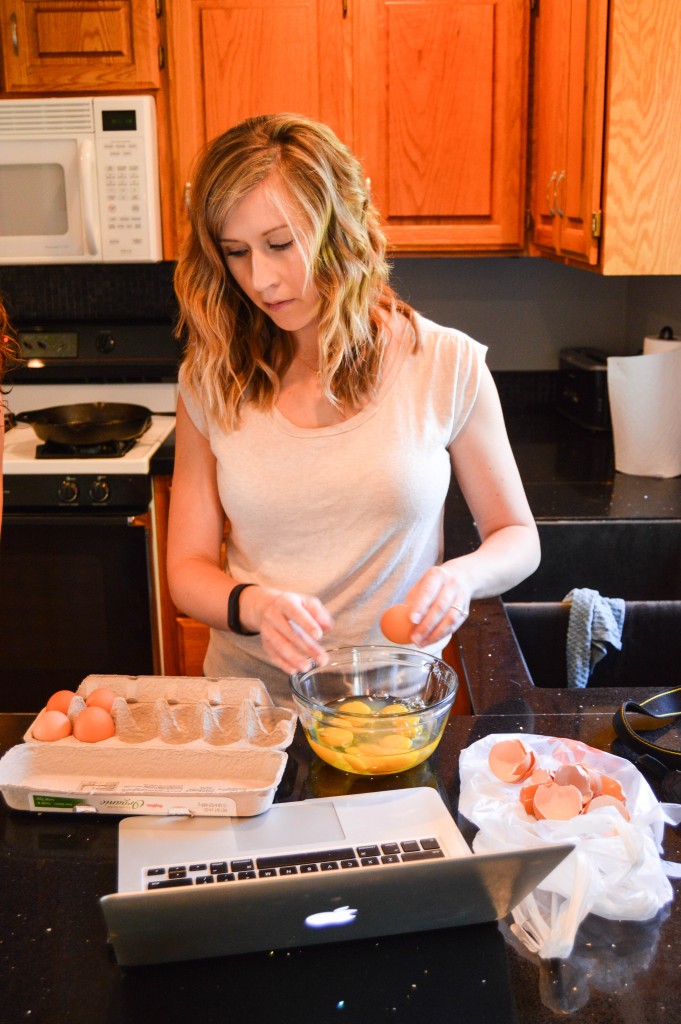 Joanna was an egg-cracking pro and managed to get all eight eggs cracked without any shells falling into the bowl… at least as far as we knew 😉
I sliced up some red bell pepper and half of a yellow onion.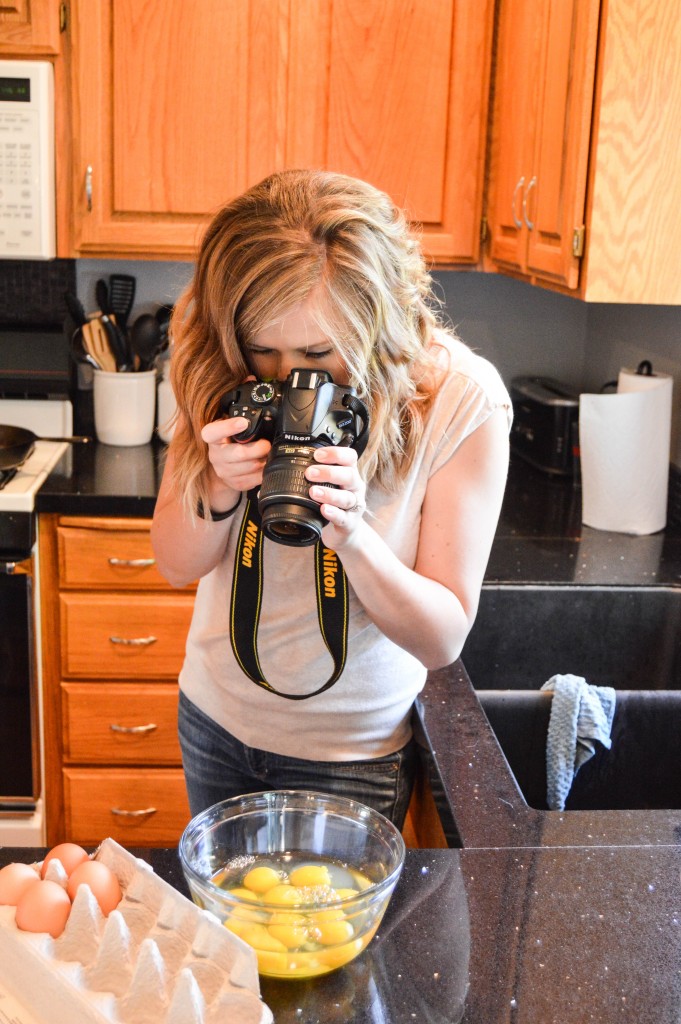 Of course we had to stop and take plenty of pictures while we cooked.  The combination of picture-taking and talking normally results in every recipe taking twice as long to make as it should!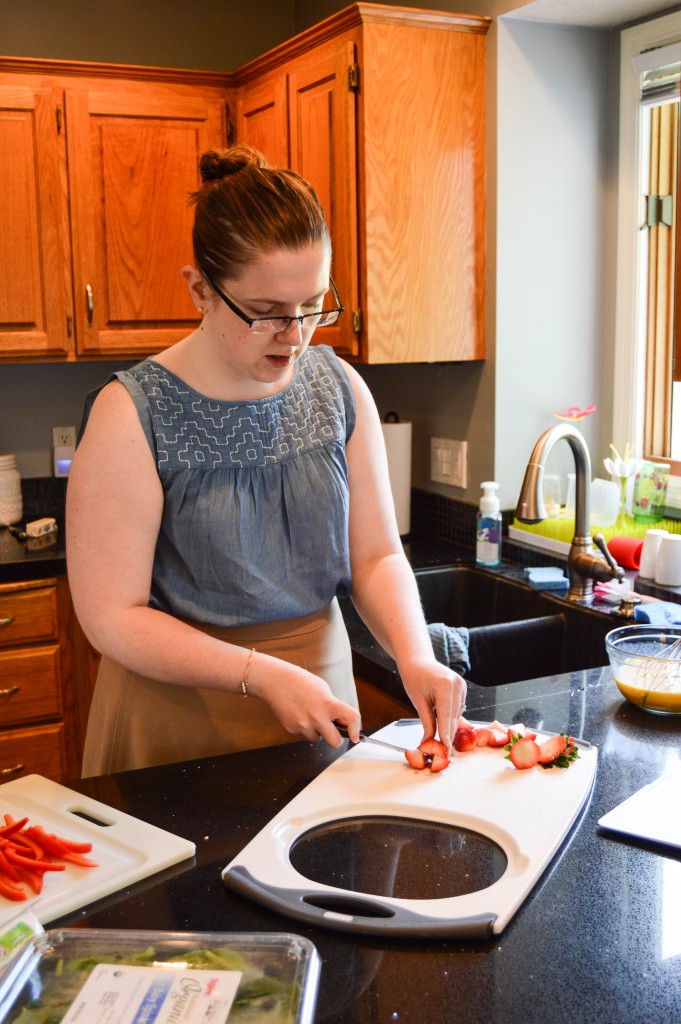 After we prepped the frittata ingredients, Erin got to work slicing up some strawberries.  They were the perfect accompaniment to our brunch frittata.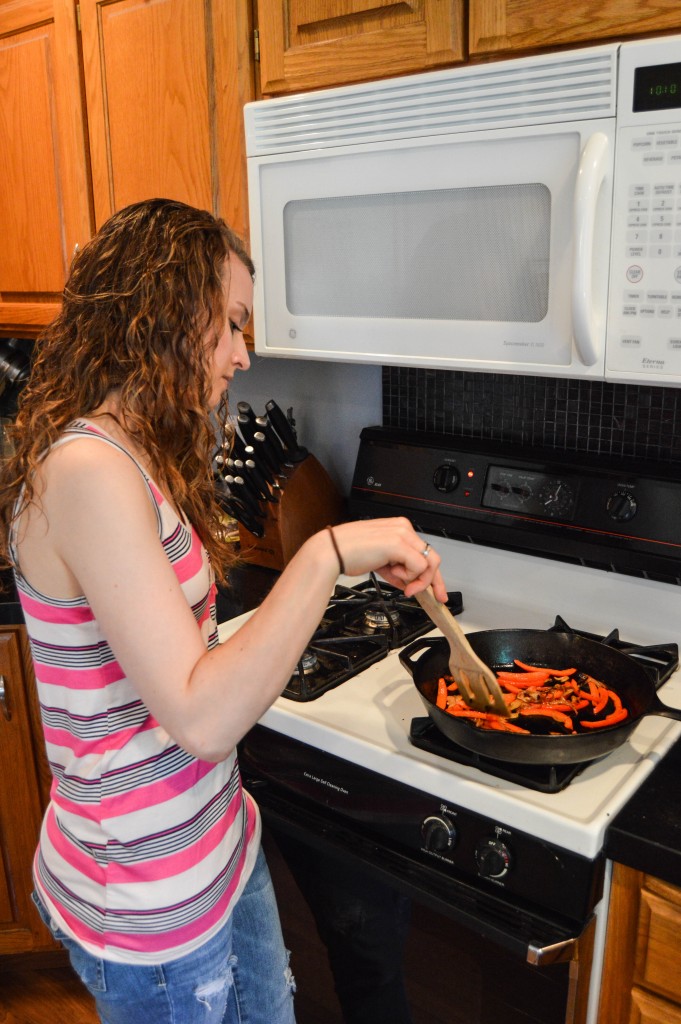 In a cast iron pan, we sautéed up the onions and peppers in a bit of butter.  The fresh spinach was thrown in at the last minute until it wilted.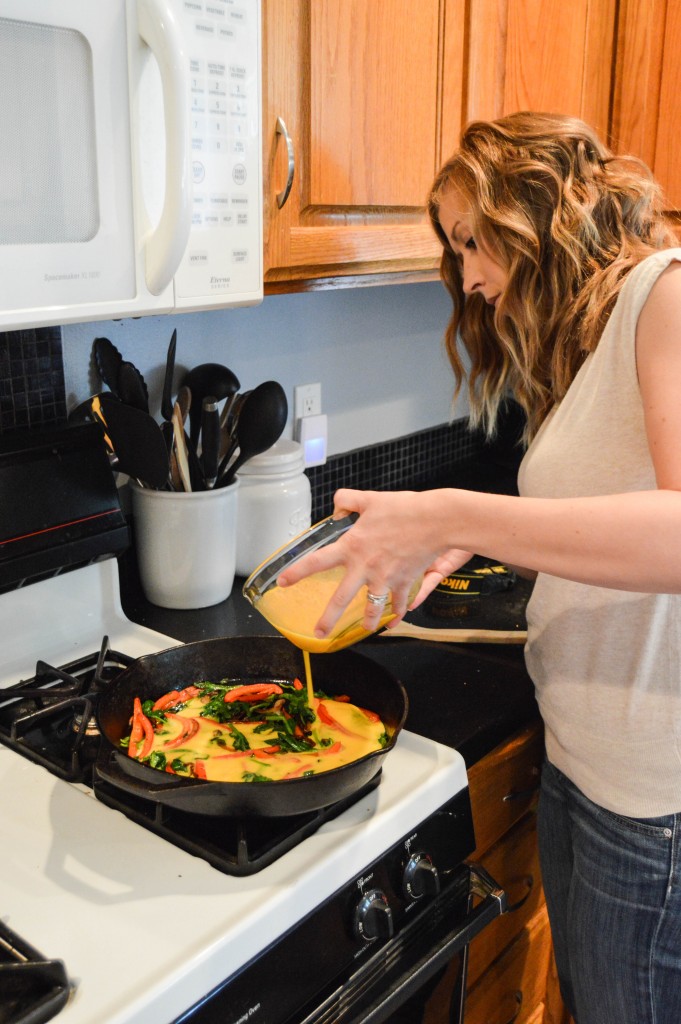 Once the veggies were all cooked, Joanna added in the eggs.  We then topped everything off with crumbles of fresh goat cheese.  I think it was at this point that we started getting really excited for the end result.  It looked so pretty going into the oven!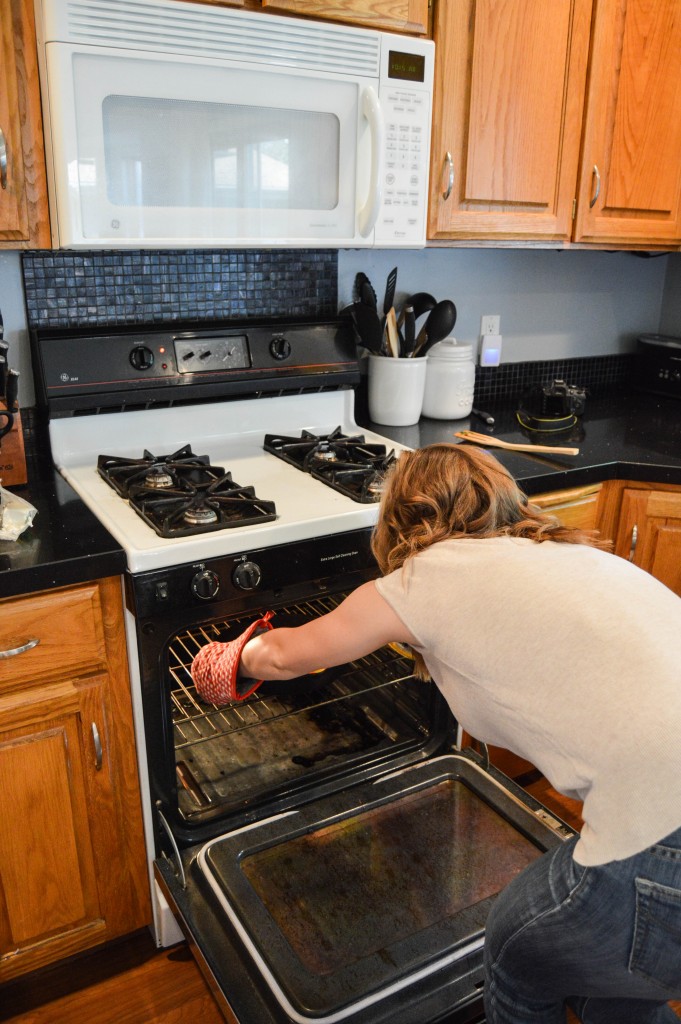 The instructions called for the frittata to be baked for 10 to 15 minutes, but we found 20 minutes to be the perfect length of time.  Nobody wants a soggy frittata!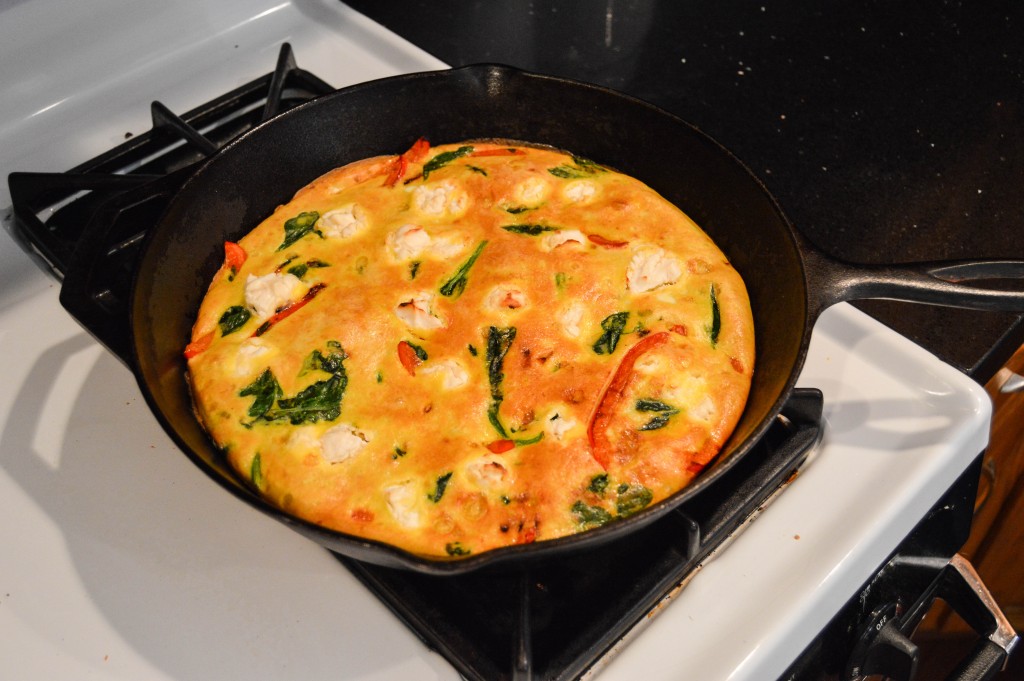 Isn't she a beauty?  I love how the top turned out to be perfectly golden brown.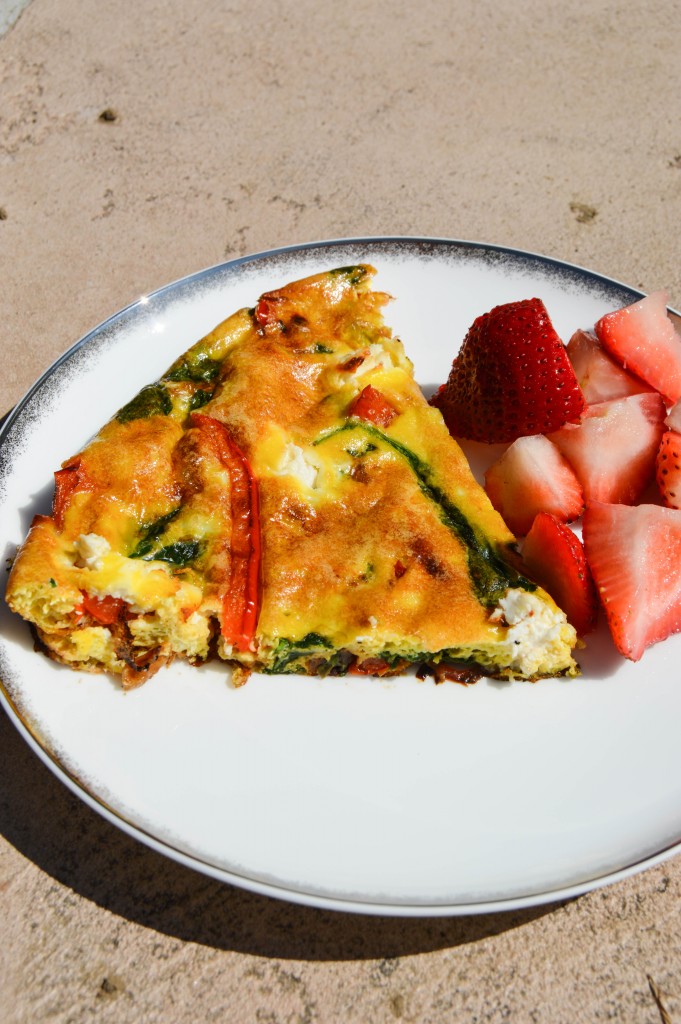 We each sliced up a large chunk of the frittata and served it alongside strawberries.  I also may or may not have dipped my frittata slice into ketchup.  What can I say?  I love ketchup with my eggs.
We enjoyed this frittata so much that the three of us finished off the entire pan.  Were we hungry?  Sure.  But it was also just really delicious!  Now I need to buy my own cast iron skillet so that I can make this during Sunday meal prep.  It would be perfect for breakfasts for the work week.
Be sure to check out the other cooks' posts here:
Erin's Three Cooks One Kitchen Post
Joanna's Three Cooks One Kitchen Post
Have you ever made a frittata?  Do you have a favorite recipe?
This post contains an affiliate link.  I appreciate your continued support of Clean Eating Veggie Girl!