The latest Three Cooks One Kitchen edition where we tackled zucchini noodles, made pesto sauce, and threw it all together with two kinds of peas.  These Pea & Pesto Zucchini Noodles make for the perfect spring or summertime dish.

If you want honesty, here it is: Joanna, Erin, and I had the hardest time deciding what in the heck we were going to make for this month's Three Cooks One Kitchen!  Maybe it is because we have been cooking up a storm for almost a year, or maybe it is because we are all in a bit of a food rut.  Whatever it was, the ideas simply were not flowing like they normally do.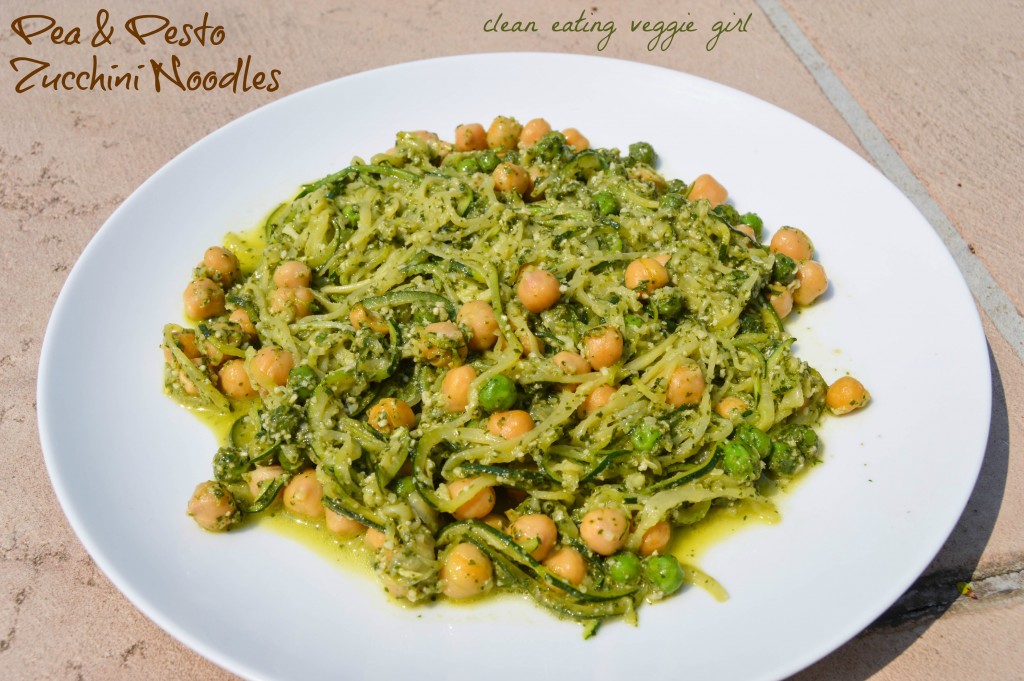 It was not until about two days before we were to meet that we decided on a game plan.  I was racking my brain for ideas when this completely random (but delicious) concoction popped into my head.
Erin had already spoken very highly of zucchini noodles, and they just screamed "spring" to me.  When I threw out the idea of her teaching us to make "zoodles," we all agreed almost instantaneously.  Of course we could not just eat zoodles.  Talk about boring!  We had to jazz things up a bit.  The three of us decided to whip up a pesto sauce, throw in some peas (because peas always go well with pesto), and toss in some chickpeas for a vegetarian-friendly protein.  I admit that it all sounds a bit random, but I also promise that it received a major stamp of approval from the three of us.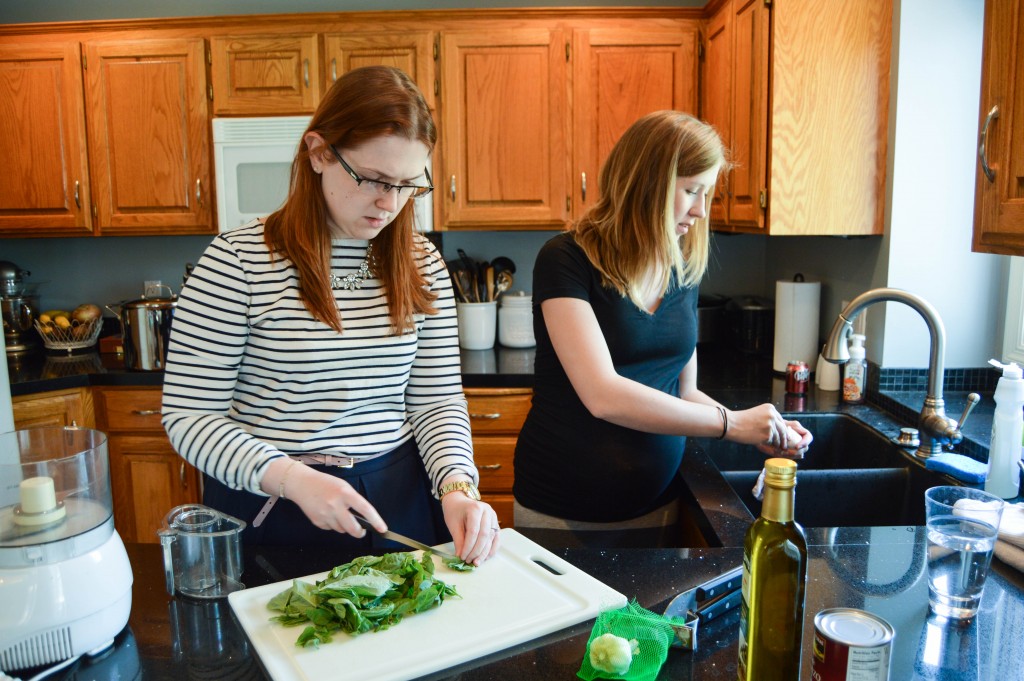 Since Joanna is nearing the end of her pregnancy, we decided it would be best to meet at her place.  She graciously lent her gorgeous kitchen to our food prepping and eating.  And prep, we did!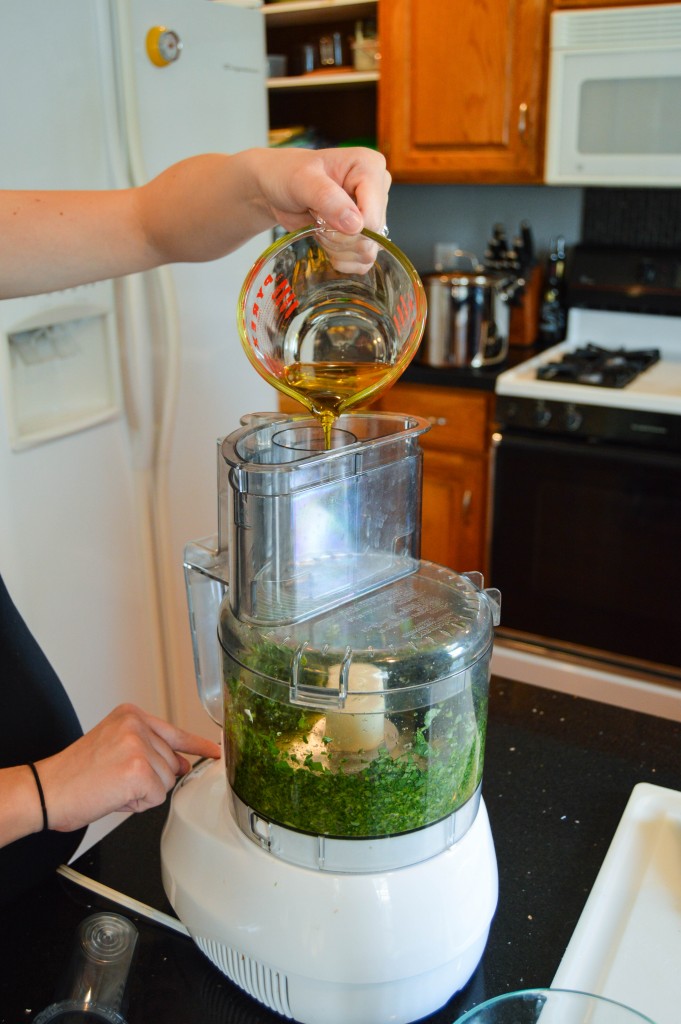 We decided to start with the pesto sauce (recipe below).  The pesto sauce was based on the recipe found on the basil package.  Don't fix what isn't broken, right?  We chopped the basil, added fresh garlic, drizzled in olive oil, and blended in veg-friendly Parmesan cheese.  Making homemade pesto truly is easy, and it is far more delicious than store-bought pesto.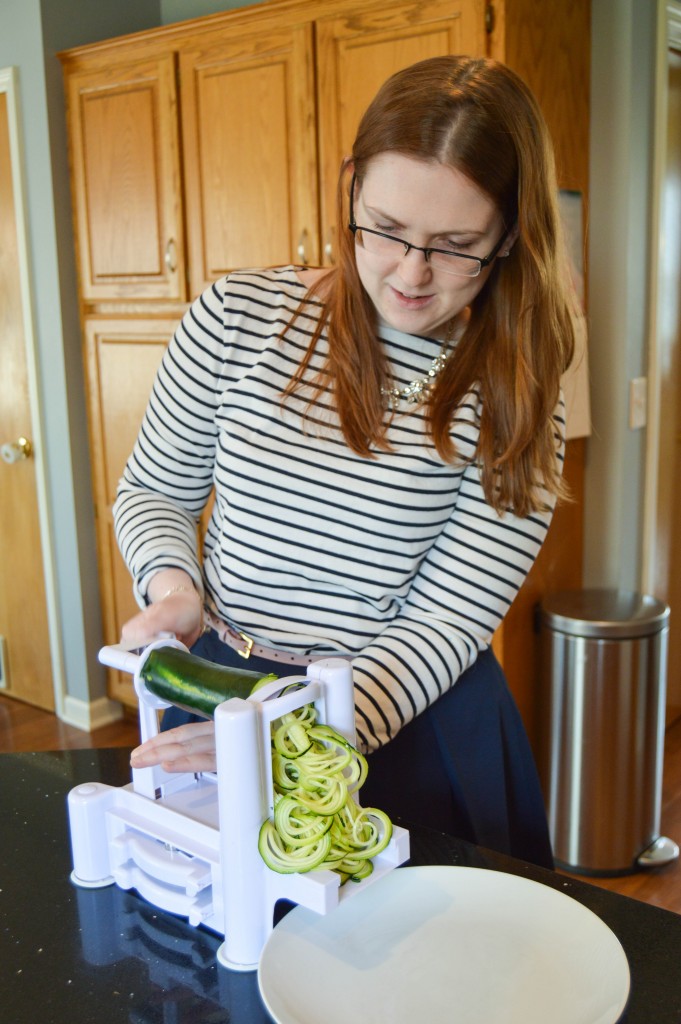 Once the pesto was prepared, it was zoodling (<– if that is not already a word, it should be) time!
Erin is the zoodle pro, so she taught Joanna and me exactly how it is done.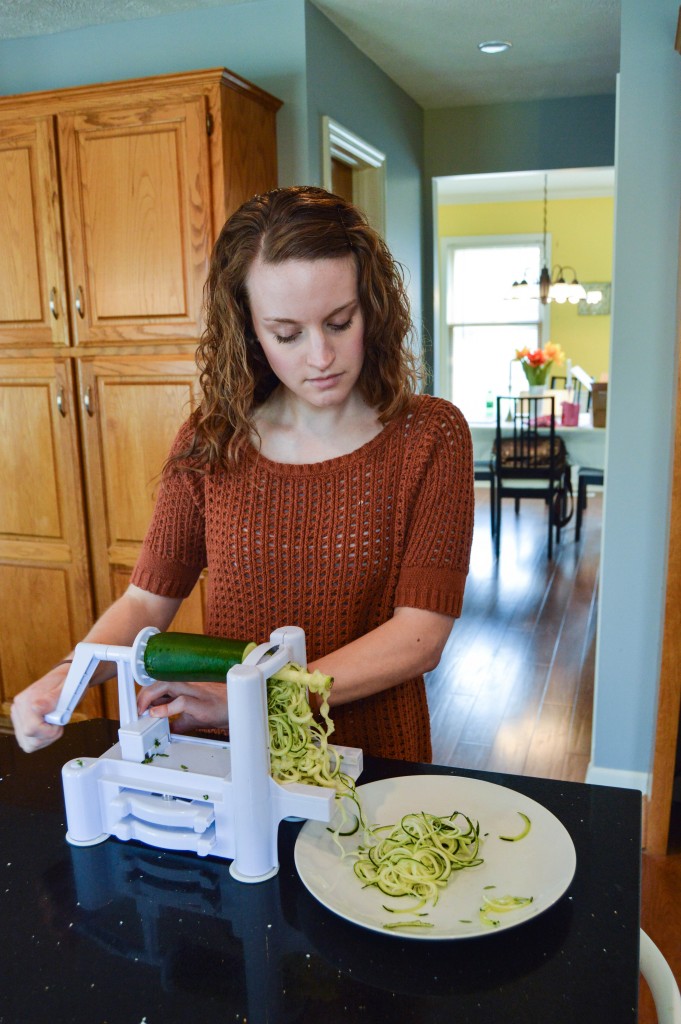 We zoodled…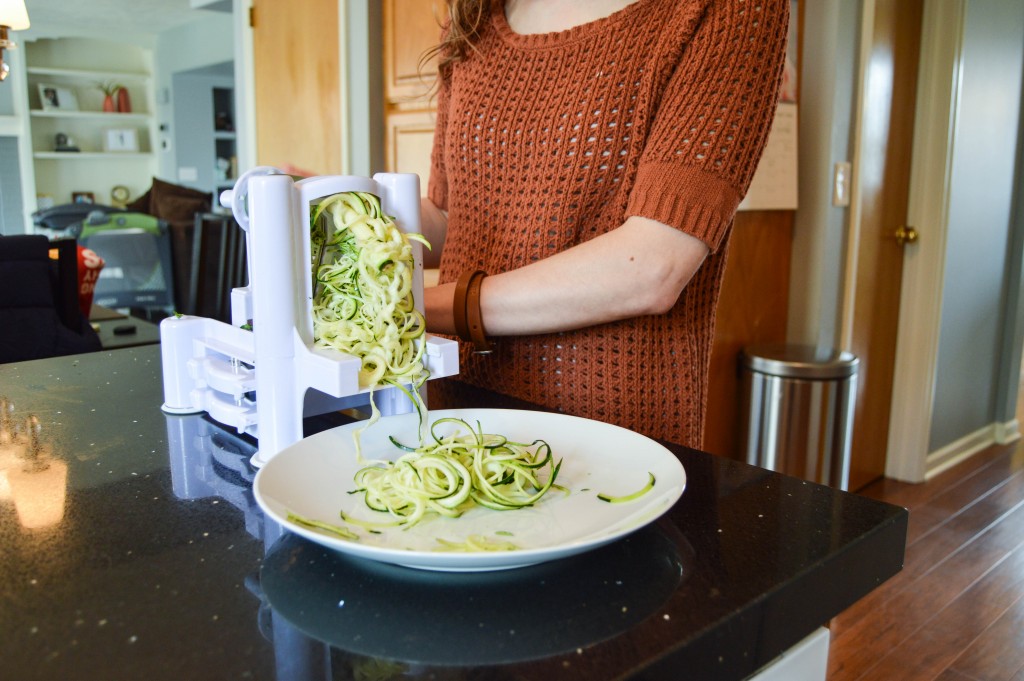 … and zoodled…
… and zoodled.
And guess what?  It was so easy.  Joanna and I both felt pretty confident in our zucchini noodle-making abilities after just one zucchini each.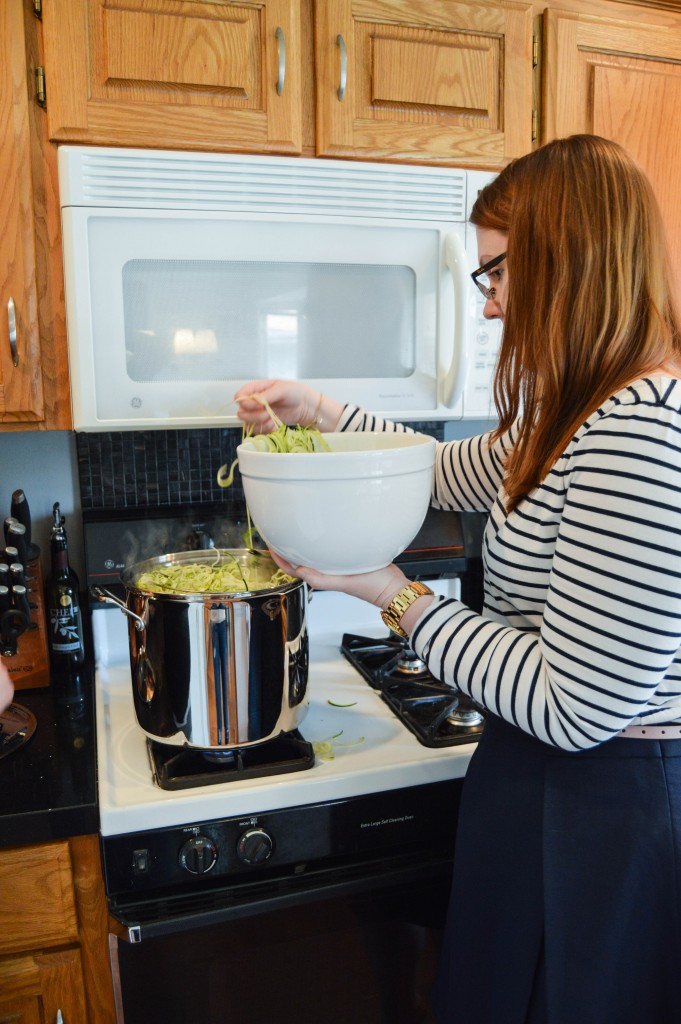 After the zucchini noodles were prepped, we steamed them in two batches.  Each batch took about four minutes.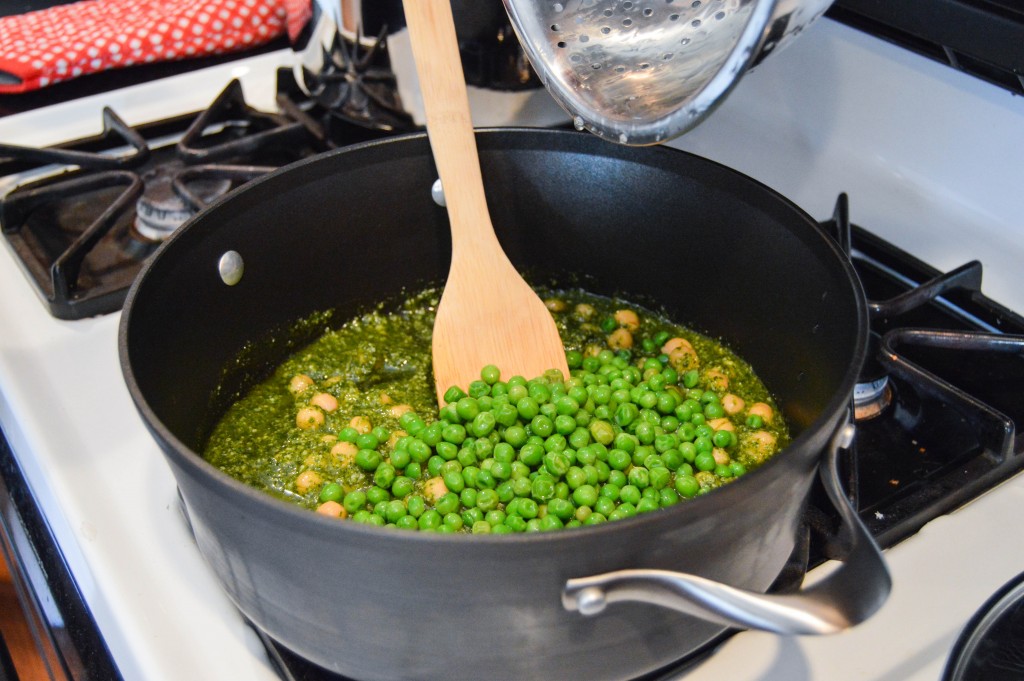 While the zucchini noodles were steaming, we combined the pesto, chickpeas, and peas in a large pan over medium-low heat.  Look at all of those yummy greens!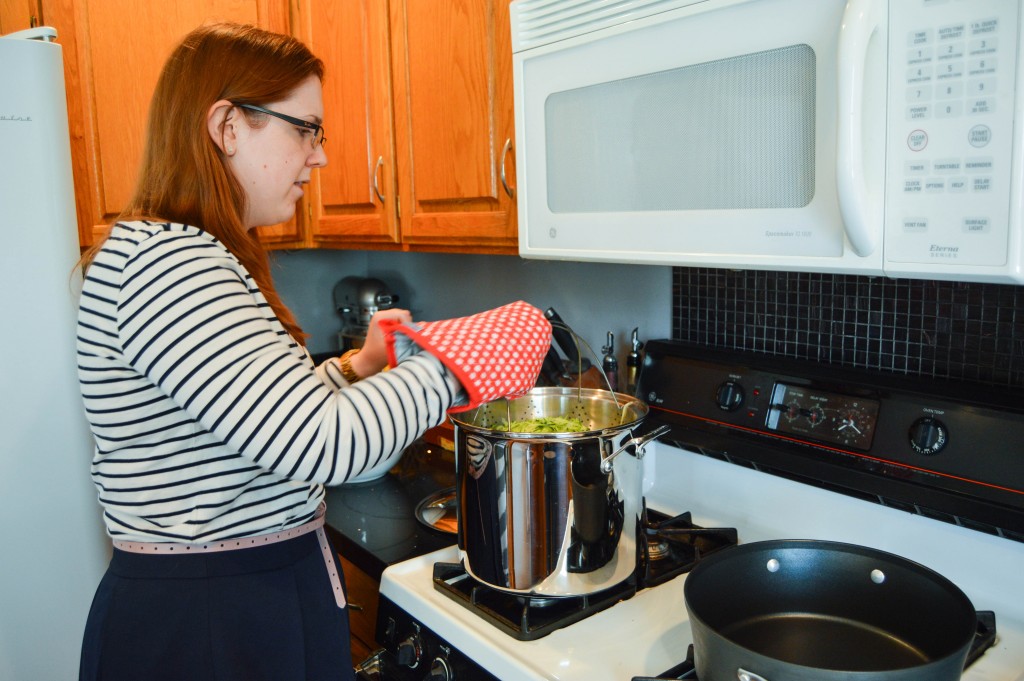 Once the zucchini noodles were steamed, we set them aside.  At this point, it would be important to drain the zoodles and squeeze out the liquid in a tea towel.  We were a bit overeager and forgot this step, hence the slightly thin sauce.  Next time we will get it right!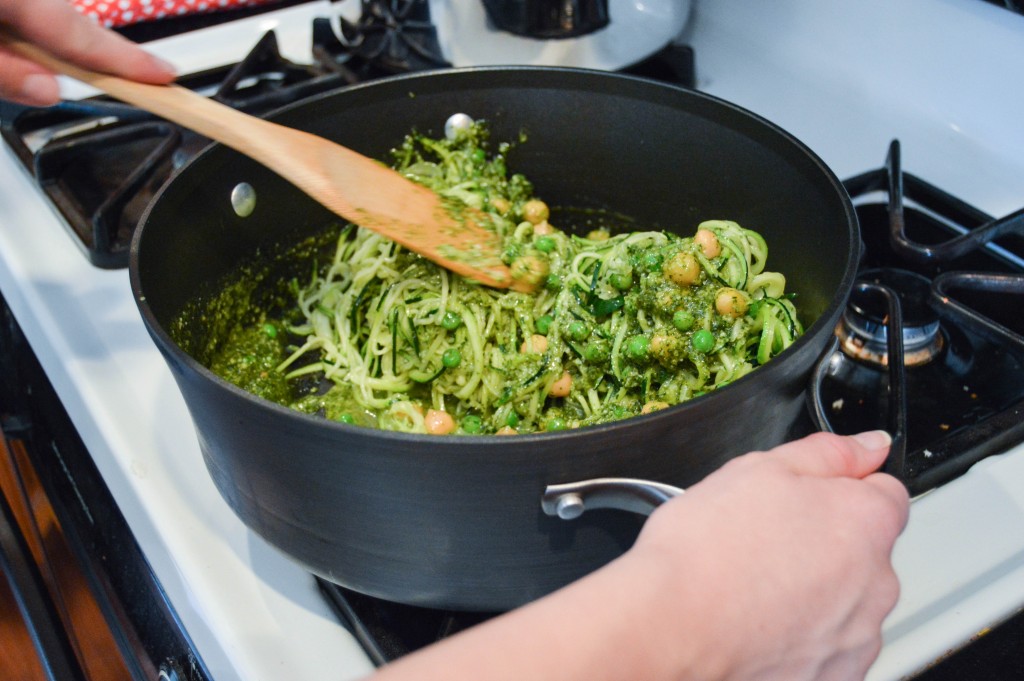 The zucchini noodles went into the pea and pesto mix.  We stirred it up and let it simmer for about 10 minutes.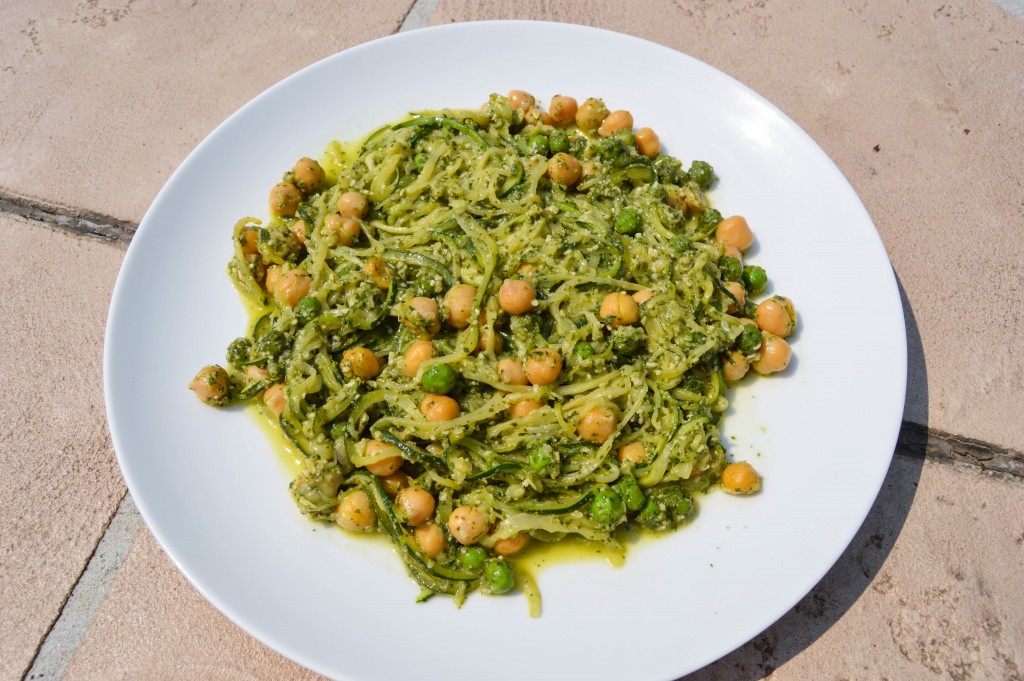 And then we plated it!  You can see that the sauce was a bit runny, but I did my best to make it look presentable.  Granted even if it did not look presentable, I would still tell you how much I loved it.  It was flavorful, healthy, protein and veggie-packed, and filling.  What's not to love about that?
Erin told me that she made a second batch on Sunday for lunches for the week, and I am completely jealous of that.  I just need to get my hands on a spiralizer and then I can do the same!  If you are a spiralizing fool, be sure to check out the recipe below.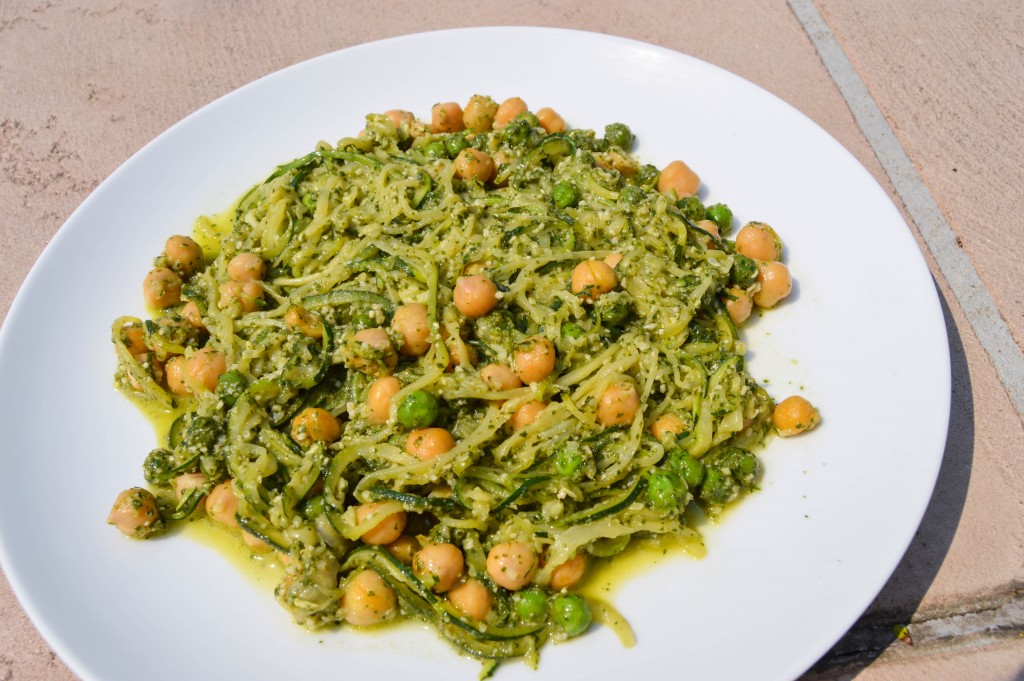 Pea & Pesto Zucchini Noodles
Gluten-Free

Serves 3 to 4
Ingredients
2 cups basil leaves
3 cloves garlic, peeled
1/3 cup pine nuts
1 cup extra virgin olive oil
1/2 cup fresh grated Parmesan cheese
3 large zucchini
15 oz can of chickpeas, drained and rinsed
1 cup frozen green peas, cooked according to package directions
Directions
1. Roughly chop basil leaves.  In food processor, combine garlic and basil.  Slowly drizzle in 1/2 cup olive oil while food processor is on low.  Stop often to scrape down the sides.  Gently blend in remainder of olive oil and the pine nuts.  When all ingredients are well-combined, add in cheese and blend until just combined.  Do not over blend cheese.  Let sit for 20 minutes.
2. Make the zucchini noodles by following the instructions of your particular spiralizer.  Steam zucchini noodles for approximately 4 minutes, or until tender, but not mushy.  You can do this on the stove top or in the microwave.  Drain the zucchini and squeeze out any excess liquid in a tea towel.
3. While the zucchini noodles are steaming, place pesto sauce, chickpeas, and cooked green peas in a large skillet over medium-low heat.  Simmer for approximately 2 to 3 minutes.
4. Add the drained zucchini noodles to the pan.  Continue to simmer for an additional 8 to 10 minutes, or until warm and the sauce has reached your desired thickness.
5. Enjoy on a gorgeous spring or summer day!
Don't forget to head over and check out the other two cooks' renditions of our zoodling adventure:
Erin's Three Cooks One Kitchen Post
Joanna's Three Cooks One Kitchen Post
Have you ever made zucchini noodles?
If so, what is your favorite way to eat them?