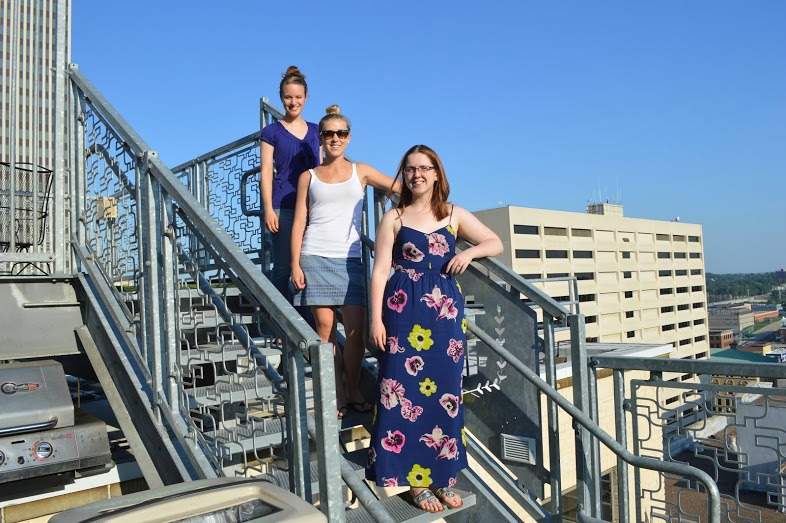 Guess what day it is?  No, not Wednesday (sorry, I had to do it!).  It is actually Thursday, which I am much happier about than Wednesday because that means we are that much closer to the weekend.  But it is not just any Thursday.  This Thursday is a little extra special because it is time for my third installment of Three Cooks One Kitchen.  Head over here if you have no clue what I am talking about and want to learn more!

Keeping with the theme of Summertime and grilling, Erin, Joanna, and I decided that we wanted to tackle something that neither of the three of us had made before: grilled pizza!
Since we had just used Joanna's kitchen in June and I do not own a grill, it seemed fitting to head to Erin's for our get-together.  Erin also lives in an apartment like I do, but she is lucky enough to have a gorgeous rooftop with three amazing (but very dirty <– thank you to her husband, Josh, for cleaning them) grills.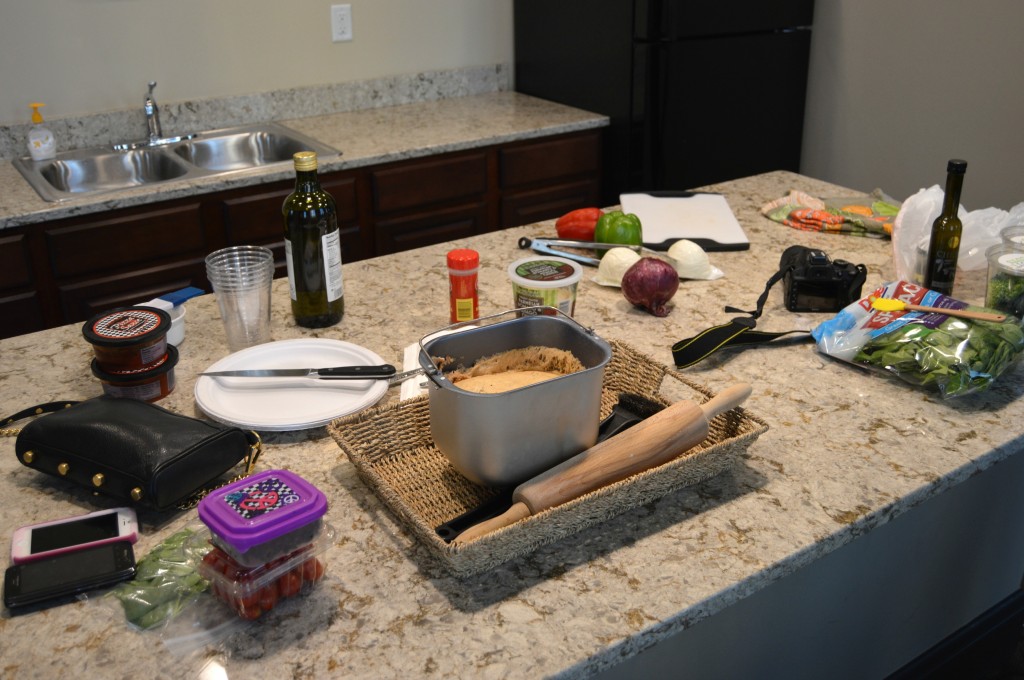 We set up shop in the community room of the apartment building and began prepping our toppings.  It is essential to prepare all toppings ahead of time because you have to move quickly when grilling pizza.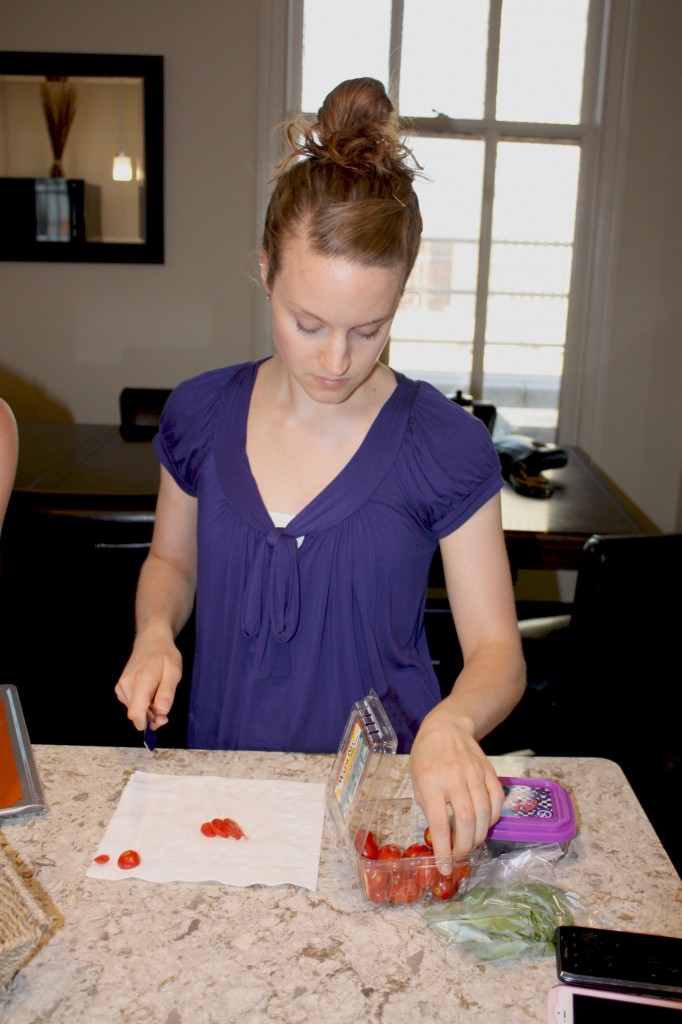 Erin and Josh had plans to top their pizza with traditional sauce, onions, peppers, and mozzarella cheese.  Joanna decided on pesto sauce, spinach, broccoli, cauliflower, and mozzarella cheese for her pie.  And finally, I topped my pizza with traditional sauce, spinach, onions, peppers, tomatoes, and black olives.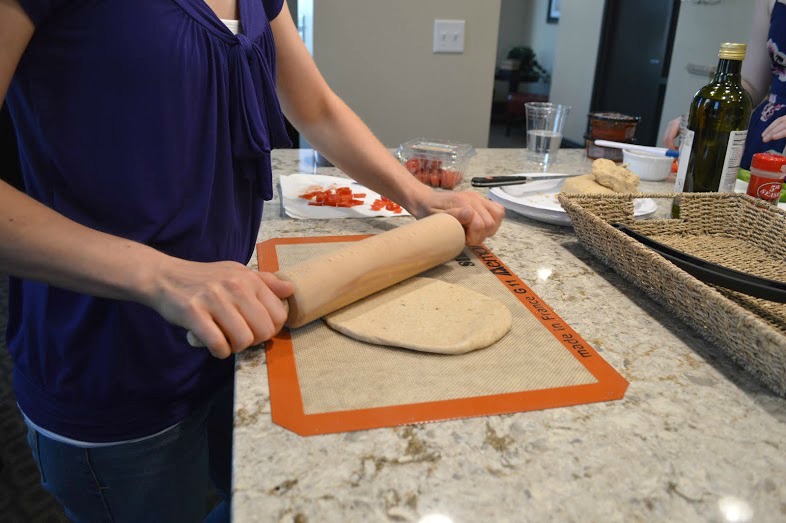 Once all of our toppings were prepared, we rolled out the dough to make two individual circular (more like oval) crusts and one larger rectangular crust.  Joanna had prepped the dough (recipe below) ahead of time in her bread machine which I was incredibly grateful for.  It smelled amazing and only made all four of us even more hungry than we already were.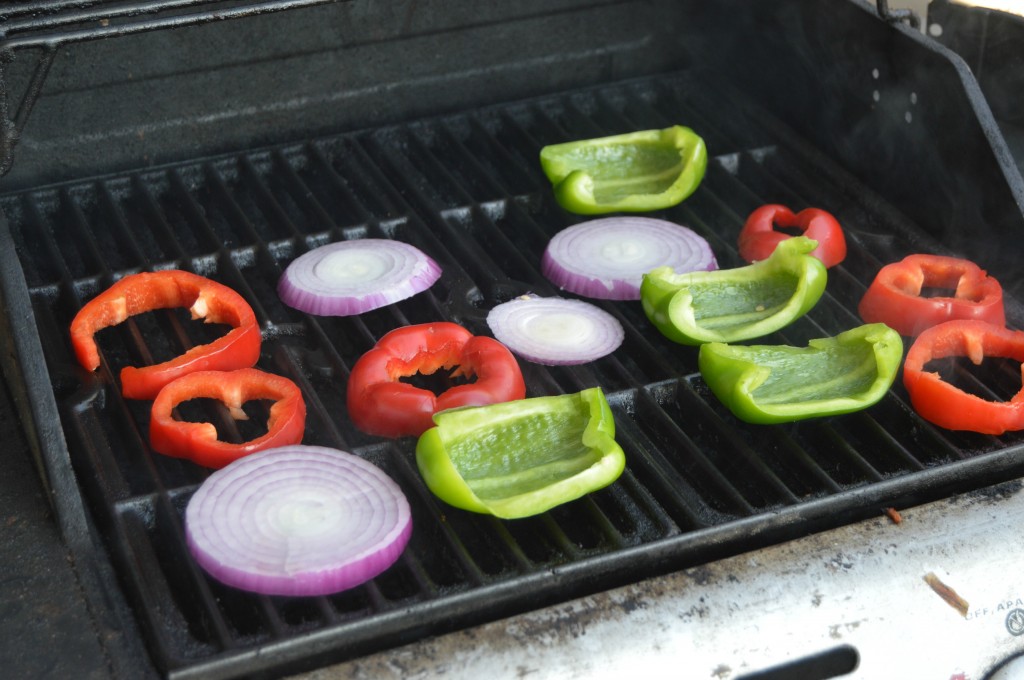 Once the grills were fired up, cleaned, and hot enough, the peppers and onions spent some time hanging out so that they could be grilled prior to becoming pizza toppings.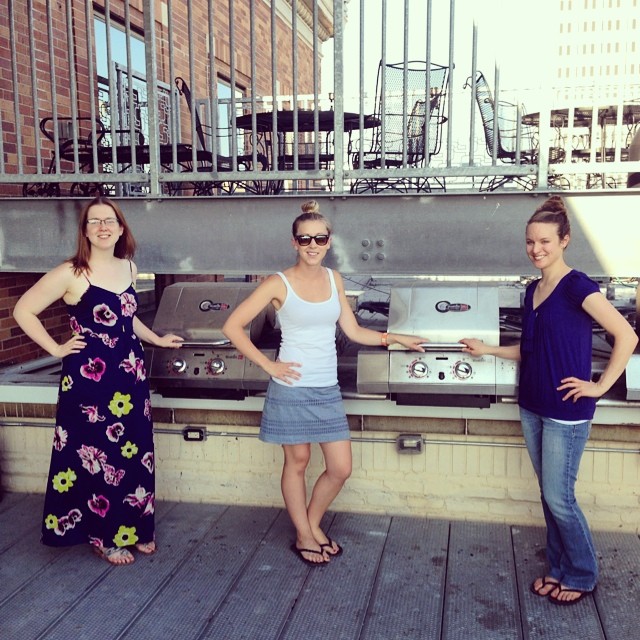 We also may or may not have taken pictures while the veggies were grilling.
After about ten minutes on the grill, we sliced up the peppers and onions and then we were ready to get down to business!  I think we were all a little bit nervous because we had never grilled pizza before and were not quite sure what to expect.  Luckily, all three of us had done our research ahead of time so we had a game plan going into it.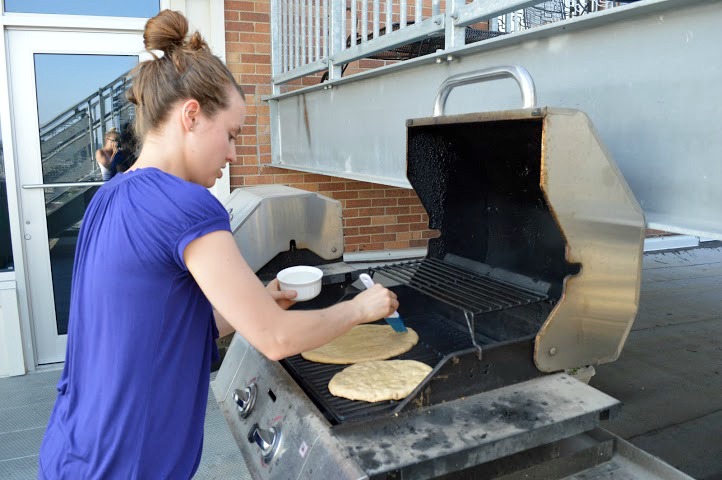 We started by spreading one side of each crust with a thin layer of olive oil (we used Joanna's Italian herb extra virgin olive oil).  We then carefully placed each crust olive oil side down onto the grill and closed the lid for approximately two minutes.  Next, we spread the top of the crust with olive oil and carefully flipped each crust.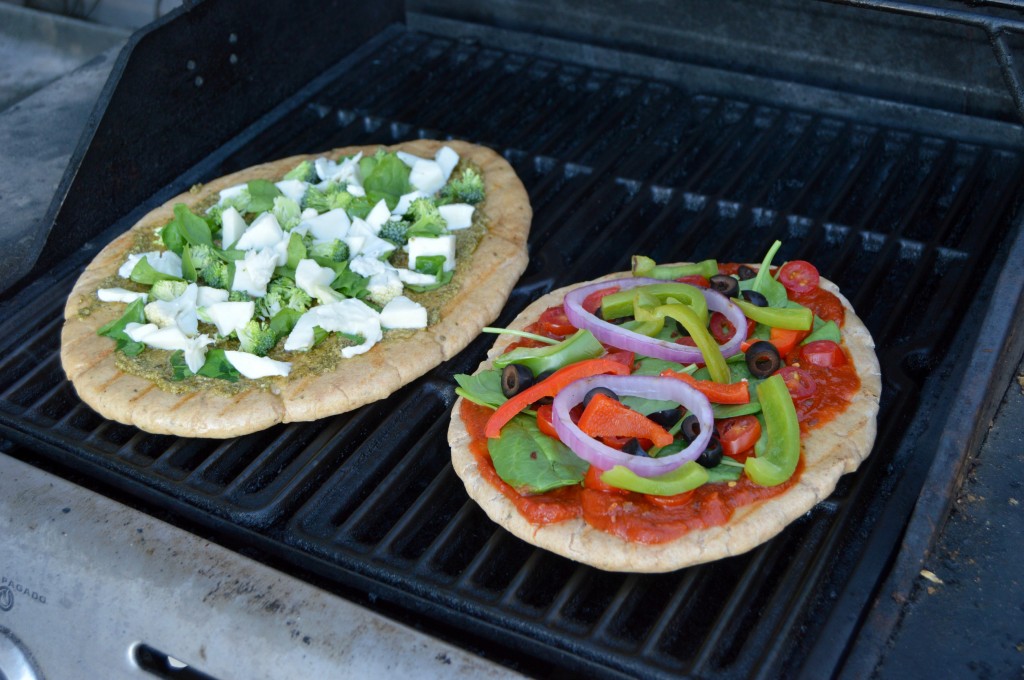 The next step is where the working quickly part came into play.  We somehow managed to top all of our pizzas with the sauces and toppings in about a minute and then closed the lid of each grill.  We checked on the crust every few minutes and ended up leaving them on the grill for approximately 10 minutes.  We did not want to burn the crusts, but we also did not want them to be doughy in the center.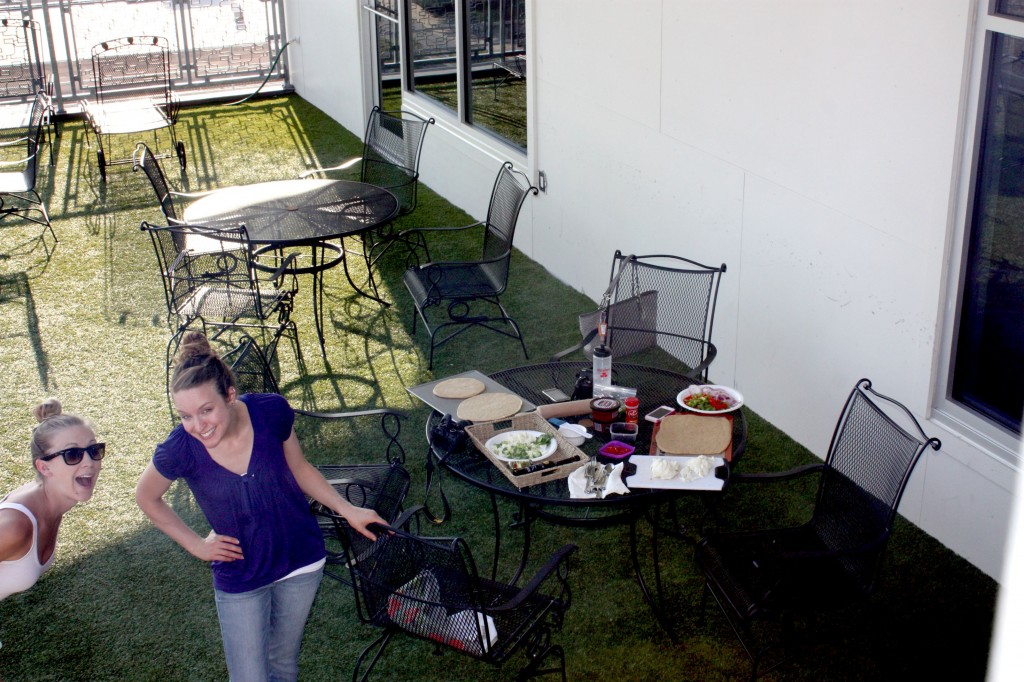 Oh ya know, just hanging out while the pizzas did their thing!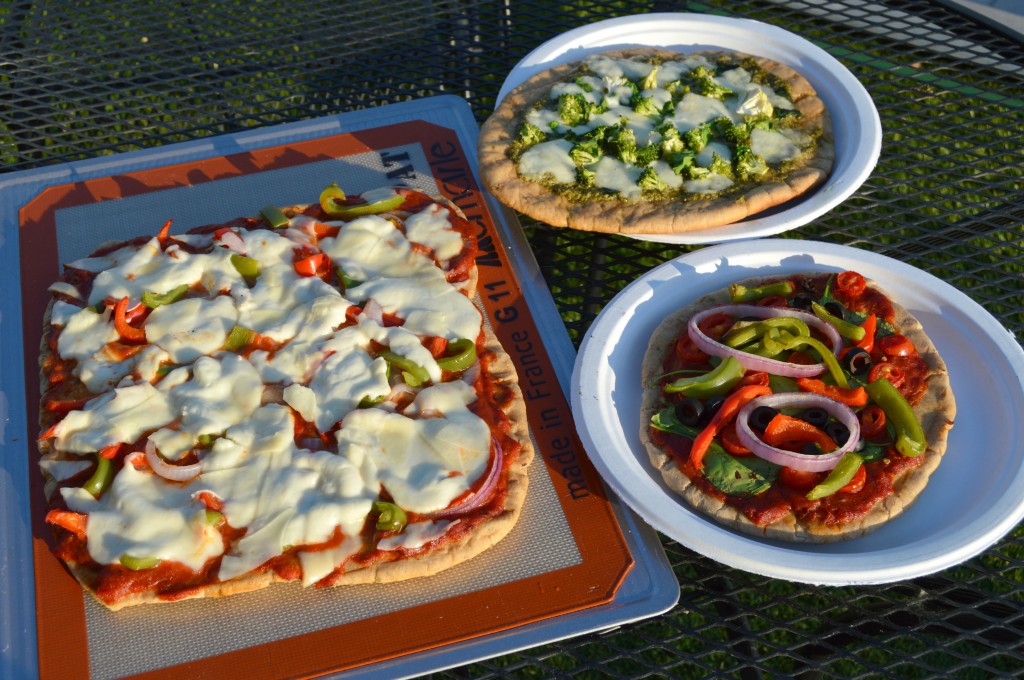 Erin and Josh's pizza is on the left, Joanna's is on the top right, and mine is on the bottom right.  They all turned out so gorgeous and delicious.  And I have to say that I was probably most excited about how perfectly crispy (and not doughy) the crusts turned out.  We were definitely amateurs starting out, but now I think we all feel pretty confident in our pizza grilling abilities.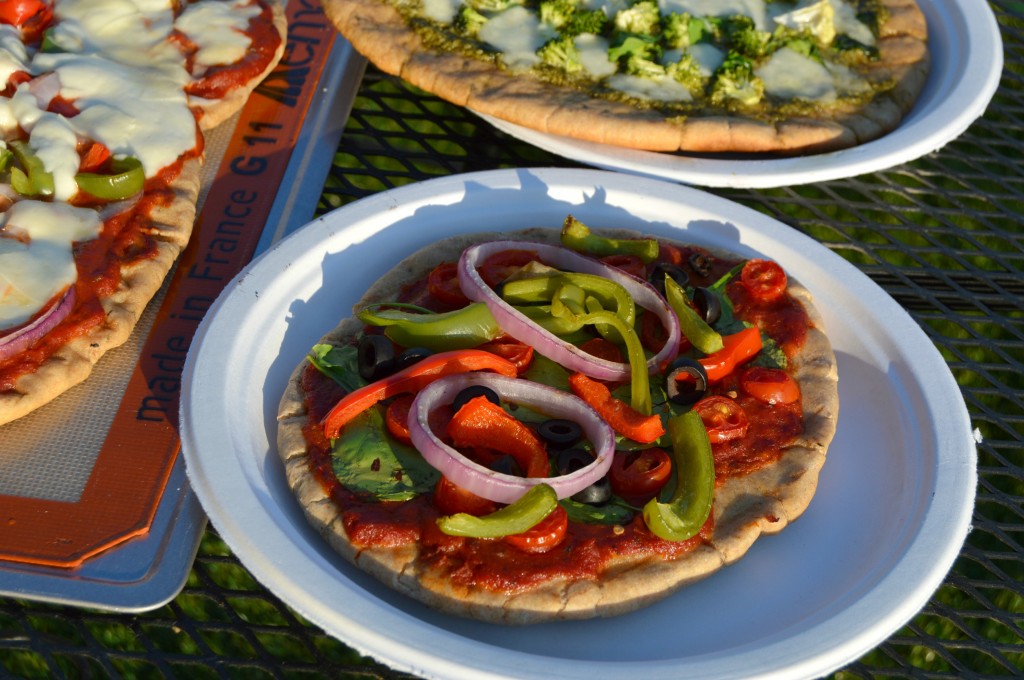 Isn't she a beauty?  I love seeing a crispy golden brown crust, vibrant red sauce, and allll of those veggies.  I didn't even miss the cheese!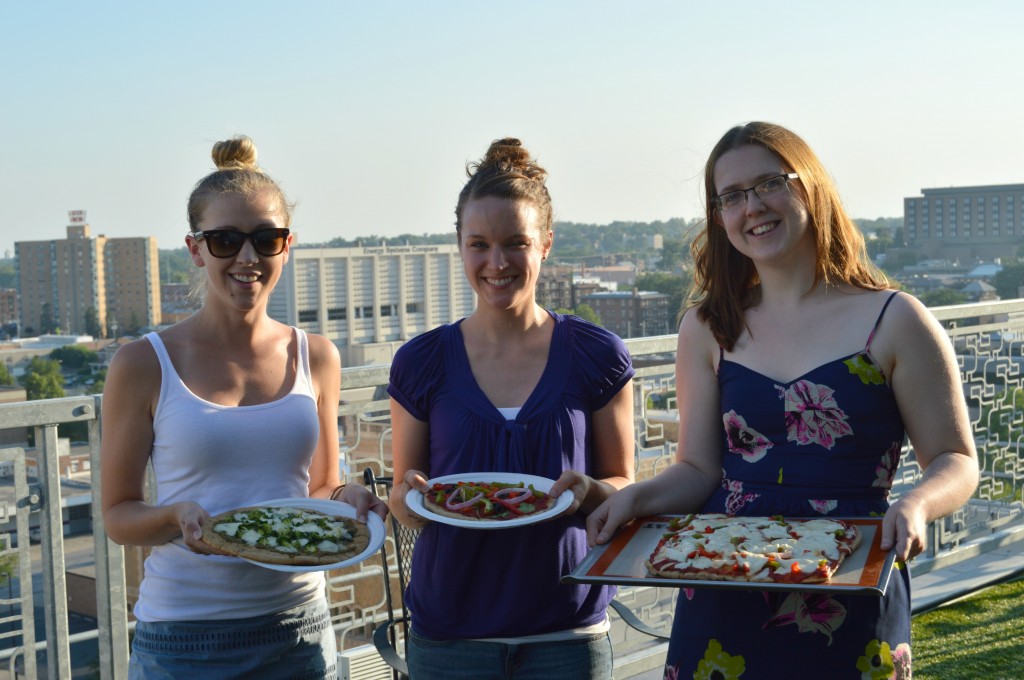 The three cooks and their pizzas!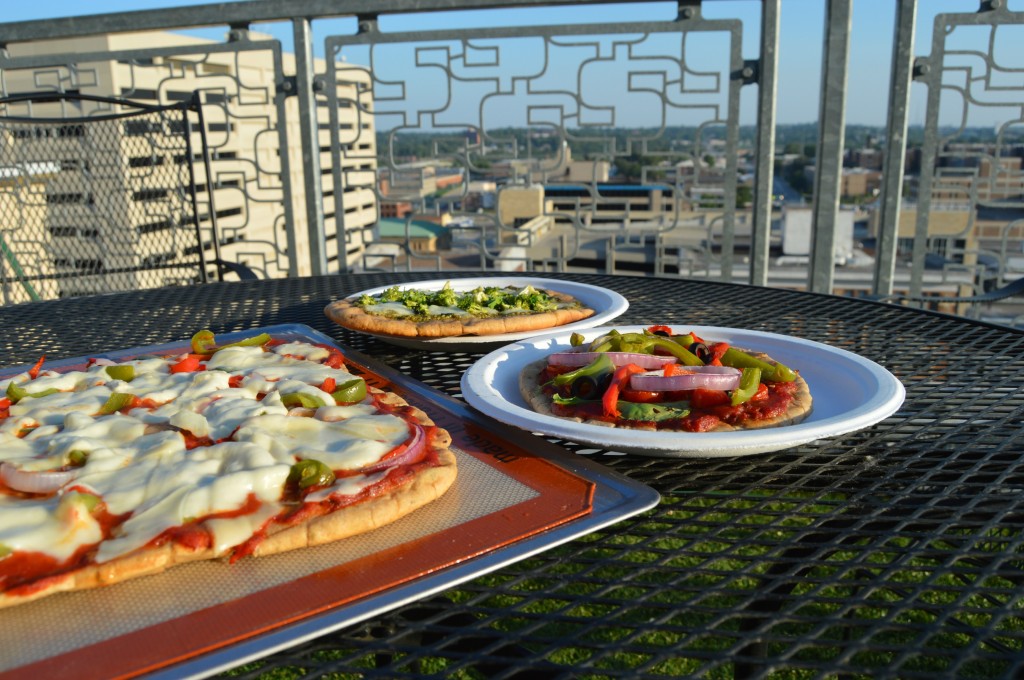 Grilled veggie-filled pizzas on a rooftop…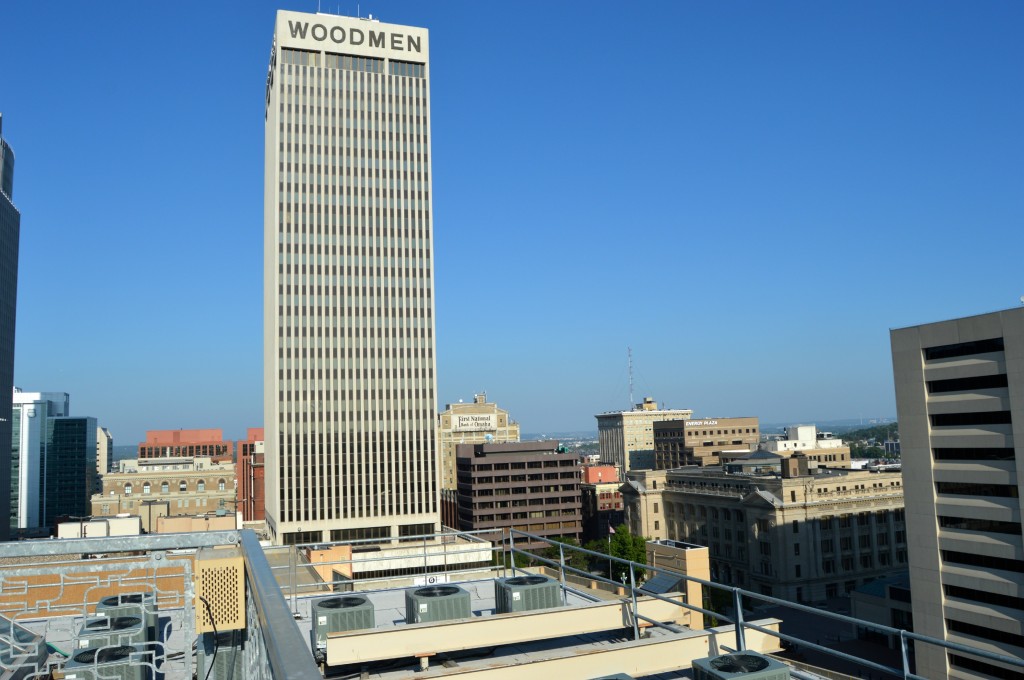 …with amazing views and wonderful friends.  What could be better?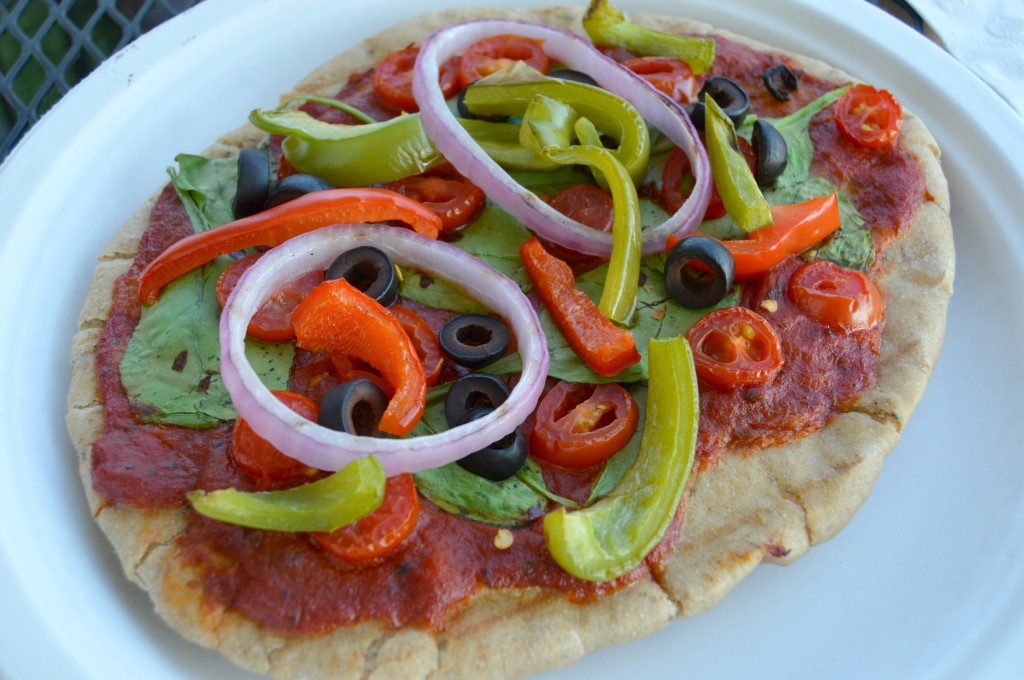 We are all most definitely major grilled pizza fans now.  So friends… when are we grilling next?
Pizza Crust Recipe
Combine the following wet and dry ingredients in a large bowl:
1 1/3 C Water
1 1/3 Tbs Olive Oil (we used Italian Herb EVOO)
2/3 tsp Salt
2 tsp Oregano
2 Cups Whole Wheat Four
2 Cups Bread Flour
2 1/2 tsp Yeast
Follow breadmaker directions for pizza dough.
Erin's Three Cooks One Kitchen Post
Joanna's Three Cooks One Kitchen Post
*Thanks to both Erin and Joanna for several of the photos above!